David Barmasai Tumo and Rose Chelimo emerged victorious in the male and female Gold Label Elite Marathon, while Soh Rui Yong and Rachel See are the male and female champions of the National Championship Marathon.
A record high for international participation – over 8,000 international runners from more than 70 countries flew in to participate in the event.
Singapore's para-athlete, Zac Leow, sets a new Guinness World Record with a timing of 4 hours 51 minutes.
Over 44,000 participants raced the streets of Singapore across three days and five event categories – including sold-out 5km and 10km events
SINGAPORE, 3 December 2023 – The Standard Chartered Singapore Marathon (SCSM) 2023 concluded an exceptional weekend of world-class racing, setting new benchmarks for endurance races in the region. As the World Athletics Gold Label race and National Championship made their triumphant return, SCSM2023 witnessed over 44,000 runners taking to the streets and finishing at the National Stadium, including more than 8,000 international participants – the highest in the marathon's history – marking SCSM2023 as a truly global race.
SCSM2023 saw participants from over 70 countries, including elite athletes, passionate runners, and first-timers, complete the marathon and half marathon distances. The total distance clocked amounted to more than 768,800km[1], equivalent to cover the distance to the moon and back. The event also featured a series of shorter races, including the 10km, 5km, and Kids Dash, ensuring an inclusive event that welcomed runners of all ages and abilities.
This year's event featured spectator and cheer zones, keeping the excitement of the race high, as runners headed to the finish line at the National Stadium, a first-ever for the SCSM. The route had runners pass multiple Singapore landmarks including Singapore Flyer, Marina Bay Sands, War Memorial Park, Esplanade and Gardens by the Bay.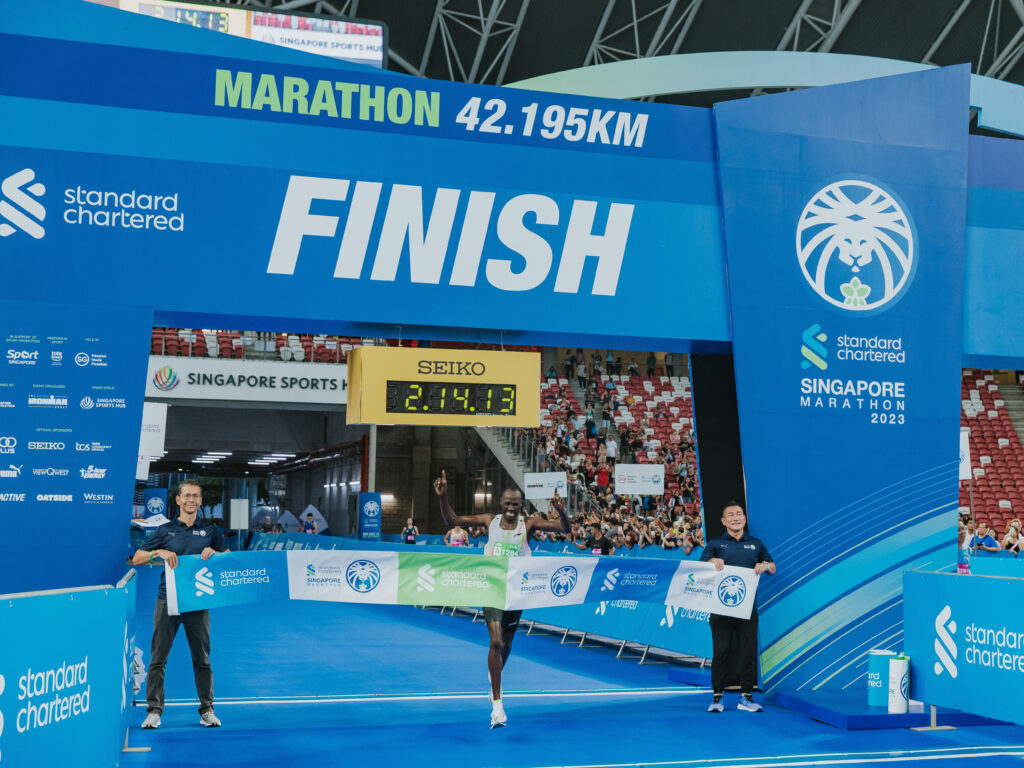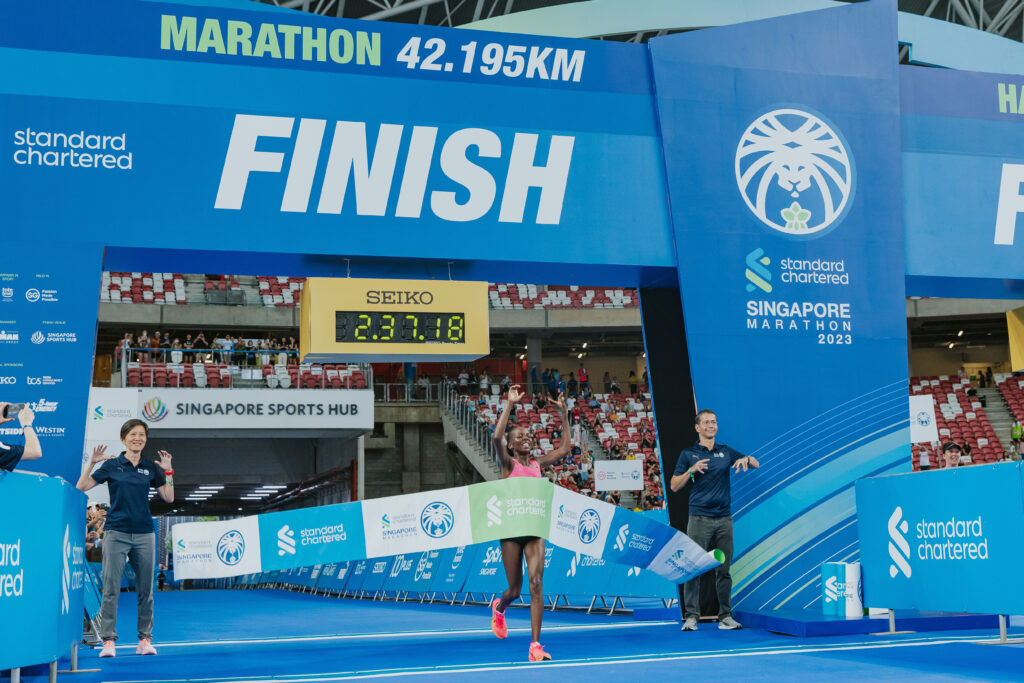 Gold Label Elite Marathon: A Display of Exceptional Grit and Determination
In the Gold Label Elite Marathon, Kenya's David Barmasai Tumo emerged victorious in the men's category, with a time of 2:14:15. He finished ahead of Kenya's Geoffrey Birgen who finished in 2:14:30 while Kenya's Anderson Seroi was third in 2:15:59
Reflecting on the victory, Tumo said, "Running is my passion. I was aiming to improve my position from my last SCSM race here in 2018, and I focused on my agenda and got on track with my training gradually. Today, I'm getting the fruits of that."
Bahrain's Rose Chelimo claimed the top spot in the women's category with a timing of 2:37:18just before Beatrice Jelagat Cherop in 2:37:35. Meseret Dinke of Ethiopia finished in 2:37:48 to take the second runner-up spot.
Chelimo, who gave birth to her second child in 2021, said, "This is my first marathon win since 2018 and since I went on maternity leave in 2021. There were a lot of challenges to come back from maternity leave and I had to train very hard to do so. Although this was the most difficult race I have ever done due to the heat and the humidity, it is a great feeling to know I can still compete for championships. I am looking forward to seeing my family back home and I know they will give me a warm welcome."
Winners of the Gold Label Elite Marathon men's and women's categories took home prize money of USD $30,000 each.
Mr Roy Teo, Industry Development, Technology & Innovation Group of Sport Singapore and Mr Patrick Lee, Cluster Chief Executive Officer of Singapore & ASEAN Markets of Standard Chartered were present to congratulate the male elite runners at the Gold Label Elite Marathon finish line. Mr Patrick Lee also joined Ms Ong Ling Lee, Executive Director, Experience Development Group, Sports & Wellness, Singapore Tourism Board, in welcoming the female elite runners as they crossed the finish line.
As the race started, Mr Roy Teo commented, "As one of Singapore's largest mass participation athletic events, SCSM today is a testament to the passion and dedication of Singaporeans for sports and fitness. It was inspiring to see these runners come through the National Stadium this weekend as they pushed their limits and celebrated the joy of running."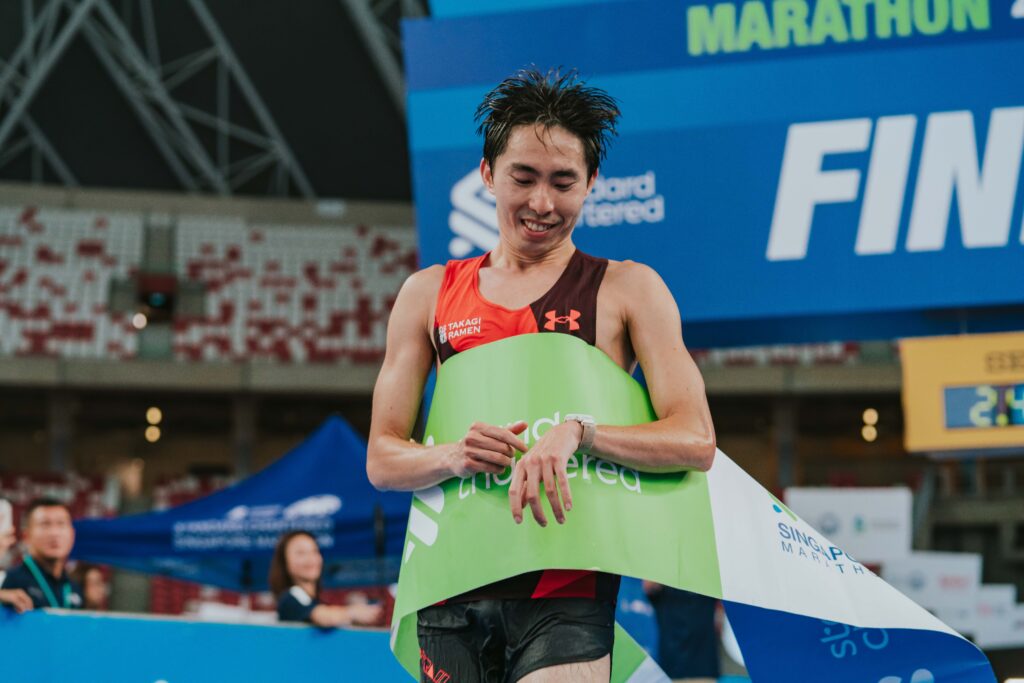 National Championship: A Testimony to Running Excellence in the Local Community
The National Championship also saw compelling performances, with runners Soh Rui Yong and Rachel See claiming the titles of men's and women's marathon champions and SGD $10,000 each, with finishing times of 2:40:34 and 3:05:51 respectively. These victories underscore the depth of running talent in Singapore and the event's role in fostering a vibrant local running community.
Soh finished ahead of Daniel Leow who clocked 2:48:08 while Benjamin Khoo timed in at 2:50:37 in third.
See, who also finished first in the Masters category, was around seven minutes ahead of Jasmine Teo in 3:13:35 while third-placed Jasmine Goh was closely behind in 3:13:46.
In the National Championship half marathon category, Shaun Goh pulled away with 2km to go to finish first in 1:12:49, ahead of Jon Lim's time of 1:13:01. Jeevaneesh Soundararajah was third in 1:15:45.
Vanessa Lee won the National Championship women's half marathon in 1:28:30. She also finished second overall in a photo finish with Philippines' Artjoy Torregosa. In second place was Serena Teoh in 1:29:56 while Leann Lee was third in 1:38:17.
In the Masters category, Yong He claimed the men's overall title with a marathon finish of 02:51:07, while Kok Soon Chua came in second with a timing of 02:58:36. In the women's Masters, Rachel See took top spot with a race timing of 03:05:51 while Jasmine Goh took second spot with 03:13:46. Yin Fuyu was third in 3:29:28.
Guinness World Record: A Pursuit of Resilience
A new Guinness World Record was set on Sunday, with Singapore Para-athlete, Zac Leow, finishing the marathon in the CI1 (men) para-classification in a record time of 4 hours 51 minutes 59 seconds.
An emotional Leow said, "It was a struggle to reach the finish line. I'm thankful that the route is different this year because running past key landmarks rejuvenated me when I struggled. I'm from Victoria School (along the East Coast Parkway service road), so when I saw my school, I was reminded of the fighting spirit instilled in us there and that kept me going."
Leow also made history on his daughter's birthday, Mika, who turns two today. He added that he will be retiring from races but will continue running to stay fit.
Jeff Edwards, Managing Director of Asia for The IRONMAN Group commented on the success of the race, "SCSM2023 epitomised the unifying power of sports, and its ability to cross cultural and geographical boundaries to unite individuals through their shared passion for running and their pursuit of personal excellence. We are especially pleased that we were able to offer runners a truly special finish at the National Stadium this year. The strong showing of international participants is a testament to the event's growing stature, not just in Singapore, but also with serious runners everywhere. We look forward to elevating the event further and are deeply grateful for the wholehearted support of Sport Singapore, Singapore Tourism Board, and Standard Chartered, which have helped make the event what it is today."