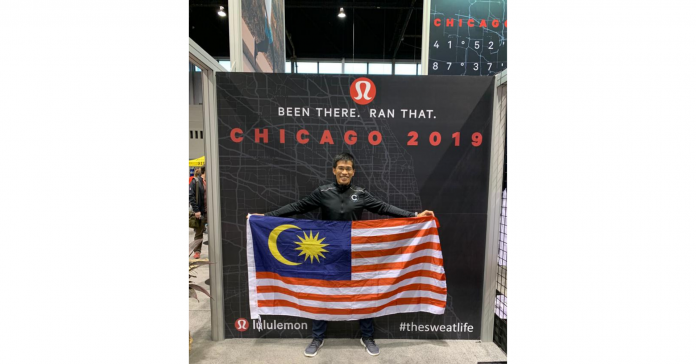 "Don't Limit Your Challenges. Challenge Your Limit!" – Liong Chian Min (Malaysian ultramarathoner & World Marathon Majors runner)
With this November marking the 4th anniversary of my Full Marathon (FM) journey since the first one on November 12th, 2016, I have been thinking a lot about my running experience lately.
My dream is to constantly challenge myself to run stronger, get faster and go further. Hence besides running FM, I have also explored trail running, hill hiking and Ultra Marathons (UMs) with distances stretching beyond 42km. Hitherto I have participated in 23 FMs and 6 UMs during this 4-year period, which led me to almost every state in Malaysia and running vacations around the world, such as Singapore, Hong Kong and Chicago.
Perhaps it would make sense that on this anniversary, I take a moment to pause and reflect on my best running moments so far. After some thoughts, I have narrowed down the list to "5 Most Memorable Runs" during 2016-2020, with each one representing a landmark milestone in my marathon journey.
Let me share the significance of each run, how I prepared for them & the lessons I learned along the way!
1. PUTRAJAYA NIGHT MARATHON 2016 (November 12th, 2016)
Why Important? My First Full Marathon (FM1)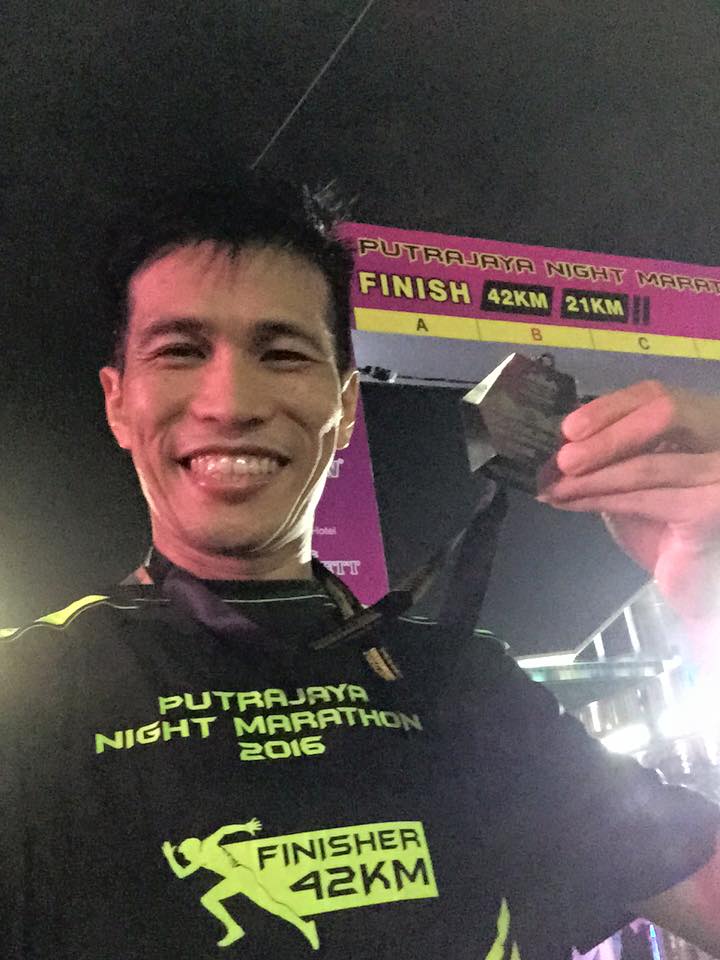 As the saying goes 'the first time is always special', Putrajaya Night Marathon 2016 (PNM16) was truly memorable for me. Nothing could ever beat the euphoria of completing my virgin FM. Personally, PNM16 was perhaps the watershed moment in my journey, due to a couple of reasons.
Prior to 2016, I had never summoned enough courage to attempt any runs beyond Half Marathon. When I set my goal to attempt first FM that year, I rationally chose a close-to-year-end event, so that there was adequate time for training and preparation.
No doubt, the thought of running 42km was initially daunting, as there was always the mental barrier of whether I can complete the FM within COT (Cut Off Time) and avoid DNF (Do Not Finish). My 2016 modest goal was just to finish within 5 hours. And of course, the best way to gain confidence was to prepare physically and mentally, with consistent training throughout the year.
My run program was tailored to gradually increase my monthly mileage during 2016. In tandem with my training, I registered for at least one run event every month, raising the bar each time from 10km to 15km, 21km and eventually a few runs beyond HM, such as 2nd Penang Bridge Challenge 2016 (27km) and TRR Brooks Run 2016 (30km).
Choosing a pair of great running shoes became critical. After much consultation, I opted for the lightweight 'Brooks Launch 3' shoes, which provided the necessary support and energy return for my run. More and more, I also began to pay attention to my food intake, focusing more on carbo-loading before each running session.
On Nov 12th 2016, upon flight arrival & check-in at Putrajaya Dorsett Hotel, I was ready to face PNM16 challenge after months of training. Despite the heavy rain, I ran non-stop in my first FM with 15,000 runners and managed to finish with 4:25:40 (of course my PB, since it was my one and only FM).
What I Learned – For those runners who want to accomplish their first FMs, I would advise that you must commit to your goal early, find your inner motivation to succeed, maintain the discipline for consistent training, but most importantly, be prepared to leave your comfort zone!
2. STANDARD CHARTERED KUALA LUMPUR MARATHON 2017 (May 21st, 2017)
Why Important? My First Sub4 Marathon (FM4)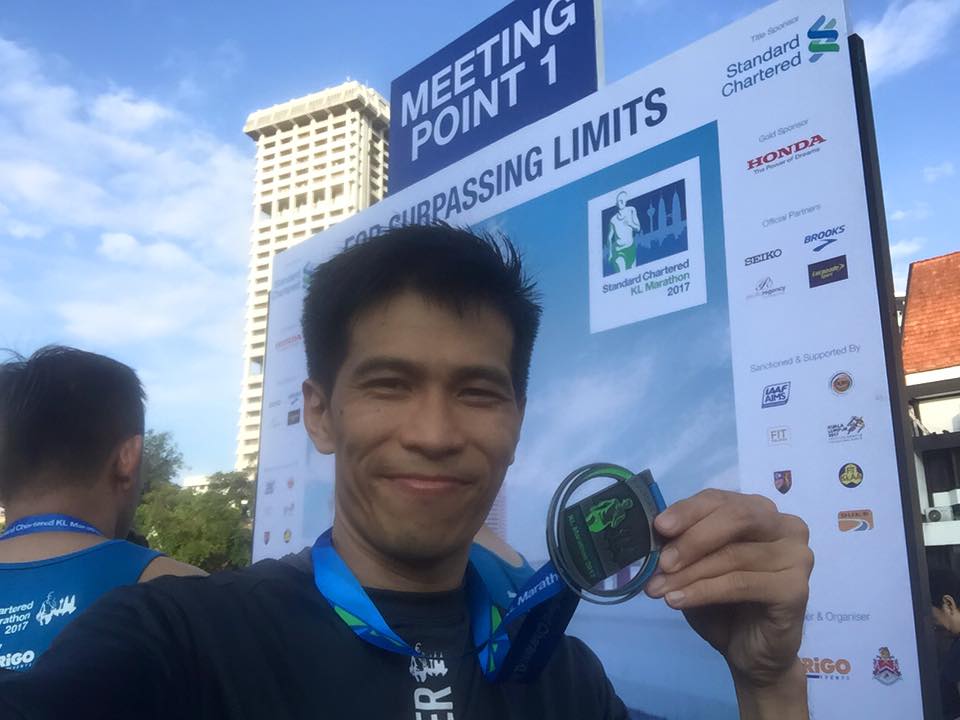 While PNM16 was memorable as my FM1, it was not until my 4th one, Standard Chartered Kuala Lumpur Marathon 2017 (SCKLM17) that I achieved my first Sub4 (to finish within 4 hours). For me, Sub4 had to be the natural step-up, once I could consistently complete marathons.
To achieve Sub4, the training had to be different. It was no longer about whether I can finish FM within COT, BUT how fast I can complete the 42km ordeal. The average pace for Sub-4 marathon is about 5 min 41 sec per km; hence a runner must consistently hold his average pace around 5:30 for a long stretch of distance (with spare time for water stations, bad weather & unforeseen circumstances). The likelihood of leg cramp would easily increase in such a race against time.
The next logical plan for me was to get a reasonable running watch, which can adequately help to monitor and access my run performance (pace, distance, mileage, heart rate etc) during training and race. After much research, I finally bought Garmin Forerunner 235 (which I still happily use till today).
Definitely when it came to preparation, the training focused more on the aspect of run efficiency – such as cadence, stride, food diet, training mixtures, heart rate monitoring, VO2 etc. The run workout became more tactical before marathon (when to taper and carbo load) and during marathon (when to surge, when to conserve strength and be patient, how to save time at water stations, how to keep yourself hydrated, how to handle cramps etc).
As this was my first SCKLM attempt, the run route was scrutinized, especially for areas with elevation and steep descent. For example, SCKLM route was notorious for its hilly ending from Km 33 onwards (Bukit Tunku and a long climb along Jalan Parlimen).
Come May 21st, 2017, about 36,000 runners joined SCKLM17. I was one of FM runners to complete my first Sub4 FM (3:55:49), which I dedicated the achievement to my late father (who was supportive of my runs and passed away just 2 weeks before SCKLM17. For further reading:- https://www.justrunlah.com/2018/11/16/marathon-tribute-to-my-papa-by-paradigm-runner/).
What I Learned – For those runners who want to attempt their first Sub4 FM, you would need to run using your heart and your head. The training is still important, but you must equally learn to understand your body and know how to pace yourself correctly. Pay attention to your run details and efficiency.
Remember the golden marathon mantra – the actual racing does NOT usually start, until the last 10 km!
3. STANDARD CHARTERED SINGAPORE MARATHON 2018 (December 9th, 2018)
Why Important? My First Overseas Marathon (FM12)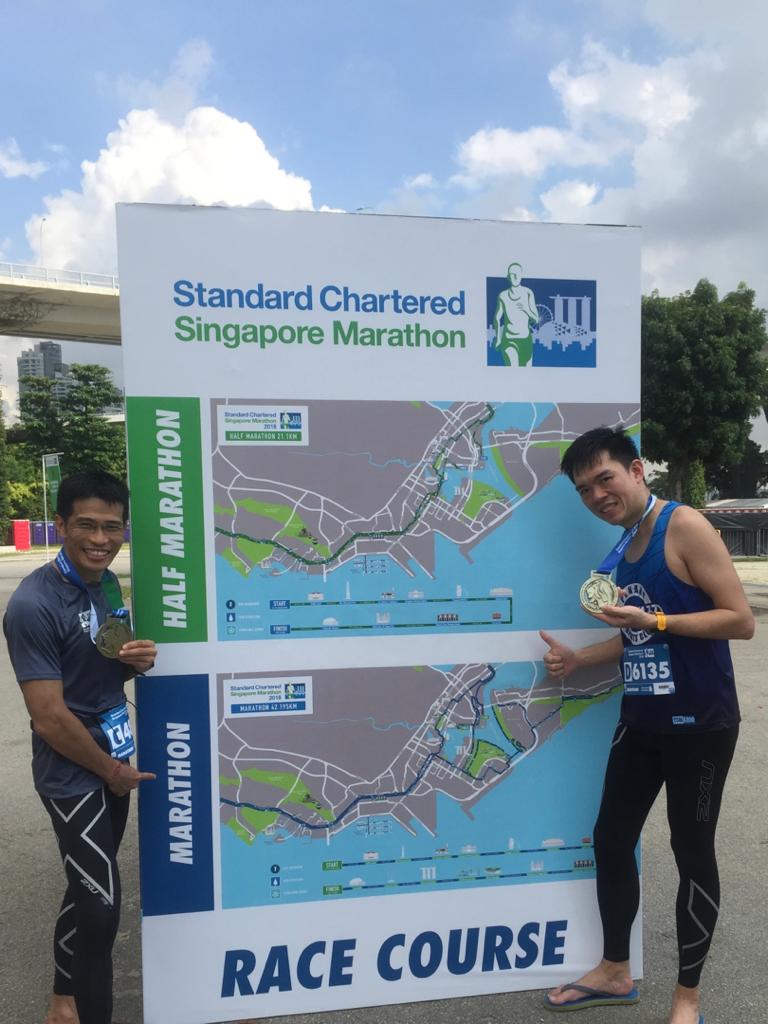 2018 was the year that I joined 7 FMs, the highest participation in a single year. Although there were a few memorable FMs during 2018, I considered Standard Chartered Singapore Marathon 2018 (SCSM18, my FM12) as the one to stand out the most. After running more than 10 FMs in Malaysia, it was time for me to explore my first overseas marathon.
Unlike the local runs, the preparation for an overseas marathon will require a bit more coordination – eg accommodation, foreign currency exchange, visa (if required), food, flight booking etc.
But why SCSM18? Well…there were a few reasons for my choice.
First of all, SCSM is rated by IAAF as a Gold Label Road Race, a standard that unfortunately no marathon in Malaysia has ever achieved! It would be a great eye-opening experience to participate in Gold-Label marathon and explore the difference.
Secondly, Singapore is very near to Penang geographically, which makes the travel much faster (just about 1-hour flight). Likewise there are a lot of common factors between Singapore and Penang. From weather aspect, it is still the same hot and humid – so there won't be any acclimatization required. The food and language were almost the same too.
Thirdly, SCSM route is relatively flat, with not much elevation; so it would not be too difficult.
Thousands took to the street on Dec 9th, 2018 and I completed my first oversea FM with Finish Time 3:48:08. After gaining SCSM18 experience, that provided me the confidence to explore more overseas marathons in future (for my SCSM18 review, pls read https://www.justrunlah.com/2018/12/19/a-tale-of-two-marathons-by-paradigm-runner/).
What I Learned – For those runners who want to try overseas FM, you have to pay attention to other factors, such as weather, accommodation, travel, food, especially the logistics to get to REPC (Race Entry Pack Collection) and Start Point. Choosing a hotel nearby to these locations will definitely help, but with many foreign runners in such race, it is best to get your lodging reserved early to avoid disappointment.
PS – however due to the ongoing global COVID-19 pandemic, the participation in any FM (let alone an overseas one) will be more challenging nowadays.
4. CHICAGO MARATHON 2019 (October 13th, 2019)
Why Important? My First World Marathon Major (FM16)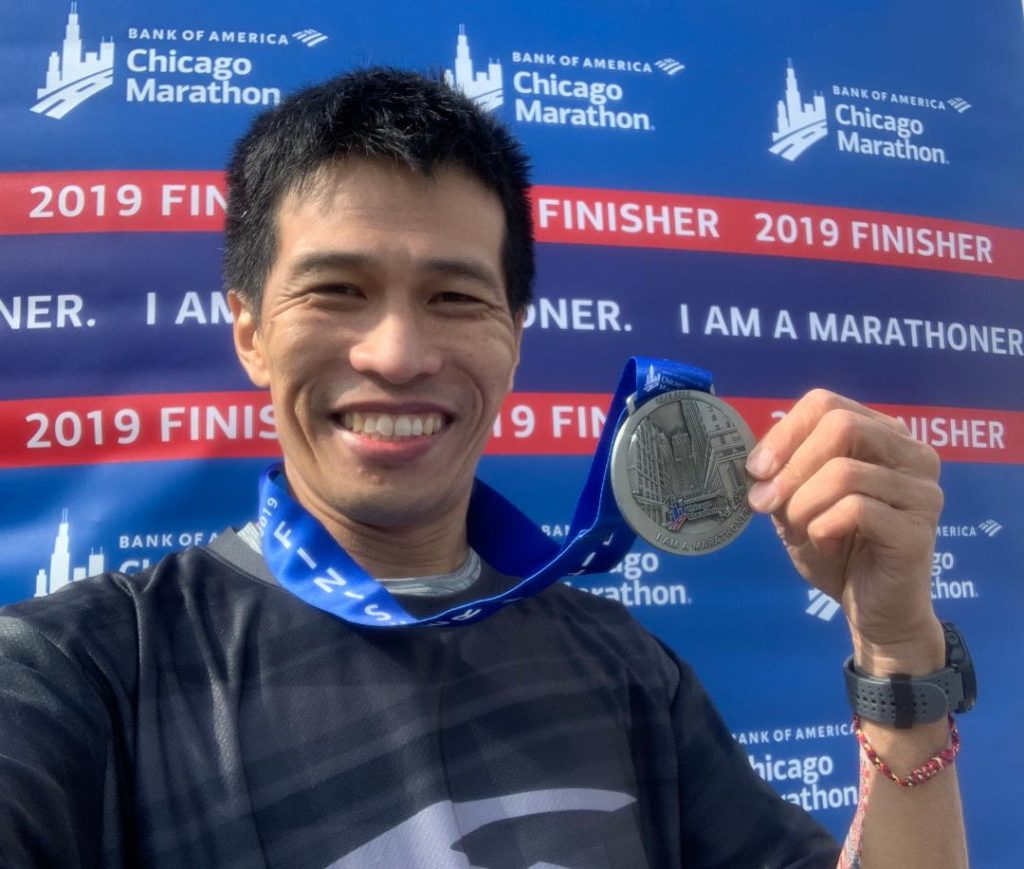 As an avid runner, I would not be honest if I told you that I had never harbored any desire to run in World Marathon Majors (WMM). Ever since my first FM, a dream in my Bucket List was to take part in one of the six WMM.
I still remember Dec 11th, 2018 when I received the email to inform that I was selected to run in Chicago Marathon 2019 (CM19), which was my 16th FM.
Though SCSM18 was the baby step for participation in overseas marathon, the CM19 preparation was entirely different. With CM19 organized in USA (almost 15,000 km away from Malaysia) during October, an autumn marathon provided yet another set of challenges. The temperature there would be somewhere between 10-15C, while Chicago is known as The Windy City for an obvious reason – the wind factor!
To train for CM19, I registered for Standard Chartered Hong Kong Marathon 2019 (SCHKM19) in February as a trial run. As a spring marathon, SCHKM19 offered me the experience to run FM in almost similar climate – a much colder temperature, with strong chilly wind.
Another action plan was to arrive a few days earlier in Chicago, which gave me the chance to acclimatize my body to the weather. I did a few light jogs during those few days to observe how my body reacted to the cold temperature and strong winds and how my breathing would be affected.
Finally on Oct 13th, 2019, I ran my dream marathon, together with 45,000 runners from all over the world, with my fastest Finish Time 3:36:54 (my new PB).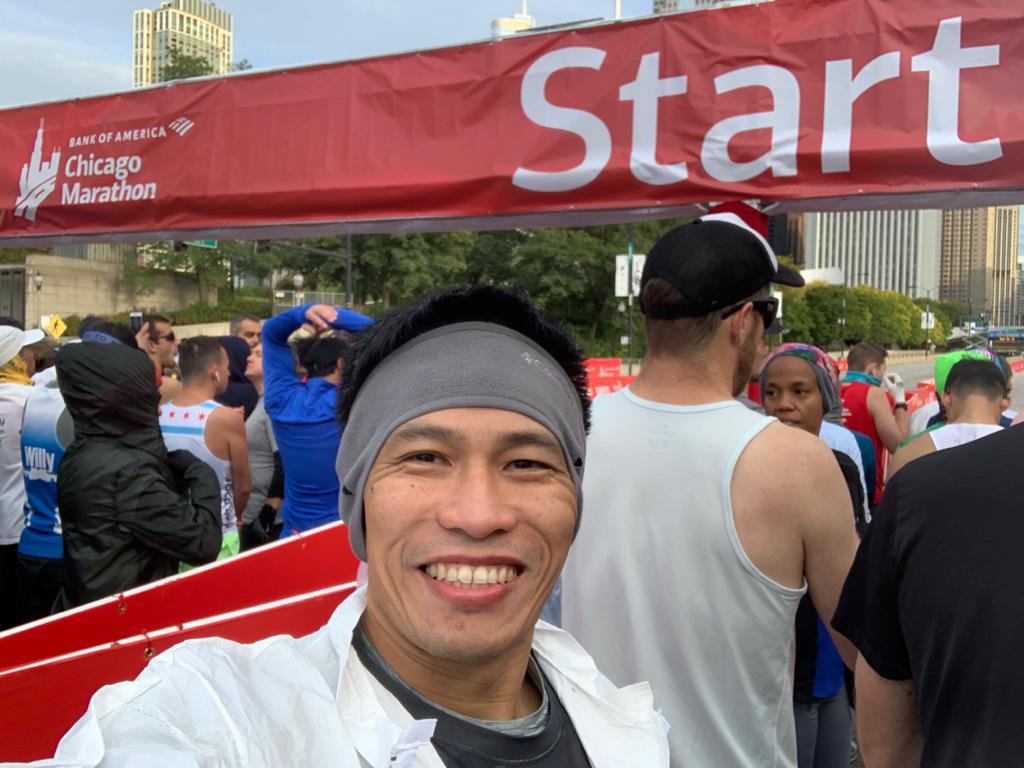 What I Learned – If you want to join overseas FM in a country with completely different climate, you need to adopt different preparation. Try to get there a few days in advance. This will give your body a chance to adjust to the weather, wind, temperature and food. Bring extra clothing to keep you warm (if necessary) eg windbreaker, earmuffs, gloves etc.
Such preparation was extremely valuable, as it would give your body the opportunity and ample time to adapt.
5. LANGKAWI ULTRA 2020 (February 29th, 2020)
Why Important? My First 100km Ultra Marathon (UM5)
After Chicago Marathon 2019 (CM19), my attention quickly shifted back to another concurrent goal – to run my first 100km UM. I had another 4 months to train for Langkawi Ultra 2020 (LU20), scheduled on February 29th, 2020.
The training for 100km UM was very dissimilar to those of CM19, in terms of speed, distance, weather, physical and mental conditioning. It didn't escape my attention that 100km UM is equivalent to running two consecutive FMs, plus another 16km.
Unlike FM (where I aimed for Sub4 speed), the game plan for my first UM was to avoid DNF, while achieving a decent Finish Time. With 18-hour COT, my aim was to finish hopefully within 14 hours (run, walk or even crawl, if I had to).
In fact, my training for UM began, way before CM19. The approach for 100km UM focused more on physical endurance, body conditioning and mental strength during such gruesome distance. Speed became secondary for UM training.
But here's the thing. For a working family person, I would not have the luxury to regularly train for 10-15 hours for UM. So I did the next best thing – spread out my FM runs during 2019, leveraged on my 50km trail runs for endurance training and joined a 75-km UM along the way.
As part of my LU20 training, I signed up for 3 UMs, as a step-up to bridge between 42km and 100km. The first one was Penang ECO 2019 (in June 2019), a 50-km trail run with Elevation Gain 2,921m. Next came PUTRA Perlis Ultra 2019, a 75km road run in Dec 2019. With 4th-place finishing in PUTRA Perlis Ultra 2019, I found the confidence to take on LU 100km. Finally I participated in UTOS 2020 (another 50-km Johor trail run in Feb 2020), just 3 weeks before LU20, to ensure that my endurance training was consistently maintained.
Come Feb 29th, 2020, I stood at the starting line of 100-km race with another 86 runners and eventually completed LU20, with Finish Time 13:38:16 and ranked 7th in my category.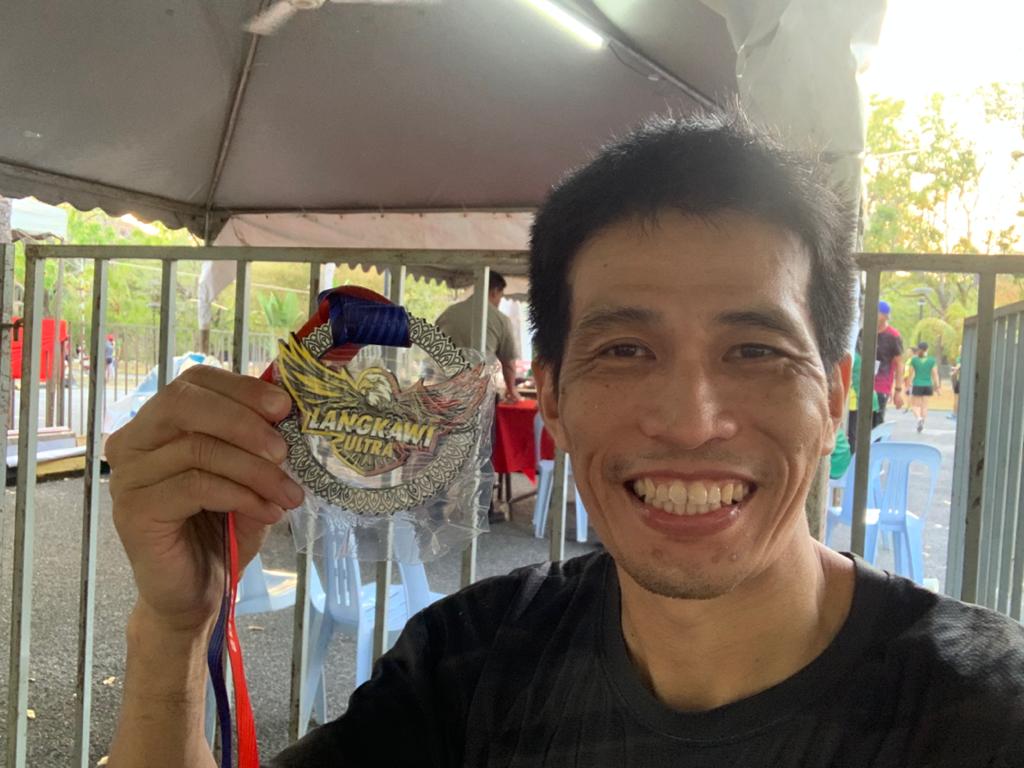 What I Learned – For UM, physical and mental preparation are equally crucial! Physical training would prepare your body well for UM, but your mental resilience and heart desire must be strong enough for you to finish the race. Your ultimate strength doesn't come from your body, it comes from your heart, asking you, 'How bad do you want it?'"
There were many times during the 2nd half of UM race when my tired body would tell me to throw in the towel, but the ultimate decision came from my mind.
At that moment, I remembered the words from Michael D'Aurelio, the author of the book 'The Ultramarathon Guide: A Simple Approach to Running Your First Ultramarathon' – "The moment when your legs give up is the exact moment when your heart gives more."
For me, it has been a wonderful marathon journey so far (2016-2020) and perhaps more will come in future. Which brings me to my sincere wish that you have enjoyed reading them and learned some tips from my experience. Hopefully my anecdotes may even inspire some of you to greater heights.
In your running journey, you are there to improve yourself, NOT to compete against others (unless you are a professional elite runner). Remember that as long as you are better than yourself yesterday, you have taken a positive step to be a better you!
You are running your own race. You compete with no one but yourself.
So train to your best ability! Go out there and create your own memorable runs!! This is your journey!!!