2 weeks apart – Nov 25th and Dec 9th! How we wish that PBIM18 (Penang Bridge International Marathon 2018) was separated from SCSM18 (Standard Chartered Singapore Marathon 2018) by mere dates.
For runners who joined both events (such as yours truly), unfortunately, the chasm between PBIM18 and SCSM18 transcended calendar.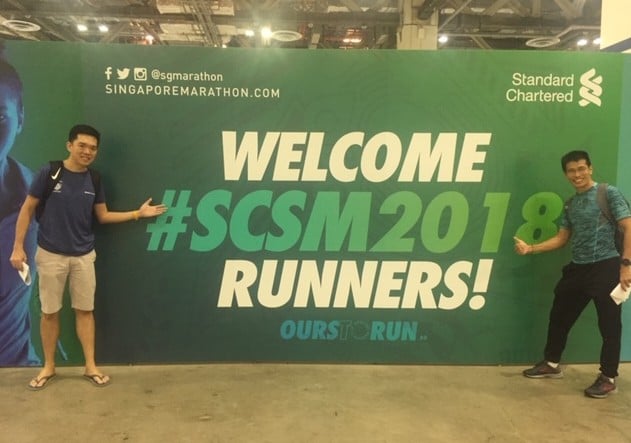 "It was the best of times, it was the worst of times" were the opening lines of the classic novel "A Tale of Two Cities" by Charles Dickens. Yet you get the feeling that it somehow aptly described the contrasting fortune of these 2 marathons.
PBIM18 experienced the wrath of a freak storm in the north; while SCSM18 was blessed with fair weather in the south. One was partially called off, while the other 'ran' smoothly. One organizer was panned for alleged deficiency; but the other was praised for great competency.
If we look back in history, both races started more than 3 decades ago (SM 1982 and PBIM 1984). Indeed these two marathons have come a long way, though PBIM took a hiatus during 1995-2002 and 2005. Yet today, one can't help noticing that one already attained IAAF Gold-Label Road Races status since 2012, while another still struggled to meet the runners' expectation.
Regrettably, PBIM18 organizers were chastised for the long waiting time for medals and parking, lack of contingency plan, neglected safety issue and other aspects. It somehow beggars belief that they wanted to take PBIM to greater heights, when a litany of problems still plagued the run year in year out.
This article attempts to explore a few key aspects that separate these 2 marathons and more importantly, how PBIM18 organizers can perhaps learn from SCSM18 experience.
Race Entry Pack Collection (REPC)
Even before the race day, the marked difference was all too apparent during REPC. SCSM18 4-day REPC occupied the Convention Halls of Marina Bay Sands Expo and Convention Centre, with more than 136 brands from 117 vendor booths, taking up the 8,000 square-metre space.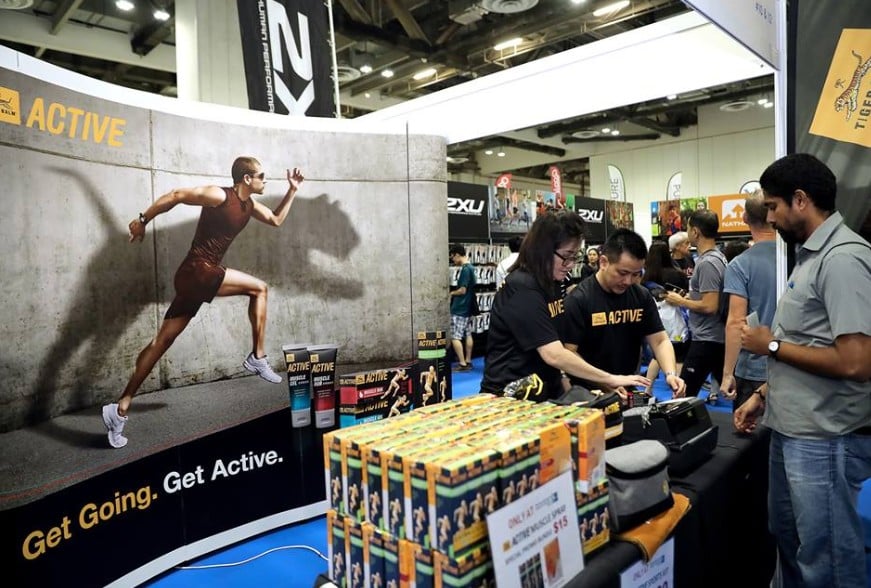 Under Armour (SCSM18 Official Partner) came out with an extensive range of memorabilia, from SCSM18 caps to commemorative bags, visors, mugs, limited-edition tee shirts, lion toys, stickers, water bottles and many more. The SCSM merchandise section reportedly took up 1,360 square metre space at the Expo.
There were many booths displaying lots of discounted products, such as running gears, audio headset, running belts, hydration bags, energy gels (eg High 5 Energy Gel sold at SGD1.50 per pack), 2XU Compression wear etc. Other stations offered promotion for upcoming race events (such as Great Borneo Series, Sundown Marathon, Gold Coast Marathon, runs in Korea, Japan, Thailand and other places).
Visitors could also check out several activity booths during SCSM18 REPC to take part in physical challenges, such as mini 'triathlon', Pull Up Bar challenge; as well as stall set-up for photo opportunity such as giant medal, stage camera etc and SCSM Running Café.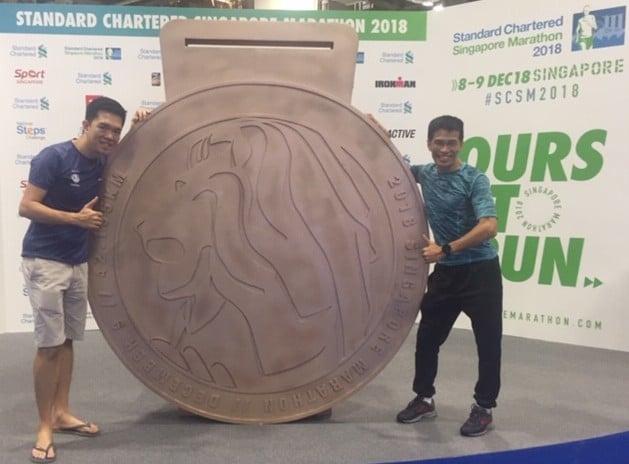 In stark contrast, PBIM18 REPC utilized a comparatively smaller area of Level 2 South Zone in Queensbay Mall (QBM), with Brooks the only vendor visibly peddling its promotional merchandise in the mall. A runner even jokingly pointed out that the inaugural Balik Pulau Marathon 2018 (held on Oct 7th) seemed to have more REPC booths than PBIM18.
Of course, one may arguably claim that PBIM18 had several booths eventually set up at QBM alfresco car park on final day of REPC and race day. If PBIM organizers truly want to re-brand and elevate PBIM status to a higher world-class level, then perhaps they should consider making REPC a bit grander. If QBM somehow couldn't house so many booths, an alternative site should be assessed. Perhaps Spice Arena can be a Venue Sponsor for PBIM REPC in future, as the location has ample space for booth set-up and car park for runners.
But let's temporarily put aside REPC and compare the other aspects between PBIM18 and SCSM18!
Life is Too Short To Wait
Back to the recurrent waiting quandary! While some PBIM18 Full Marathon (FM) participants had to queue for at least 20-30 minutes in the rain to collect their medals and finisher tees, there was hardly any waiting time for SCSM18 runners. Upon crossing the Finish Line, the FM participants in SCSM18 were immediately given their medals, before being directed to another tent to collect their finisher tees. It was a well-oiled process with lots of volunteers on hand to support.
Time and time again, we see PBIM organizers finding it difficult to promptly distribute the medals and tees; hence causing jam at the collection tents.
As suggested in my previous article "Learning To Run In The Rain?", PBIM18 organizers should seriously review the collection logistics. If necessary, they should consider adding more stations and volunteers and improve on their process, such as pre-packed goodies bags or perhaps collection lanes based on T-shirt size.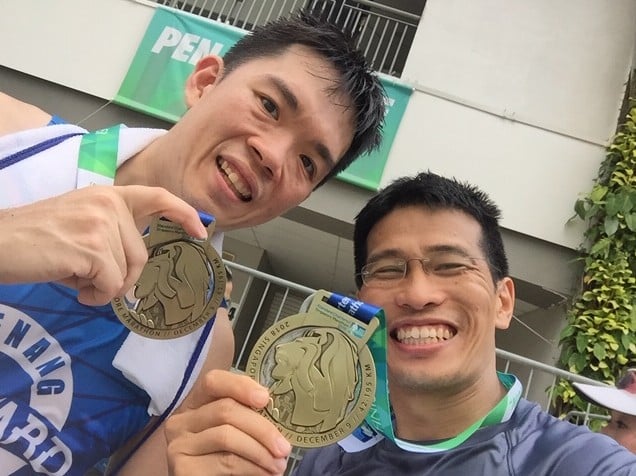 Happiness Comes in Waves
Another common grouse about PBIM18 was their FM single flag-off. When participants of different pace were simultaneously flagged off, there bound to be the case where in the chase for time, faster runners would be impeded by leisure runners in front, causing bottlenecks along the route.
Adopting the standard practice in most world-standard marathons, SCSM18 flag-off was conducted in several waves with Elite Wheelchair and Elite Runners given priority; followed by marathoners grouped in different Pens according to their pace. Slower runners would be usually placed in Pens at the back for late flag-off.
Such process helped to spread out the participants and avoid unnecessary congestion during the race start. Perhaps PBIM organizers can adopt such practice for their 2019 run.
The Biggest Room in the World is the Room for Improvement
For all SCSM success stories, however to say that they never had any past issues would be an over-exaggeration! SCSM organizers also experienced a few dilemmas from their previous marathons. However the difference is that they learnt from their past mistakes and continued to improve their SCSM18 run.
Back in SCSM16, there was the tragedy of sudden death of 29-year-old Hong Kong-born John Gibson, who collapsed about a kilometer away from the finish line. The incident prompted a study review by the organizers on the availability of medical staff, the accessibility of ambulance and more signs to help runners better identify their exact location. There were up to 15 hydration and cooling zones set up along HM & FM routes during SCSM18, which also featured new splash and ice-chip stations.
Last year, one of the biggest complaints during SCSM17 was the long queue time for runners to drop off their bags; some reportedly more than 2 hours that they eventually missed their flag-off time. Thus the organizers decided to benchmark best practices from World Marathon Major races.
The result was a much-improved bag deposit system during SCSM18. During REPC, runners were given clear bags and stickers, which were to be used for bag deposit during race day. By shifting the starting point and venue to the F1 Building, it allowed the organizers to set up the bag drop process much earlier in advance. The number of bag deposit zones was also increased, which make the process of bag drop-off and retrieval more efficient.
The bag deposit stations for runners were conveniently located right next to their respective Pen entrance; hence the process of baggage drop-off to the Pen entrance took mere seconds.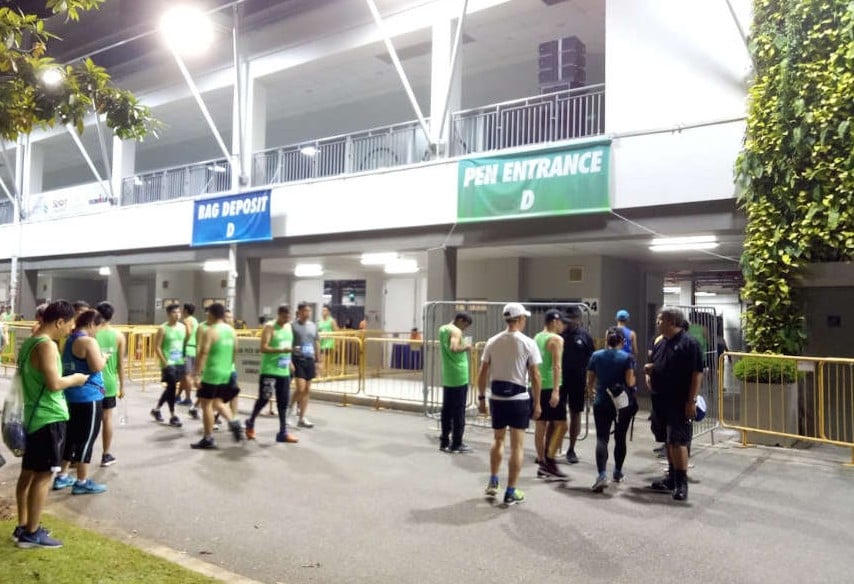 Similarly other past grumbles (such as the inadequacy of finisher tee sizes, connection issue with SCSM run app) were also addressed during SCSM18. Not only were the runners given the correct pre-ordered size of their finisher tee, they also had the option to change size at a separate Info Tent (while stocks last), WITHOUT affecting the size of other runners' tee.
There was also no more connection issue with SCSM18 run app this year, as runners could instantly access their official run time online and engrave the time on their finisher medals.
Kudos to SCSM organizers for their great improvement!
The Question Remains
The key question is whether PBIM organizers can also learn from their mistakes and continuously improve their process, just like their counterpart in SCSM. It is never the intention of this blog to belittle PBIM organizers, but as Penangites, we don't want to see PBIM become continuously mired in mediocrity and issues.
By and large Penang runners are still with PBIM, although some have been unimpressed by the organizer's perceivably lackadaisical attitude for quality improvement over the years. Albert Einstein once famously quoted "Insanity is doing the same thing over and over again and expecting different results".
If PBIM organizers are serious about achieving world-class standard, it's about time to address the elephant in the room, learn from other international marathons and replicate the practices that would make PBIM process work significantly better than previous years.
As PBIM18 Chairman YB Yeoh Soon Hin boldly stated in his Message that "in our effort to rebrand the marathon, we want to emphasize on delivering quality", can Penang runners cautiously look forward to a much-better PBIM19 with slight optimism?
Nuff said. Over to you, PBIM organizers!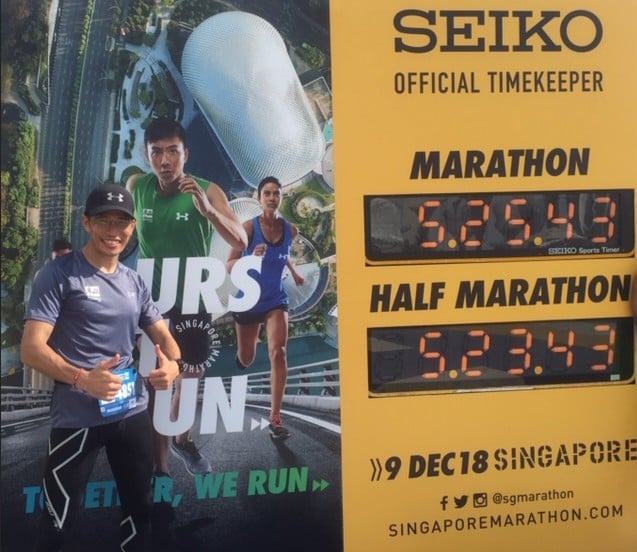 Ratings for Standard Chartered Singapore Marathon 2018