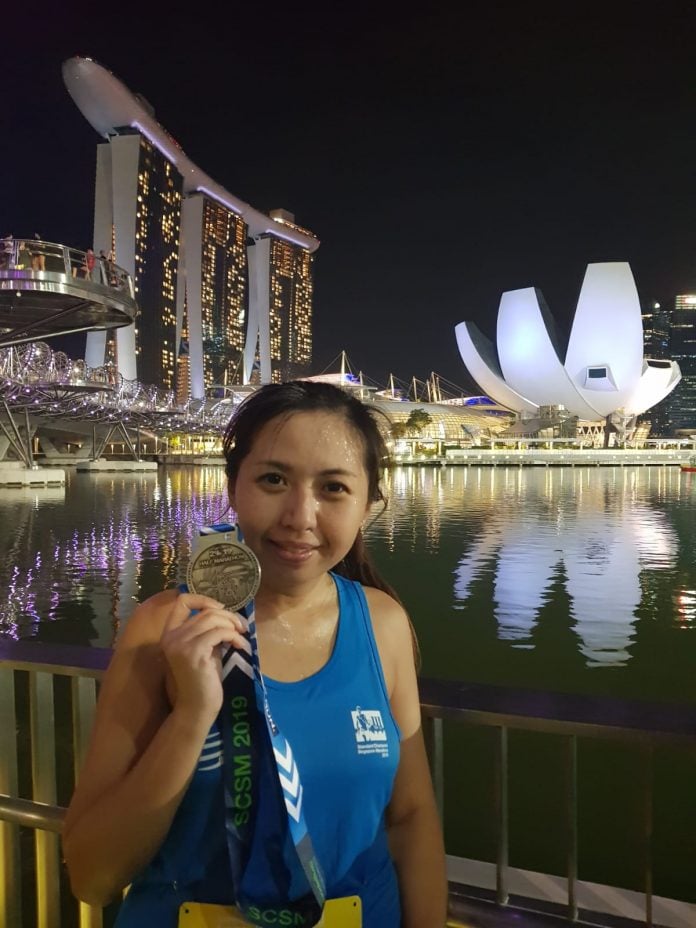 This year's Standard Chartered Singapore Marathon was a different experience as it was an evening race, all my previous SCSM I've ever participated in were morning races. Didn't really know about such an improvement of the bib technology that it provide real time live tracking of all runners with a valid bib! 😍 I'm really super impress with the mobile app as it was damn awesome for stalking your crush, your ex, your frenemy. But it's a good app for family members or friends who want to agak the finishing time of the runners to fetch then home or find their location and cheer for them along the route 👍
Race expo was from 27th November till 30th November at Marina Bay Sands Expo, I went with Yi Qing and Eleanor on Thursday evening after work. It was a swift collection because on the spot they issued the race bib and tag it to your particulars.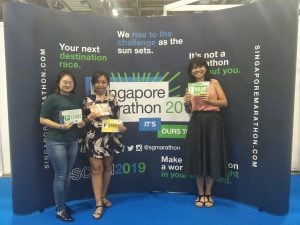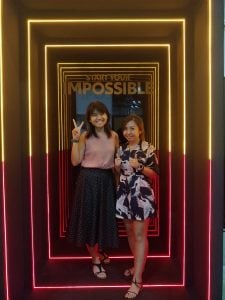 What I like most was the many nice Instagramable photo opportunities around 😆 There's the usual merchandise for sale and many booths from the exhibitors and the sponsors. After running the Tokyo Marathon this year, I felt that SCSM isnt comparable as it's a larger scale of everything there.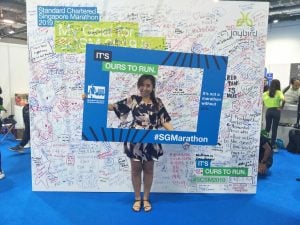 I would highly recommend all runners to try a marathon in Japan as I had my best experiences of race Expo as well as race experience in Japan for Tokyo Marathon earlier this year and Osaka Marathon 2 years back ❤ It was 42.195km of supporters and entertainment along the route. Looking forward to running Nagoya Women's Marathon there next year, I'm lucky enough to get the ballot 😍
Still a long way for Singapore to go if they wanted to be in the list of the World's most prestigious marathon. But Singapore is awesome as well and can really see that there's lots of improvements and effort from Ironman this year. At least in my opinion, SCSM was better than Blacksmore Sydney Marathon and Gold Coast Marathon I'd participated in, it's only their colder temperature's a selling point. Shall try a race in Europe some day ❤
There were plenty of categories for SCSM. There's the kids dash, Ekiden, full marathon, half marathon, 10km and 5km categories. I'd actually signed up for 2 event categories but after the half marathon I felt unwell to go for the 10km the next day. Always listen to your body and I seriously don't want in my running life to trouble any of the medics on duty.
Thanks to Jeff and Fannie for tompang me to town area on race day. Traffic was slow in town and also traffic jams everywhere. Close both eyes will also know SCSM confirm kena plenty of complains from many people, whether be it drivers or commuters because bus routes affected or even tourist who stayed at nearby hotels because of the road block/road closure.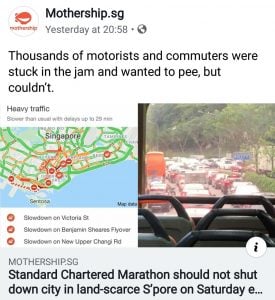 (Credits: Mothership SG, read the full post Here)
It was also super difficult for Jeff to find parking. We were pretty late due to the super snail pace traffic. Willis's barang barang was all with me as he got work prior to the race. I went to Millennia Walk to meet Willis as he still needs to change his clothes. We used the toilet in Millennia Walk as we expected it will be long queue at the portable loos at race site but amazingly when we reached the race site at F1 Pit Building, there wasn't any queue at all.
Theres security bag check before we can enter F1 Pit Building. Bag deposit before and collection after the race was swift and there's no waiting time at all 👍 By the time we were ready to enter the pen, it was exactly 6pm, time for flag off.
Had been lazing around lazy to run after Oxfitt Run a few weeks back, guess I was drained like a flat battery that needs a longer time to recharge. In preparation for my Oxfitt pacing duty I ran a record high of 220km that month which even for my own race I also didn't train as hard 😂 I know with the "flat battery", I'm in no condition to run a good race. I was in Pen F with Willis, I guess it's because we registered using the U Run All Access credits and it was reflected as corporate slot.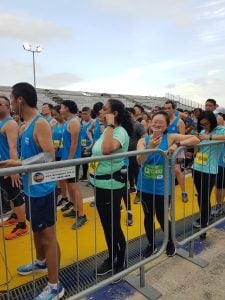 It was damn amazing, out of so many thousands of runners, I spotted Yi Qing when Willis and I just entered the pen. As we were damn late already, Willis and I were quite far behind but we managed to "excuse me" squeeze our way to find her 😆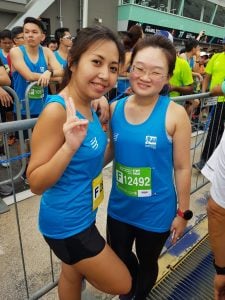 Flag off was at 6pm but by the time I started running it was already 6.40pm. My battery level from green bar turns to red with the waiting 😂 It would be great to have volunteers around beside the start pen with trash bags for runners to throw away their bottles, food packaging etc so runners won't be littering(Japan have volunteers with trash bags for runners to dispose their rubbish, can learn from the good ones ma) Singapore is a clean and green city eh 😆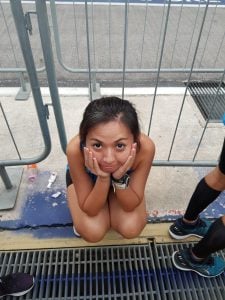 Was reminded of the marathons I had in Japan. Though I was in the Pen alphabet like super far behind, but it was just a single wave flag off and runners didn't need to wait for long. But well, this is Singapore and land area is very limited. Even with the so many waves of flag off, it was still damn jam. I felt that Full Marathon and half Marathon shouldn't flag off together, maybe the full marathon can flag off an hour earlier so that it will not be so jam. I couldn't run at my own pace and it was too crowded, I told Yi Qing that it was like all of the runners were running together at a same pace.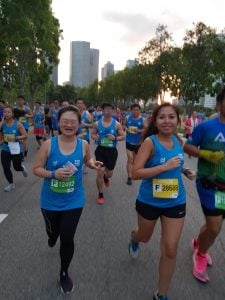 It was Yi Qing's first full marathon and we ran together for about the first 10km of the race before we ran off. Parts of the run we lost Willis as he thought we were behind of him but actually we were ahead of him, he used the mobile app to track us then realised we were actually ahead and caught up with us shortly.
I didn't had a good run honestly because there was just too many runners along the entire route. Can't have the chance to overtake unless I'm slim enough to pass the A4 paper challenge 😆 It's only at the later part of the run that there's some space available for breathing.
There were a few splash points along the route and quite a few medic tents. I gotten a glove with ice and it was so shiok and last me for like 10 minutes. Willis got his one ring to rule the world for a few moments 😆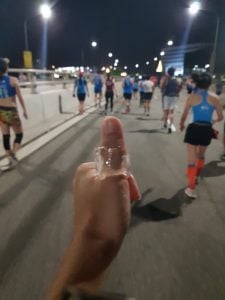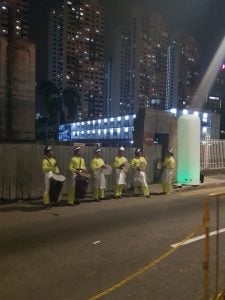 Atmosphere along the route was much better and more lively with more spectators and supporters than the past races. There's extreme effort by Ironman to include plenty of entertainments along the route, there's Elvis, Michael Jackson, there's even Opera, the Chinese Tong Tong Qiang and Cultural Malay music. The most popular one I think is these two sexy dancers 😏: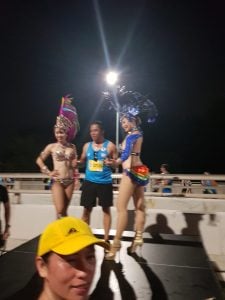 There were plenty of hydration points along the route, and I noticed the hydration points were much longer. Most of the hydration points provides both 100 plus and water. But the cups were all over the floor, it looks terrible. It's a mass littering, the fine city hopefully will not fine runners at marathon period 😆 Just hope the clean up will be thorough after the marathon.
Theres's gel station, banana and biscuits! Though the biscuits isn't very yummy but really an effort better than no biscuits lah, but maybe next time can offer kueh lapis or curry puffs will be awesome! Let foreign runners experience some food that locals eat ma 😆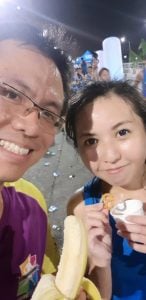 All year round it's humid, very humid or super duper humid in Singapore 😂 I felt very suffocating with so many runners and I really don't have any fresh air at all 😂 The air isn't very nice especially in the later part of the run when everyone is sweaty and smelly including me 😆
Then it comes to the point that separates the full and half marathon runners, I think it would be a better option to put numbers 42km and 21km instead of words. Was glad that I chose to run half marathon category 😆 I think the route is pretty clear with the directions board.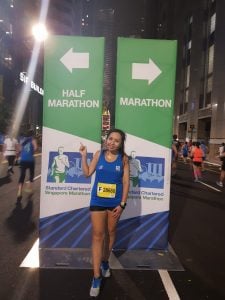 And soon enough, we complete the race! Received a beautiful medal and took super cold towel, it's super shiok and I felt super refreshed and clean ❤ Also gotten a bottle of water, a can of 100 Plus, a packet of chips and a banana 😊 Didn't really explore the race village after that as it was late already and I thought I should go back and prepare for my next days 10km race, furthermore, Willis have to wake up early for work the next day.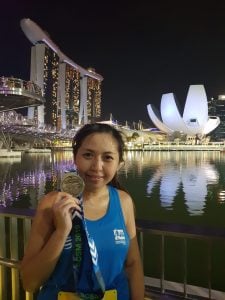 It was so tedious to go back home from F1 Pit Building after the race, the road was blocked as it was part of the route for the marathoners. We need to walk over to Singapore flyer and take the overhead bridge over to the other side to get to Promenade Station, it was super crowded, and to our horror, the escalator that was going down suddenly stopped! And there was a burnt smell. But a few moments later, we still continue using the not functioning escalator by walking down. Just hope that it will not suddenly explode or collapsed and grind us up like minced meat. Preferred the race to end at Padang or The float actually as it's easier to access MRT station. Willis offered to send me home by Grab but I thought it will be expensive at this timing and with the many road closure, we need to walk quite far to let Grab reach us as well.
It was an awesome MRT ride journey as we passengers engaged with casual conversation with us about the race and congratulating us. But when we reached Bishan and was supposed to transfer to another MRT line, I felt very dizzy and we exited the station. I think it might be way past dinner time and I had my last meal at about 1pm. Well, since 3 plus start preparing for the race so where got time to eat? Willis went to the 7-11 to buy Milo for me and I felt better after some rest. Still, eventually took Grab home and decided to forgo the 10km run the next day.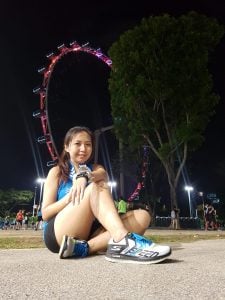 (Me in Skechers Razor 3, available in stores soon!)