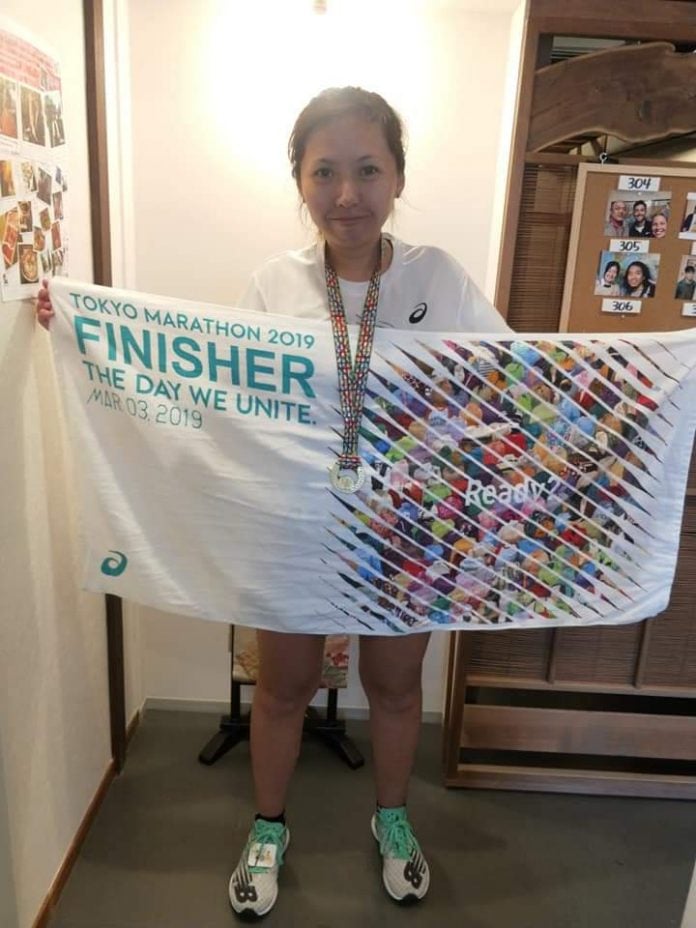 I ran the Tokyo Marathon! 😍 It's one of the Abbott World Marathon Majors with Boston, Berlin, New York, London and Chicago. They are considered the world's largest and most renowned Marathon on Earth so it's pretty exciting I ran in one of it, hoping I have the chance to run in other WMM 😍 It's the second time I balloted for the run and I finally got it this time! 😍 I've known some friends who balloted 5 times or even 7 times but still didn't get the ballot, I considered myself quite lucky honestly because of this 😆 I still remember that day while waiting for the ballot results, it was exactly the same feeling like getting exams results. I was anxious, nervous and then happy! 😍 I checked my email so many times that day!
It's my second time I ran a marathon in Japan. In 2017, I ran the Osaka Marathon, you may read about my past experience at Osaka Marathon 2017 here 😊
Willis balloted for Tokyo marathon as well but he didn't get the slot. But he's really a dear and my number one supporter, he came with me to Tokyo ❤ Also, he went from point to point during the race to cheer for me in the terrible weather. We are sure going to try our luck to ballot again for next year and hopefully both of us will get the slot!
Prior to the race, we can download runners handbook and read about important information for the race such as what items is prohibited to bring into the pens, procedures to enter the start pen and also what happens after the race at the finishing.
There were 10 different bib colours and mine is white. I'm a no baggage runner as well. I thought that I would have Willis at the finish point wait for me warm clothes so I don't need the baggage deposit. It was only when I reached back the Ryokan I was staying and had a good warm shower then I got to know that only the no baggage runners received the blue poncho 😍 When I was deciding and examining whether to throw away the seems like a pretty good quality poncho then I realised that it's Asics branded as well, I'll of course keep it! 😍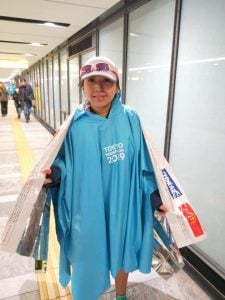 Race bib collection was pretty out of the way near Daiba Station. It took us 3 transfers from the train lines and almost 50 minutes to reached there from our stay in Shinjuku. It was raining and chilly when we went for the race bib collection on Thursday, the first day of Tokyo Marathon Expo. There were volunteers standing in the cold rain in raincoat holding sign board to direct us. Really salute and thanks to the volunteer for their hard work 😢 Expo and bib collection was a disappointment for me because it's outdoor and I was freezing. Heard that it's because someone else already booked the indoor place that the previous Expo was held in. For 2020, heard that the Tokyo Marathon already secured the indoor place for Expo 👍 I think I'll never go to some countries because I cannot tahan the coldness but who knows? I've never try, I'll never know.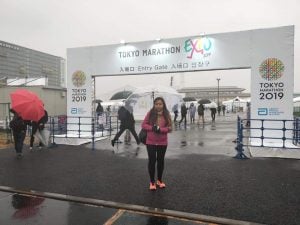 We arrived at the entrance of Tokyo Marathon Expl after about 10 minutes walk from the train station and they only allowed the runners in for the bib and runner's entitlements collection. So Willis waited at another place for me. They verified the confirmation letter and my passport and then tied a tag on my wrist. Then I went to collect my bib at another section and they took a picture of me. But don't know how taking photos of runners would prevent improper entries. Lastly, to collect my event tee. Everything goes on smoothly and it all just took me 10 minutes top. Just that some areas was flooding and my shoes were super wet. Clever me, I brought another pair of shoes only to use on race day 😎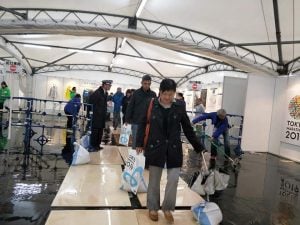 It's only the first day of the Tokyo Marathon Expo and a pair of gloves of a colour that I like already ran out of small size 😭 But I bought a beanie which printed "RUN TOKYO" 😍 It's my first beanie and is super comfy! Kept me warm the rest of the days when I wore it for sight seeing.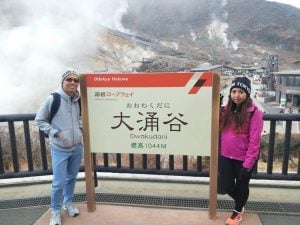 It's really a huge expo, there were many interesting games/activites to participate in to get freebies. There's also a counter where supporters could pen down their support for runners to cheer them on on race day!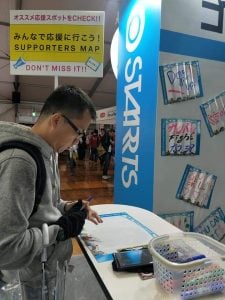 There were many stalls selling sports accessories, sports wear, merchandise of Tokyo Marathon etc. We managed to get a picture of Geishas 😍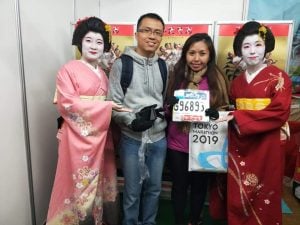 I still prefer the Expo of Osaka Marathon. There were many food stalls and I had the best Takoyaki there 😆 There were only a few food stalls around this Expo area and it was also located out in the cold/rain and not sheltered, not much people stop for food. But there's a shopping mall near the Daiba Station with a giant Gundam have many food stalls there, Willis and I head there for dinner 😍
Also with the race pack, runners received a card where runners can have unlimited train ride of certain Metro line within 24 hours for free valid till 31st March 2019!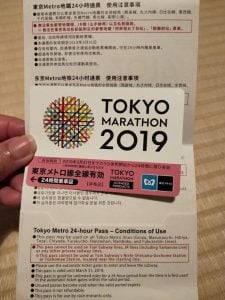 SCSM please consider this at least if you wanna squeeze in as one of the WMM 😆
I registered for Willis and myself for the Tokyo Marathon Friendship Run. Though there were other international runs that offered Friendship Run as well but we didn't participate in any of those before. I thought that it would be interesting to do it in Tokyo since Japan is an awesome country, it's by one of the World Marathon Majors and also heard from my friends who'd previously ran the Tokyo Marathon Friendship Run also shared that it's a fun experience.
On Saturday, the day For Tokyo Marathon Friendship Run we went to a station after Daiba Station, when Willis and I were on our way there from Shinjuku, we saw many runners whom at a glance can know they are heading for the friendship run as well as they dressed up for the run representing their country 😍 I thought I should have collected my bib on Saturday as well so I could have save a trip instead of coming days earlier, but maybe then I wouldn't even get to buy the beanie as well as it might even be sold out by then.
Weather was good on Saturday, it was sunny, temperature was just fine as well ❤ We were really entertained by runners who really dressed up and cosplay for the run and everyone was so hyper and happy. We queued and collected our bib in a while and we received a beautiful "Friendship" towel as well, it's so nice and it's a very good memento.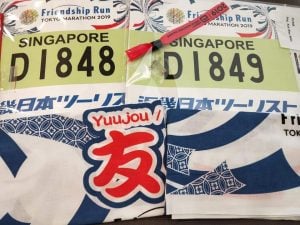 Willis and I tied the towel on our forehead and head to the waiting area ready to start the run ❤ It was nice seeing familiar people from Singapore as well 😍 Through the bib, we can see where the runners were from and the runners were from all over the world! 😍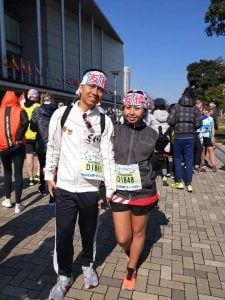 Though I must say it was so funny that I thought it's a fun run and why there's so many medical personnel around then realised its actually flag of Switzerland 😂😂😂
While waiting for the friendship run to start, we spotted some super cutely dressed runners and managed to take some pictures with them 😍 There was also awesome Japanese cultural performances on stage which was very fascinating and then was follow by a super cute and slow warm up and start our 3.5km friendship run.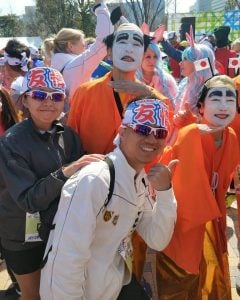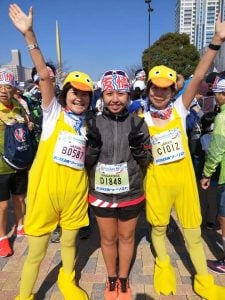 It's quite a short 1.75km there with one waterpoint and then u-turn back with only one band entertainment along the way and the cosplaying runners. Many runners were just taking pictures all way long through the entire distance I guess 😆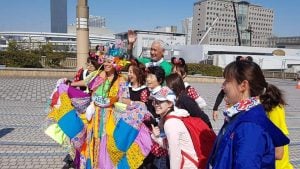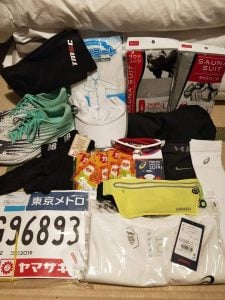 These were all that I put on to the start line, especially the neck warmer in the top left hand corner which was given as a door gift during Friday at the Tokyo Marathon Singapore Contingent dinner is really a lifesaver. After lesson learnt from being underdress in Osaka marathon and suffered shivering and goosebumps while in the start pen, I was better prepared this time. I was comfortable in the start pen while waiting, I can't say I was warm because it's still cold, but it's more tahanable. It was only 6 degrees I heard. I guess it's also the wind that taller runners surrounding me helped to block away because once I started running it's cold. I had also put 1 heat pad each in my gloves that I bought from Daiso and pasted one on my back and stomach directly on my skin 😆 Though it was advised not to paste the heat pad directly on skin but to me I can only feel the heat if it's pasted directly and it doesn't help much if I paste on clothing. So, I ran the entire 42.195km with heat pad but I'm still cold like a ice popsicle maybe because of the rain 😂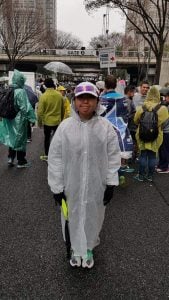 On race day, I arrived at the race site early because I'm not familiar with the place and once if you're later than 8.45am to enter the start pen, you'll directly be asked to go to the last pen. After the security wristband check and baggage inspection, I lost my way as the signs were quite messy and couldn't find the start pen and wandered to baggage deposit area. Finally I decided to asked for directions if not I don't think I can make it on time to the starting pen 😂
While standing in the rain waiting to start the run, I can't helped but noticing some runners so hero to stand in the rain in just T-shirt and shorts without any raincoat or jacket to keep them warm 😨 Maybe they are from places where its -30 degrees, so 6 degrees is like summer to them 😂 I kept my hand inside of the rain coat as the $2 Daiso gloves is not waterproof and wet gloves will make me colder. I saw a genius runner, he wore a glove and covered it with another layer of plastic gloves like those that people use while handling food. Waterproof, windproof. Clap clap clap! There is also another runner that is very interesting, he covered himself in a big clear transparent plastic from head to toe like a bride wearing her veil 😆
Finally, it's 9.10am and we were finally flagged off. It's quite a distance to the start line as I was in Pen G. It's only about 10 minutes later then I finally reach the start line, take away the raincoat and start running. Honestly thinking back now, I don't know how I managed to complete the run. The rain was super irritating and somehow it's rather sian and I lost a lot of motivation to run. Must be the Sensoji and Meiji Jingu Shrine that I visited blessed me in a way that I complete the run injury free with a good timing.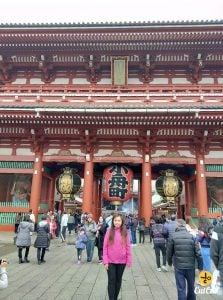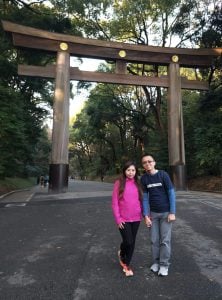 I don't know how the Daiso sauna suit works but it trap heat and 2km into the run, I stop by the side with a volunteer and struggled like 30seconds to take out the pants and handed it to the volunteer, should have taken it out before I start running. I kept the Sauna suit from Daiso on because I thought it can keep me dry and I'm not sure of the weather conditions for another 40km ahead.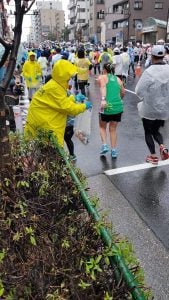 There's volunteers around every 20m along the route to collect trash and still, in this rain and cold weather conditions, supporters still lined up to entire 42.195km ❤ Every 5km for the first 20km, there's Medical station and from 20km onwards, every 2km there's medical station. I felt it's a food effort by the organiser to offer so many medical station. There's multiple cut off checkpoints along the route but all I need to know is that cut off was 7 hours from gun time. After that, I saw a video of people who'd exceeded the cut-off point timing and started shouting at the officials/volunteers because they are not allowed to continue running. But rules are rules and it's all stated in the runners handbook. To be guilty, I didn't read the runners handbook as well so I've missed out IMPORTANT INFORMATION, such as at how many km where's the food or what food they have 😂 I enjoyed only the bananas, oranges and custard puff 😍 If I enjoyed more, it would definitely not be 4 hours 52 minutes 😂
The last 15km is the most torturous, it was getting colder and colder and I noticed I was clenching my fist. It was also then I noticed that my gloves were all soaked with rain water just a light press and I can see water seeping out. I took out my gloves and saw my hands were all red and the heat pad was cold and wet not emitting heat anymore. I put back on my gloves thinking at least it can block the wind. Thinking was it a lucky or unlucky thing to get the slot this year? It was the coldest Tokyo Marathon in history. I guess it really was knowing that Willis would be waiting for me at the finishing that keeps me going. Though the whole 42.195km with no Willis in sight, but I know he's somewhere trying to find me ❤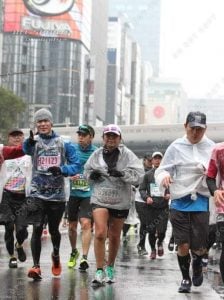 The route was quite awesome actually as we ran pass some of the attractions in view such as the Tokyo Sky Tower and the Asakusa Kaminarimon 😍 It was quite a flat course only a few gentle slopes at bridges as I could remember.
When I finished the run, the first thing I took out was my soaked and cold gloves. I was too cold to even want to stop for my mandatory selfie shot after finishing 😂 After a while crossing the finishing line I just keep on walking and the volunteer hang a medal on my neck, then I was pass a plastic bag with drink, bread and I think gel.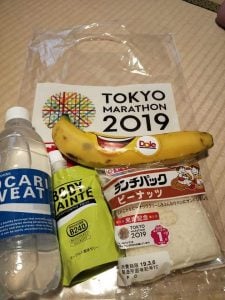 I was really grateful to the volunteers because I was so cold and like couldn't even move at all. They wrapped me with a towel, then a jacket, then a poncho and then lastly a thermal sheet ❤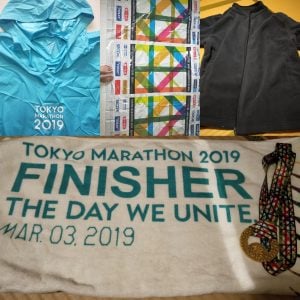 After about another 100m walk, finally arrived inside the train station and sent Willis my location through Whatsapp. Within minutes, he appeared infront of me with a bottle of warm drink 😍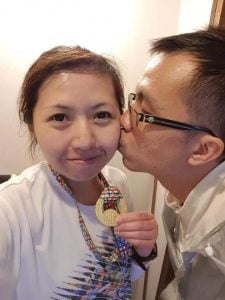 Though I didn't ran my best timing in this race and I was slower by 11 minutes but I completed it under 5 hours with a better timing of 32 minutes faster than Blackmores Sydney Marathon, my previous marathon last September and I was also very touched because I managed to complete the run in such a bad weather conditions, it was super cold and raining throughout the entire marathon. From the Tokyo Marathon official website, it reported that it's the coldest Tokyo Marathon up till date, it's 5.7 degrees while waiting to run, and at certain time during the run, the temperature was even colder. Some of the elites and runners DNF and give up in the route because of the coldness. Persevering and finishing the race is already considered superb already 💪 But to me, it's safety first and different people have different tolerance level towards cold and as long as the runners made the effort to the start pen and tried battling the cold and rain, it's already and A+ for effort!
I must say Japan really offers the best marathons ever. I had never find any other marathons with the entire distance covered with supporters. Maybe there is other marathons as good as well, the world is too big and I have yet been to many othee places as well. More runcations to come! 😍 Tokyo is really awesome, even with the cold weather and rain, the supporters really throng through the entire 42.195km. I swear I heard people cheered till their voice were hoarse and it was just damn touching. Even young kids were out in this weather cheering and giving runners high 5s, the elderlys also came out with their walking sticks to cheered for the runners. I hope I can get the ballot to Tokyo Marathon again and would also want to run other Marathons in Japan as well ❤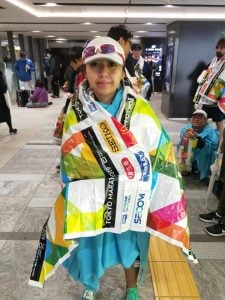 Japanese people are really warm and welcoming, when the manager of our stay at Tadaima Ryokan knew that I ran the Tokyo Marathon, he shared that he ran the marathon as well a few years ago and he would like to try for entry next year! What caught me by surprise was he asked me if we are going out for dinner or not as he would like to prepare a celebration dinner for me to congratulate me for running the Tokyo Marathon 😍 I was really grateful for the dinner because after the hot shower, I'm all exhausted and didn't want to go out at all and stay cozy indoors. It was really a nice, comfortable and warming stay there!