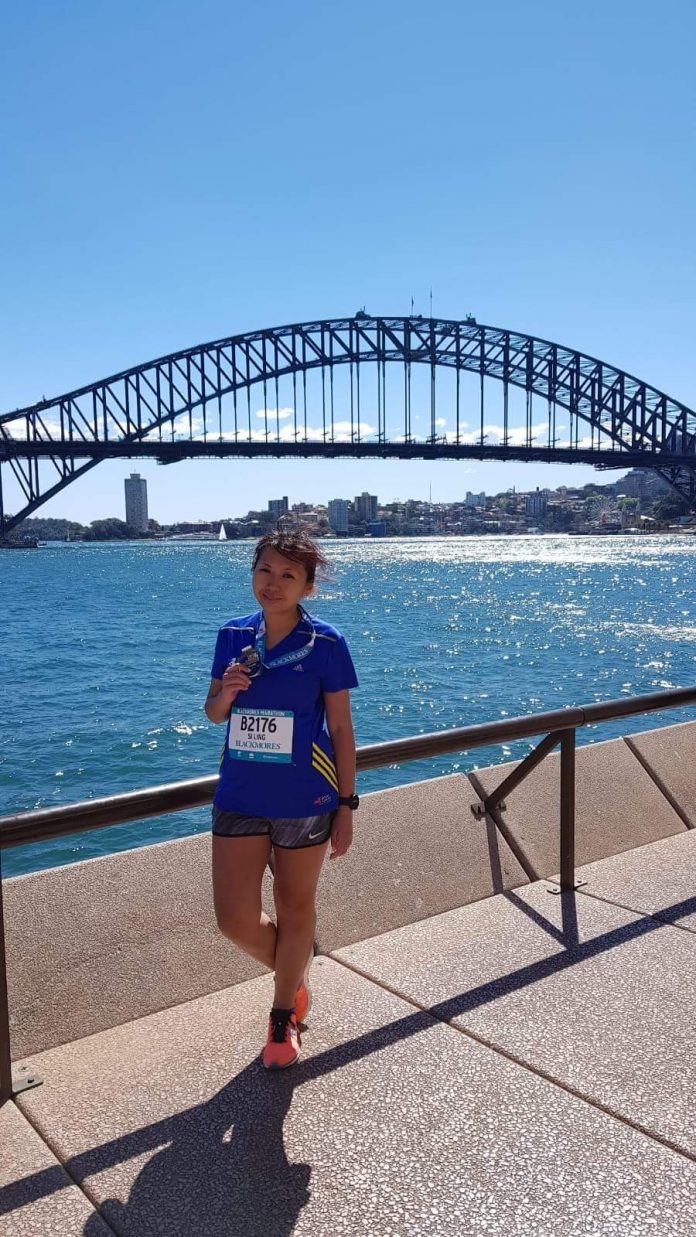 I'm one super blessed girl! I was thinking about where should I run next and jio-ed my family for a holiday and taaadaaaa! We're in Sydney! 😍 It's a 10 days trip for us and we started out from Melbourne, rented a car, head Sydney. A big thanks to my sister for planning this entire trip that caters to our elderly parents and to my marathon schedule and also my brother in law to drive us hundreds of miles to Sydney.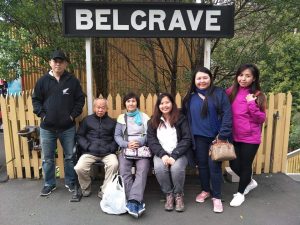 I'll try to input as much information for the Sydney Marathon as I hope it would be useful for some runners whom may want to run this in this event next time 😊 We need to apply Visa for Singapore passport to Australia but the Visa I applied for it's just $7 and it valid for a year, so maybe if I'm running Gold Coast Marathon next year, I wouldn't need to apply Visa anymore 😊 We flew by Emirates with the return flight tickets costing $667.50. It was my first time flying by Emirates and it's the Boeing A380, it's the world's largest passenger Airbus at the moment and I had a comfy flight. I was knocked out as soon as I settled down in the plane though I had actually planned to used the in-flight entertainment system 😆 Flight time from Singapore to Sydney is about 8 hours, but we flew to Melbourne instead of Sydney as we would like to go there for some sight-seeing first. Immigration clearance over at Australia was fast as we can use automated gates 😊 Australia's time is 2 hours ahead of Singapore's time and I had no difficulty in adjusting to the time difference just that on 2nd or 3rd day of the trip I felt sore throat, it's painful 😨 Must be the air too dry in Melbourne. It's cold and I thought not again! It's like almost every overseas trip with run I'll get sick or have cramps prior to the run. I thought I still have a few days to recover before the 42.195km, but no matter the amount of water down my throat, the lozenges and cough syrup, it worsened 😑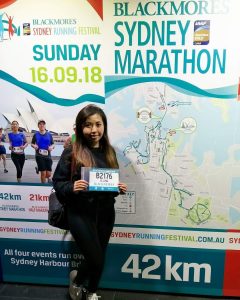 Thanks to Google Maps and Starhub 3gb $20 overseas data as well, I managed to get to the ASICS Event Expo effortlessly at Sydney Town Hall with just about 10 minutes walk from the air bnb I was staying on Friday. I'm pretty good at navigating Google Maps. I would say it's a useful survival skill so it's not a problem getting around on Earth to places where Google Maps and mobile data works.
It's a super small Expo, nothing much for sale and to see. And I was like 😒 as it meant I went all the way to the Race Expo just to collect a race bib, no race singlets were given as well unless you purchase it. There isn't any queue as well. I'm actually thinking now it's OK that no singlets were given, treat it as saving the environment 😊 I thought that they could've posted the race bib to us as I couldn't find the purpose to go and collect it since they didn't even verify anything like passport or something at all when I collect the race bib.
Then I saw that there was a information counter with change request form for change of distance categories and it's just $5. The conversion rate between Singapore and Australia currency was $1 to $1. It's awesome runners can change the distance category as I thought if unforeseen circumstances happens such as falling ill or had injuries prior to race or even increase the distance category if runners wants to. I was filling up the form to run 21km instead while messaging Justina and Beverly telling them I'll run the shorter distance as I still didn't recover from the cough and flu but Justina changed my mind after a few pep talk 😆 Or maybe I didn't really want to run the shorter distance that much since I changed my mind that easily?
I thought I still have another day to decide if I want to change to 21km instead. On Saturday, we went to the Zoo, I was feeling still feeling bad with the cough and flu and was pretty drowsy with the cough syrup. I felt the Taronga zoo's really not that worth to visit, maybe because I was sick, nothing's amusing 😂 But saw interesting creatures like Alpaca, Quokka and Platypus which I've never seen before! 😍 But I had more fun when we're still in Melbourne when we visited their parks that doesn't even need any entrance fee where I saw wild wombat(from a far we thought it was a cub of a bear😆) and kangaroos.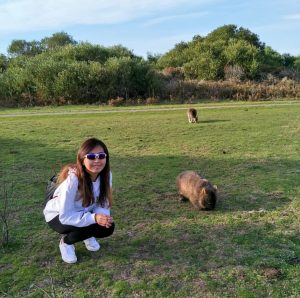 Maybe I would have fun if I wasn't sick, I was drowsy and tired. I told my family after an hour into the zoo that I'm heading back to change my run into half marathon and then I head back to the air bnb myself to take the bib to change.
Weather on Saturday was unusually hot among all the days I've been in Australia and it gotten up to 30 degrees whereas for usual temperature was between 8 to 18. It's 1pm when I reached back the air bnb that I was staying in but end up I convinced myself I will get better, took medicine and head to sleep. Wake up just in time to meet Beverly, Justina and Chee Being for dinner as they were also in Sydney for the marathon as well. And to my pleasant surprise, my sweet boyfriend Willis showed up for dinner! 😍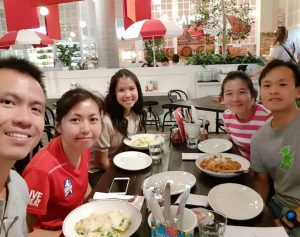 He came all the way to Sydney! When I jio-ed him for the trip he said his leave wasn't enough. Though I get a little bit suspicious a few days prior to the trip when I asked him to feed my pet parrots while I'm away. He could feed my parrots daily just couldn't for 3 days at the race period. On Saturday, he seems to be very concern where I'm eating my dinner that night as well 😆 I'm really super happy and excited to see him! He only had 3 days 2 nights in Sydney. I went to stay with him as the hotel he's staying in is nearer to the start point. It's North Sydney Harbouriew Hotel, but I don't recommend it as I couldn't sleep well. The room is at level one though Willis had indicated high floor in his booking and we can hear and feel the train passing by the tracks below us 😑 Though the view is pretty as from the room we can see the Sydney Harbour Bridge. But the best place I think is to stay near Darling Harbour as near tourist attractions and meat to the race finish site.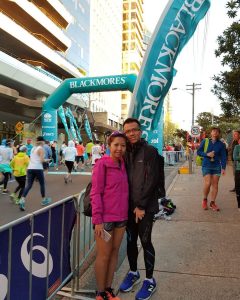 Then it's the race day, luckily temperature of the weather was not the crazy 30 degrees like the day before. It's about 10 degrees and I felt cold. Willis was shivering 😂 I was still sick and not better but maybe it's the cold weather that makes it doesn't feel as terrible. I was looking at my Garmin and I was thinking how to run by heart rate anymore as when we're sick,
heart rate is higher by about 10 beats per minute. Then I was like hack lah, today I'll just run by feel! We took the train from North Sydney to Milsons Point just a stop away and the good thing was that public transport by trains and buses was free to runners on race day to start line and back just by showing race bib. Flag off was at 7.05am, the Sun was already hanging high in sky. We reached at about 6am to deposit our bags as we have not deposit any items at the race Expo to keep us warm after the marathon. Though they don't encourage people to deposit baggage on race day as baggage collection will be delayed due to the closure of roads.
Blackmores Sydney Running festival is a IAAF Gold Label road race, which means it's one of the world's leading road race. It's also a non profit event. The profits from the events will go into supporting charitable organisations in Australia. This year's Blackmores Sydney Running Festival raises more than 1.5 million for charities and more thank 37k runners participating in the various distance categories of 42.2km, 21.1km, 10km and 3.5km. Race fee is super expensive, for international runners even the early bird rate cost AU$180 to run the Marathon. But well, treat it as for charity donation 😊
Flag off for half marathon was an hour earlier than full marathon. So when we reach the start point, we saw many jackets were already laying around on the floor and on the barricades. We deposited our clothes as we felt that throwing away our clothes that are still in good condition are wasteful and to tie them around our waist while running is too restrictive and to continue wearing them while running will be too hot but we need to keep warm while waiting in the cold right? So we took the clothes on the floor that should've been left there by the half marathoners and wore them till flag off and discard them by the side again 😂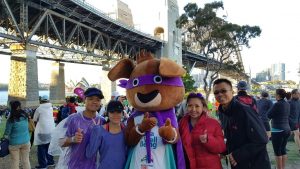 (Jackets not ours, wear them at your own risks 😂)
Flag off was punctual. And once the gun sounds, we saw many clothes flying in the air as runners were trying to throw them off to the side of the running course 😆 After a while of running, we crossed the iconic Sydney Harbour Bridge 😍 Maybe it's due to the cold weather, we didn't get sunburnt though its many hours under the sun. And sunglasses or visor/cap is a definitely must have as the Sun's too bright! I thought it would get hotter as time pass but it didn't, it's cold throughout the run. Google is really resourceful and I really relied on it a lot for weather and other information. For example, to generally dress as though it's 15 degrees hotter when running, so it's perfectly fine to run in singlets and shorts though its only 5 or 10 degrees. But I didn't pack any singlets with me as I thought there would be race singlets 😅 And also, it told me that general rule of thumb that it's okay to run with cough and flu unless there's fever. But to me, the most important thing is that nobody else but you are responsible for your own health and you got to know your own limits.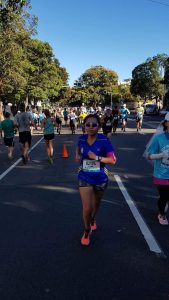 It's my first marathon in Australia and the hydration points are called Aid Station. There's always a board 200m before the Aid Stations to inform runners of Aid Station ahead. When I reached the first Aid Station after 5km, I saw cups flying all around across the roads, and there isn't enough thrash bags to collect thrash such as the plastic and paper cups for the water 😨 The electrolytes were too sour and there isn't any fruits available throughout the route. The route is along many of the tourists spots and it's really not nice. Even my family members who were sightseeing nearby commented that the cups for the hydration were flying everywhere on the road. Yup, my mother with eagle eyes spotted me running at Darling Harbour and I heard my family cheered for me while they were having lunch at a restaurant on 2nd storey there 😊
The route is a hilly one with a total elevation of more than 500m. Rolling hills, scary 😂 I was pretty much enjoying the scenery as its a my first time to the place. I saw a men dressed up as a bride and catch up with him an asked him for a photo. He's 50 this year and it's his 50th marathon! 😍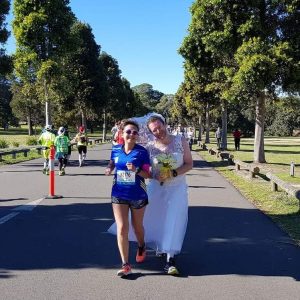 I saw other some dressing as Super Mario and etc and also saw a guy was carrying a huge surf board and run! 😨 Turns out that he broke a Guinness World Record for running a marathon carrying a surf board 😍
When I was at half marathon mark, it was 2hrs and 17mins. Willis was with me till about 25km or so when his leg cramp and insist that I go ahead. It's also when I started to slow down and walk a lot too as my heart rate was too high and I'm concerned that it will put my health at risk as I'm ill at the moment. I'm not a doctor and I would really rather be safe than sorry. There will always be a next run. And since I had actually wanted to do a half marathon instead the rest of the distance are a bonus! I should just enjoy and I did!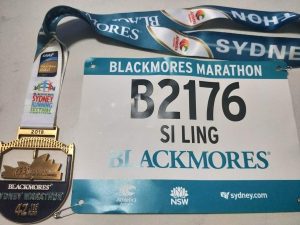 There's also medics on bicycles cycling back and forth to spot runners who would have needed assistance and they are really efficient, I saw twice runners suddenly sat down on curb by the road and next the moment the medics were there checking them out. Just less than 2km from the finishing line, I saw a female runner already collapsed on the ground shivering and she's being taken care of by the medic. Just before ending, Willis caught up with me again and we finished the marathon together 😊 There's fruits such as apples and banana available at the finish and finisher tee size was based one first come first serve basis. The finisher medal is pretty with the iconic Sydney Harbour Bridge and Sydney Opera House. After some rest and taking some photos, we left and head back to rest. We're glad we deposited jackets to keep us warm after the run as its really cold.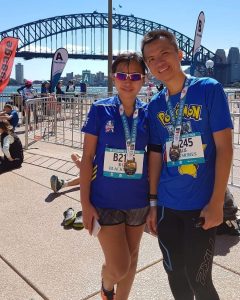 There's also cut off time at various check points, runners who can't reach the check points by certain time would be redirected. I think it's a 6 hours cut off for the marathon category but we still saw runners running even though it passed the cut off time already.
I wouldn't do Blackmores Sydney Marathon again till I have no other place to run anymore as its not one of the best marathon I've been to as the Aid Station is disappointing to me as there's no fruits at all and not enough gels for the slower runners. Route is hilly but it's pretty scenic. Volunteers along the route are supportive and there's a number of supporters along the way but it's still not comparable to Osaka Marathon, which is still one of the best marathon I've been to so far. Well, but this is sort of a charity run as profits from the event goes back into the community, for those who've never run before would be worth to give it a try to experience the scenic route 😊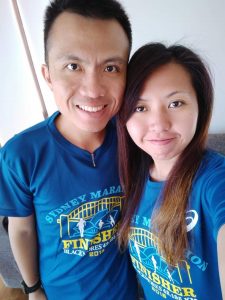 It's now Wednesday and both my legs were totally fine since race day. This time, I ended the marathon still full of energy, no soreness anywhere and still in love with running, not like some of the previous marathons I had which I became tired from running, had low morale and needed a long rest from long distance running. Just that my cough is getting worse and now I'm on MC 😭 Got to recover first before I head back to running again! Looking forward to my next runcation already 😊