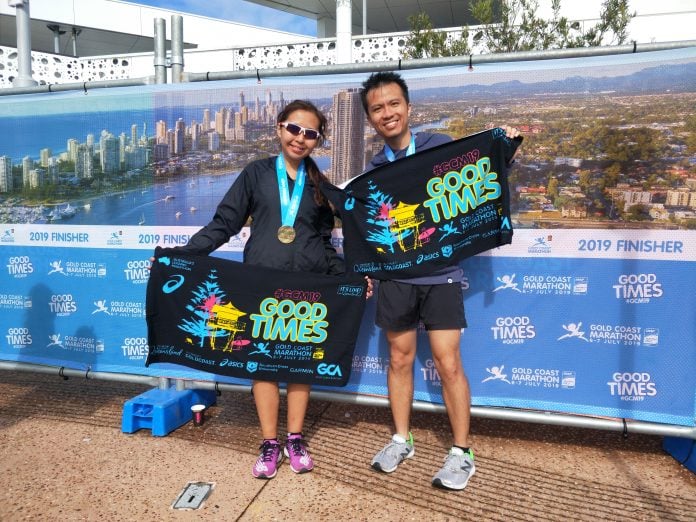 Due to last year's saga with a running coach misappropriating funds collected from runners for a running vacation, Willis and I like many other runners affected couldn't get to run the Gold Coast Marathon.
Last year, Gold Coast Marathon organiser was kind to offer runners who had the issue with that running coach some last minute assistance with the air tickets and accommodations but to us it was very last minute and air tickets wasn't cheap to purchase just a few days prior to travelling date and we decided not to go last year. Luckily they also offered last year's registration slot for runners to defer to this year, so we decided to go this year in 2019 😊 Race fee wasn't cheap, it's $190 for international runners 😨
Though honestly, Willis and I didn't train enough/well for this marathon and my longest run was 16km only prior to the race 😂 But I still think that we did quite well for the 42.195km together 💗
From Singapore, there's only a couple of airlines that fly directly to Gold Coast such as Scoot is one of them. But we decided to take Singapore Airlines for a more comfortable flight to Brisbane. The flight duration about 7 hours flight, and the transfer to Gold Coast by taking train then tram used approximately another 2 hours. Flight tickets cost about $700 per person by Singapore Airlines but budget airline tickets wasn't much of a difference so we rather pay a little more to have a more comfortable seat with in-flight entertainments and meals 😋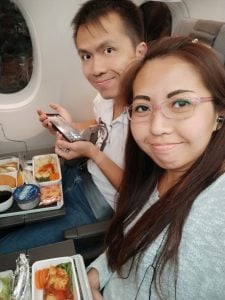 It's quite easy to travel around with Google Maps app indicating the travelling mode from Brisbane International Airport to Surfers Paradise in Gold Coast, we booked online train and tram tickets which cost about $50 per person for return tickets and it's $10 cheaper than purchasing the tickets on site. Taking the train and tram doesn't feel much of a hassle at all as well.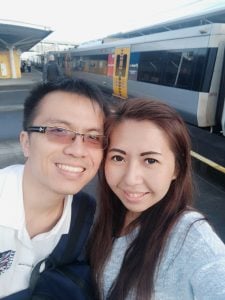 Though our accommodation isn't near Race Expo nor the start/finish point of Gold Coast marathon, we stayed in an awesome apartment in Cavill Avenue in Surfers Paradise just 3 minutes walk from Cavill Avenue tram station. Travelling in Gold Coast is very convenient with the trams and buses 😊 Staying in Cavill Avenue would be a better choice than staying in Southport that is near the race venue. Cavill Avenue have more food choices, nearer to some tourist attractions and it's a more vibrant place. I eat fat fat and drank bubble tea, Gong Cha everyday there 😆
This was one of the most relaxing runcations to Willis and I other than the runcation we had in Phuket last year. We wasn't really interested in theme parks and so I did some homework online and purchased the Iventure Card. It's paying a fee for a few activities or meals out of a list to choose from and it's quite worth it! You may want to consider purchasing Iventure Card for your runcation/vacation in Gold Coast next time 😊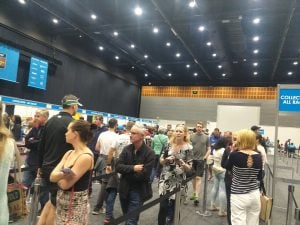 We arrived on Friday the 5th of July, 2 days prior to race day. Temperature was between about 16 to 20 degrees on the days we were there. Once deposited our luggage, we took a 30 minutes stroll to and fro our accommodation to the race expo at Gold Coast Convention and Exhibition Centre unintentionally passing by the race route on our way back. Though it seems like a long queue for the race bib collection, but it was fast and we didn't wait long. There isn't any race singlet or tee unfortunately and we collected our race bibs. It's a small expo with about 50 or so exhibitors selling sports apparels etc and event merchandise and well as showcasing other marathon races.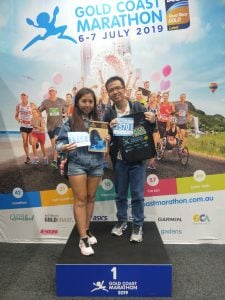 We are able to print our personalised pace wristband on the spot for free to help runners in their pacing 😍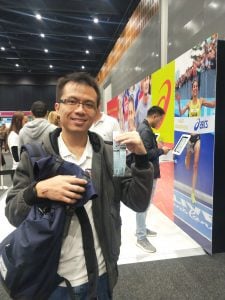 On race day, displaying our race bibs would give us free tram and bus rides to the race venue during a certain time range. We took the tram to Southport station on race day morning, it's a cold morning about 18 degrees. Willis said I had survived the 4 degrees Tokyo Marathon so this temperature will be nothing to me 😂 But I was worried of getting a sun burn actually so I wore a windbreaker. I'm glad I wore it as while in the start pen, it suddenly rain! 😨 It's damn cold lah! Then a guy behind me opened his umbrella, so quite a few of us stand under his umbrella eh 😆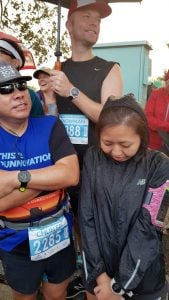 Luckily the rain was just a short one, maybe for just 10 minutes. But it's still quite cold for me though temperature wasn't that low. The good thing was that Willis and I had enough sleep and rest before the race plus we wasn't exposed out in the cold for long and arrived at the start pen at most 20 minutes top prior to the flag off time at 7.20am.
Flag off was on time. As soon as we reached somewhere about 5km or so Willis and I both stopped for a toilet break at the public toilet along the beach area then continue our run together. After a while, we saw a pretty sight! It's double rainbow! 😍 It was the first time I saw a rainbow with such vibrant color. It was so beautiful! 😍 Willis manage to take a photo of me with one of the rainbow 😘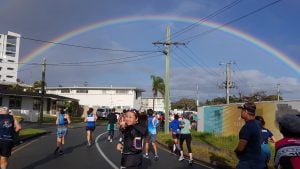 Anyway, it was as if the whole of Singapore contingent was out here running in Gold Coast Marathon. Saw quite a couple of familiar runners while on the way 😆 It was quite a relax run for us and I really enjoyed the run.
Though supporters and spectators wasn't like the marathons in Japan which line up the entire 42.195km, the supporters here was awesome as well. My race bib was hidden but Willis bib was displayed and his bib got his name, we counted at least 20 or 30 over supporters along the way shouting his name, cheering for Willis and giving him encouragement ❤ Some of them were giving runners sweets and gels as well 💗 There's many kids around super enthusiastic for hi-5s, I can see some disappointment when their hands were stuck out in the air and runners just ran pass them 😢
Some supporters was holding sign boards super lame boards with words like "I trained for a week to hold this board", "If you think running is tough, my hands were aching holding this board", "I like your stamina, call me", "They built the tram, so you don't have to run this", "This way for short cut", and of course if you follow the direction of short cut it means DNF lah 😂
Really salute the wheelchair category participants, great effort for not giving up! Saw them at the start line when they were about to flag off and saw a few of them along the way while we were running. I can see that it's not easy. I saw one of them using a lot of strength and effort while steering up a bridge 💪
There's total of 17 hydration points along the course according to their official website, with water and some with Endura Rehydration performance fuel which I think is some sort like isotopic drink and to me it's quite bland and salty. But I still drank it because I don't eat gels and I need some energy or whatever. Luckily I brought some sweets with because along the way there's no fruits. Only at 30km or so there's a station giving out gels. Then I saw the water was actually tap water, the volunteer was using a hose to transfer the water from a tap, maybe it's safe to drink?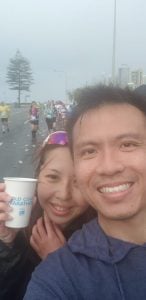 It's only about 26km or so when Willis felt pain on his foot. Willis asked me to go ahead as I can still chase a PB, though I was still feeling good with energy then, I decided to run with Willis. It's just the equation, Willis > Running ❤ I love running, but my priority isn't running ❤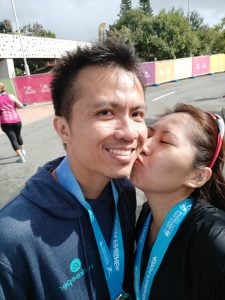 I love the route as we were running along houses and the beach as well and there's not much slopes at all. Only some parts when it drizzle for quite a while and it was super cold. When Willis felt better to start running, I got the urge to go to toilet but I missed it a while back 😂 Must be drinking too much of that performance fuel, I thought I could run but with some exertion I feel like it may gonna leak 🙊 Noooooooo! It's only a few km left and so I would rather take it easy and walk 😆
When we were approaching the finishing, I heard the commentator comment that
there's a lot of couple finishing the run together. Well, Willis and I held hands crossing the finishing line together ❤ We went to the tentage to collect our finisher entitlement, the finisher tee and medal as well as a towel. It was a surprise to me as there were finisher towel 😍 It's so nice!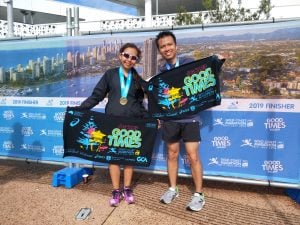 There's also fruits station after finishing 😁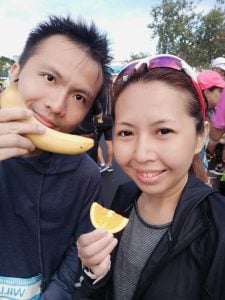 Overall, it's a good race, it's a flat course with not much slopes at all. Just that need a pair of sunglasses or a cap to block out the sun or the rain. Luckily I'm comfortable to run in the windbreaker as I was just trying my luck to run in something which I didn't try wearing for a run before 😆 Would want to come back Gold Coast Marathon again if I have the chance in a few years time maybe! But for the time being, would want to try other marathons or explore other parts of the world first 😊 Where to next? 😍
Simply enjoyed my Iventure card, we used it for a nice 3 course meal at Hard Rock Cafe with free T-shirts, entrance tickets for Currumbin Wildlife Sanctuary, Whale watching, Glow Worm Tour and a Springbrook National Park Tour ❤