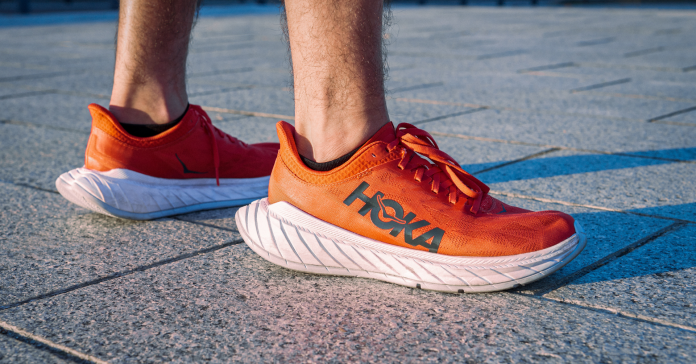 The record attempt by several HOKA athletes worldwide will showcase the latest in carbon fiber-plated footwear innovation from the brand
HOKA ONE ONE®, a division of Deckers Brands (NYSE: DECK) announces the launch of the Carbon X 2, a lightweight and propulsive shoe designed to help all athletes break their own records. To celebrate this new footwear innovation, HOKA will host successive 100K world record attempts in the United States and Japan by several of its athletes on January 23, titled Project Carbon X 2.
The Carbon X 2 features a carbon fiber plate embedded in its midsole and is the successor to the original Carbon X, launched in May 2018. The Carbon X franchise brings the technology of carbon fiber plates, which are designed to provide a smooth and propulsive ride through the gait cycle for an efficient stride over many miles, in an inherently stable and supportive package capable of withstanding training miles in addition to races. The Carbon X 2 features a PROFLY™ midsole and a rubberized EVA outside. Constructed with some of HOKA's softest, lightest foams to date, it is designed to provide a harmonious blend of soft protection and energetic response from the shoe. With an aggressive Meta-Rocker geometry and the Carbon Fiber plate, the Carbon X 2 midsole is designed to propel athletes forward and provide an up-tempo training and racing shoe capable of going the distance – fast. Compared to its predecessor, the Carbon X features a simplified upper material for a lightweight and breathable fit, as well as a bonded tongue for a more secure wrap of the foot. It weighs 8.4 ounces (M9) and has a 5-milimeter heel-to-toe drop.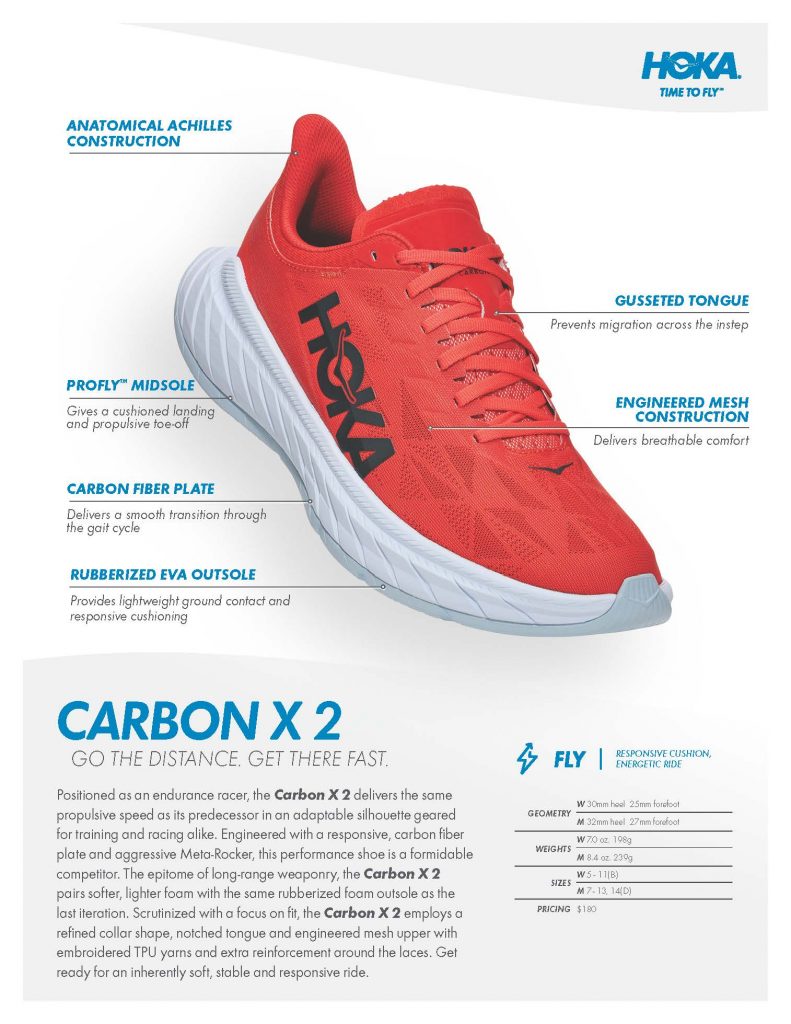 To celebrate the launch of this newest innovation, HOKA announces Project Carbon X 2: an attempt to break the 100K world record by HOKA athletes around the world wearing the Carbon X 2. Headlined by HOKA US athletes Jim Walmsley and Camille Herron; HOKA EMEA athletes Elov Olsson and Caitriona Jennings; and HOKA Japan athletes Aiko Kanematsu and Yoshiki Kawauchi, over three dozen HOKA global athletes will successively attempt the record from Tokyo, Japan and the Phoenix, Arizona area at 7AM JST and 7AM MST, respectively, on January 23, with Olsson and Jennings joining the US athletes in Phoenix. The US event will be live-streamed for free at hokaoneone.com/project-carbon-x and the Japan event will be live-streamed for free at hokaoneone.jp/project-carbon-x-2. The current men's 100K world record is 6:09:14 – 5 minutes, 56.5 seconds-per-mile pace for 62.2 miles – set by Japan's Nao Kazami in 2018; the women's mark is 6:33:11, set by Japan's Tomoe Abe in 2000.
"At HOKA, we have grown into the brand we are today by setting lofty goals, not compromising, and taking a bold and unexpected approach to meet those ends," says Mike McManus, Director of Global Sports Marketing at HOKA ONE ONE. "Perhaps no shoe embodies that spirit better than the Carbon X 2 – designed without compromise to offer the very best in performance innovation to all athletes, empowering them to fly no matter their goals – and perhaps no event embodies it better than Project Carbon X 2: a chance for some of our elite athletes to try and go farther and faster than we once thought possible."
In accordance with COVID-19 safety guidelines, all athletes and event personnel must follow rigorous pre-event testing and on-site safety protocols to ensure the health and safety of everyone involved in Project Carbon X 2, as well as the health and safety of the host community.
The Carbon X 2 will be available at RM809. Stay tuned to their Facebook page fb.me/hokaoneonemalaysia or follow @hokaoneone_my on Instagram for exciting announcements on Carbon X 2! #timetofly #hokaoneonemy #CarbonX2