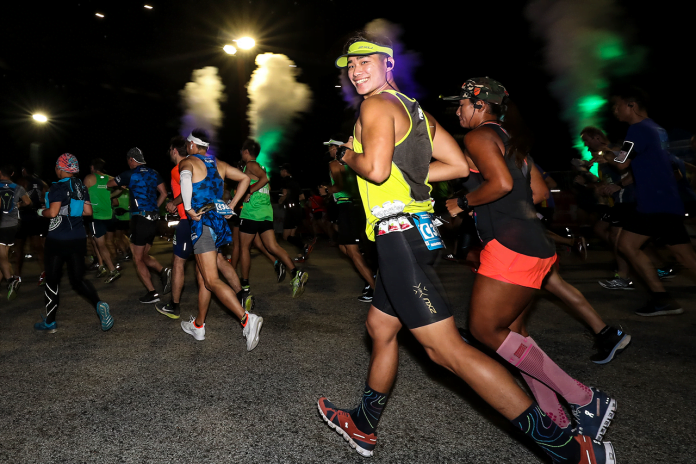 The end of the year is approaching and there are a lot of running events happening in Singapore, Malaysia and our neighbouring countries. From road races to virtual runs, we have exclusively handpicked 10 must-do marathons for you and end your 2019 with a healthy bang! With all the different races coming up every month from September onwards, there is always a run for everyone!
1) Batman Run Series 2019 – Singapore
Immerse yourself with the heroic Dark Knight's journey since the 1930's! Fans will also receive exclusive Batman-themed entitlements and indulge in an enjoyable night race with the evergreen hero.

When: 21 September 2019
Where: Marina Barrage, Singapore
Categories/Prices: 8km Competitive Run (S$60.00) / 4km Fun Run (S$50.00)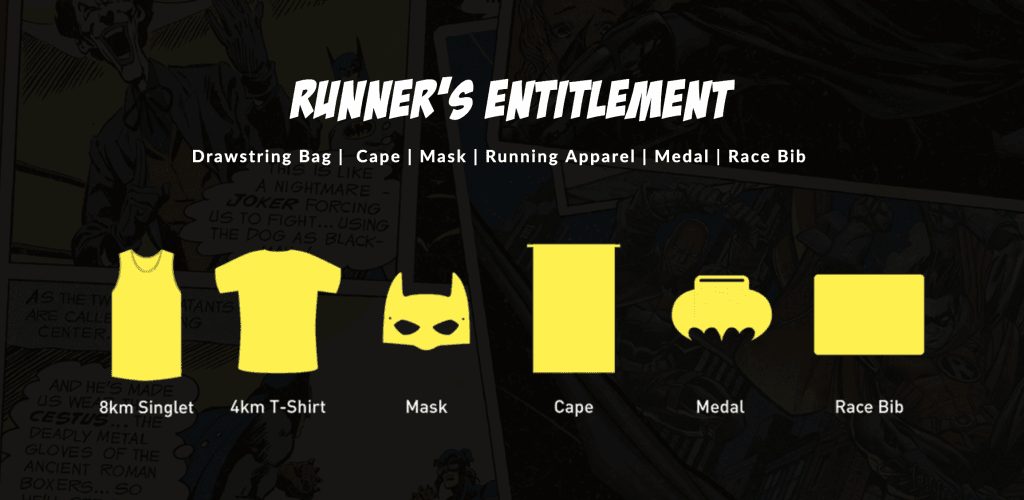 2) Run For Your Heart Virtual Run 2019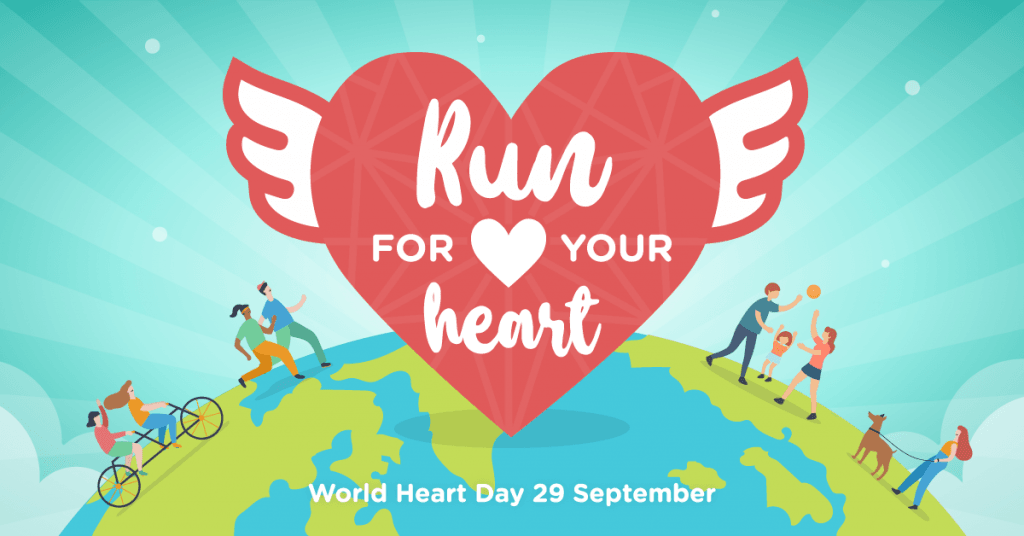 World Heart Day 2019 is all about how we can be Heart Heroes by making a promise, to ourselves and those we care about, to look after our hearts. A simple promise for MY HEART, for YOUR HEART, for ALL OUR HEARTS.
Categories: 3km / 10km / 50km / 100km / 200km
Price: Finisher medal (S$ 12.90) / Finisher medal + Dri-fit Finisher T-Shirt (S$ 34.90)
Registration closes: 30 September 2019
Run period: 1 August 2019 until 30 September 2019
Upload closes: 7 October 2019
Shipping starts: 14 October 2019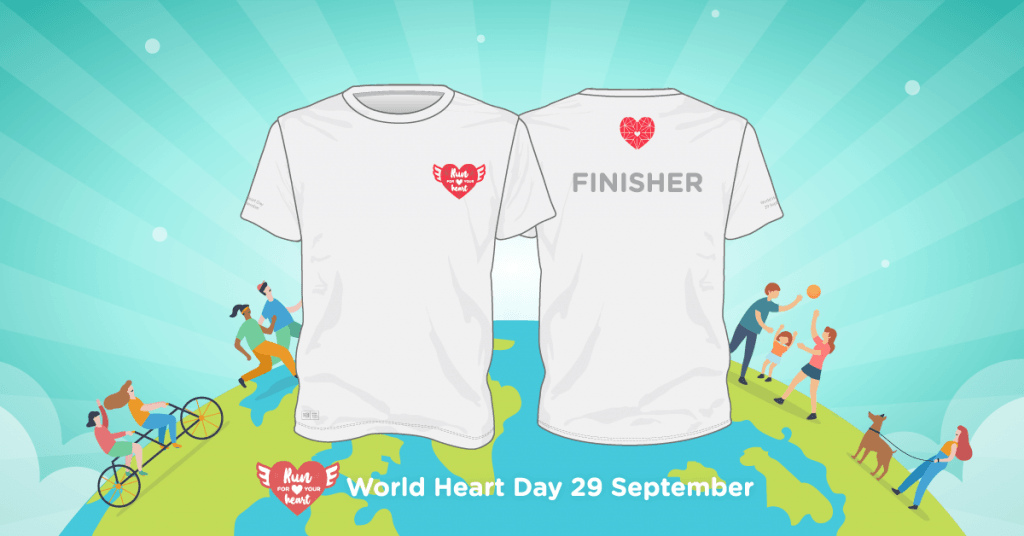 3) Run Borneo Run 2019
Run Borneo Run 2019 is a Charity Run Event which promotes a healthy lifestyle to local and international participants.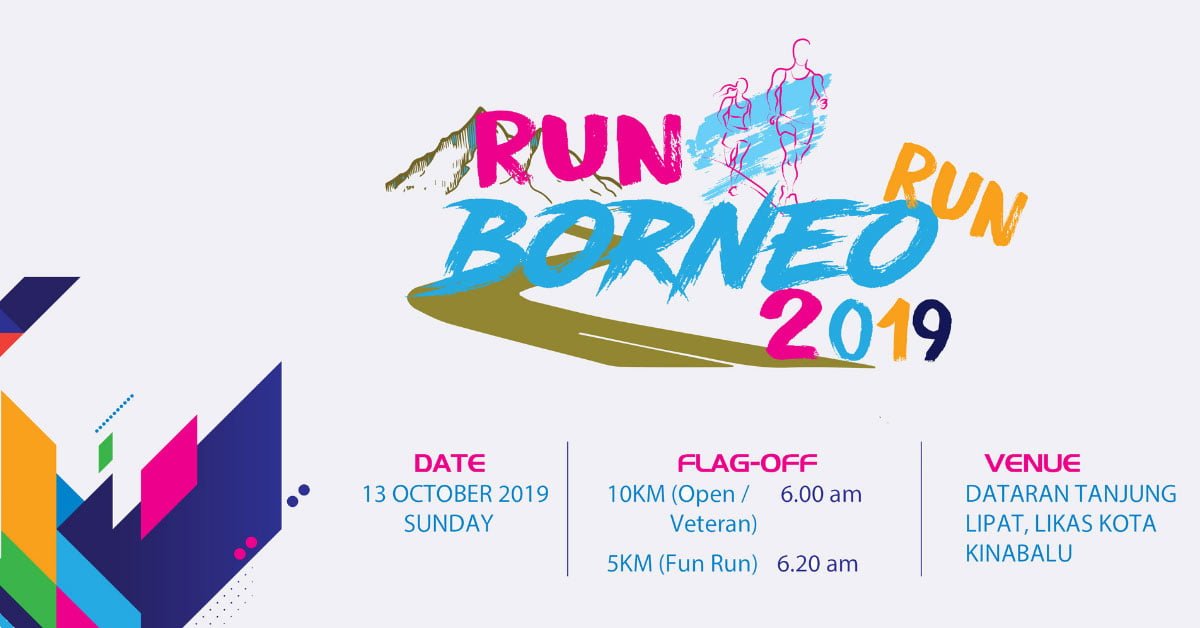 When: 13 October 2019
Where: Tanjung Lipat, Likas, Kota Kinabalu, Sabah, Malaysia
Categories/Prices: 10 km (RM65) / 5 km (RM55)
4) Run4Hope 2019
Run and donate to Breast Cancer Support Group Johor Bahru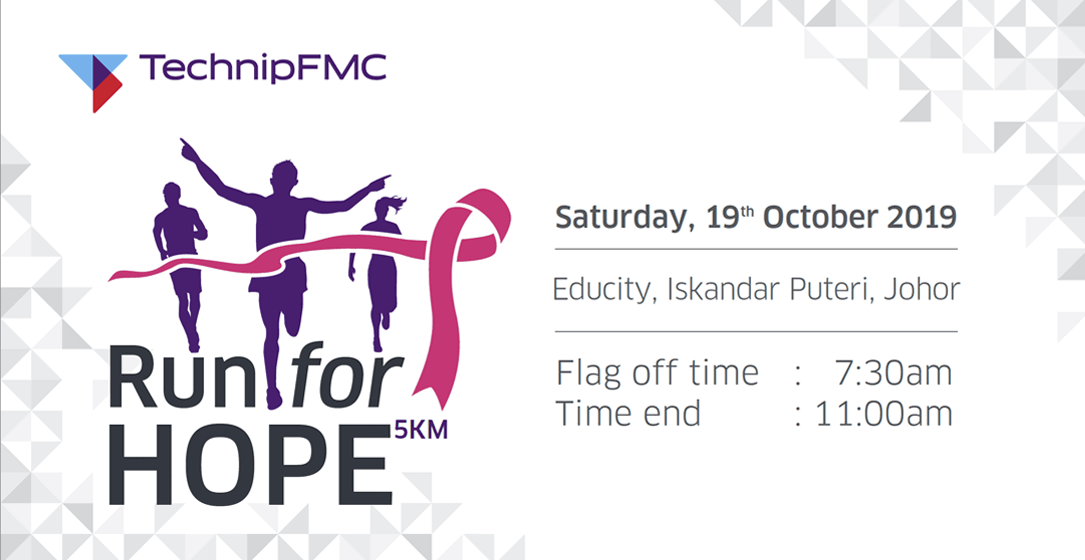 When: 19 October 2019
Where: Educity Nusajaya, Johor, Malaysia
Categories/Prices: 5km (RM40)
5) VPBank Hanoi Heritage Marathon 2019
Hanoi Heritage Marathon is the first marathon run through the old town so that the athletes have a new and interesting experience when it comes to historical values, cultural values, the lives of Hanoians as well as a modern presence through each running step. This is the first marathon to connect three main historical attraction of Hanoi which is "Ho Guom", "Hong Ha" and West Lake. Therefore, to express the main idea of ​​"Hanoi – Heritage Marathon", three famous places are Ho Guom, Long Bien Bridge, West Lake will be connected through the old quarters creating a unique route through the heritage of Hanoi.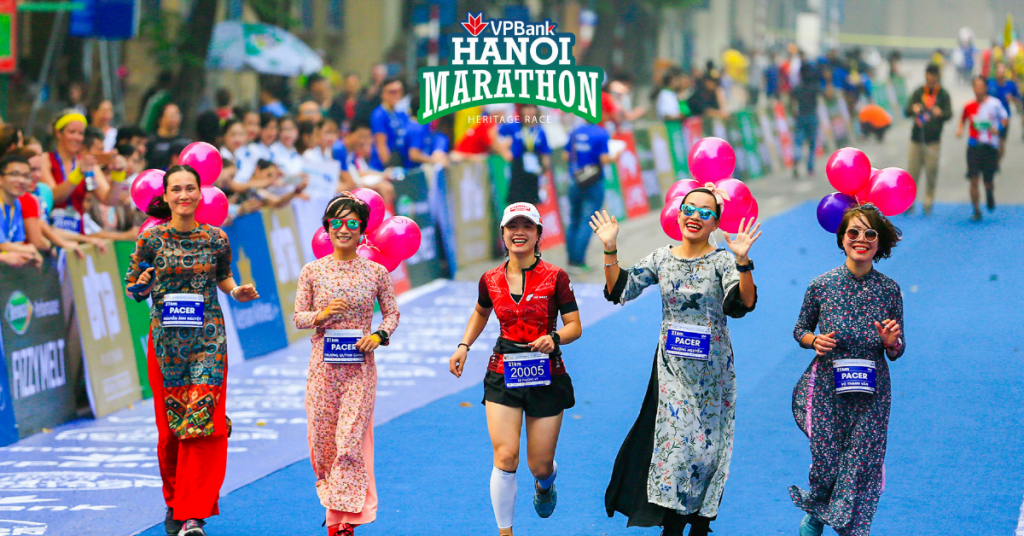 When: 20 October 2019
Where: Ly Thai To Park, Hoan Kiem Lake, Hanoi, Vietnam
Categories/Prices: 42km Heritage Marathon (US$85) / 21km Heritage Half Marathon (US$70) / 10km Old Quarters Run (US$25) / 5km Old Quarters Fun Run (US$15)
6) District Race – Explore District
THE WORLD'S GREATEST URBAN EXPLORATION RACE – Powered by cutting-edge technology, District Race Kuala Lumpur by AIA Vitality brings cities to life through the District Race mobile app. Participants will navigate their way through the city collecting as many points as possible by clearing virtual checkpoints and challenges. Each challenge requires different skills to tackle – speed, city knowledge, dexterity and problem-solving skills, with participants choosing which challenges play to their strengths.
a) District Race Singapore 2019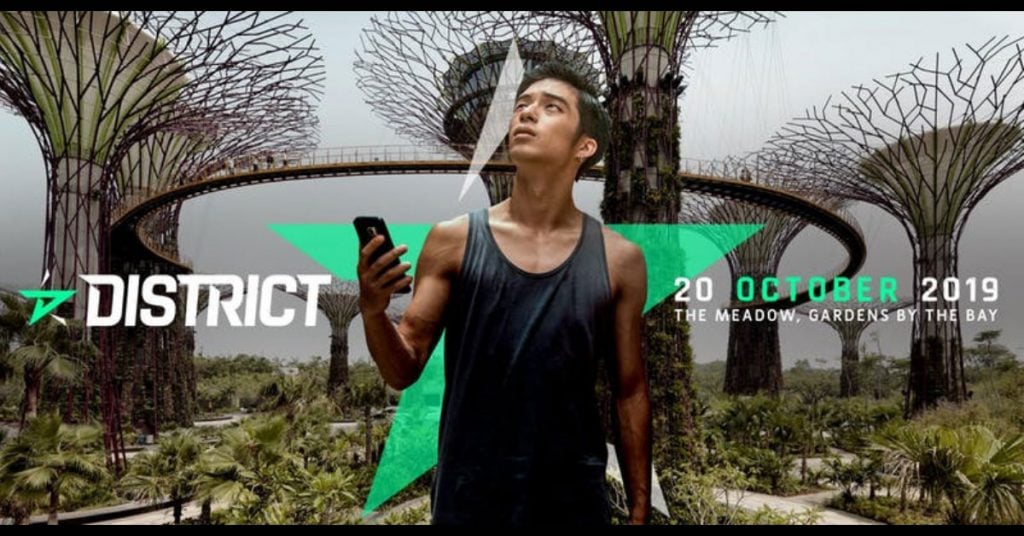 When: 20 October 2019
Where: The Meadow @ Gardens by the Bay
Categories/Prices: Get exclusive JustRunLah! 15% OFF here
b) District Race Kuala Lumpur by AIA Vitality 2019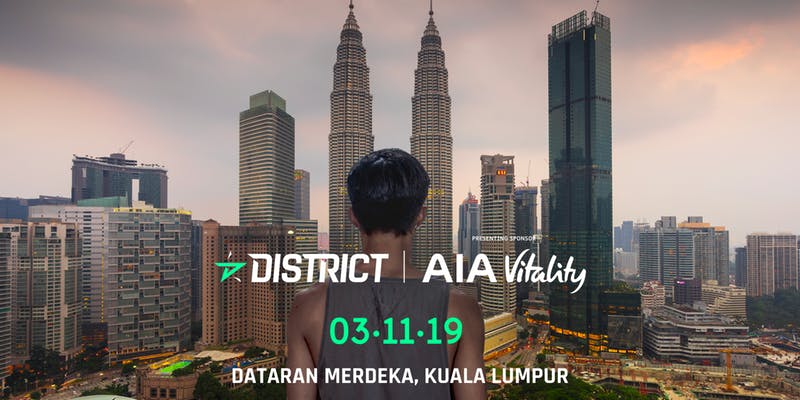 When: 3 November 2019
Where: Dataran Merdeka, Jalan Raja, City Centre Kuala Lumpur
Categories/Prices: Get exclusive JustRunLah! 10% OFF here
7) Saiko Eco-Marathon Fall 2019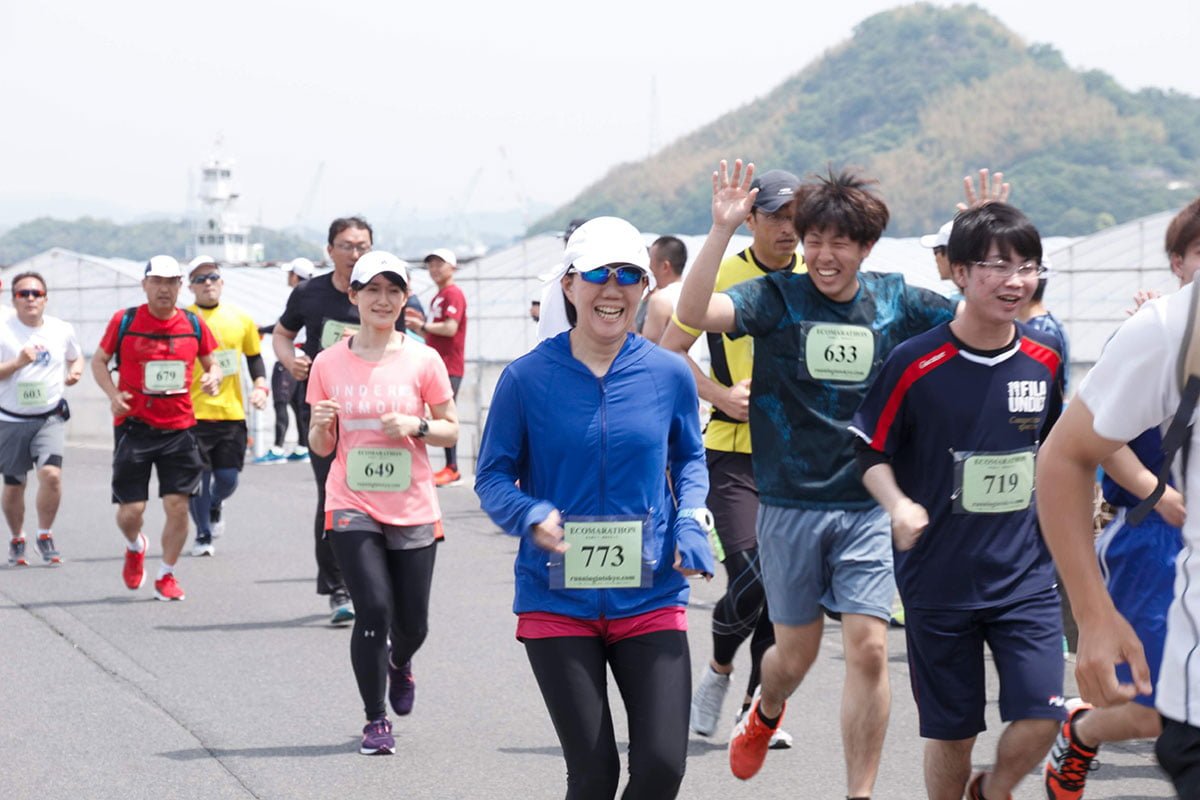 Here's a list of what you can expect when you participate in Japan's Eco-marathons:
All timekeeping chip-based (except fun-runs).
All road courses measured with a digital measuring wheel.
All equipment used is solar-powered.
Reusable plastic cups to reduce garbage.
Reusable bibs
When: 27 October 2019
Where: Lake Saiko near Toda, Saitama, Tokyo, Japan
Categories/Prices: 21km Half Marathon (US$45.00) / 10km (US$35.00)
Click here to read more about the Eco-Marathons happening in Japan this fall.
8) Garmin The Performance Series 2019: Road Race 3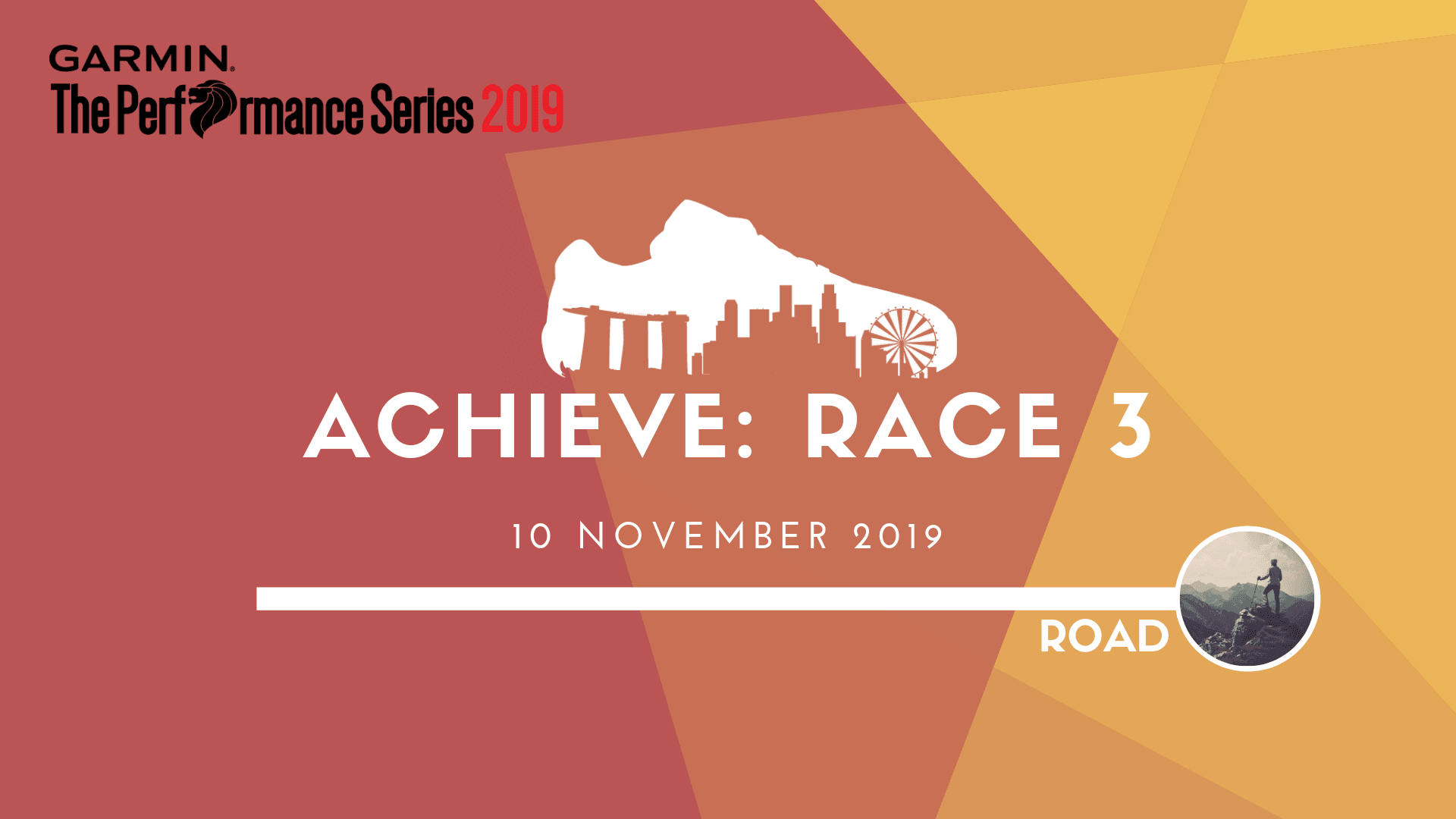 The Performance Series is a series of running races throughout the year around Singapore's landmarks.
The 4th edition of The Performance Series will feature 3 Road Races and 2 Virtual Challenges. Participants will be able to motivate, prepare and test themselves throughout the year, before wrapping up the year with their goal achievement!
When: 10 November 2019
Where: TBC
Categories/Prices: 21.1km (S$69.00) / 10km Competitive (S$59.00) / 10km Non-competitive ($55.00) / 5km (S$45.00)
Are you ready to #TranscendYourself in 2019?
9) Sesame Street Run Singapore 2019
Don't miss the Sesame Street Giant Birthday cake Blowout before the flag off, special countdown by Count Von Count and get showered with Abby's Magic Dust before running into a fun-filled 5KM Sesame Street. Join the celebration after the Sesame Street Run! Dance, play and learn with your family and friends at our interactive booths featuring your favourite characters like Elmo and Cookie Monster & more!
When: 17 November 2019
Where: Our Tampines Hub, Singapore
Categories/Prices: 5km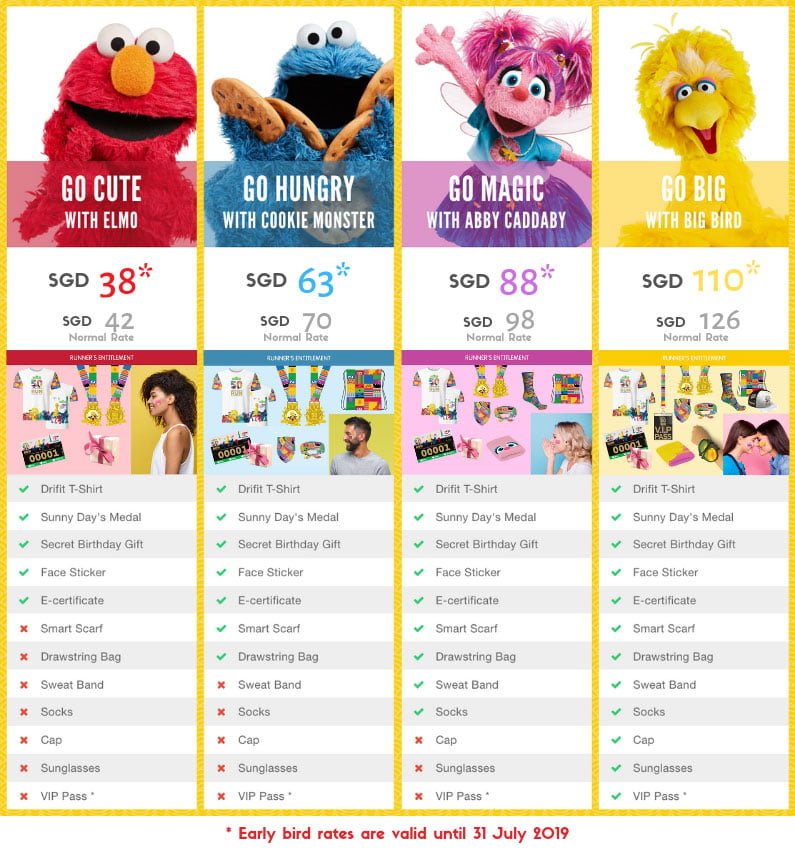 10) Standard Chartered Singapore Marathon 2019
We have an exclusive 30% OFF Promo Code for you – Click here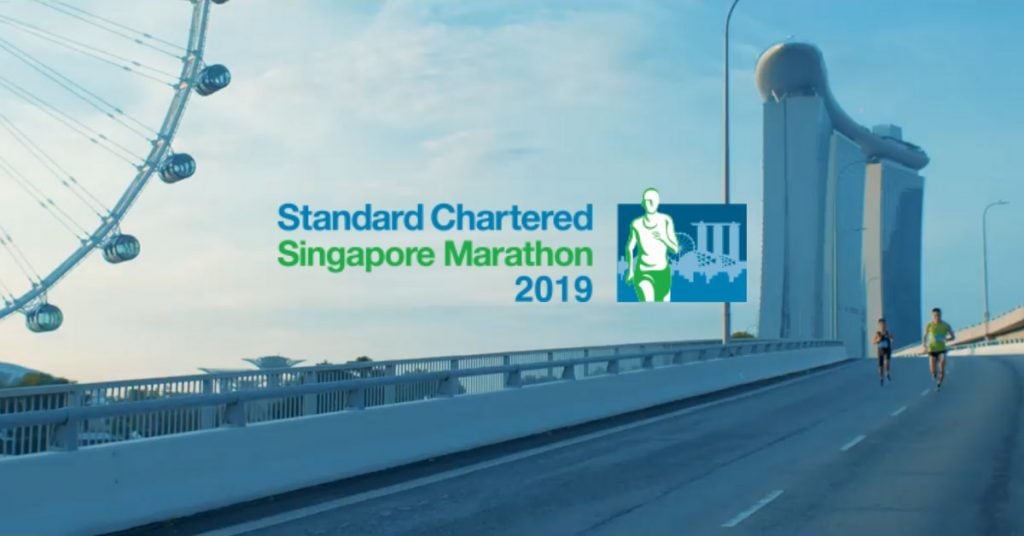 Standard Chartered Singapore Marathon (SCSM) recently announced that the 2019 edition of the race will upgrade the athlete experience with a new evening flag-off time at 6:00 pm on Saturday 30 November for the Marathon, Half Marathon and Ekiden distances while shifting to a three-day event format. The Kids Dash will take place on Friday 29 November while the 5K and 10k races will take place on Sunday 1 December providing a distance for everyone.
Day 1
When: 29 November 2019
Where: F1 Pit Building
Categories: Kids Dash
Day 2
When: 30 November 2019
Where: F1 pit building
Categories: Full Marathon, Half Marathon, Toyota Ekiden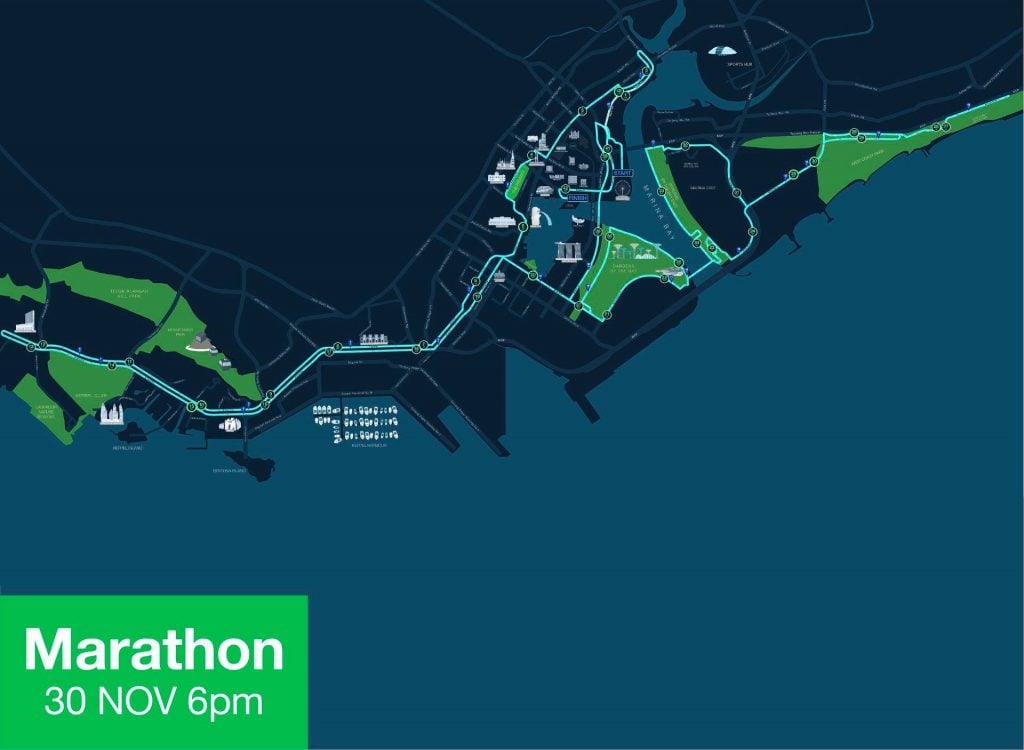 Day 3
When: 1 December 2019
Where: F1 Pit Building
Categories: 10km / 5km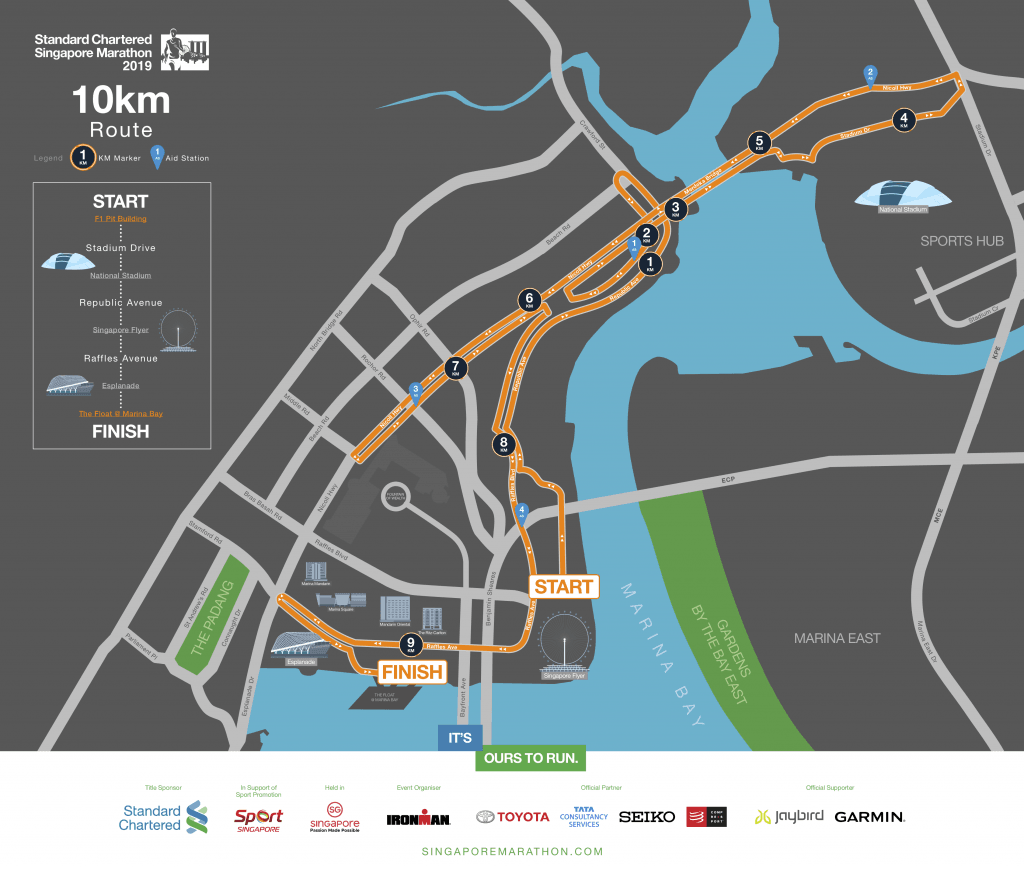 Entitlements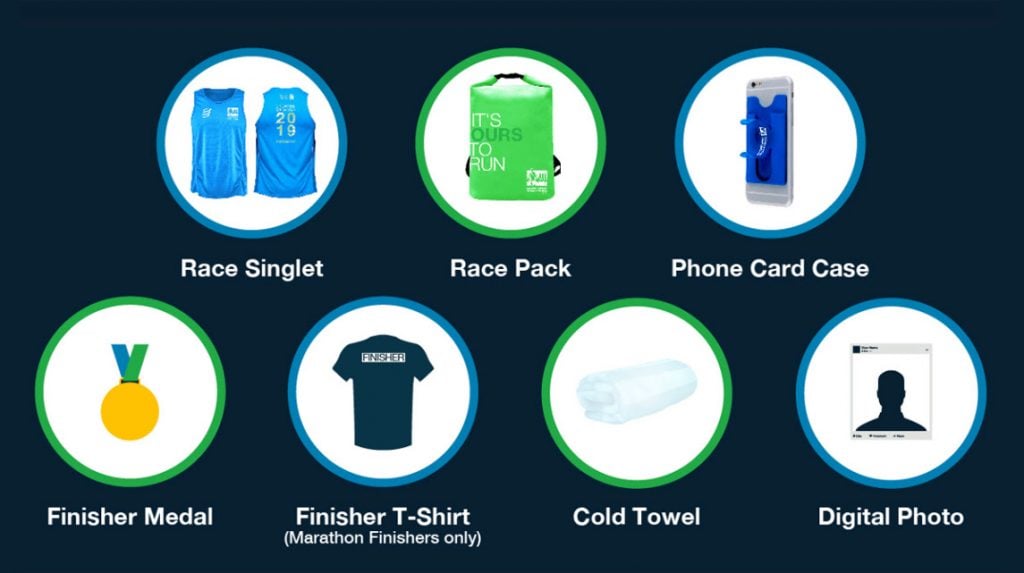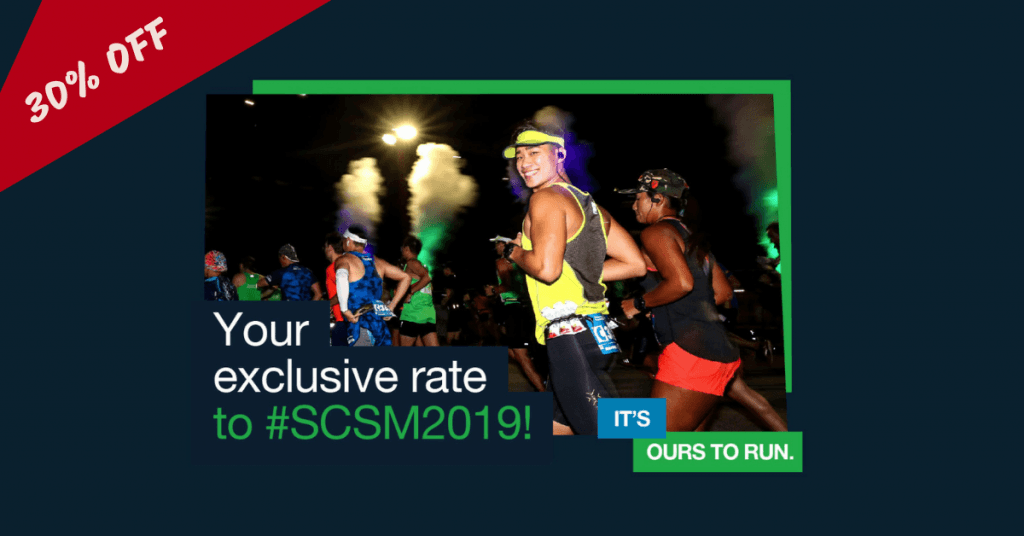 REGISTER WITH 30% OFF DISCOUNT
Are you looking to join more running events?
Check out the selected events available for registration on our platform, JustRunLah! Connect. Registering via our platform is safe, fast and secure!