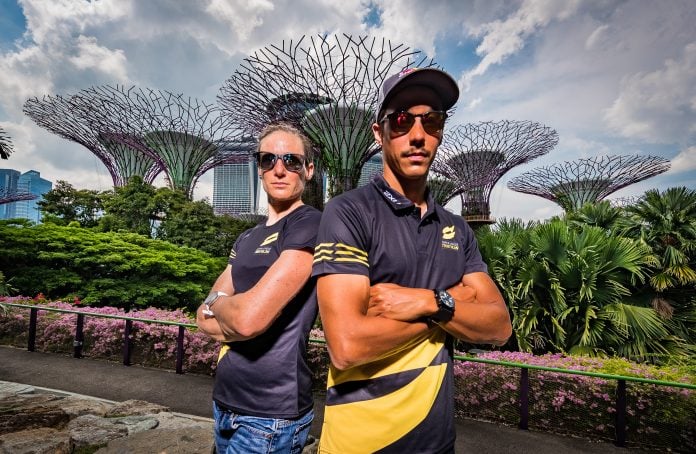 On the Thursday before race weekend, our athletes were out early getting in their crucial training sessions to hone their form. For the best athletes in the world, nothing is left to chance so these final moments before the Championship Finale are vital to executing on the big stage.
With just a day to go until the final Super League Championship event of the season in Singapore, the stakes have never been higher for our group of world-class athletes. The double points scoring system for this final racing weekend means that current SLT leaders Katie Zaferes (USA) and Vincent Luis (FRA) will still need to continue their dominant performances in the island city-state in order to secure their Championship titles.
Let's check out the final pro athlete line up for Singapore!
Women's Line-Up (with current SLT rankings):
Katie Zaferes (USA) 71 pts
Rachel Klamer (NED) 40 pts
Taylor Spivey (USA) 38 pts
Summer Rappaport (USA) 30 pts
Yuko Takahashi (JAP) 19 pts
Charlotte McShane (AUS) 15 pts
Cassandre Beaugrand (FRA) 15 pts
Emma Jeffcoat (AUS) 14 pts
Danielle De Francesco (AUS) 6 pts
Ashleigh Gentle (AUS) 6 pts
Desirae Ridenour (CAN) 5 pts
Erin Storie (USA) 5 pts
Megan Foley (USA) 3 pts
Elena Danilova (RUS) 3 pts
Klaudia Sebők (HUN) 2 pts
Leonie Periault (FRA) -4 pts

Vanesa De La Torre (MEX) -7 pts

Hilda Choi – (HKG) –
Laura Lindemann (GER) –
Maria Claire Adorna (PHI) –
Long Hoi (MAC) –
Kim Kilgroe (PHI) –
Lucy Hall (GBR) –
Men's Line-Up (with current SLT rankings):
Vincent Luis (FRA) 75 pts
Henri Schoeman (RSA) 63 pts
Richard Murray (RSA) 48 pts
Jonathan Brownlee (GBR) 46 pts
Hayden Wilde (NZL) 34 pts
Léo Bergere (FRA) 32 pts
Ben Kanute (USA) 22 pts
Tyler Mislawchuk (CAN) 21 pts
Andreas Schilling (DEN) 10 pts
Igor Polyanskiy (RUS) 8 pts
Jonas Schomburg (GER) 8 pts
Matthew Sharpe (CAN) 7 pts
Luke Schofield (AUS) 4 pts
Jayden Schofield (AUS) 3 pts
Oliver Turner (JER) 2 pts
Tommy Zaferes (USA) 0 pts
Nathan Killam (CAN) -2 pts
Dorian Coninx (FRA) –
Mark Yu (HKG) –
Matthew Hauser (AUS) –
Oscar Coggins (HKG) –
Ryan Bailie (AUS) –
Jumpei Furuya (JAP) –
Two notable athletes have had to pull out ahead of the racing in Singapore: Belgium's Marten Van Riel and the USA's Kirsten Kasper. Van Riel has been struggling with an upper leg injury for some weeks now and was hoping to have recovered in time, and Kasper has had to miss out on her shot at the title due to an adductor strain.
Chris McCormack's predictions for Top 3 season finishes With so many talented athletes pushing themselves to their limits over the course of the SLT season, SLT's co-founder Chris 'Macca' McCormack gives his predictions on who he thinks will finish on the podium after the racing in Singapore, and who we should keep an eye on for dramatic contention:

Women's podium prediction:
Katie Zaferes
Cassandre Beaugrand
Ashleigh Gentle
Ones to watch:
Ones to watch:
Taylor Spivey
Rachel Klamer
Yuko Takahashi

Men's podium prediction:
Vincent Luis
Henry Schoeman
Jonny Brownlee

Ones to watch:
Richard Murray
Tyler Mislawchuk
Hayden Wilde
Super League Triathlon athletes give back to local community
On Thursday morning, SLT travelled with a group of athletes to visit local and international schools and community centres. Despite a heavy training schedule, Jonny Brownlee, Yuko Takahashi, Jayden Schofield, and Summer Rappaport, were pumped to attend Dover Court International School and spend time with students on the running track, conducting a series of running drills.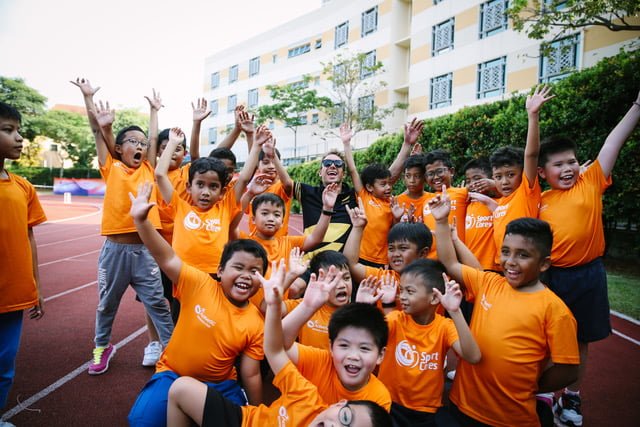 Summer enjoyed the enthusiasm on display from the children, commenting; "It was great to spend time with the kids. They were all really interested in triathlon and excited to get involved in the drills. It's always special to be able to support the next generation of athletes."
Great thing is, the fun doesn't stop there! The school has three teams going head-to-head in the Team Enduro Experience! There are some hard working, hard training, and very excited teachers who cannot wait for the rubber to meet the road. "We are very excited, we've been coming to school early, training on the track, and using the pool. We had an Aquathlon last weekend as a warm-up race, so we're super prepared." Sophie King & Joanna Harris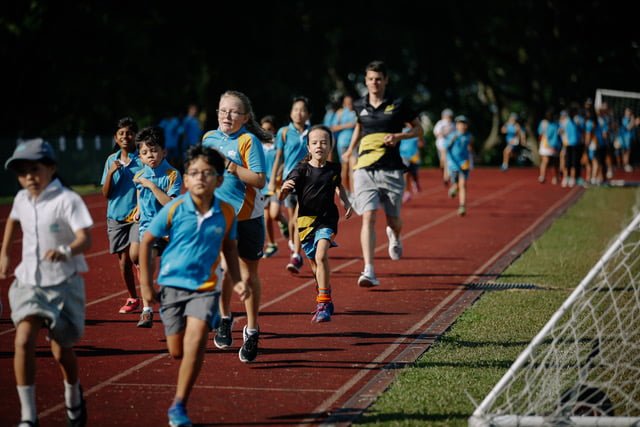 The children's involvement in the SLT Championship Finale will also continue over the weekend as they will be the ones forming a guard of honour and walking our pro athletes out with their bikes to transition!

Check out the event schedule for the Super League Triathlon happening tomorrow!