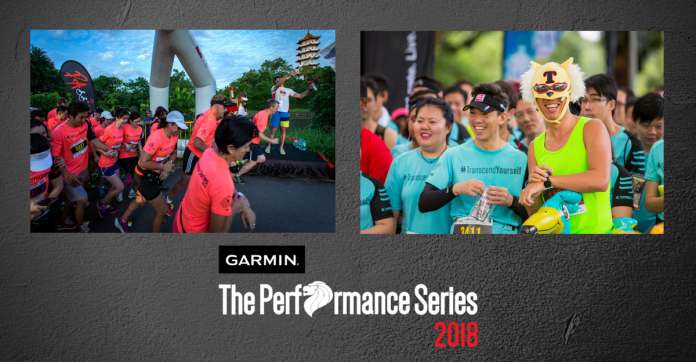 The nation's largest annual running series, The Performance Series, is happy to announce new title sponsor partnership with Garmin, the global leader in GPS navigation technology, for its 3rd edition. With that, this year's series is known as Garmin The Performance Series Singapore 2018.
This year, a series of 4 races will be held around Singapore's beautiful landmarks and vibrant neighborhoods on 22nd April, 24th June, 5th August and 14th October consecutively. The four runs consist distances of 5km and 10km which include competitive and non-competitive categories. The Performance Series has supported 40,000 runners over the past two years, but with this significant integration of Garmin brand, its products, and its inspirational #BeatYesterday campaign in all aspects of the event, this year's edition will be memorable.
"Garmin is committed to enhance and promote healthy lifestyles with our fitness technologies. Through this partnership with The Performance Series, we hope to be able to motivate more individuals to lead more active lifestyles by making these platforms more accessible to people living in Singapore and ultimately, growing the fitness community," said Mr. Engelhard (Al) Sundoro, Managing Director, Garmin South Asia.
"We are thrilled to have Garmin as our title sponsor," said Peter Tan, Managing Director of JustMove Pte Ltd, owner, and organizer of The Performance Series Singapore. "Garmin is a brand that resonates with runners, and we are excited to work with them to grow The Performance Series into one of the best races in the country. TPS is an annual event which encompasses everything Garmin's #BeatYesterday campaign stands for – encouraging people to be healthier and to move more, farther or faster each day."
"We are very pleased to have Garmin on board with us as the title sponsor," said Liu Zhiyong, Event Director of JustMove Pte Ltd. "We are thrilled to find a partner who shares our vision of our key objective to promote CONSISTENT healthy lifestyle #TranscendYourself through the appreciation of iconic landmarks in Singapore within the local and foreign/expatriate community. Unlike any single once-a-year run event, this series is first of its kind by encouraging individuals of all levels, from non-active to leisure to competitive, to have a schedule of races to work towards and progress along with the series."
#TranscendYourself across 5km or 10km in 2018 across 4 locations. Capped at 3,500 Participants per race. #BeatYesterday
Runners can get more information and also register online via the official website.