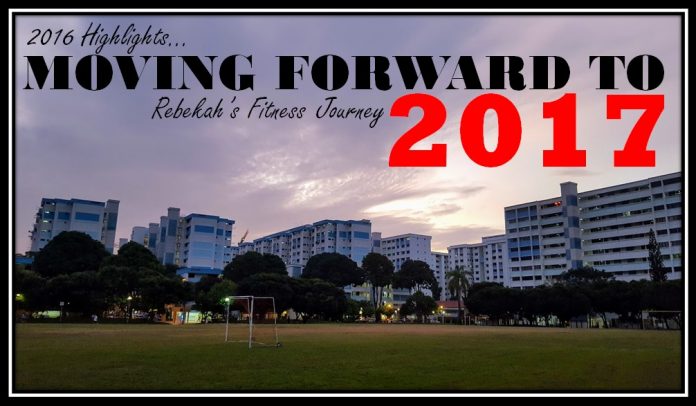 2016 quickly came and went and now it's coming to the end of January 2017! For me, 2016 was the year that I will remember as my most active! It was the year that I participated in the most number of running events.
Running has never been my forte but I do it because it's a good way to keep the adrenaline pumping and also to keep myself in shape! Looking back at 2016, I took part in a whopping total of 18 run events and 2 virtual races; this was a significant increase as compared to 2015 where I only took part in 10 run events. The full listing of 2016 run events is as follows (in chronological order):
28 Feb 2016 – Safari Zoo Run (5.5 KM Challenge)
03 April 2016 – 2XU Compression Run (5km Category)
28 April 2016 – JP Morgan Corporate Challenge (5.6km Category)
01 May 2016 – The Performance Series – Singapore, Race 1 (10 Km Category )
28 May 2016 – Official Sundown Marathon Singapore (10 Km Category)
26 June 2016 -The Performance Series – Race 2 (10 Km Category )
10 July 2016 – Compressport Run 2016 (10 Km Category )
24 July 2016 – SHAPE Run 2016 (10 Km Category)
7 August 2016 -The Performance Series – Race 3 (10 Km Category)
20 August 2016 – New Balance Run On Singapore (7+1 Km Category)
24 September 2016 – ASICS CITY RELAY (Half Marathon Category)
09 October 2016 – The Performance Series – Race 4 (10 Km Category)
22 October 2016 – [Incomplete] YOLO RUN (10 Km Category)
01 Nov to 31 Dec 2016 – Men's Health Virtual Run 2016 (Virtual Race)
01 to 21 November 2016 – 42 Race November 21 Days Challenge (Virtual Race)
13 November 2016 – Great Eastern Women's Run Singapore (5km Category)
18 November 2016 – SGX Bull Charge (5km Category)
18 December 2016 – The Performance Series – Race 5 (10 Km Category)
Highlights of 2016
I know this blog entry is a little late but here are some of my highlights from 2016: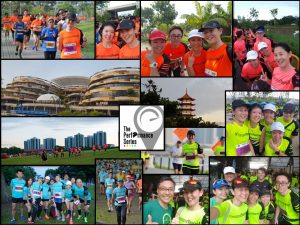 Joining The Performance Series (TPS) – TPS was definitely my favourite run event of 2016. TPS was a series of 5 races that promised participants a run through different and unique landscapes of Singapore, which include islands, lakes, heartlands, reservoirs and farms. This race series brought me to places such as Punggol Waterway/Coney Island, Jurong Lake, Gardens by the Bay (East), Bedok Reservoir, Kranji Countryside. All of which I have never run at before except for Gardens by the Bay (East).
I loved it because of the all the different sights and sounds that each race location brought. I also loved how they came up with the puzzle idea for their medals. Upon completing all 5 races, I collected all the different parts of Singapore as medals, when combined; they formed the complete map of Singapore. For 10km participants, they have an additional Finisher Tee. This event was also one of the most organised and well-executed ones. Kudos to the team at TPS! I'm looking forward to 2017 edition. Bundle registrations are now open and you can visit their website for more information.
PS: You can read my review of 2016 TPS Races 1-4 here and Race 5 here.
Blogging on JustRunLah Portal – 2016 was the year that I decided to start blogging. Thank you all for providing me valuable feedback and support; it has been an interesting journey so far. I started writing because I wanted to share my race experience with the running community and I thought it would be a good source of information. Through blogging, I also got to meet new friends and fellow bloggers from JRL whom through their write-ups/meet-ups I also got to learn new things too. My blog URL on JustRunLah is https://www.justrunlah.com/blogger/rebekahong83/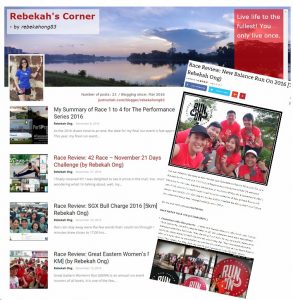 Personal Best Timing – I managed to beat my 10KM timing of 1hr 12mins which I set during the 2012 Standard Chartered Marathon Singapore. I had been training regularly to maintain a pace of 7mins/km and I finally managed to cross the FINISH line at TPS Race 5 with an official timing of 1hr 10mins. What I learnt was to never give up and not skimp when doing your training runs. I found it helpful was to join 42 Race Virtual race 21 Days Challenge. This 21 Days Challenge helped to cultivate a habit in running and it provided me with the motivation to keep going!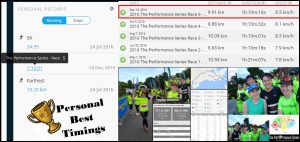 PS: You can read my review of the 42 Race – 21 Days Challenge here.
 Cool running gadget – Bought my first ever Garmin GPS watch! Having the Garmin Forerunner 235 has helped me during my training runs and run events as I can see what my current pace and timing when I'm working out. At the end of every workout session, it provides a very good breakdown of my workouts.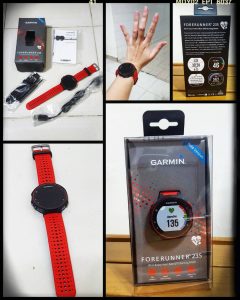 2016 was a fruitful year in my fitness journey and I loved every bit of it. As we fast forward with 2017, these are some of the things I hope/want to accomplish in my fitness journey:
2017 Fitness Aspirations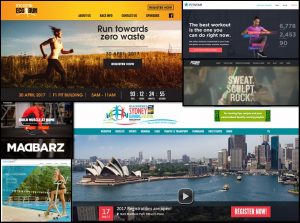 Complete a Half Marathon (21 KM) – This something that I always wanted to do but didn't have the courage to sign up for an event like this. This year, I made the commitment and have already signed up for NTUC Income Eco-Run. This would be my first Half Marathon and I'm super nervous. I have roped in a few of my friends to do this run event as run with me. I would need to start training for it. Fingers crossed that I'll be able to complete this in good timing. I'll definitely be sharing my experience with you all.
Run at an overseas Run Event – One of the many things that I want to do is to head overseas for a running event! I have read many reviews about overseas run events and they look really fun. My plan is to head for Sydney's Blackmore Running Festival. The Blackmores Sydney Running Festival is one of the most spectacular courses in the world, taking in all of the Sydney iconic landmarks and providing all runners with a unique opportunity of crossing the Sydney Harbour Bridge traffic free!
 Try a different sport – It's always nice to try something new. I'm hoping to take up aqua cycling or aqua aerobics to add some variety to my fitness regime. I'm looking to do something with 'aqua' because I have read the benefits it provides for runners and because it's lower in impact but still reap the same benefits of running.
Discipline to do some body weight and core exercises – Not everybody like doing body weight or core exercise but runners need to build strength. Doing these exercises can be difficult and boring but it will help in running. My aim is to run injury free and set new PBs in the New Year, so I'm going to try to do these exercises after my running sessions.
Well, 2017 looks to be a year where there will be challenges for me to overcome but I'm going to welcome it with open arms. Let's all continue to stay strong and achieve our fitness goals!