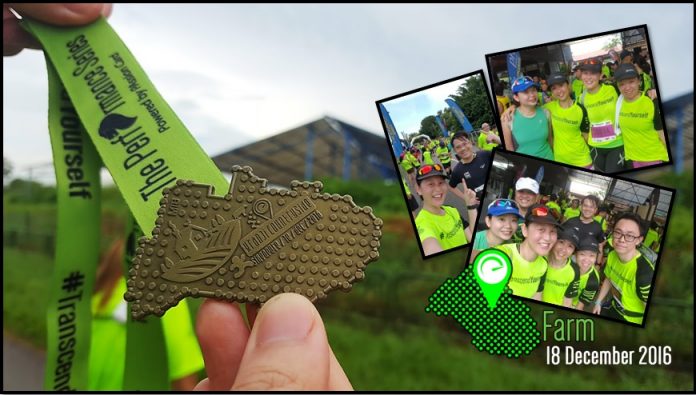 Sunday, 18 December 2016 was my last run event for the year – The Performance Series (TPS) Race 5 held at Kranji Countryside. Like all other TPS races, Race 5 promised participants a run with a different experience. I was looking forward to running at a place where I have not run before.
Planning a huge run event like TPS takes a lot of time and effort and I got to say that the TPS team did a fantastic job in delivering what was promised to TPS participants. Unlike Race 1 to 4 which were held in open areas such as big fields, outdoor event space etc., Race 5 was held at Gardenasia which is a nature-based venue with little public transport accessibility.

[Gardenasia at pre-dawn]
RACE START 
Entering the START Pen was quite a challenge as there were many participants trying to squeeze through a small entry point. It was then a half an hour wait as the flag-off timing was postponed due to the earlier downpour. While the organisers did post frequent updates on their Facebook page regarding the delayed start time, the Internet reception in that area was bad hence most of us were unaware. Perhaps in future events, the organisers can consider broadcasting an announcement over the PA system or sending text messages to participants.

[Facebook Announcements]
While waiting for flag-off, we watched the skies turned from darkness into morning light. Once we were given the go-ahead, the weather was perfect for a workout. It was cooling with a slight breeze blowing.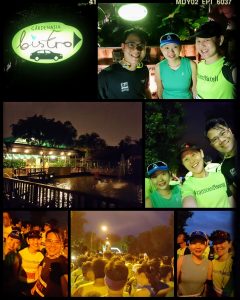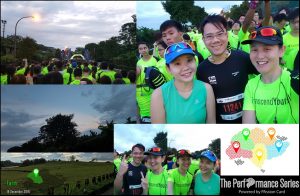 [Pre-Race Photos]
RACE ROUTE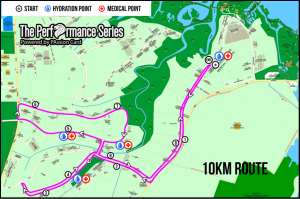 [Race Route photo – The Performance Series Website]
This was one of the most challenging race routes among all TPS races. Though there were no steep slopes to scale, there were many small gentle hills throughout the entire route which was enough to make you feel the pull of gravity. Well, I certainly had a good workout!
There was slight congestion in the first kilometre and somewhere around the 8km mark but I could still weave through and carry on with my run. Around the 3km mark, there was a U-turn point and it was a warm feeling to see many familiar faces running past. As for the scenery, this was unfortunately one of the more boring routes. I expected to see beautiful farmlands but it turned out to be more like an industrial park, which was a bit of a disappointment.
Hydration points placed strategically along the route: Organisers did well at this by having long rows of tables with more than sufficient refreshingly cold isotonic drinks and iced water! Volunteers were also pretty efficient in filling up the cups and handing out the drinks – a must in every run event!
Distance markers placed visibly along the whole course: These are important because not everyone has a GPS tracking phone or watch. I loved the designs of these markers as they really highlighted the countryside theme of the run.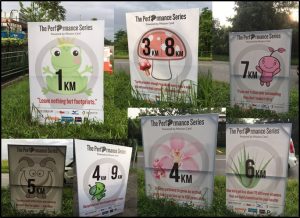 [Distance markers pictures from TPS Facebook]
POST RACE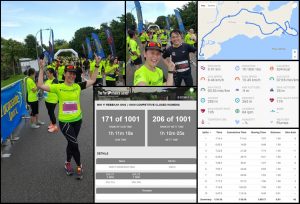 [Finish Line Photo]
I completed Race 5 with a new Personal Best (PB) timing with an official time of 1hr 10mins. I was so happy when I crossed the FINISH line.  Another friend of mine, Terence also managed to get his PB! We took some photos before heading to collect our finishers entitlements.
There were a few firsts in terms of logistics for Race 5:
Having an indoor race village;
Participants who drive, have to park at Singapore Turf Club and take shuttle buses to the race village; and
Shuttle bus drop-off point was some distance (est. 500m) away from the race village.
However, I thought some things could be done better:
Very congested race village

[Congested Race Village]
The organisers did not have a staggered flag-off for Race 5 so all 10 KM category participants were to start at the same time. I arrived at the race village around 06:00hrs and it was already crowded! Even on our walk to the race village, we could see long queues outside the portable toilets. It took us a while to find the bag deposit area with this crowd.
After crossing the FINISH line and while heading back to the race village, we encounter a human jam at the drinks station. There were no clear queues and it was quite chaotic. Collection of medals and finisher t-shirt was more organised and smooth flowing.
However at the bag deposit area, there was congestion again as the stage was in the same area, and runners resting at the stage area somewhat hindered the bag deposit queues.
Suggestions to help improve the situations above in future events:
Have directional signs or a layout of the race village at various points – This would be helpful because unlike a big open field where everything can be spotted easily, an indoor venue may need more navigation to get around.
Do more crowd control or cordon off the bag deposit area – This would ensure smoother human traffic and speed up the waiting time.
Long snaking queues for shuttle services
Friends who drove have given feedback that the queue for the free shuttle service at Singapore Turf Club was slow moving and a bit chaotic. We planned to meet up before the START of the race but they did not arrive till much later.
After the race, the only way to the nearest MRT station was again by shuttle bus. When we left the race village, we were greeted by yet another long queue for the shuttle bus. Though the wait was around 50 minutes, time passed quickly as I was in good company.
To help improve the above situation, it would be ideal to arrange for more shuttle buses. However, this may be hard because of all the road closures. I guess the organisers did the best they could.
CONCLUSION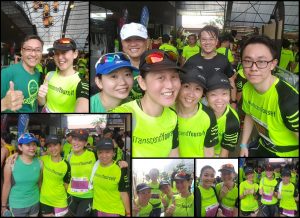 [My friends]
Overall, I enjoyed TPS Race 5 despite the long queues and human jams. It was the company that made this TPS journey all worthwhile! I was happy that I got to meet-up with my group of friends whom I have attended the previous races with and that I managed to take lots of photos to remember this day! It was also nice to have met a fellow JustRunLah blogger, Chia SY! His blogs are interesting and I certainly enjoy reading them. I also managed to meet an old friend whom I have not met in a long while.
Congrats to all who finished their TPS races! Fantastic job on finishing strong! Big thanks also to the organisers who made this race possible – you guys really kept to your promise of bringing runners through unique iconic landscapes of Singapore and making each race experience a unique and memorable one. A big thank you to Gardenasia for hosting the 5,000+ participants!
Till my next write-up, here's wishing everyone happy holidays and best wishes for the New Year!
PS: You can read about the previous TPS races here.