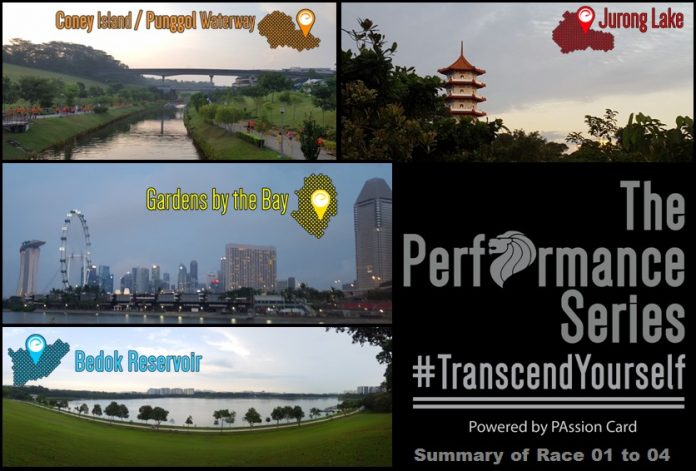 As the 2016 draws close to an end, the date for my final run event is fast approaching. This year, my final run event is The Performance Series' Race 05 which is going to be held at Kranji Countryside.
Looking back, I have never regretted joining The Performance Series (TPS) runs. The experience for each race is so unique and different. For those who are not familiar with TPS: TPS is a series of 5 races that promises participants a run through different and unique landscapes of Singapore, which include islands, lakes, heartlands, reservoirs and farms. Each race promises a unique running experience and so far from my experience, it has certainly met that objective! TPS was created by runners for runners and each race has 3 different categories: 2.5 km, 5 km and 10 km. This is to encourage runners at all levels to join in the national movement of running and at the same time help promote a running culture in Singapore and also to empower individuals to take ownership of their health.
I have participated in the first 4 TPS races and here are some of the things that made each TPS race an enjoyable one:
Highlights from Race 01 – Punggol Waterway / Coney Island

Enjoyed the scenic views – Punggol Waterway was new and very beautifully landscaped and Coney Island had its rustic charms and untouched greenery;
It was my first time running on sand – super challenging but it was all worth the experience;
Nice goodie bag which included a pair of Compressport socks; and
Cool Finisher Tee – Race 01 Finisher Tee has got to be my favourite because of the colour combination (Black & Orange)!
Click here for the full review on Race 01
Highlights from Race 02 – Jurong Lake

Organisers introduced shuttle services to the event site which made it very convenient for all runners;
The introduction of three different wave flag-off timings also allowed a much better experience running the race route of Jurong Lake;
Breath-taking morning skies greeted us as we made our way to the START Pen; and
The feel of peacefulness and tranquility of Jurong Lake during the run was super relaxing and makes the workout a very nice one. It was also interesting seeing the different pagodas along the route.
Click here for the full review on Race 02
Highlights from Race 03 – Gardens By The Bay (East)

Nice change of place for race entry pack collection (REPC) at the Singapore Sports Hub library, which was held in conjunction with National Day and we found extra goodies in our goodie bag!
Though I have taken part in many races where the starting point is at Gardens By The Bay (East), the pre-dawn scenery never fails to make me appreciate the beauty of the Singapore skyline. Sunrise is just so pretty especially when the morning light slowly hits some of our Singapore iconic landmarks; and
The most interesting thing for Race 03 was seeing a family of otters when I was heading towards the FINISH line. This is definitely something I would remember because they were soooo cute! One confused otter looks like it was wondering how to dash across the path as there were sooo many runners. I couldn't help but smile when I saw them and that actually motivated me to run faster towards the FINISH line. Too bad I didn't manage to take a photo of the otters.
Click here for the full review on Race 03
Highlights from Race 04 – Bedok Reservoir

Fresh on my memory was how Singapore's unpredictable rainy weather affected Race 04! I remember taking shelter at the bag deposit tent and that the organisers had no choice but to cancel the first wave. Luckily the second wave (in which I was participating) did not get cancelled and was postponed to take place together with wave 3. When it was time to start, the rain miraculously stopped and the cool weather was awesome for a run.
The main highlight of Race 04 had to be the awesome view of Bedok Reservoir from the top of a hill after scaling the last slope somewhere between the 8km and 9 km mark. The view was just amazing!
Click here for the full review on Race 04
Upcoming things to look forward for Race 05 – Gardenasia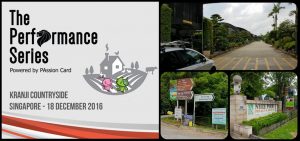 I am excited about the upcoming Race 05 because this would be my first time running at Kranji Countryside. I have heard so much about farms at Kranji so it would be interesting to run past and peek into these farms. The START point would be at Gardenasia and pictures of that place are really pretty! What's new at this race is that Gardenasia's Eco Ambassadors – Titoy & Morchoo will be making an appearance and that means more photo opportunities! Most of all I'm looking forward to completing the race in good time and collecting the final piece of TPS medal to form the Singapore Island! If you are considering signing up for it, do not hesitate! Let's make it the last and best run of 2016. Registrations have been extended has been extended to 11 Dec 23:59
Well, I hope you guys enjoyed reading this post. I look forward to seeing you at Race 05! Do say 'hi' if you see me 🙂 Let's finish 2016 strong!