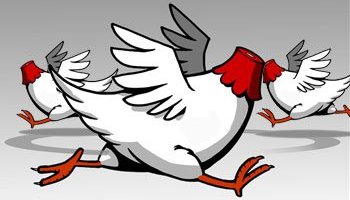 It almost felt like only yesterday when we ushered in 2017! Before you can even say Cock-A-Doodle-Doo, the advent of the Chinese fowl is already upon us.
Call it whatever you want – The Year of the Rooster or Chicken or Cockerel! But one thing is for sure, January will soon come to an end as we herald this avian arrival.
As a runner, have you set your 2017 goals for running? If yes, are you any closer to achieving these after one month? There are myriad reasons why people run – some aim to lose weight, a few to explore their physical boundary, while others just want to keep fit or merely run for fun with friends.
Nothing is wrong if you choose it for leisure, but if you have already set certain targets for running, then you must hatch a plan of actions towards achieving them. Without proper preparation, you will end up running like the proverbial headless chicken.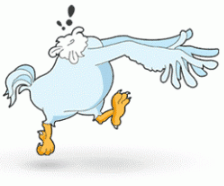 Here are four handy steps to help you along the way:-
1. Set SMART Goals for Running
First of all, you must establish your goal for running in 2017. Do you want to run faster and beat your Personal Best? Or to cover a longer distance for each run? Or to simply run more often?
Whatever your goals, please adhere to the oft-repeated mantra for Goal-Setting – it must be SMART. Specific, Measureable, Attainable, Relevant and Time-Based
No point in saying "I want to run faster this year!" or "I wish to run further this year!" or "I want to lose weight by running!"
How much faster? 30 seconds? 1 minute? How much further? Additional 5km? 10km? How much weight? 5kg? 10kg?
A simple SMART Goal for Running should sound something like this:-
"I want to complete 12 runs during 2017!"; "I want to finish three Full Marathons (FMs) by 31st December 2017!"; "I want to lose 5kg by 30th June 2017 through running!"
Or "I want to run 3 times every week from January to June 2017; then increase it to 4 times a week from July to December 2017."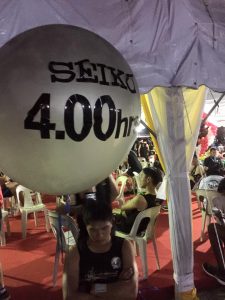 Most importantly it should be attainable – hence it should be neither too easy that you hardly sweat to nail it, nor too difficult that it is entirely unachievable and demotivating.
If you want to be even more specific, your goal can be "I want to run average 5 minutes 40 seconds, per km in a particular HM; so that I can finish it within 2 hours."
You get the drift!
2. Develop An Action Plan for Running
Remember the famous saying…
A Goal Without Action Plan is a WISH.
If your target is to participate in 12 runs this year, then you have to get specific in your action plan – identify the months you plan to join, check out the available events and actually register for them. If you set the goal to improve your running time, then plan ahead the program to run faster, eg running days and rest days, dietary consumption, ideal running shoes to wear etc.
Let me briefly share my 2016 past experience in making such plan. Prior to 2016, my longest running distance was only Half Marathon (HM); yet I had this childhood dream to run in FM.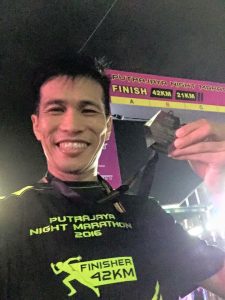 So I set my 2016 goal to run non-stop in FM before 31st December. In order to realize this dream, my planning began months ahead – registering for the FM in advance, setting target milestone for each month and expected pace to get the desired timing, joining other mini running events, to ensure my commitment and motivation stay strong.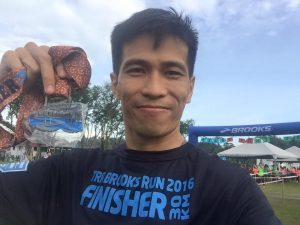 To cope with 42.2km run, my next plan is to search for runs with distance between HM and FM; so that these events can be used as bridges to slowly build up my stamina towards the ultimate goal of FM. There are also downloadable apps that can help you. If you check out Nike+ Running app, its Coach function can provide running training plans for 5km, 10km, 15km, HM and FM.
3. Take Action to Run
Planning to run is the easy part; but the hard part normally comes during the execution. You can plan all you want; but it is pointless if no serious actions are taken subsequently.
In their study of new habit formation, Jason Selk and Tom Bartow identified three stages: the Honeymoon phase, the fight-thru phase and the "In The Groove" phase. I have found their study quite relevant for running and I will attempt to relate these stages to our running routine.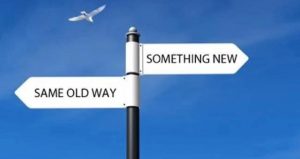 If you are new in running, you will most likely experience this:
For the first few weeks, you will feel the adrenalin rush and the fun of running; as you rejoice in your new habit or routine. Everything will seem easy and satisfying as you will be 'up with the chickens' for morning jog and feel the sweat all over your body (the Honeymoon phase).
But eventually, you may find that excitement starts to wear off a bit, the thrill slightly fades and harsh reality sets in. Getting out of bed for a jog seems to be a bit of struggle and you may give yourself the slightest excuse for not pounding the pavement, perhaps "I have late nights", "Looks like it gonna rain!", "The bed is too tempting!" etc (Fight-Thru phase).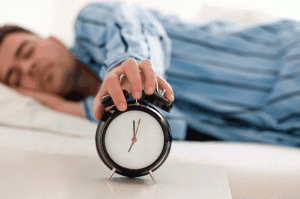 According to them, the key to moving to the third phase is to first acknowledge that you have already entered the fight thru, by simply saying to yourself "I have entered the fight thru". Once you have recognized so, then you must win "2 or 3 Fight Thru's" to go to the next stage.
Winning each fight thru will make it easier to win the next. Likewise if you lose a fight thru, you make it easier to lose the next one. I have adopted a few techniques to win such Fight Thru's in running.
Ritualize. Do the habits at the same time every day! If you run at 6pm daily, make sure that you adhere to the run time, as best as you could.
Bring in the positive emotion, such as the great feeling in crossing FM finishing line, imagine the satisfaction of holding the finisher medal, or the thrill of staring down the weighing scale (for the weight watchers).
Set mini goals to achieve small victories. In my past experience, you can easily set mini goals to win such Fight Thru's. For example, if you have been running average 5 min per km, your next target can be to slightly improve the pace to (say) 4min 57sec. Or if you can run non-stop for 10km, try 11km next.
The Win Thru techniques will help you to break the habit of laziness and get into the cadence of running.
4. Reward Yourself with Treats
No matter how small or big your victory in running, don't ever forget to reward yourself with treats! Never underestimate the power and psychology of such rewards.
By its nature, running is a very tiring and energy-sapping activity; more so for beginners adapting to their new routine. We need to ensure that our physical and mental battery to be constantly recharged.
When we give ourselves little treats, we feel nurtured, encouraged, contented, as well as reinforced to maintain our running habit. If we don't get treats, we may start to feel drained, burned out and somehow demotivated.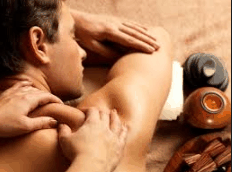 As to the form of treats, it may vary depending on each individual. Sometimes the treat can be as simple as rewarding yourself with your favorite drink, nice massage, great movie etc. To celebrate my first FM, I rewarded myself with Compression Tights, which further reinforced my running habit.
In short, it takes real discipline, courage and effort on almost daily basis to maintain your running habit; so remember these 4 Steps if you want to seriously increase the chance of achieving your goals in 2017:-
Set SMART Goals for Running
Develop An Action Plan for Running
Take Action to Run
Reward Yourself with Treats
Hopefully by the end of The Year of the Rooster, you may have something to crow about; instead of chickening out half-way through.
The choice is yours!