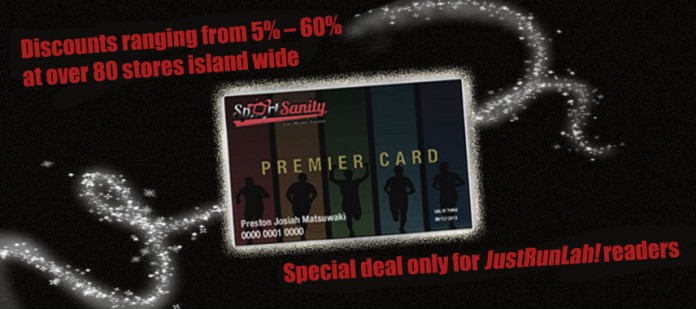 Do you want up to 60% discounts at over 80 sports retailers in Singapore?
Then it might be time to get yourself a SportSanity Premier card!
We have arranged for a special discounted price for all of our buddies.
Order your card online here and type "JUSTRUNLAH" in the discount-code field, to get it only for $22.5.
Selected deals:
15% off 2XU, Newton, Brooks, Nathan & more Keypower Brands
20% off Reebok at Royal Sporting House
15% off on all Compress Sport merchandise
20% off TYR's selected products
5% off Nutrifirst
10% off sports eyewear storewide at Rudy Project
35% fitness equipment off at F1 Recreation
10% off storewide Decathlon singapore
10% off 2XU Compression, Tune Belt, Dri-Dock at The Sports Shack
15% off at Yoga Inc
10% off at Pilates Inc
5% off all online or store purchases at NutriFirst Pte Ltd
10% off all physiotherapy and more at Urban Rehab
5% off at Megazip
For a full list, download the brochure.
Race discounts
JustRunLah! and SportSanity work together to bring you exclusive discounts in registration fees. Keep an eye on the race calendar for discounts year round.
How do I get it?
Follow this link to order online, and enter "JUSTRUNLAH" in the discount code field, to get your Premier card at the discounted price of $22.5
Free classes too!
If you sign up now, you'll also enjoy a selection of free classes! You can choose the adult's set (valued: $784) or kid's set (valued: $270)