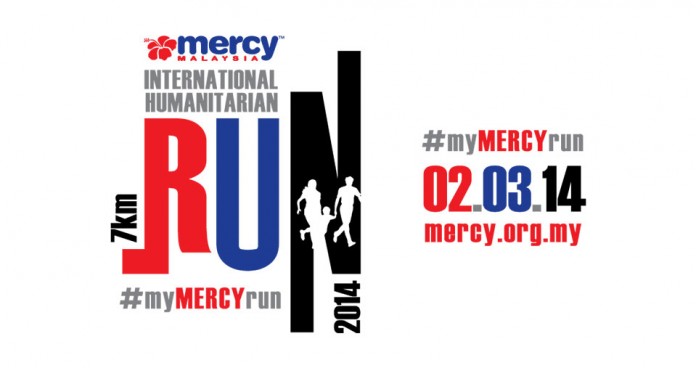 MERCY Malaysia International Humanitarian Run, 2 March 2014
We are always happy to publicise and promote a good-cause running event, and this time we want to draw your attention to MERCY Malaysia International Humanitarian Run 2014, a run that will take place on Sunday the 2nd of March 2014 in Kuala Lumpur, Malaysia.
About the run
MERCY Malaysia is launching its first ever International Humanitarian Run in an effort to raise awareness on MERCY Malaysia's endeavors to provide health based humanitarian aid, both locally and internationally.
The 7km run which is being co-organized with Go International Group is open to the public, and will start at 7.00am on Sunday, 2 March 2014 at Kuala Lumpur's Padang Merbok. Race technical partner, Pacesetters Club Malaysia, has charted the 7km route, ensuring that it is suitable for first time runners. The morning event, targeted at families, will have a carnival like atmosphere, as there will also be a mini concert and vendors selling assorted items.
In addition to that, MERCY Malaysia will be setting up a part of their Emergency Response Unit (ERU) field hospital on site, so that the public can view an example of a hospital that is set up during emergencies. The full mobile hospital which is fully self-sufficient consists of an operating theater, an emergency room, wards, an out-patient department, a pharmacy, and it would also include water and sanitation facilities, electricity supply, waste management, living quarters, storage and inventory, security and transportation as well as communication facilities. Recently, two components of the field hospital (the Out-Patient Department and the pharmacy) were deployed to Ormoc, Philippines in order to help provide medical aid to the survivors of Typhoon Haiyan in the area.
"One of the reasons we are having this run is to encourage the public to adopt a healthy lifestyle, where they are both mentally and physically fit. This is why we are starting with only a 7-kilometre run, making it feasible for Malaysians from all walks of life to participate in the event. After all, anyone can run, and anyone can volunteer. Additionally 100% of the proceeds from the registration fee will be directed into MERCY Malaysia's Humanitarian Fund" – The Honorary Secretary of MERCY Malaysia, YM Raja Riza Shazmin Raja Badrul Shah.
YM Raja Riza also commented on the importance of fitness in this day and age where many people now practice a sedentary lifestyle which could hinder their response during an emergency or disaster. She also mentioned that many studies have shown that exercise improves blood flow to the brain, increasing mental alertness –which is essential during emergency and disaster response.
She cited that based on MERCY Malaysia's model on Total Disaster Risk Management, and the organizations experience obtained from 15 years of providing humanitarian aid, they found that communities who are both mentally and physically prepared for disasters are more resilient in times of crisis.
This could be seen in Johor, where school children who had been trained under MERCY Malaysia's School Preparedness Program (under its Disaster Risk Reduction arm), have not only been able to cope with the annual floods, but also help their loved ones to prepare for the floods.
In the Myanmar, a Community Based Disaster Risk Management project was implemented in several villages to empower communities in disaster preparedness, especially when it came to dealing with the heavy rains that flooded the area. A 9-year-old child named Maung was quoted saying, "If a storm comes, I would run to the temple. I also have packed bottles of water, schoolbooks and clothes. We prepared for everything".
"We wish to encourage Malaysians and their friends from around the world to sign up for this 7KM #myMERCYrun as their donations are channeled towards MERCY Malaysia's numerous humanitarian aid funds" – Nikki Yeo, Head of Sports Marketing at Go International Group.
In an effort to help raise awareness on the event, a weekly exercise event called Fun Fit Friday will be held for MERCY Malaysia staff and their families at various parks around Kuala Lumpur by Nikki Yeo.
The event at a glance
Race Date: Sunday, 2 March 2014
Start Time: 7.00am
Finish Time: 9.30am (2.5 hours)
Start Location: Padang Merbok along Jalan Parlimen
City: Kuala Lumpur, Malaysia
Distance: 7km
Registration Closing Date: 20 February 2014 or when the number of participants reach the maximum number.
Registration/Donation Fee: RM 60 minimum donation per person.
Minimum donation of RM60 per person MUST be made upon registration. We thank you in advance if you wish to donate more than the minimum amount.
Donations are non-refundable nor are they transferrable.
Any payments made that are less than RM60 per person will be deemed as a donation and not as registration fee.
Payments can be made directly via the official MERCY Malaysia website, at www.mercy.org.my.
A tax-exemption receipt will be E-mailed to you.
Registration/Donation fee includes one item of each:
T-Shirt
Race Medal
Race Bib
Light Breakfast
Lucky Draw
Note: All participants will receive a race bib and an exclusive event t-shirt (sizes subjected to availability) in the Race Pack. All participants who successfully complete the 7km run will be awarded a finisher's medal and light breakfast upon presentation of their bib number to the Race Secretariat. All finisher medals and t-shirts must be collected on Race Day and no requests will be entertained thereafter.
About MERCY Malaysia
MERCY Malaysia is a non-profit organisation focusing on providing medical relief, sustainable health-related development and risk reduction activities for vulnerable communities in both crisis and non-crisis situations. MERCY Malaysia recognises the value of working with partners and volunteers as well as providing opportunities for individuals to serve with professionalism. We uphold the Code of Conduct for the International Red Cross and Red Crescent Movement and NGOs in Disaster Relief and hold ourselves accountable to our donors and beneficiaries. As a non-profit organisation, MERCY Malaysia relies solely on funding and donations from organisations and generous individuals to continue our services to provide humanitarian assistance to our beneficiaries. For more information, please visit www.mercy.org.my
Register now and run for a good cause
Individuals who are interested to participate in the run can do so by logging on to MERCY Malaysia's webpage at www.mercy.org.my.
It costs a minimum of RM60 donation to register, and runners will receive a tax-exemption receipt, t-shirt, medal, race bib, light breakfast and lucky draw.
Runners are also encouraged to help spread the word about the run via MERCY Malaysia's Twitter handle @MERCYMalaysia with the hashtag #myMERCYrun.