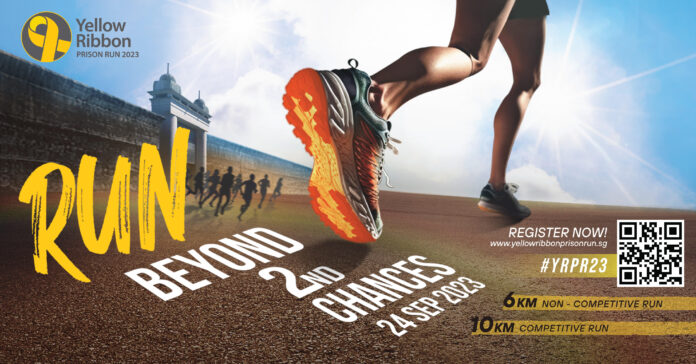 The annual flagship event of the Yellow Ribbon Project, the Yellow Ribbon Prison Run (YRPR) returns in 2023 to a fully physical format with a nostalgic run route beginning at Changi Village (Farnborough Road, Changi) and ends with participants running through the Old Changi Prison Wall.
YRPR 2023 will be held on Sunday, 24 September, featuring two run categories – 10km Competitive Run and 6km Non-Competitive Run. There will be prizes for the top runners (male and female) for the 10km Competitive Run.
Themed "Run Beyond 2nd Chances", the Yellow Ribbon Prison Run aims to be a symbol of hope and an avenue to rally community support towards offering ex-offenders and their families beyond a second chance throughout their reintegration journey.
Community support is vital in the reintegration journey of an ex-offender and families impacted by incarceration. Small acts of kindness done by individuals, employers, and organisations can result in large ripple effects felt across generations. This is especially true for families impacted by intergenerational offending, where more than one family member has been incarcerated.
As the national symbol of hope and second chances, the Yellow Ribbon Prison Run aims to showcase how ex-offenders are not mere recipients of the second chances given by the community but also active contributors in paying forward the kindness and support received. Don't miss the many entertaining performances as well as informative and interactive booths showcasing the many talents, skills and contributions made by inmates and ex-offenders at our end point carnival this year.
In addition to spreading the message of hope and fostering a more inclusive society, let us also strive towards forging a more sustainable one for future generations. The building of a more hopeful and sustainable future is a collective effort which begins with raising environmental awareness, promoting sustainable lifestyle choices, and encouraging eco-friendly practices. This year, the Yellow Ribbon Prison Run's iconic run shirt and drawstring bag are made from sustainable materials. Do also look out for the sustainability-themed booths, collaterals and activities set up at our end-point carnival for participants to experience.
Let us "Run Beyond 2nd Chances" and play our part in building a more inclusive and sustainable future by spreading a message of hope and inclusivity to ex-offenders, their families, and our environment at Yellow Ribbon Prison Run 2023.
Hurry and sign up for the early bird discount! Registration will end on 31st August 2023, don't miss the chance of supporting the cause!
Categories and Fees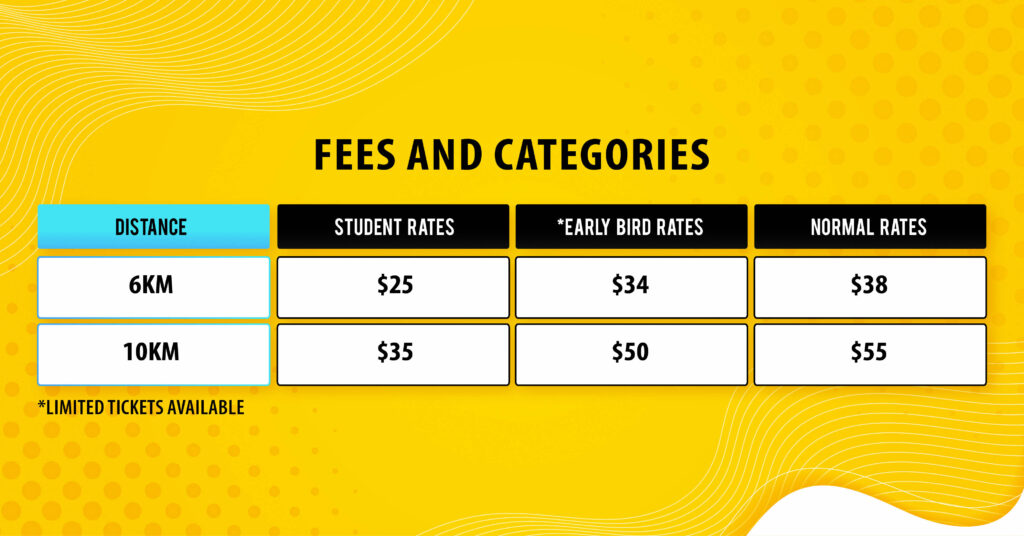 Early Bird Rates: While stocks last
Registration Period: 1 – 31 August 2023
Race Entitlements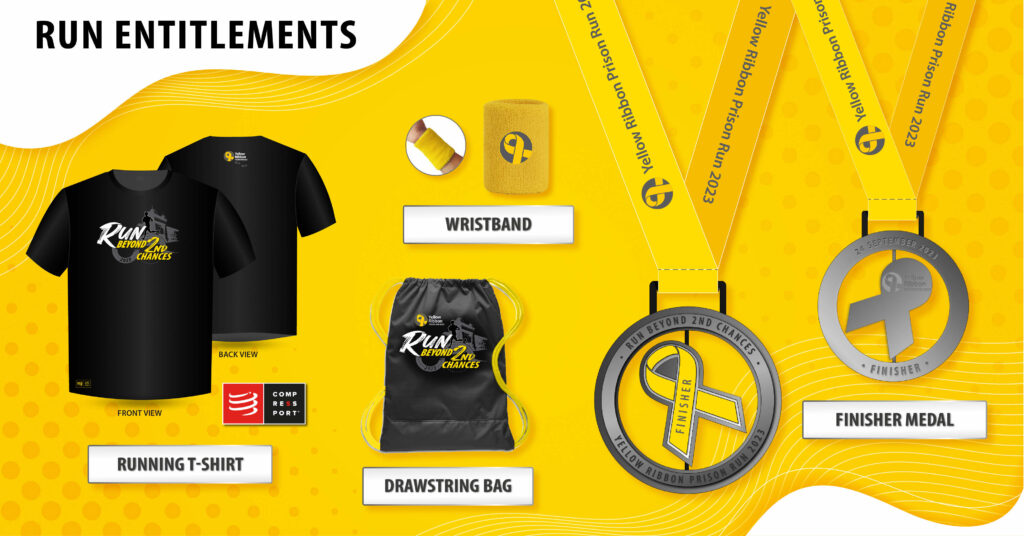 Participants of the 10km and 6km run will receive an exclusive Compressport Running T-shirt, an eco-friendly drawstring bag and YRPR 2023 Wristband during the Race Entry Pack Collection on the 9 and 10 September 2023, from 9am to 9pm at City Square Mall (Fountain Square).
Upon completion of the run on the event day, all participants will receive a YRPR 2023 Finisher Medal.
Fundraising for Yellow Ribbon Fund (YRF)
Every kilometre covered by participants in support of the Yellow Ribbon Prison Run, provides a concrete display of solidarity in offering beyond second chances to all and support towards making a difference in the lives of our ex-offenders and their families.
The Yellow Ribbon Project would also be cordially inviting our donors to match this resounding display of community support by pledging $10 for every kilometre completed by each participant or inmate. Funds raised would go towards the building of reintegration programmes for ex-offenders and their families.
Should you wish to donate, you could donate directly to our Yellow Ribbon Fund via the following link.
Launched in June 2004, the Yellow Ribbon Fund (YRF) is the first national charitable fund devoted entirely towards the development and implementation of rehabilitation and reintegration programmes for inmates, ex-offenders and their families.