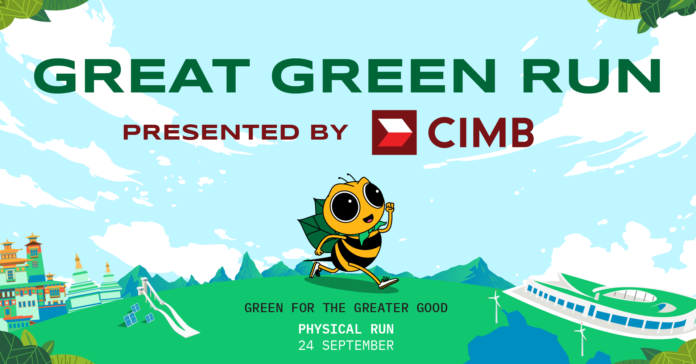 SINGAPORE, 19 July 2023 — Sustainability-centric business communication solutions platform, Greenbees and international sports event management company, TriFactor announced the launch of its first sustainability-driven 'Great Green Run' today, which is set to take place on 24 September 2023 at Great Green Run's venue partner, Marina Barrage.
Great Green Run is designed to serve as a platform to rally and inspire individuals, corporations and communities into sustainability advocacy and action. In efforts to promote sustainability, Great Green Run will also be one of the first sporting events to publicly share its carbon footprint and sustainability initiatives report, which will be reviewed and verified by the Singapore Environmental Council (SEC). In addition to this, every participant is encouraged to make an individual sustainability pledge upon registration, with options to choose from the five selected United Nations Sustainable Development Goals.
5 Selected United Nations Sustainable Development Goals
SDG 3 Good health and well-being
SDG 11 Sustainable cities and communities
SDG 12 Responsible consumption & production
SDG 13 Climate action
SDG 14 Life below water
The run on 24 September 2023 at Marina Barrage will be divided into two categories – corporate and community run. For the corporate run, more than 2,000 professionals, managers, executives and technicians (PMETs) from over 50 multinational corporations (MNCs), as well as small and medium-sized enterprises (SMEs), are expected to participate. Among the notable corporations that have shown their interest are RSM Singapore, CapitaLand, CIMB Singapore, SISTIC Singapore and National Healthcare Group. On the other hand, Great Green Run is expecting more than 3,000 avid and leisure runners to take part in the community run.
CIMB Singapore is the presenting sponsor of the Great Green Run. The bank has been an active proponent of the Environmental, Social, and Governance (ESG) agenda and is the first ASEAN bank to sign the industry-led, UN-convened Net-Zero Banking Alliance (NZBA), a member of the Glasgow Financial Alliance for Net Zero (GFANZ). CIMB is also continuously stepping up on its sustainability innovation in order to achieve its ambition of becoming a leading ASEAN bank and a sustainability leader. Over the past two years, CIMB Singapore has executed several significant sustainable financing transactions. In 2022, CIMB Group doubled its sustainable finance target to RM60 billion by 2024 after having met its original target of RM30 billion two years ahead of schedule.
"Awareness is the first step to any change. As a leading ASEAN bank, our greater purpose is to advance customers and society towards a sustainable future. We advocate sustainable practices for ourselves as an organisation as well as encourage our people to actively participate in initiatives contributing to positive environmental and social impact. As the presenting sponsor of Great Green Run, we hope to amplify the awareness on sustainability through our network of partners and communities, and to inspire a positive change within our circle of influence on integrating sustainable practices in our daily lives," said Victor Lee, Chief Executive Officer of CIMB Singapore.
"TriFactor is determined to incorporate and champion sustainability practices in all our local and international TriFactor events, spearheaded by Great Green Run. We are honoured to have CIMB Singapore onboard as our presenting sponsor in our inaugural event in Singapore and to be working together with several key government agencies and sustainability partners," said Elvin Ting, Founder of Orange Room & TriFactor.
"We are thrilled to organise our inaugural Great Green Run, in partnership with TriFactor, the leading multisport brand in Asia. With a strong aim to be the standard bearer of sustainable sporting events, we wanted a running event because the activity itself has a relatively low environmental impact compared to other sports. We believe running connects people and builds community – you meet new people, you spend time with people, and you talk to people with collective shared values. As two purpose-driven organisations come together, we understand the importance of embedding sustainability in everything that we do to create positive impacts across the business ecosystem, as well as the community," said James Yeong, Project Director of Great Green Run.
Sustainable development is an integral part of Singapore's economic growth. As an enabling supporter of local and global sustainability standards, Great Green Run supports and aligns with the Singapore Green Plan 2030 to advance Singapore's national agenda on sustainable development. Great Green Run aspires to unite and educate individuals and corporations to build a grassroot movement to address a range of social needs, while tackling climate change and environmental protection.
In addition, Great Green Run has partnered with some of the leading sustainable territories in the world, such as the Kingdom of Bhutan, the world's only carbon negative country, and Lahti, a city in Finland and 2021's Green Capital of Europe. Great Green Run is also supported by some of the notable brands such as RSM Singapore, ShopBack, Tesla, CapitaLand, JustRunLah! and more.