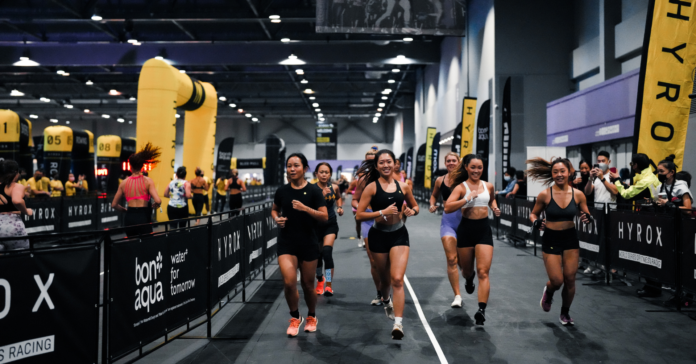 SINGAPORE, 13 June 2023 – After making a name for itself in Europe, North America and Australia, popular fitness racing world series HYROX lands in South-east Asia for the first time, making its debut on 7 October with a mass-participation indoor race at the Singapore National Stadium. Over 70 per cent of slots have been snapped up since registration opened just two weeks ago, guaranteeing an electrifying festival-like atmosphere, with over 4,000 participants and 2,000 spectators expected.
HYROX combines both running & functional workout stations, where participants run 1km and do 1 functional workout station. This is then repeated eight times. The eight stations are the SkiErg, Sled Push, Sled Pull, Burpee Broad Jumps, Rowing, Farmers Carry, Sandbag Lunges and Wall Balls.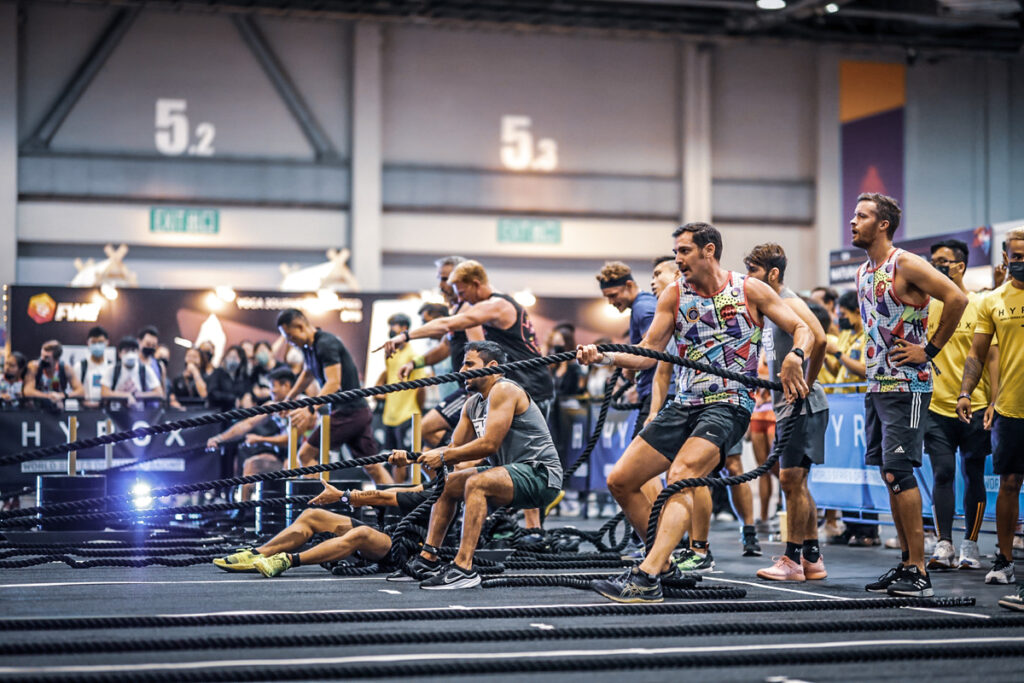 The stations require functional movements frequently used in everyday life, ensuring that HYROX remains an appealing and easily accessible activity for people of all fitness levels, helping them complete daily activities more easily while feeling stronger. With the low barrier to entry, HYROX encourages everyone to get moving using the basic movements we use frequently in our daily lives.
HYROX is also the first and only mass-participation indoor fitness event that uses the exact same race format that is used all over the world.
The race format is as follows:
| | | | |
| --- | --- | --- | --- |
| 1. | 1KM Run | 9. | 1KM Run |
| 2. | 1,000m SkiErg | 10. | 1,000 Rowing |
| 3. | 1KM Run | 11. | 1KM Run |
| 4. | 50m Sled Push | 12. | 200m Farmers Carry |
| 5. | 1KM Run | 13. | 1KM Run |
| 6. | 50m Sled Push | 14. | 100m Sandbag Lunges |
| 7. | 1KM Run | 15. | 1KM Run |
| 8. | 80m Burpee Broad Jumps | 16. | 75 or 100 Wall Balls |
HYROX has 4 different categories for competitors to choose from. Whether participants are looking to take on HYROX by themselves in the Open or Pro category, share their experience with a teammate in the Doubles Categories, or split HYROX four ways in the Team Relay category, HYROX has a race for everyone.
The race categories are as follows:
Singles Open – men's, women
Single Pro – men's, women
Doubles – men's, women's, mixed
Relay – men's, women's, mixed
The different weights for each station in the respective categories can be found below: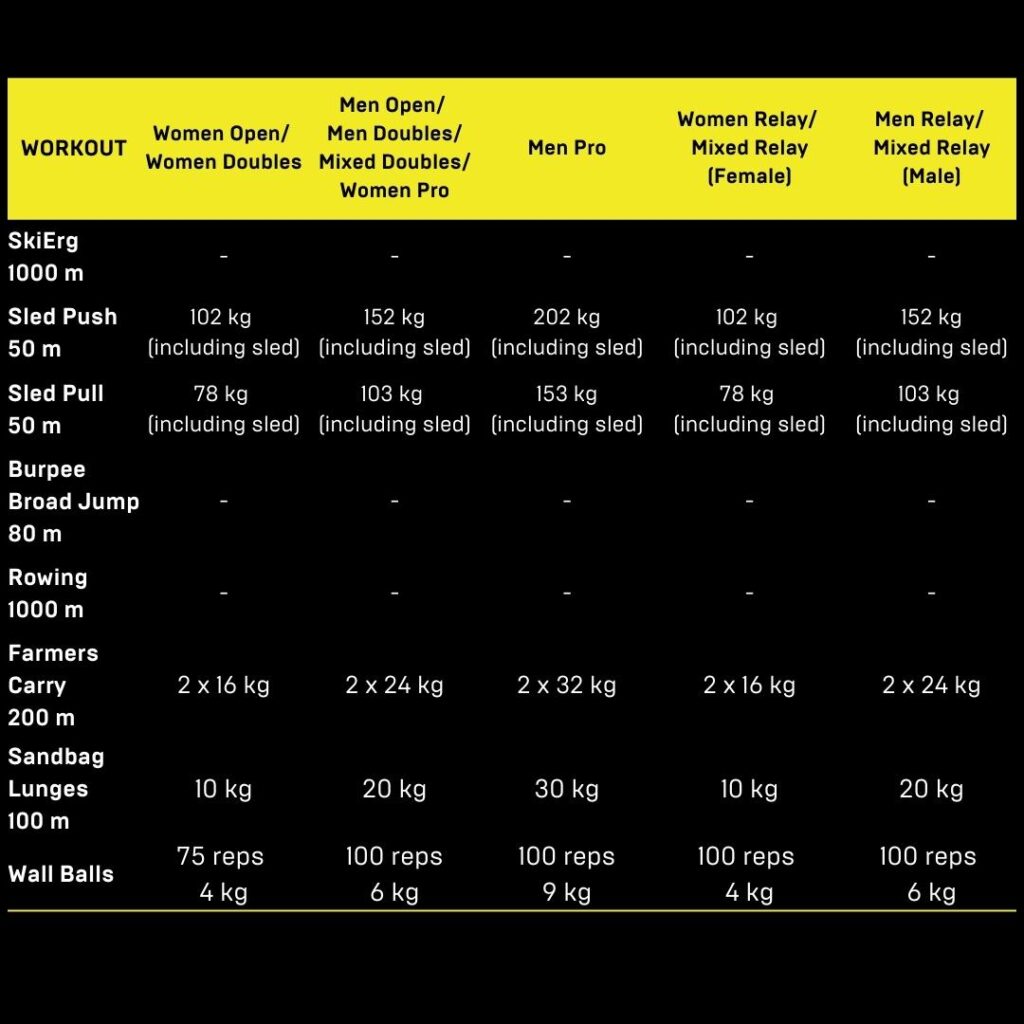 The National Stadium has long been an iconic venue that has hosted multiple professional and community sports events, allowing different groups of people united by their love for sport to come together. With the fitness extravaganza taking place there, participants can gather with like-minded individuals while experiencing the thrill of competing in the iconic venue while being spurred on by family and friends in the 55,000-seater arena.
Hosted in the largest venue HYROX has ever been in, HYROX Singapore will become an iconic event in HYROX history. Gary Wan, HYROX APAC Managing Director, said: "We are excited to bring HYROX to Singapore this October and are looking forward to hosting HYROX at the Singapore National Stadium. This is something that will change the HYROX game entirely. We welcome everybody and every body to join us and come check us out that weekend."
Yazed Osman, Singapore Sports Hub Group Head, Events and Placemaking, said: "We are pleased to host the first-ever HYROX event in Singapore, reinforcing our position as a global hub for sports, lifestyle and entertainment. Singapore Sports Hub remains committed to delivering new and exciting experiences for everyone, and we can't wait to welcome all HYROX participants and supporters to the National Stadium this October."
HYROX was launched in Germany, with 650 participants attending the inaugural event in 2017. It has since expanded into 17 countries with over 120,000 participants per year.
To help participants in Singapore prepare for the race, popular fitness franchise Body Fit Training (BFT) has also come on board as the official HYROX training centre. In addition to their existing progressive, science-based training programs, BFT will be adding HYROX-specific training programmes to their weekly programming at all open studios. HYROX athletes can become members of their local BFT and get best preparation available for the best possible preparation for their HYROX event.
Cameron Falloon, the founder of BFT, said: "BFT are very excited to announce this innovative partnership and feel that the BFT training system is uniquely positioned to be the perfect Official Training Partner
for HYROX and the many people that attend their events globally. We can't wait to see the positive growth from this partnership for both brands, with HYROX participants training in BFT studios around the world, and our BFT communities participating in HYROX events."
Registration is open at https://hyroxsingapore.com/event/hyroxsingapore. Participants have to be at least 16 years old to register. For more information, visit https://hyroxsingapore.com.