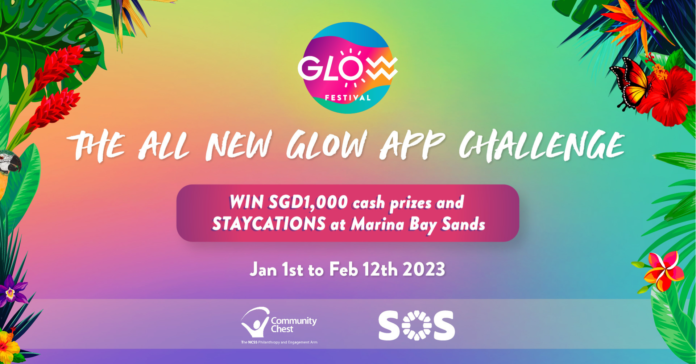 Glow Festival is finally back, and this time they are raising the bar to a whole new level! Featuring the world's first multi-sensory festival space design concept, an unprecedented line-up of top international celebrity practitioners, a digital rewards and charity platform through the brand-new Glow App, and a banging closing party at MARQUEE Nightclub. Get ready to Glow Up with us in 2023!
THE ALL-NEW GLOW APP
Move to earn with the new Glow App
Glowgetters can 'LIGHTEARN' their stress by sweating it out and winning amazing prizes along the way.
For simply getting out of the house and engaging with the Glow App, Glowgetters stand to win multiple cash prizes, as well as staycations at Marina Bay Sands, and rewards from lululemon, Cori Cream & more.
It's free, easy, and loads of fun. It's good for health and great for any fitness level.
Do Good, Feel Good with the new Glow App
With the Glow App, Glowgetters can now donate and be part of this meaningful movement with just an easy click of a button. Every dollar will go a long way to help us build better selves and better communities together!
Take part in the All-New Glow App Challenge
Designed to promote the benefits of exercise on mental health, the Glow App Challenge helps lighten your emotional load with a little bit of exercise, the chance to win amazing prizes, and if you wish – a simple but meaningful act of giving.
All you have to do is run, walk or cycle to locate virtual checkpoints using the Glow App. Every time you find one, you'll release 1,000 Glow Seeds that symbolize a lightening of the weight you're carrying, and for every 10,000 seeds dropped, you will qualify for a lucky draw for amazing prizes – including multiple SG$1,000 cash prizes and staycations at Marina Bay Sands.
Should you wish, we'd be so grateful if you could also make a donation, big or small, via the Donate button below to the Samaritans of Singapore, who do amazing work helping those for whom the weight of their world has just got too much.
And the bonus is we know that such a heartfelt act of kindness will also lift some of the weight off our own shoulders, boosting our mood and making us happier, healthier and more fulfilled.
Download the Glow App now!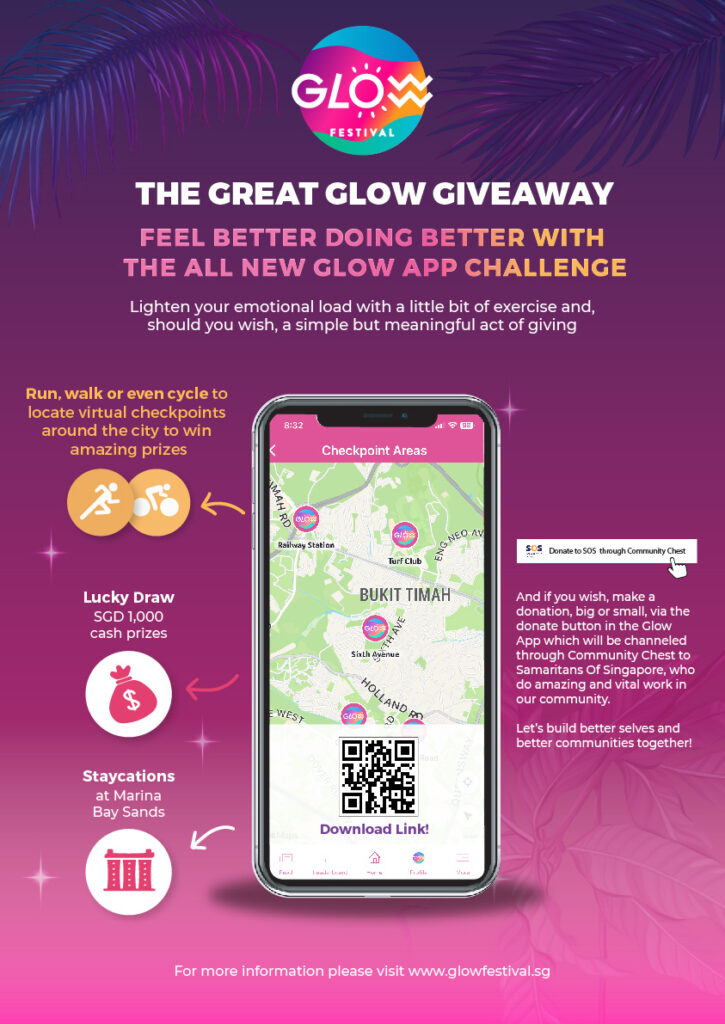 The Glow App Challenge runs from January 1 to February 12, 2023. Let's build better selves and better communities together!
GLOW FESTIVAL 2023 (4 – 10 FEB 2023)
This year, they are also beyond excited to launch the all-new Glow Festival 2023, designed and curated to take the Glow experience to a whole new level and help our Glowgetters reach their very own wellness high!
As part of Glow Festival's ongoing commitment to bring exceptional wellness experiences, they are moving to the iconic Marina Bay Sands. Together with their incredible lineup of celebrity wellness instructors, Glow Festival has specially curated a programme of amazing workshops and classes that will whisk you away from your everyday hustle to a place of peace and tranquillity, where you can relax, unwind, and be in the moment.
Each of their celebrity-led wellness sessions will take place in a stunning multi-sensory space, designed and built exclusively for Glow Festival to make festivalgoers feel like they've been transported deep into the Amazon, enjoying a wellness experience in the most serene and magical of environments.
This one-of-a-kind environment is inspired by the biophilic principle of humankind's innate affinity with nature, and how connecting with the natural world can evoke happiness and pleasure, relieve stress, and enhance our well-being in profound and long-lasting ways.
Visit the official website at https://glowfestival.sg to find out more.