ASICS opens its latest store at Paragon Shopping Centre, with an all-new concept store designed to communicate the brand's ambition to promote a "Sound Mind, Sound Body"  
It also features omnichannel retail experiences including the 'Click & Collect' feature and ASICS Foot-ID Quick Scan 
ASICS Paragon will also pave the way for the brand to expand its retail footprint with similar concepts in Singapore and across Southeast Asia
ASICS unveils its tenth store in Singapore, ASICS Paragon, designed to provide consumers with an immersive retail space focused on simplicity, sustainability and efficiency. Located in the heart of Orchard Road, the store at Paragon Shopping Centre features omnichannel shopping experiences, including the 'Click & Collect' feature and ASICS Foot-ID Quick Scan. ASICS Paragon is also the first ASICS store in Southeast Asia to implement this design concept.
The new retail concept takes cues from the brand's guiding philosophy, "Sound Mind, Sound Body", which aims to promote the positive impact of sport on the mind. Embracing simplicity, consumers are welcomed to an intimate space punctuated by natural and calm finishes. As part of the brand's ongoing goal towards a net-zero world by 2050, the store also uses more sustainable materials as compared to the earlier ASICS store designs.
"ASICS Paragon marks a pivotal milestone for ASICS, as it reflects a new concept that communicates our desire to promote and encourage the power of movement through a thoughtfully designed environment," said Yogesh Gandhi, Managing Director of ASICS Asia. "At ASICS, we constantly innovate with a 'consumer-first' approach. We're excited to integrate personalisation and performance with this new design at ASICS Paragon to further forge and deepen connections with our consumers."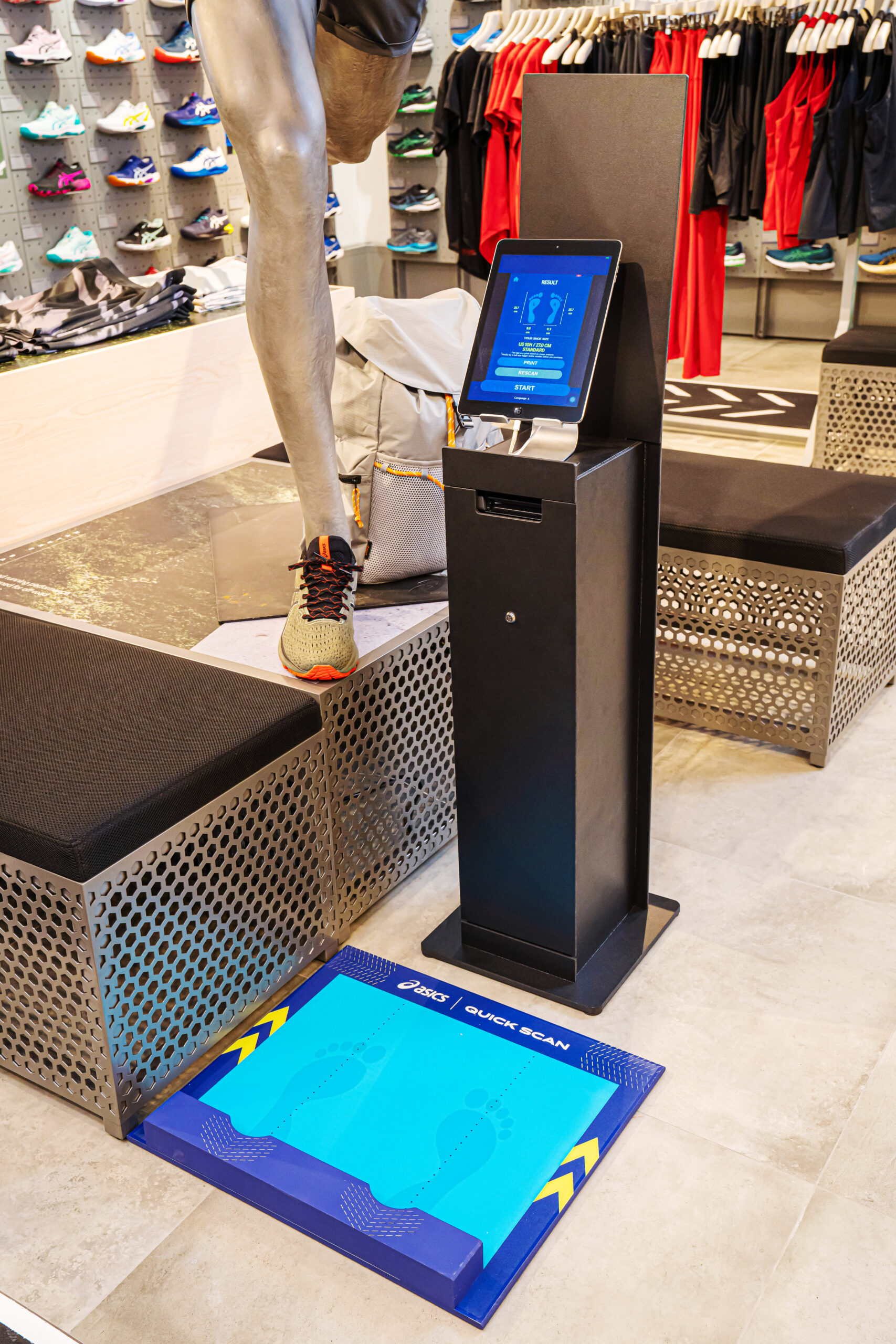 To deliver an efficient and seamless shopping experience, ASICS Paragon is supported by hybrid digital service tools. This includes the "Click & Collect" feature where consumers can pick up their items in-store from online purchases via www.asics.com/sg.
ASICS Paragon also introduces the new ASICS Foot-ID Quick Scan – the latest iteration of the brand's proprietary system, Foot-ID. Like its name, the system is powered by a software that recommends ASICS shoe sizes in a fast yet accurate analysis of the customer's foot.
Commenting on the brand's regional expansion plans, Yogesh Gandhi shares, "While our brickand-mortar stores remain as one of the key channels to connect with our consumers, we are continuously elevating the physical experience with forward-looking digital elements. We will continue this trajectory with expansion plans in Southeast Asia, transforming existing stores with the latest retail technologies."
ASICS Paragon is located in Paragon Shopping Centre (#04-43/44/44A) and will be open to shoppers from 10am to 9pm daily. To find out more about ASICS outlets and their offerings, please visit asics.com/sg/en-sg.