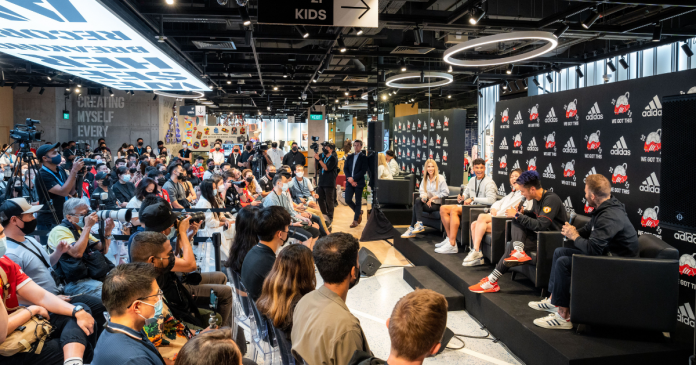 From a live talk show to a football clinic for youths between four to 16 years old, and a surprise futsal challenge at The Cage, more than 200 people met and were inspired by the global sporting icon.
SINGAPORE, 18 JUNE 2022 – Over the past two days, 17 and 18 June 2022, adidas organised a series of activities with David Beckham in Singapore. The activities were anchored on the brand's purpose, "Through sport, we have the power to change lives".
"WE GOT THIS 2.0" TALK SHOW
On 17 June, David Beckham spoke to more than 120 members of the public at a talk show dubbed "WE GOT THIS 2.0", held at the adidas Singapore Brand Centre Orchard. Hosted by 987FM radio DJ Joakim Gomez, David Beckham was joined by three local panellists: entrepreneur and social media personality, Christabel Chua, professional footballer, Ikhsan Fandi, and international DJ and Host, Jade Rasif.
A contest for the public to win passes to attend the talk show ran over six days on adidas Singapore's and the panellists' Instagram channels, as well as via the adidas app. Winners were selected from more than 2,000 entries submitted during the contest period.
The three talk tracks discussed by David Beckham and the panellists were:
What matters (sharing what is important to them at this point in their lives),
Marrying ambition with mental health (how they balance achieving what seemed like the impossible), and
We Got This (tips and advice on how they stay on track to achieve their goals).
Ikhsan Fandi on "What matters": "My family means everything to me. I always confide in them when faced with challenges. I feel safe knowing that there are people to guide and support me through the tough times and will have my back all the way."
Christabel Chua on "Marrying ambition with mental health": "My work always keeps me motivated but there are times that things get overwhelming for me. A few practices that help me are colour-coding my daily calendars so that I'm always present in the moments I've committed myself, and ensure I make space for 'me time' too."
Jade Rasif on "We got this": "My favourite quote has always been, 'work hard, stay humble.' As cliché as it may sound, it has been a north star for me. I practice gratitude exercises daily and it helps centres my being. Big or small, compliments or criticism, I take them all, learn from them, else if I don't see merit in some of the negativity I receive, I move on from them."
"WE GOT THIS" FOOTBALL CLINIC WITH SPORTSG AND DAVID BECKHAM AT THE ARENA
Earlier today, in collaboration with Sport Singapore (SportSG), adidas organised a football clinic for 100 aspiring youth footballers between four to 16 years from the ActiveSG Football Academy (AFA). The 90-minute clinic focused on building fundamental motor skills for 40 pre-schoolers, football drills and short matches for 60 children under 12 years old and athletes with varied abilities who live with cerebral palsy.
adidas Singapore Creators (the brand's term for influencers) and professional footballers, Anders Aplin, Christopher Van Huizen, Fabian Kwok, Ikhsan Fandi, Izzati Rosni and Marc Ryan, joined the youths by assisting in the clinic and participating in the friendly matches organised.
"NEXT TEAM PLEASE?" – THE CAGE FUTSAL TAKEOVER
Capping his series of activities with adidas Singapore, David Beckham visited The Cage at Kallang to surprise unsuspecting "weekend warriors" at the futsal court. The energy was electrifying as he entered the court with adidas Singapore Creators and professional footballers. Surprise, disbelief, and joy filled the room as futsal players on the court gathered around him and invited him for a short game.
Mark Walden, Director, Go-To-Market for adidas South-East Asia shares, "At adidas, we believe that through sport, we have the power to change lives. We wanted David Beckham to engage in a series of activities that could make a positive impact to the local community given his reputation as an undisputable global icon. He has an impressive sporting career and is a successful businessman. We believe David has the right credentials to offer advice to the community on powering through challenges in life, and on marrying ambition with health. We value the perspective he lends on these topics and hope it will inspire individuals looking to write their comeback stories, pivot, or level-up in sporting, professional or personal pursuits."
Tiffany Cheah, Brand Communications Manager for adidas Singapore adds, "In conceptualising an event for the public, we decided on the "talk show" format as we wanted to create a platform to motivate and inspire the public through the sharing of personal stories and tips on overcoming the odds – particularly in situations that seemed impossible. The 2.0 edition brings together global and local voices to shed light on key topics, like navigating the pressures of life and balancing ambition with mental health, through a lens of wellness and sport."
In his 2-day visit in Singapore, David Beckham had shown that through sport, we indeed have the power to change lives. His visit has inspired and motivated the lives of many to keep moving forward and continue achieving the Impossible.