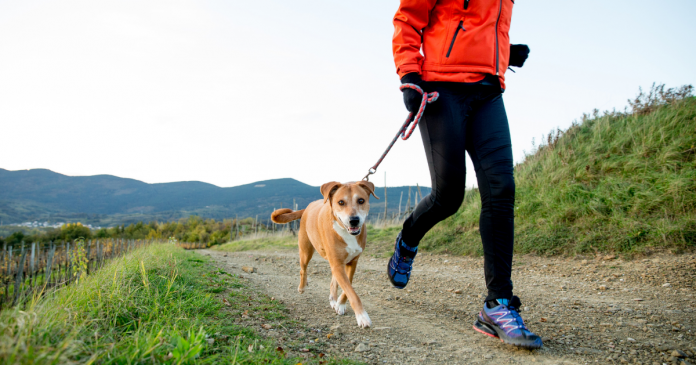 It is important to consider whether your dog is physically capable of running before going for a run. Consult your veterinarian if you aren't sure. Running with your dog should be fun for you, as well as for your pet.
There are plenty of reasons to jog together with your dog if he is a healthy, happy runner:
1. RUN & HAVE FUN
If you grab their leash, they will come running, delighted because they know what's coming. Almost every dog owner is familiar with this moment. Lace up your running shoes and let your running buddy's enthusiasm motivate you.
2. KILL TWO BIRDS WITH ONE STONE
You have to walk your dog anyway, so why not go for a run instead of walking and getting a workout at the same time? The extra time you save can be used to cook a delicious, healthy meal.
3. ALWAYS MOTIVATED
You probably know how motivated dogs are to run across fields and meadows when you go jogging with them. Have your four-legged friend accompany you, and your motivation will automatically get a boost from his/her enthusiasm while running side by side (or maybe chasing them?).
4. YOUR DOG WILL PUSH YOUR PACE
As your dog will probably run a little bit ahead of you, they will be the perfect companion if you want to improve your pace. In an effort to catch up, you'll run faster – no worries, your pace won't be affected.
5. THEY LOOK OUT FOR YOU
When running in dim or dark surroundings, it is always safer and more enjoyable to run with a dog by your side. They automatically scare off potential threats, no matter how big (or small) they are. In addition, all dog owners of small dogs know that, more often than not, they make a lot of noise (often without any justification).
6. LIVE IN THE MOMENT
As you run over rough and smooth terrain, you need to watch for other animals to make sure your buddy doesn't chase them, for example. This gives you a chance to focus on the present and not ponder over your problems.
7. YOUR MOST PATIENT PARTNER
Even if they occasionally run ahead of you, dogs usually adapt to your tempo so long as you have a good connection with them. Otherwise, they might run off.
In conclusion,
It is best to start slow and choose short routes for the first few times. Over time, your pet's endurance will improve. Just pay attention to how your pet feels and see a vet before you start training with them.