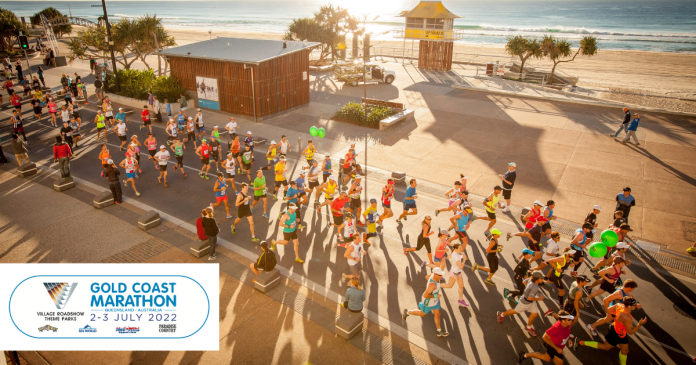 Aren't you looking forward to packing your running gear and weeping with joy when you reach the airport to catch the earliest flight for your runcation? Running the 42nd Village Roadshow Theme Parks Gold Coast Marathon might be a great idea now that the borders will open soon! It is definitely #GoodToGo!
The Village Roadshow Theme Parks Gold Coast Marathon holds a World Athletics Road Race Label and is renowned for its excellence in planning and delivery and is one of the most prestigious marathons in the world.
The world-class international marathon will attract participants of all ages and abilities from around the world across eight races. It could be to run a distance, run a personal best time, fundraise for a cause or just run for the good times.
Mark Your Calendars!
Get ready to run for the good times at the 42nd Village Roadshow Theme Parks Gold Coast Marathon from 2 – 3 July 2022 on the beautiful Gold Coast, Queensland, Australia.
The categories included are the Village Roadshow Theme Parks Gold Coast Marathon, CPL Wheelchair Marathon, ASICS Half Marathon, Southern Cross University 10km Run, CPL Wheelchair 10km, Gold Coast Airport 5km Fun Run, Health and Wellbeing Queensland 4km Junior Dash and Health and Wellbeing Queensland 2km Junior Dash.
A jam-packed race weekend is lined up for you, which starts on Saturday, 2nd July at 6:00 am, with the ASICS Half Marathon, and the main event, Village Roadshow Theme Parks Gold Coast Marathon, on Sunday, 3rd July at 6:00 am.
What's new in 2022?
1) Change in Race Schedule
The ASICS Half Marathon, which was previously held on Sunday, has now moved to Saturday morning. Participants would then have an opportunity to take part in the 10k run at Southern Cross University or the 5k run at Gold Coast Airport the following day to fully experience the Gold Coast Marathon.
The full schedule for the race weekend is available here.
2) Gold Coast Double 63.3KM
For revenge runners who want to make up for lost time and distance due to the global pandemic, you can even sign up for Gold Coast Double 63.3km!
Compete in the ASICS Half Marathon on Saturday and the Village Roadshow Theme Parks Gold Coast Marathon on Sunday and celebrate your awesome achievement of endurance with an extra medal. You will also receive all your finisher rewards for the ASICS Half Marathon and Village Roadshow Theme Parks Gold Coast Marathon.
For more information about the race, click here
The Ultimate #GoodToGo Marathon
1) A fast, flat, and scenic course
This marathon course is renowned as one of the flattest and fastest in the world. From Paradise Point in the north to Burleigh Heads in the south, the course runs alongside beautiful beaches and broadwaters. You can view the complete race course maps for all races here.
2) Excellent running conditions
Taking place in the middle of winter, the weather conditions are traditionally perfect for running with low humidity, little wind and mild temperatures. A personal best time is achieved by 60% of participants every year, so this is an ideal way to qualify for Boston Marathon.
Kickstart your Gold Coast Marathon training with these insightful tips and soak up the euphoria running has to offer by celebrating the reason you love to run.
How to get there?
1) Book via Travel Agent
Wondering how to travel to Gold Coast during the pandemic and not sure what the current measures are? There is no need to fret as you can get travel packages from Chan Brothers Travel or UOB Travel. From these travel agencies, you can book a 7D5N vacation package that includes 2022 Gold Coast Marathon entry fees on 3 July 2022, return airfare, accommodations, private airport transfers, optional tours, and more!
Take a look at the travel packages now!
2) Plan your own trip!
Are you an adventurous person who prefers an easy, free travel style? Plan your trip to the Gold Coast Marathon!
Register your participation here, and you can proceed to book your flights with Scoot. They fly directly into Gold Coast three times a week. We recommend booking your flight as soon as possible, since it may fill up with fellow marathoners.
New #GoodTimes at Gold Coast
The attractions of the Gold Coast definitely bring smiles to people of all ages and stages.
1) Take a breather by the beautiful beaches
A popular holiday destination in the world, the Gold Coast is known for its sunshine, golden beaches, beautiful broadwaters, trendy restaurants and cafes, exciting theme parks and accommodation to suit all budgets.
Aside from the holiday buzz, you will also find plenty of peace and relaxation in rolling green valleys, lushly cloaked peaks, and rainforests listed as a World Heritage Site.
2) Experience free-falling
Are you in for a heart thumping faster than a club beat experience? Take off from the Sea World Helicopters Heliport and experience free-falling above the Gold Coast and land on the iconic sands of Surfer's Paradise with Skydive Surfers Paradise!
3) Whale watching season is ON!
A hot favourite seasonal highlight for every alumni of Gold Coast Marathon runners! Immerse yourself in an unforgettable whale watching experience with Whales in Paradise as they will provide you with the most intimate and memorable encounter with Humpback Whales on the Gold Coast.
4) Quench your thirst for adventure!
The Village Roadshow Theme Parks is pleased to share exclusive Gold Coast Marathon offers for all runners. With more than 115 rides, slides, shows, and new attractions in four parks, there's no better time to visit your favourite theme parks right after you cross the finish line.
Take a ride on the thrill rides at Warner Bros. Movie World with the new striking reptilian roller coaster, Steel Taipan, with a top speed of 105km/h and a G-force of 3.8, or venture underwater to make friends with the marine life at Sea World and enjoy a variety of rides, shows, and attractions such as The New Atlantis and Vortex for your full 42nd Village Roadshow Theme Parks Gold Coast Marathon experience.
Are you #GoodToGo?
Click here to register for
42nd Village Roadshow Theme Parks Gold Coast Marathon!