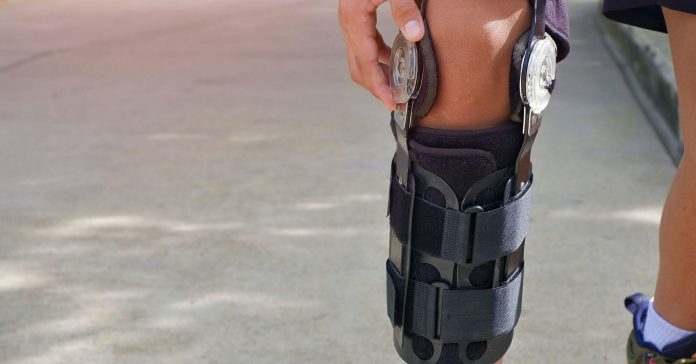 If you or someone you know has experienced a foot, ankle, or lower leg injury, then you might be familiar with a moon boot. Commonly used to aid in the recovery of a wide variety of injuries, moon boots, also known as CAM walkers, are adjustable orthopaedic devices that promotes recovery.
What is a CAM walker?
A CAM walker is used to restrict or immobilise the movement of the foot and ankle. The name CAM walker actually stands for "controlled ankle movement", which is exactly what they are used for.
CAM walkers are sometimes referred to as moon boots because they are shaped like very thick boots.
What do CAM walkers actually do?
So, we mentioned that CAM walkers are used to immobilise the foot and ankle, but why do we want to do this? Well, in order to allow injured areas of the body to recover, we need to be able to reduce the pressure or stress put on the area. However, unlike plaster casts, which can be very restrictive, moon boots actually allow you to still be quite mobile, so you can still move and be more mobile without putting too much pressure on the injured area.
CAM walkers allow for partial weight-bearing, which means you can still build strength in the area and recover from your injury.
What kinds of injuries and conditions are CAM walkers used to treat?
CAM walkers can help when the recovery of an injury requires immobilisation and rest and can be used to aid in the recovery of a wide variety of conditions. Some of the most common conditions they are used for include:
Ankle fractures
Foot fractures
Ankle sprains
Post ankle and/or foot surgery recovery
Achilles tendon injuries
Plantar fascial tears
Other soft tissue injuries
What does it feel like to wear a CAM walker?
When fitted properly, wearing a CAM walker isn't necessarily uncomfortable, but it certainly does take some getting used to.
You will usually have a bit of an adjustment period to get used to the feeling of the walker, however, as they help to reduce the load on the injured area, most people find it more comfortable to wear the walker than not.
How and where do I get a CAM walker?
If you need to wear a CAM walker for injury recovery it's best to get fitted by a healthcare professional, like a podiatrist. Fitting a moon boot is not as simple as trying on a pair of shoes, and the better fitted it is, the more efficient your injury recovery will be.
During a CAM walker fitting, the podiatrist will:
Take measurements of the feet, ankle and lower leg to ensure the right size CAM walker is used
Ensure your comfort by applying extra padding to avoid rubbing
Show you how to wear the boot properly, in a way to help your recovery be as smooth and efficient as possible
Provide you with advice about the best footwear to wear on your other foot during your recovery
Assess your gait and provide advice on how to make movement easier
Using your moon boot properly, especially during the early phases of recovery is very important and can help to heal your injury faster.
How long will I need to use a CAM walker for?
The amount of time you will need to wear the moon boot will be dependent on a number of different factors. These include the actual injury, your age, and any other underlying health conditions that may impact the speed with which you recover.
Many people will need to use a CAM walker for at least 4 weeks, and sometimes up to 8 weeks. Soft tissue injuries usually require less time in a moon boot than bone and joint-related conditions.
During your injury recovery, it's just as important to follow the advice of your podiatrist or healthcare professional when transitioning out of using your moon boot as it is to get fitted properly.
If you or someone you know is looking for help with CAM walkers Melbourne, then you can always speak to the friendly team at Watsonia Podiatry. They can fit you with a CAM walker and answer all of your foot-related questions!