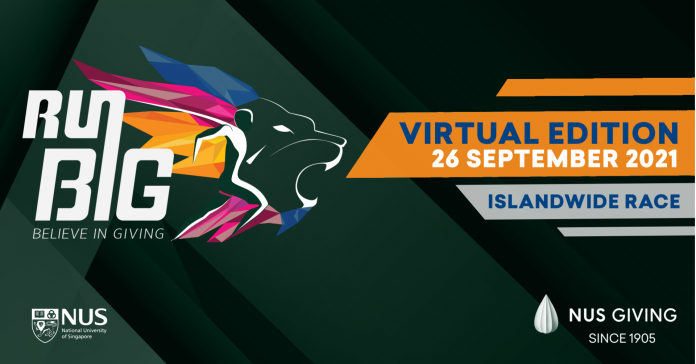 Tough runs don't last, tough runners do. Let's make history together by being part of NUS Giving Run BIG's first-ever virtual race! Be a part of this greater movement as they aim to reach 1905KM collectively to commemorate the year NUS was established – building a legacy of giving since 1905. Experience the excitement by participating individually or getting your family and friends on board and run for a good cause.
What is NUS Giving?
The NUS Development Office leads the National University of Singapore's efforts in the cultivation and stewardship of philanthropic support to the University.
Through NUS Giving, we build enduring relationships with our donors to seed and grow transformational opportunities that create a ripple effect of progress through our communities and the world, transforming lives and empowering change.
We are future-making as we empower students to achieve their fullest potential, give future leaders and changemakers the opportunity to learn from the best, and enable the foremost minds of today to solve the problems of tomorrow through innovative research.
NUS Giving Run Big at a glance:
For Categories 5KM /10KM /19.05KM
Dates: 26 September 2021
Location: Islandwide Race
For Category 190.5KM
Dates: 13 – 26 September 2021 (14 Day Challenge)
Location: Islandwide Race
Run the race, at your pace and in your own space. You can complete the required distance in your selected challenge/category at your own pace, anytime and anywhere (except for indoor running and the use of treadmill are not allowed) within the clock-in window.
Come RUN BIG with us!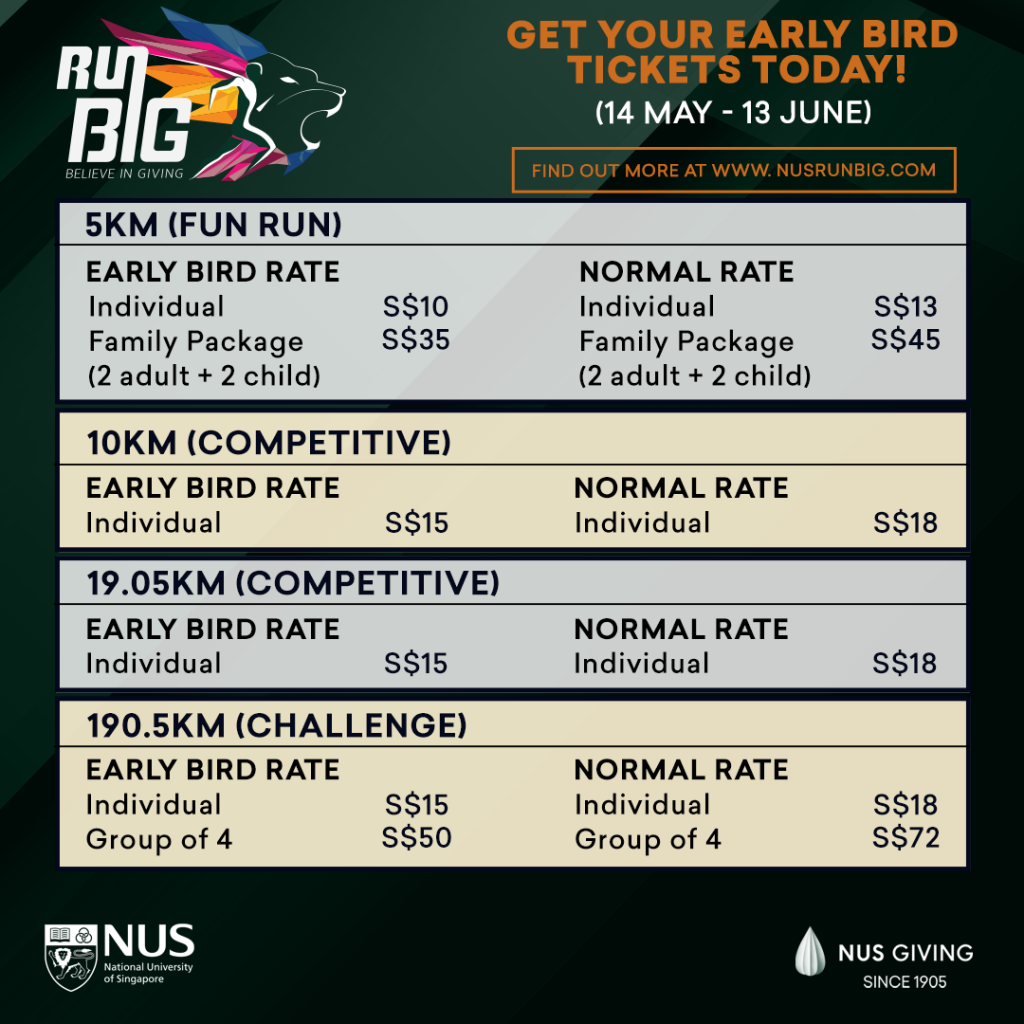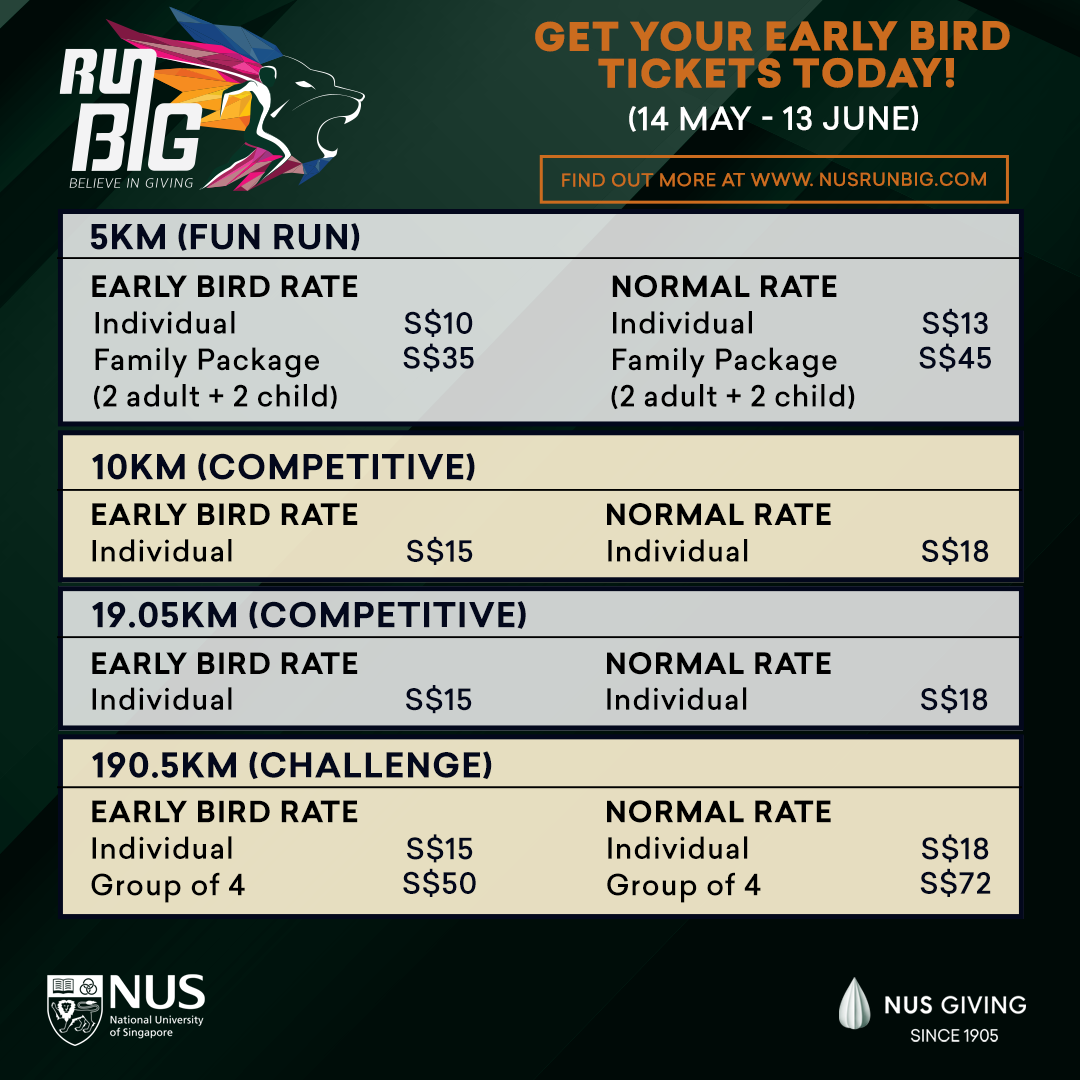 Your Bragging Rights!
Every registered participant will be entitled to a race pack containing a Running Tee and many other exciting running goodies. On top of that, finishers will also get to walk home with exclusive finisher entitlements like Medal, Digital Certificate, Finisher t-shirt (Only for 10KM, 19.05KM & 190.5KM) and more!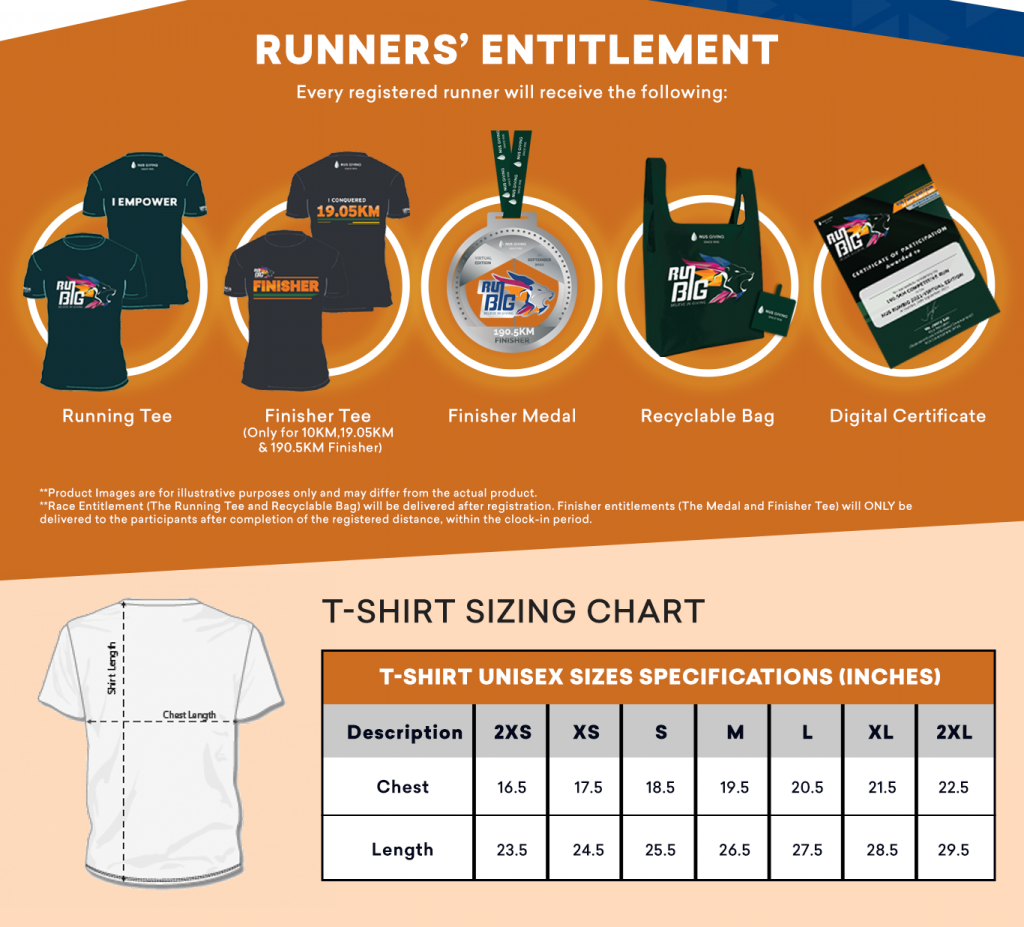 Do take note that the Race Entitlement (The Running Tee and Recyclable Bag) will be delivered after registration. While the Finisher entitlements (The Medal and Finisher Tee) will ONLY be delivered to the participants after completion of the registered distance, within the clock-in period.
Be the Best Runner and Stand A Chance To Win!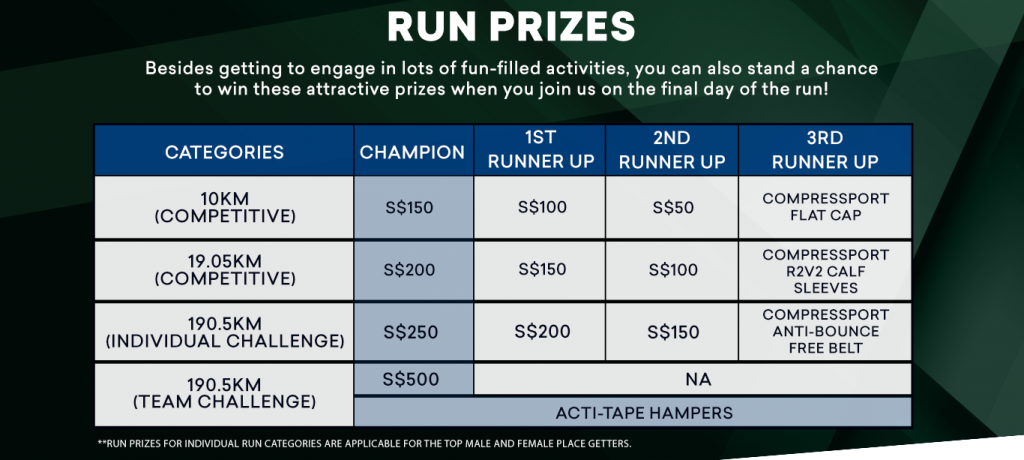 To qualify for the run prizes, participants must use MapMyRun to track and submit their run records. The winners for this category are determined by the fastest timing clocked in the respective Challenges.
For more information, check out more about NUS Giving Run BIG here!