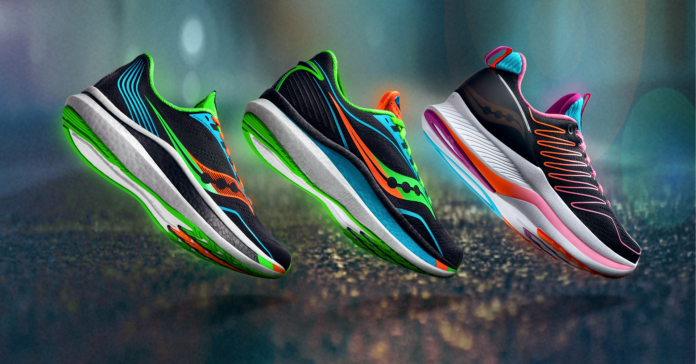 Are you looking for a pair of light and versatile pair of running shoes that boast both affordability and quality? Starting from SS21, speciality running store, Running Lab, to locally carry the widest range of Saucony footwear line. Saucony was founded way back in 1898. Ever since, they have been loyal to the sport, building goodness into every product and inviting millions around the world to run with us.
Saucony designs have always been "distinctly Saucony" and feel good from the moment you lace up, and within the first few weeks of the soft launch, the highly anticipated SS21 ENDORPHIN SPEED ($259) had sold out.
Awarded for the Runner's World Editor's Choice 2020, the ENDORPHIN SPEED makes running fast feel easier by proving that a cushioned shoe can deliver speed. The combination of new ultralight PeBax®-based PWRRUN PB cushioning and the power transfer of a composite plate makes any run feel fast.
Other popular models such as the Endorphin Pro ($299), Hurricane 23 ($219), and Guide 14 ($189) are selling fast too.
SS21 Saucony Products Highlight
Endorphin Shift – Men (S$199)
A whole new feel for easy-going runs. For those looking to give their body a break, the ENDORPHIN SHIFT takes a new approach to make any run feel easier by taking the stress off feet and treating them to lots of feel-good cushioning. FORMFIT surrounds feet with a made-for-me feel that gently guides feet as you ease on down the road in lightweight comfort. The SPEEDROLL, an always-forward geometry, creates a lively rolling feel underfoot. It's a brand-new, practically effortless ride quality that feels as if the shoe is doing the work for you.
Triumph 18 – Men/Women (S$219)
Long runs get faster, first-class upgrade. For those who crave the ultimate in protective cushioning, the Triumph 18 is Saucony's most cushioned shoe, has been retooled to give long runs a new, faster feel with all the luxurious comfort you desire. The TRIFLEX design makes for quick transitions and enhances flexibility.
Kinvara 12 – Men/Women ($179)
The Kinvara 12 is Saucony's trusted go-fast trainer, further refined to make the most of less. Made lighter with a simplified upper, the ride feels as fast as ever—with the flex needed to get you to the start line stronger and the finish line sooner. The addition of more ground contact adds power to the flexible ride, making the transition from landing to take off even faster.
Peregrine 11 – Trail Running, Men ($189)
Hit the trails at peak speed.
Feel the speed and grip of the always-capable Peregrine 11. Built on a trusted foundation of PWRTRAC rubber lugs and PWRRUN cushioning, it delivers a ride that feels both aggressive and responsive. And with an even more protective upper than before, it's packed with everything you need to move fast over any type of rugged terrain.
What to Look Forward in FW21
In the second half of 2021, Running Lab is set to return Saucony's new Endorphin Series for Men, including Endorphin Pro, Endorphin Speed, and Endorphin Shift. As for the ladies, Running Lab is also preparing to release Endorphin Shift and Peregine. They are also looking forward to launching performance apparel such as Running T-shirts, shorts, sports bra and many more.
Complimentary Gait Analysis
Visit any Running Lab stores and find the most suitable Saucony for yourself.
Staffed by sports trainers and experienced runners, Running Lab provides assistance to match the right shoe to your foot type and gait, maximising your running performance and reducing risks of injuries. Their facilities include an in-house treadmill for gait analysis, as well as to allow customers to put their shoes to the test before deciding if the pair of shoes they're wearing are truly the right pair for them.