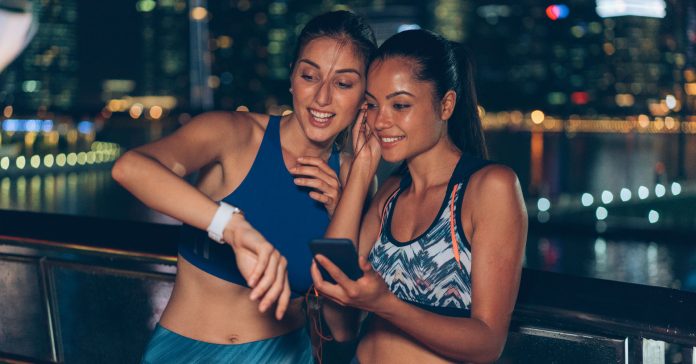 Whether you are an experienced marathon runner, or perhaps it's your first time, expect race days to be stressful. From getting up at the early hours of the morning making sure you have a large healthy breakfast, to drink enough liquids so that you remain hydrated during the marathon. It's all these little details that must go right to help you reach your full potential.
Luckily enough, due to advanced technology, there are plenty of gadgets and applications available to help you prepare for your marathon. You'll still need to train just as hard, but, with the help of high-speed internet through cox internet plans, or similar, lots of these devices and software will prove to be very beneficial.  
Here is a list of devices and software that you should find useful when preparing for or running a marathon.
Smart Scale with Athlete Mode
A smart scale is a high tech weighing scale that not only measures a person's weight but different areas of the body. Most smart scales can measure the following:
Body Mass Index (BMI)
Fat Mass
Daily Hydration
Muscle Mass
The scales work by sending electro signals through your feet which sends its readings to your smartphone. These records will be stored on your smartphone so you can keep track of your progress. Smart scales allow multiple users to record their measurements, so it is a great device for all the family.
Some of the smart scales available have an "Athlete Mode" feature. This allows the user to monitor more specific metrics. This is a great feature for someone preparing for a marathon because once the "Athlete Mode" is enabled, the scales will understand that you are exercising frequently and it will consider this when posting your records.
Total Daily Energy Expenditure Calculator
This is a simple method and free method that allows you to estimate your total daily energy expenditure. It will explain to you the number of calories you need to take in to help you maintain your weight, gain weight, or to lose weight.
All you need is to put the following into this calculator to get your result.
Your current age
Your Gender
Height
Weight
How often you exercise on a weekly basis
The calculator will give you the result in a flash. If you want to lose weight for a marathon, this is a great tool to help you understand how many calories you need to eat to help you lose weight.
Calorie Counting Software
Now that you know how much food you can eat on a daily basis, you can now download a calorie counting app to help you keep track. There are plenty of calorie counting applications available for smart devices. For each meal or drink you consume you need to put the total amount of calories into the app. Your records will be saved after each entry. If you are unsure of how many calories there are in the food or drink you are consuming, a quick Google search will provide you with the details.
Many people cannot understand why they can't gain, maintain or put on weight. A calorie counter can really help you understand your body.
Understand that it is not as straightforward as just eating more or less food to help you lose or gain weight. For example, if you are underweight and you need to eat 3,500 calories per day to gain 1kg per week. You can't eat 2 meals per day that add up to 3,500 calories per day. The meals need to be spread out throughout the day rather than binge eating. The number of hours you sleep each night and how much exercise you do in a week are other factors that will affect your weight, but luckily there are applications and devices to help you with that too.
Smartwatches
It doesn't seem that long ago that the Casio digital watch was the coolest thing around. Well, a lot has changed since then! Smartwatches have gradually improved over the last few years. Tech giants claim that wearables are going to be just as popular, and probably replace the smartphone in the future.
In the early days of smartwatches, it seemed more like a gimmick than a quality product. But now, with all the major technology companies all battling for a piece of the action, smartwatches are a great product. The first smartwatches needed to be charged every 24 hours which many users found frustrating, but now, there are smartwatches on the market that last for two weeks without charging.
They are a great accessory for people training or running a marathon. Some of the features include:
Tracks your heart rate
Records your sleeping pattern: a good sleeping pattern is vital for anyone who is training for a marathon. You need to have a quilty night's sleep to allow your body to recover. This will reduce the chance of sustaining an injury.
Stopwatch
Timer
There are smartwatches available that are designed specifically to keep track of your physical activity. One of the most well known wearable computers is called the FitBit. Smartwatches come in all different sizes and colors and prices tend to vary. Purchasing a smartwatch which is the same brand as your smartphone will have benefits.
Water Drinking Apps
It is very dangerous not drinking enough water, especially if you are training for a marathon. Most of us know the importance of consuming water, but it is very easy to forget it.
These apps are often very advanced. Some will take records from your phone that will tell the application what the weather is like in your area, what the humidity is for that day to help the app advise you on how much water you need to drink. Some apps will work with your smartwatch so it knows what time you wake up in the morning, what time you go to bed, and what time you exercise. If you forget to consume water the app will notify you to remind you to do so.
Although there is an old saying that we should consume approximately 8 glasses of water each day, experts don't recommend this. You don't want to overdo it as drinking too much water is also dangerous. If you are having issues with your water intake, speaking to a trained professional is advised before you download an app.
Conclusion
Due to the ongoing pandemic, marathons all around the world have been cancelled to help reduce the spread of the virus. With experts advising us to stay clear of large crowds, it's hard to see marathons going ahead in 2021.
The good news is that it is 2021, and we have the choice of lots of technology. People are using their devices to take part in digital marathons. One of these Marathons is the Tel Aviv Marathon in Israel. Participants can download the free app which was designed to let people join the marathon without physically being in Tel Aviv. Participants can choose between a half marathon, 10KM, or 5KM. You can do the marathon in your local area or even on a treadmill. It's not the same as the actual marathon but it is the next best thing! You can easily find these apps on Google Apps or the AppleStore. As history teaches us, pandemics don't last forever, so why not spend your free time preparing for a marathon so you will be ready when the time comes?