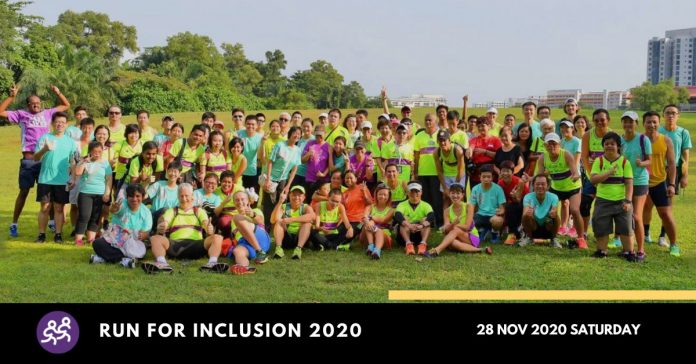 Singapore, 28 November 2020 – Today, Run For Inclusion (RFI) saw the attendance of over 1000 participants taking part in the cause, both physically and virtually, to support the inclusion of Persons with Special Needs (PWSN). Organised by Runninghour, Run For Inclusion 2020 (RFI 2020) marks its sixth consecutive year as Singapore's only running event where participants show their support and run alongside runners with special needs, including individuals who are visually, intellectually, physically, hearing and mentally challenged. The onsite event was held at SportsHub 100PLUS Promenade and graced by Guest-of-Honour Mr Edwin Tong, Minister for Culture, Community and Youth and Second Minister for Law.
This year, RFI 2020 presented two race formats allowing participants to take part in the run either physically in-person or virtually at their own pace. The physical onsite event was held between 7am to 8pm with several flag off timings throughout the day to ensure the safety of all participants.
For the first time this year, participants were not limited to specific race distances for their participation. Instead, all participants were given an hour on the track to attempt the distance they signed up for or any distance, motivating them to challenge themselves beyond their personal best. Starting and ending at different points, the race route encircled the perimeter of the National Stadium. This year's route was also wheelchair friendly, welcoming a diverse range of participants at the event.
As with previous years' runs, RFI 2020 continued to offer complimentary entries to all PWSN and their caregivers, limited to one caregiver per PWSN, to encourage more PWSN to participate in the event and to promote inclusivity and an active lifestyle within the community. This year, 1000 complimentary entries were given to special needs participants and their caregivers. This was made possible through the 'Sole Mates' program, sponsored by Central Singapore CDC. The in-person event was also made possible by venue sponsor, Singapore Sports Hub.
"The goal of promoting the well-being and integration of the PWSN community has always been at the heart of Runninghour. This year has been an uncertain and challenging one for many of us, including the PWSN community. We are glad to see Singaporeans come together, especially during times like this, to show their support towards nurturing a more inclusive Singapore. We believe that fitness is not restricted to one's abilities but it can be utilised effectively as a platform for inclusivity and growth," said Mr John See Toh, Co-founder of Runninghour.
As the RFI 2020 physical onsite event concludes today, the virtual event remains open until 11 December 2020. Participants of the virtual event can attempt any distance of their choice, within the 0-10km running and 0-20km cycling category. Participants will also be required to upload proof of their attempted distance and date upon completion of their race on JustRunLah's website, in order to qualify for the certificate of completion and race medal.