#Challenge55SG is a national movement organised by Pink Apple Pte Ltd and supported by GetActive! Singapore. This unprecedented period sees a notable increase in beneficiaries at Food from the Heart, a charity organisation, whose mission is to reach out to beneficiaries and provide to the best of their ability. Thus, this movement aims for everyone to stay active and take proactive steps to alleviate hunger for the less fortunate.
Rise above this challenging period and clock 55,000 steps as a team or 5,500 steps individually anywhere anytime to pledge your unity and resilience. These steps you take will bring us closer as a nation and One Team Singapore. In conjunction with the nation 55th's birthday, #Challenge55SG is born.
#Challenge55SG details at a glance
Date: 16th June 2020 – 9th August 2020
Time: Anytime!
Venue: Anywhere!
James Koh, Operations Director at Pink Apple Pte Ltd, said, "With our unfailing resilience put altogether, I believe this initiative enables us to build a healthier lifestyle and emerge stronger as a nation"
Our unity and resilience are pivotal. We can all play a part to alleviate the hunger of the less fortunate by participating in #Challenge55SG where all registration proceeds (after GST) will be donated to charity organisation, Food from the Heart. Every step we take will provide them with stronger food security, keep them well sated and put a smile on their faces. Registration is priced at $5.50 per participant.
Finishers will receive an E-Cert, E-Badge and collar badge in recognition of their contribution and effort.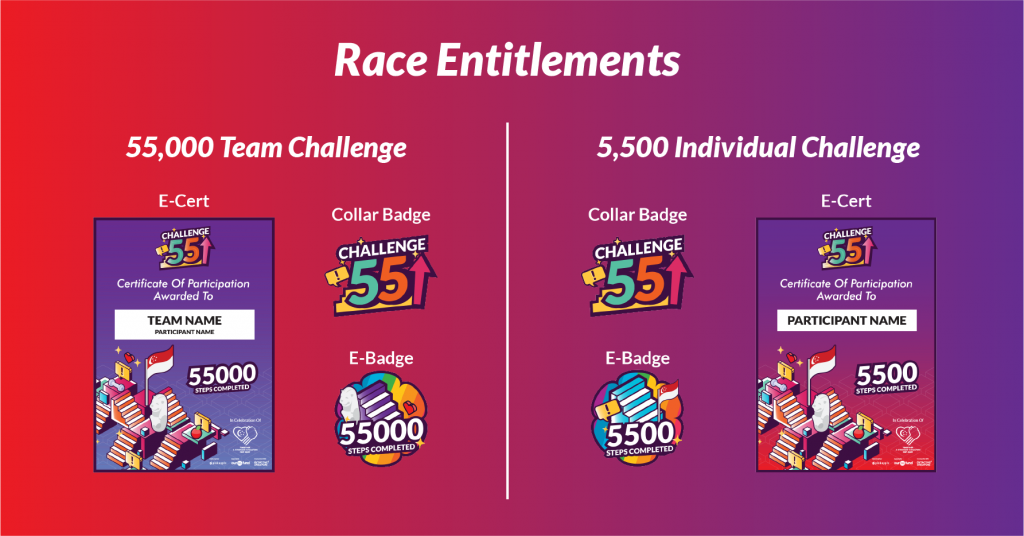 As underlined by President Halimah Yacob: "The strength of a people is seldom tested during good times, but will be severely challenged when we face a crisis. How well we stand together, support each other and react to a situation define us as a people."
Leading up to #Challenge55SG is a series of weekly challenges to help you stay active at home. Activities include Full Name Workouts that are uniquely tailored to each individual's name and Let's Cook! where you can whip up a healthy meal and share with us the recipe! Winners will be selected on a weekly basis with 10 x $10 GrabFood gift cards up for grabs!
Let's all take a proactive step towards alleviating hunger and encouraging an active lifestyle so that Singapore can emerge from this crisis stronger than ever. No gesture is too small, so register now!