While sporting arenas have fallen silent in coronavirus times, AIA Global Ambassador David Beckham, celebrated coach Jose Mourinho and the stars of Tottenham Hotspur have come together to remind us that the virus outbreak can never put a damper on the true value of sportsmanship. Our shared love for sports continues to be a powerful platform to positively impact people's lives.
Through a series of episodes, it will speak to the importance of taking even small actions to improve our health and wellness, whether relating to getting sufficient sleep, spending time with family and friends, eating well or getting enough exercise.
The episodes include a focus on the importance of getting sufficient sleep, which raises awareness of the physical and mental benefits of sleep. In one episode, David Beckham meets South Korea's Son Heung-Min and Brazil's Lucas Moura, both of whom credit stable sleep patterns as one of the major factors in boosting their performance in training and on the pitch.
Alongside Spurs in-house experts, they discuss how the Club supports them in establishing good routines, getting enough quality sleep and offer tips everyone can use in their daily lives. The Spurs team emphasize how the combination of all these individual actions can really help to increase both mental and physical fitness. At a time when we are all focussed on our health, doing what we can to help us be stronger, fitter and boost our immunity has never been more important.
Stay tuned!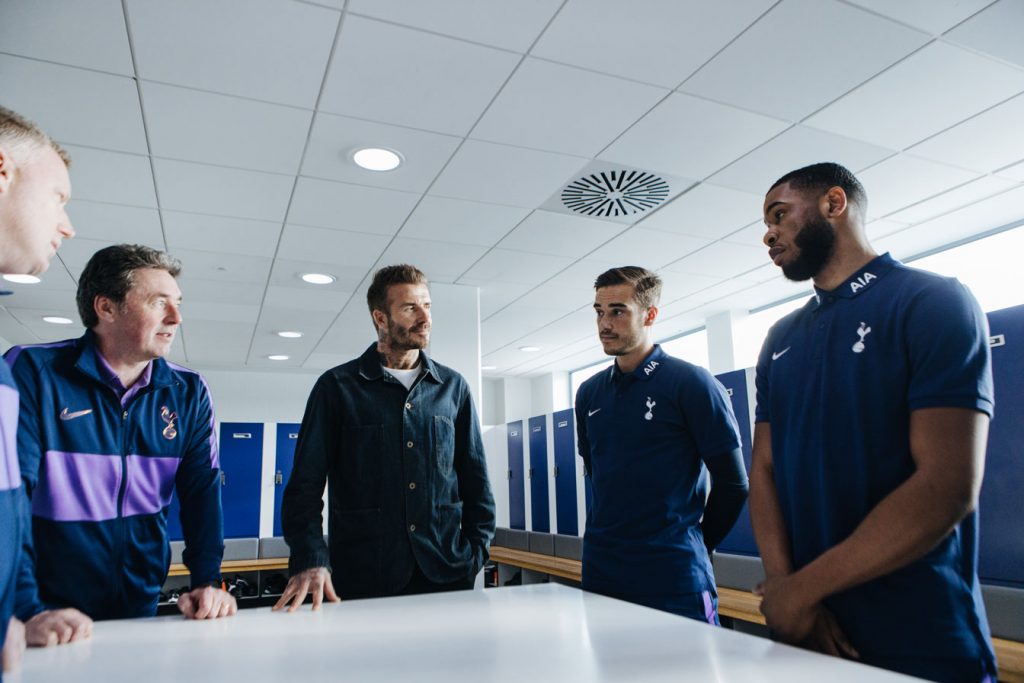 "As new club owner with Inter Miami CF, I want to help our team be the best they can be. I am grateful for the opportunity to learn about Spurs' pioneering approach to player health and wellness and to get insight from a manager as experienced and successful as Jose was a real privilege. There is a lot of science and new thinking in the game since I was a player but it's clear that simple things like a solid routine and great sleep are still really important."

– David Beckham, Football Legend & International Sporting Icon
About Tottenham Hotspur
Founded in 1882, Tottenham Hotspur Football Club has a tradition of playing an entertaining and attacking style of football. The English Premier League Club, based in North London, reached the final of the UEFA Champions League for the first time in its history in the 2018/2019 season having already secured qualification for Europe's elite competition for the fourth year in a row.
In April 2019, the Club opened a new 62,303-seat stadium that sits at the heart of a £1billion sport-led regeneration of North Tottenham. The stadium is the largest football club stadium in London and is a multi-use venue with the ability to host a variety of events 365 days a year, including NFL, rugby, concerts and other major events.
When complete, the stadium development scheme will support 3,500 new jobs with £293m pumped into the local economy each year – an increase of 1,700 new jobs and £166m in local spending per year
Tottenham Hotspur also has:
A fan base of more than 460 million followers worldwide including 272 highly engaged, mobilised and official Supporters' Clubs
A £100m state-of-the-art Training Centre that supports the Club's ambition to attract, develop and retain the best talent
Commercial partnerships with globally-recognised brands including AIA Group Limited (AIA), one of the world's leading providers of life insurance services, and Nike, the world's leading sports footwear and apparel company
An award-winning Foundation that has created three million opportunities to help enhance the lives of people in its local community through education, employment, health and social inclusion programmes
---
The initiative is underpinned by AIA's purpose-led brand promise of helping people to live Healthier, Longer, Better Lives. It sees David Beckham visit Spurs' training ground and stadium where he met with Head Coach Jose Mourinho, first team players, coaches and nutritionists. David Beckham and members of the Spurs team discuss the simple health and lifestyle choices everyone can make to improve their health, whether a professional player or not.

Both David Beckham and Spurs are playing a key role in making AIA synonymous with Healthier, Longer, Better Lives, through leveraging the power of football to reach millions across the Asia-Pacific region.