In view of the current COVID-19 situation and measures implemented by the governments, we have asked some of the National Athletes to share some tips with our running and sports community on how to stay physically, mentally and/or nutritionally healthy during this period.
1. How do we stay active or physically healthy during this period, considering that we are encouraged to stay at home as much as possible?
With stricter measures in place, it's certainly challenging to keep up with an active lifestyle. This is especially true after I started work from home arrangement and sometimes find it hard to "switch off" from work. I find that structuring your day and having a to-do list helps. Avoid sitting down for a prolonged period by taking walk breaks and doing some light stretches in between work tasks.
We can stay active and physically healthy at home by incorporating some home-based exercises into our daily routine. This period is the perfect opportunity for all runners to spend more time on strengthening and conditioning, something we all probably neglect when we were training hard for races during pre-COVID-19 days. Some simple exercises you can do at home are push-ups, planks, jumping jacks, squats, lunges etc. If you do not have dumbbells at home, you can be creative and make use of household items eg. water bottle, a bag of rice as weights to add some intensity.
There are also many online videos that you can follow to work out a good sweat. On days that you feel lazy to move, just tell yourself ten minutes and change to your full workout gear. You will usually end up committing more than ten minutes.
2. How do we stay calm during this stressful period?
COVID-19 has disrupted the economy and caused many changes in our daily routines. We cannot control this virus but we can control how we feel and react to it. Being grateful and appreciative of what I have right now allows me to stay calm. I am thankful that during this period, my loved ones and I are healthy, my husband and I still have a job and a roof over our heads. My husband and I do not have much meals time together before the circuit breaker measures were implemented as our working hours are quite different. Now that we are seeing each other 24/7, I am enjoying and treasuring the time spent together during this period. Let's count our blessings, be socially responsible and believe that this too shall pass.
I also enjoy reading novels, particularly fiction books. Immersing myself in the story takes me away from reality for a while and reading calms me. Find something that you enjoy eg listening to music, drawing, cooking, yoga etc and let the process relieve your stress and tension. Even better, learn a new skill. Think of what are the things that you wanted to learn but have no time to do so in the past. This is the time to enrich yourself and discover your hidden talents!

3. Are there any simple nutrition plans, tips or recipes that we can follow?
I have started cooking more frequently at home during this period and this allows me to limit the amount of oil, salt and sugar used in the dishes. I also try to use more fresh food and less processed food. I make it a point to have regular meals times and balanced diet which include protein, grains, fruits and vegetables of different variety and colours. To ensure I stay hydrated throughout the day, I will fill a bottle of water, like what I usually do in the office and keep it at my desk while I work. To avoid succumbing to the temptation of snacks, keep your junk food out of sight. Opt for healthier snack options like fruits or nuts.

4. Are there any recommendations on resources (youtube channel/video, social media pages, blogs, books, podcasts etc) to refer to?
Nike Training Club App. This app is free and there are a variety of workouts i.e from bodyweight only to full equipment workouts for everyone at all fitness level. You can also select the workout based on the muscle group i.e Abs & Core, Arms & Shoulders or Glutes & Legs that you would like to work on.
Recently, I stumbled across Pamela Reif youtube channel. Her fitness workout does not require any equipment and are suitable for all fitness levels too.
I also follow Fitness First SG Instagram account. FF has launched a 30-day Stay Home Stay Fit challenge. Each day they will introduce an exercise which we can do at home using ordinary household items. Information is bite-sized and easy to follow.
---

ABOUT JIESHI NEO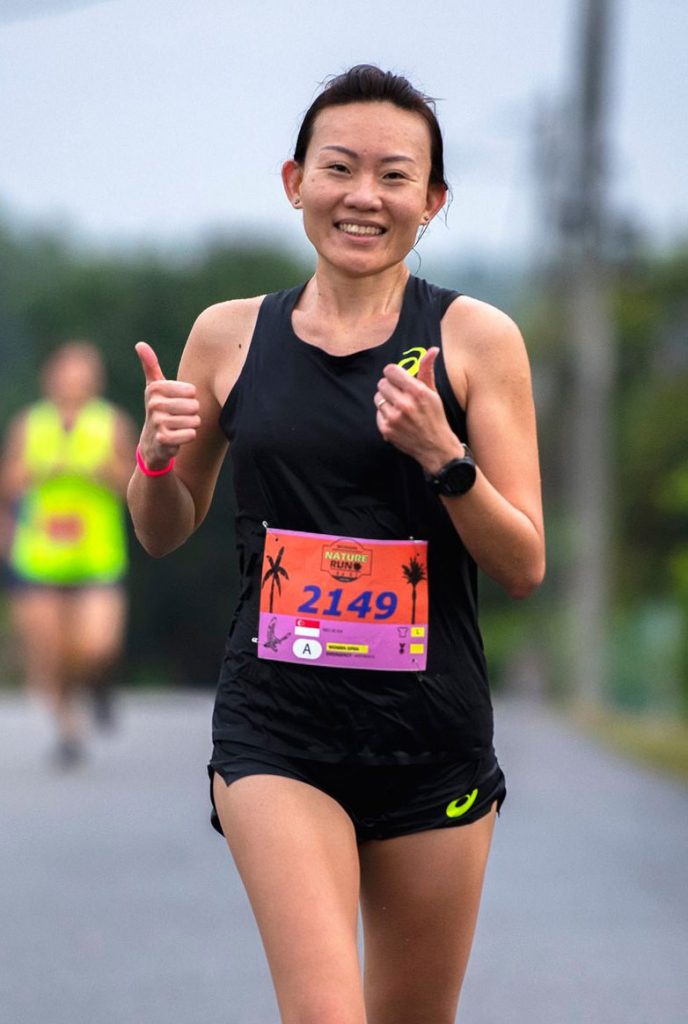 Jieshi Neo is a Team Singapore Marathoner who represented the country at the Southeast Asian Games 2015.
Jieshi won the local female category at the Standard Chartered Singapore Marathon 2015 and 10th position in the open female category which earned her qualification for Rio Olympics 2016.
Jieshi is also the first female Singapore marathoner to qualify for the Olympics (2016 Rio), which she completed in 3h15min.
Her other achievements include 1st position for the women's open category at the Seoul 10k Challenge 2016 with a personal best time of 39min50s; 2nd position for the general division, women's category at the Gifu Half Marathon 2016 with a personal best time of 1h27min; 3rd position for the women's open category at the Taipei Standard Chartered Charity Marathon 2017 with a personal best time of 3h6min; 2nd place for the local female category at the Standard Chartered Singapore Marathon in 2012 and 2014.
Jieshi currently holds a full-time job as HR & Admin Manager at GP Batteries and is married to Jackie Ho, an avid runner.