In view of the current COVID-19 situation and measures implemented by the governments, we have asked some of the National Athletes to share some tips with our running and sports community on how to stay physically, mentally and/or nutritionally healthy during this period.
1. How do we stay active or physically healthy during this period, considering that we are encouraged to stay at home as much as possible?
It has been a month that I have stayed home and have been doing indoor exercises. Sometimes that is all you can ask your body for. It might not be the longest or the hardest workout I can make every day, but it helps my mental health and that's all that matters to me. Being safe and healthy is way better than being sorry.
I focused on calorie counting on my diet for now as I can't just stay at home with lesser exercises and eating so much. I have to cut my usual calorie intake per day and have to compensate it with the activities I can do at home. Since the community quarantine here in our city, I have decided to stay at home and do core, ab workout, leg strengthening and stair drills. It's important to exercise and sweat every day to fight anxiety and help boost our mental and physical health.
2. How do we stay calm during this stressful period?
We all have to focus only on the things we can control and think or do more of what makes us happy. I know it's a rough situation right now, but for me as an athlete, I've got a lot of time to reflect, to recover, to sleep 😊and focus on self-improvement, on the good and think of the things that you might be of help. For myself, I still find ways to interact with my friends through using FB Live and sharing with them activities they can do at home to keep them active. We can still be positive. We can still work towards our goals, just in a different way, and be always flexible with your methods.
Everything is going to be okay. Important is to stay calm and be a good community member.
3. Are there any simple nutrition plans, tips or recipes that we can follow?
My diet now focuses on fruits to help boost my immune system. I cut out a bit of my carbs intake as my workouts now are not that long and hard.
While taking your diet strictly, be committed to doing even a 30min abs or core workout and strengthening inside your home every day. You can find many ab/core exercises on youtube. Or look for any available resources you can find at home, be creative and be flexible with your methods.
During this uncertain and uncomfortable time, choose wisely what you put your energy into because whatever you feed, will grow.

4. Are there any recommendations on resources (youtube channel/video, social media pages, blogs, books, podcasts etc) to refer to?
I share some of my indoor activities on my social media accounts:
– FB Account: Mary Joy Tabal Oly;
– FB Page: Mary Joy Tabal Official FB Page;
– IG: @maryjoytabalofficial; and
– YouTube Channel: Mary Joy Tabal

---

ABOUT MARY JOY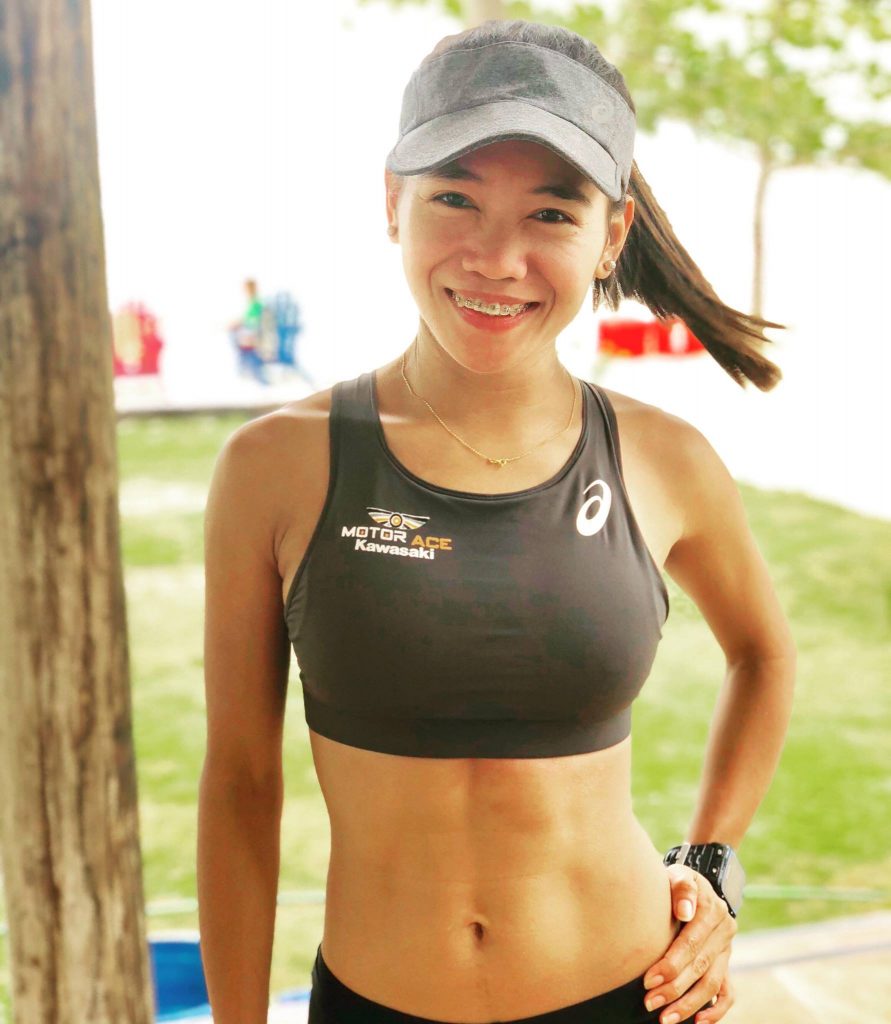 Mary Joy is a Team Philippines Marathoner who represented the country at the Southeast Asian Games 2019.
Mary Joy bagged the Silver Medal at the 2019 SEA Games Marathon with a time of 2h58min. She also clinched the Silver medal at the 2015 SEA Games and Gold medal at the 2017 SEA Games with the times of 3h4min and 2h48min respectively.
Mary Joy is also the first female Filipino marathoner to qualify for the Olympics (2016 Rio), which she has done by running a time of 2h43min at the Scotiabank Ottawa Marathon 2016.
She is also the Philippines female record holder for the half marathon (1h16min).
Mary Joy is an Assistant Coach at JPD and a Professional Athlete at Motor Ace Philippines, Inc.