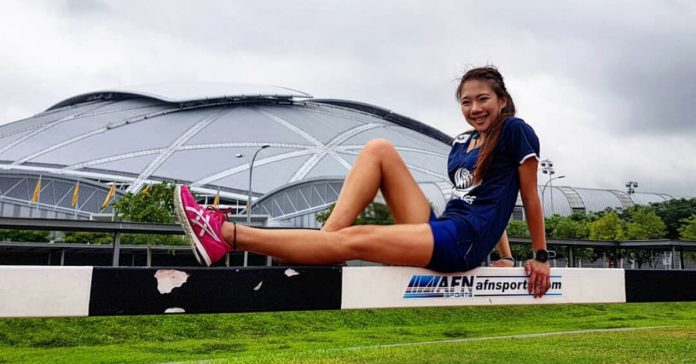 In view of the current COVID-19 situation and measures implemented by the governments, we have asked some of the National Athletes to share some tips with our running and sports community on how to stay physically, mentally and/or nutritionally healthy during this period.
1. How do we stay active or physically healthy during this period, considering that we are encouraged to stay at home as much as possible?
Aussie's been on lockdown for about a month before Singapore started so it's definitely been quite a while! I haven't had a track sesh in ages but have been doing home workouts with friends via zoom and it's been loads of fun and laughter! 😆
I'm currently taking the chance to take a mental break from racing having had a very long season last year from the start of Summer track in 2018 to Dec'19 for the SEA Games.
2. How do we stay calm during this stressful period?
I feel like I've never been a worrier and I like trying to make the best out of any given situation. 🙂
️It's good to appreciate that we cannot change the cards we are dealt with, just how to play the hand, a snippet from "The Last Lecture", a book I've read. It's a perfect time to dive into a good read or invest our time wisely to better ourselves in our profession.
3. Are there any simple nutrition plans, tips or recipes that we can follow?
Follow me on my IG for more bakes and cakes! I love baking so I've been whipping up quite a bit! 😛 I enjoy being creative and just having fun baking the situation better. 🙈
4. Are there any recommendations on resources (youtube channel/video, social media pages, blogs, books, podcasts etc) to refer to?
I've been listening to quite a lot of podcast, mostly vet related 😅🐻💉 but definitely recommend searching for things that we've never had the chance or time to do, or even learning a new skill. I've started sketching animals and Disney characters!
Regarding my fitness workouts, they are a predominant mix of a HIIT track, followed by a core and glute-focused workout track, done together with my friends via zoom.
I am happy to conduct sessions for everyone to do them together if there is a demand for that too! 😉

---

ABOUT CHERYL CHAN


Cheryl Chan is a Team Singapore Steeplechaser who represented the country at the Southeast Asian Games 2019.
At merely 25 years of age, Cheryl has bettered the national record 10-times since her maiden foray in the 3000-metre steeplechase event back in 2015.
Her recent achievement included a Singapore National Record 11:14.70 minutes at the New South Wales Championship 2020 in Australia.