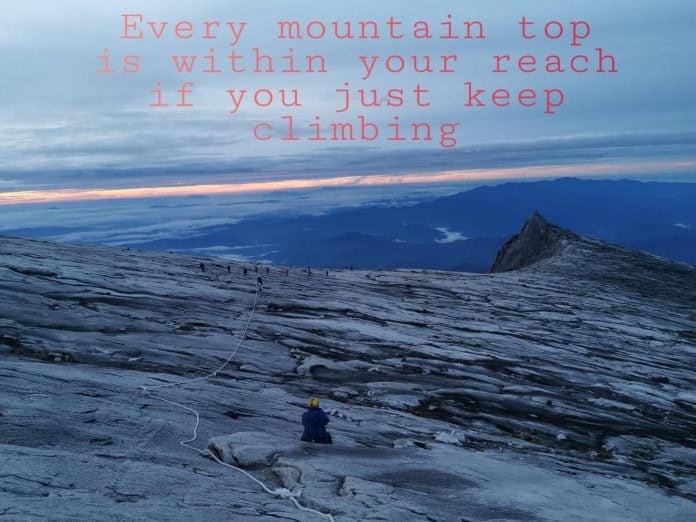 Mount Kinabalu is located at the west coast of Sabah, Malaysia. At 4,095 metres, it is the highest mountain in Malaysia and is one of the most important biological sites in the world. It was accorded UNESCO World Heritage Status in December 2000. The summit, known as Low's Peak, can be climbed by anyone in good physical condition but must be accompanied by accredited guides at all times due to national park regulations.
Why I climbed?
Climbing Mount Kinabalu was in my 'do list'. I had always been fascinated by its breathtaking scenery and massive rock formation. Not only is it unique but reaching the summit itself is a personal achievement. I have sometimes shared – if you live in S.E Asia and decides to climb just one mountain, surely there is no better option than Mount Kinabalu!

Difficulty Level
It is said climbing Mount Kinabalu is technically easier than the G7 mountains (mountains more than 7000 feet high) in West Malaysia. It is do-able hike even though the mountain stands more than 4000 m.
Some hikers consider this an advanced hike. Most parts of the terrains are very well paved. It is like walking up flights of stairs. You do not need to cross over fallen tree trunks or bash through thick undergrowth. In fact, I had a feeling of taking a stroll in a park during the hike. Personally, I feel the difficult part of the climb was on the second day – the final push of approximately 1.5 km to Low's Peak after we reached the Sayat Sayat Hut.
Trail Map
Best Period to Climb
March to September is generally considered the best period to climb because of the dry season. The concern is on the second day's ascent to the summit, where bad weather condition such as rain may result in the climb being cancelled due to safety reasons.
Training
I added staircase climbing after each short run to strengthen my leg muscles. Some hikers carry at least a 5 kg load to climb the stairs, while some do multiple loops at Bukit Timah Hill. However, there is no standard frequency or intensity in training. Know your own limits and just enjoy the process of training.
Acute Mountain Syndrome (AMS)
Source: https://www.mountkinabalu.com/faq
The main cause of altitude sickness is ascending in altitude too quickly which prevents the body from adapting to the decrease in oxygen at a specific altitude.

Most climbers will experience lightheadedness or a mild headache, while a small percentage of climbers will suffer from nausea or vomiting. The symptoms of AMS vary for different people but include dizziness, fatigue, confusion, difficulty walking, rattling breath and feeling extremely ill.
Keep the 3 golden rules in mind:
Drink a lot to keep hydrated
Acclimatize to altitude gradually and it is advisable to spend a night at highland areas before ascending Mount Kinabalu
Avoid rapid ascents by trekking at a normal pace and resting at the shelters (pondoks) along the way if needed.
I did a pretty slow hike, allowing my body to slowly acclimatize to the change in altitude and taking rest whenever I want. I did not want to go fast also because I know I probably will not be coming back again and thus want to take time to appreciate the scenery. Hence when I reached Panalaban Base Camp, I felt a mild headache. I took 2 panadol before sleep and the headache subsided overnight.
There is a prescribed drug (Diamox) for altitude sickness, but I had read it may come with some side effects (e.g. dizziness, nausea). So hikers intending to consume it should consider the risks and seek medical advice.
Hydration
It is good advice to take in lots of hydration during the hike. While it is not wrong, my opinion is "take what you know you will need". I appeared to be 'under-hydrated' because I brought just 650 ml of water during ascent or descent as compared to others who brought at least 1.5 L. The reasons why I am confident this will be sufficient were based on my experience from previous hikes where the temperature was hotter and humid. The environment in Mount Kinabalu was much cooler. Hence, I did not perspire a lot nor felt exceedingly exhausted. Know that extra water is an excess burden to carry.
Porter Service
Source: https://www.mountkinabalu.com/faq
There is porter service to transport backpacks to Panalaban Base Camps. It is stated on the website that it costs RM 65 per way for a 10 kg bag. But on the actual day, the rate was RM 11 for every 1 kg for both ways. So I guess there may be changes and can only be confirmed on site.
Since my backpack weighed less than 10 kg, my friend shared some of his load with me to lighten his day pack which he would be carrying during the hike.
Via Ferrata
Source: https://www.mountkinabalu.com/ferrata
A Via Ferrata (or 'iron road' in Italian, plural via ferrate) is a protected mountain pathway consisting of a series of rungs, rails, cables and bridges embracing the rock face. It allows access to scenic sections of the mountains that are typically available only to rock climbers and mountaineers.
There are two ferrata activities at Mount Kinabalu – Walk the Torq (380 m) and Low's Peak Circuit (1100 m). To engage these activities, you have to arrive at the starting points rather early – 7.15 am and 6.30 am respectively. This means you must have good fitness to reach the summit and descend for these activities relatively fast. Your time at the summit is therefore limited.
Selecting an Organizer
There are several hiking groups organizing trips to Mount Kinabalu. I decided to join Adventures Unlimited (AU) as they had a trip in March. AU has one of the most members in the local hiking community and they offer more varieties in terms of destinations compared to other organizers. However, I must put a disclaimer that I am not from AU and is just sharing what I observe.
Itinerary
05 March: Arrive at Kota Kinabalu (KK) in the morning. Pick up and depart to Kota Kinabalu Park (KKP) for an overnight stay
06 March: Registration for the climb. Meet our mountain guides and transfer to Timpohon Gate and start trekking to Laban Rata Rest House
07 March: Trek to summit at pre-dawn after supper. Descent from the summit and check out from Laban Rata. Trek back to Timpohon Gate. Once back at KNP, transfer to KK City for overnight hotel stay
08 March: Depart KK and back to Singapore.

Day One – Arrival at Kota Kinabalu
We took Scoot. It was a 2 hours flight though there was a 1-hour delay before departure. We had a quick lunch at the airport and stock up on water. Bottled water at the KNP and Laban Rata Rest House is much more expensive, so you may want to buy any necessities here before proceeding to KNP.
It took us slightly more than 2 hours to reach KNP. We were originally arranged to stay at the Rock or Grace Hostels, but were upgraded to stay at the Nepenthes Villa and Suite instead. We were very fortunate as these are the premium accommodation at KNP.
Meals were served at the Balsam Cafe. There were choices of both western and eastern cuisines. The variety was decent and the food was delicious.
Day Two – Ascent to Panalaban Base Camps
After breakfast at Balsam Cafe, our organizer helped us register our climb at the KNP. We were issued ID Tags which bear our names, tag numbers and date of the climb. This tag was to be worn at all times. Those of us who engaged porter service left our bags to the porters, while some left their luggage in the storage room at the Reception Area.
Thereafter, we were transported in less than 10 minutes to the Timpohon Gate where we registered our entry using the ID Tags. We were introduced to our mountain guides and were given a debrief on what to expect during the hike. Once this was done, we commenced our ascent to the Panalaban Base Camps – a 6 km hike.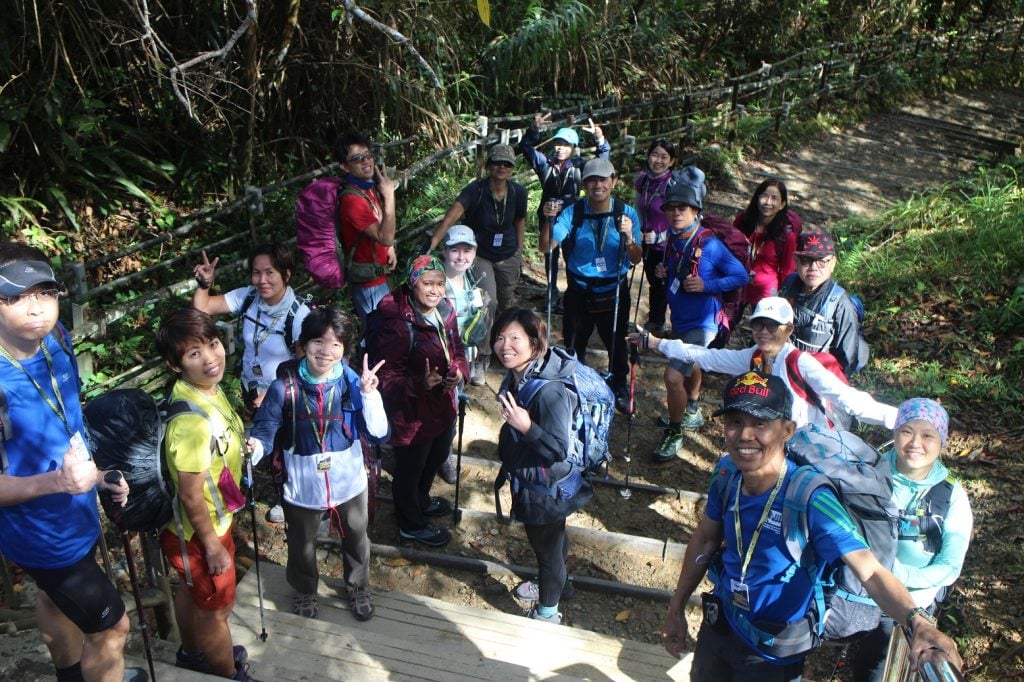 The route was well paved, akin to walking up flights of stairs. It was cooling at this altitude of more than 2000 m and a fine mist settled in the surrounding jungle. One aspect I appreciated was the presence of shelters with toilet facility at almost every 500 m along the hike. There were also trash bins in these shelters for hikers to dispose their trash.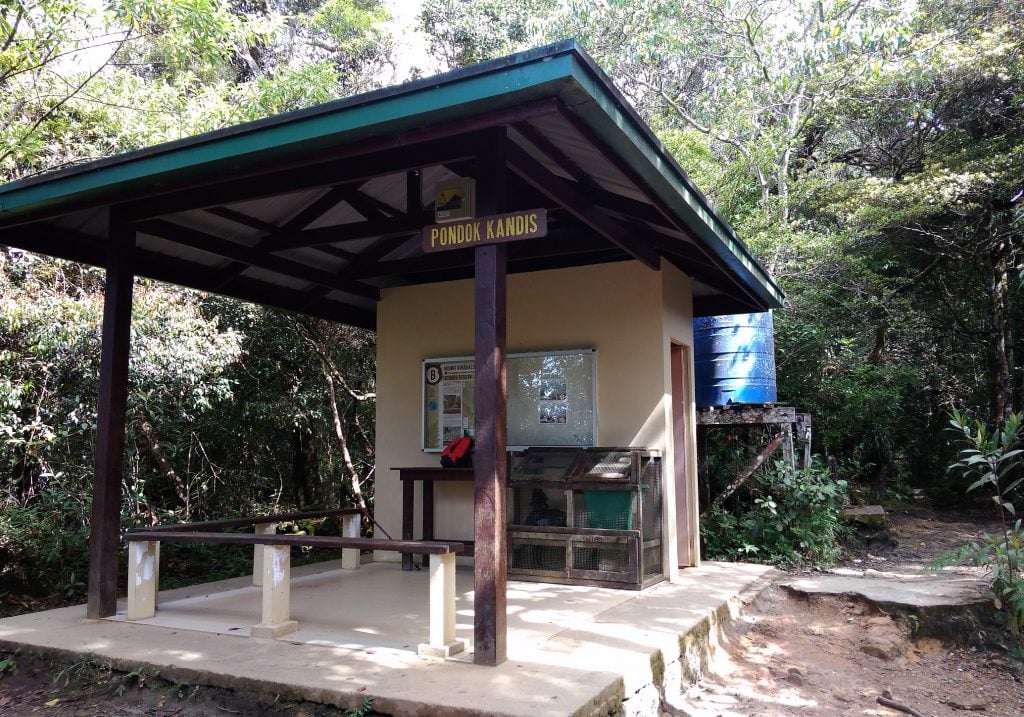 While Mount Kinabalu is known for its wide biodiversity, I must admit I do not have much knowledge or keen eyes for fauna and flora, though I see some of them are really different from what I saw in West Malaysia mountains.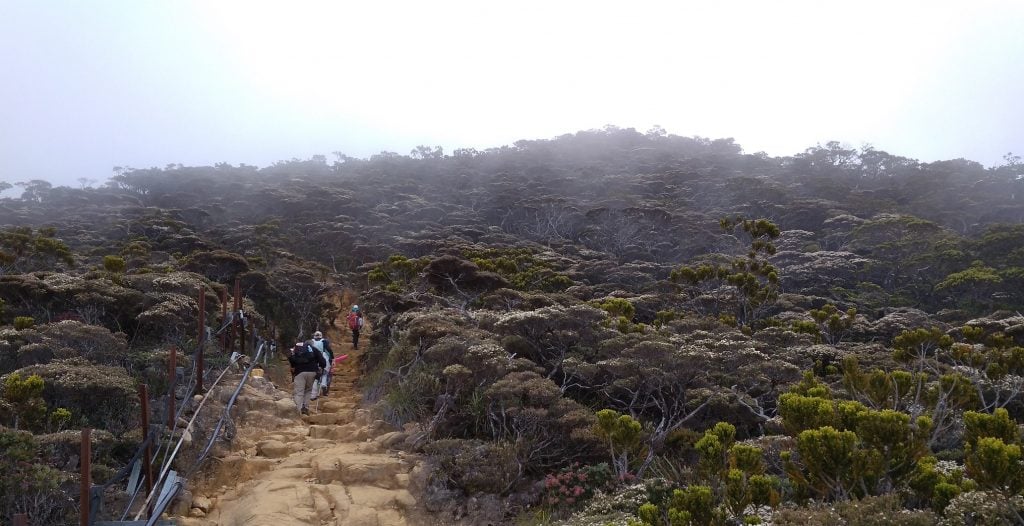 Along the way I saw hikers being stretchered down or piggyback by porters. These hikers were probably too tired to carry on. The fees to engage porters to carry (non-stretcher) is around RM 500 for every km.
Panalaban Base Camps consist of a few dormitories, such as the Laban Rata Rest House and the Pendant Hut. Pendant Hut is prioritized for participants engaging the via Ferrata activity while Laban Rata is the central location where all hikers come for their meals. Laban Rata also offers splendid views of the surrounding mountains. Many hikers gather here to enjoy the sunset amidst a sea of clouds.
Day Three – Summit Attack and Descent
We didn't sleep much before waking up for breakfast at 2 am to begin the summit push at 2.45 am after another round of debrief by our mountain guides. Switching on our headlamps, we cautiously began our ascent. We were one of the last teams and it was surreal to view a trail of lights heading up the mountain.
We were very fortunate to have good weather. There was no strong wind and the coolness of the early morning was just right to keep us comfortable from perspiring. We reached Sayat Sayat Hut to register our entry to the summit. This registration for hikers is important because if by the certain cut-off time the hiker did not register his/her exit at Sayat Sayat Hut during the descent, a search party will be activated to search for the 'missing' hiker.
It is a 1.5 km ascent from Sayat Sayat to Low's Peak. The distance doesn't seem a lot but in fact, I feel this last push for the summit was most tiring as it was an upslope all the way. But as in any hike or race, slow down and rest when you are too tired.
The sun had already risen when I reached Low's Peak. It wasn't a big space at the summit and we had to descend after taking photos to make way for others.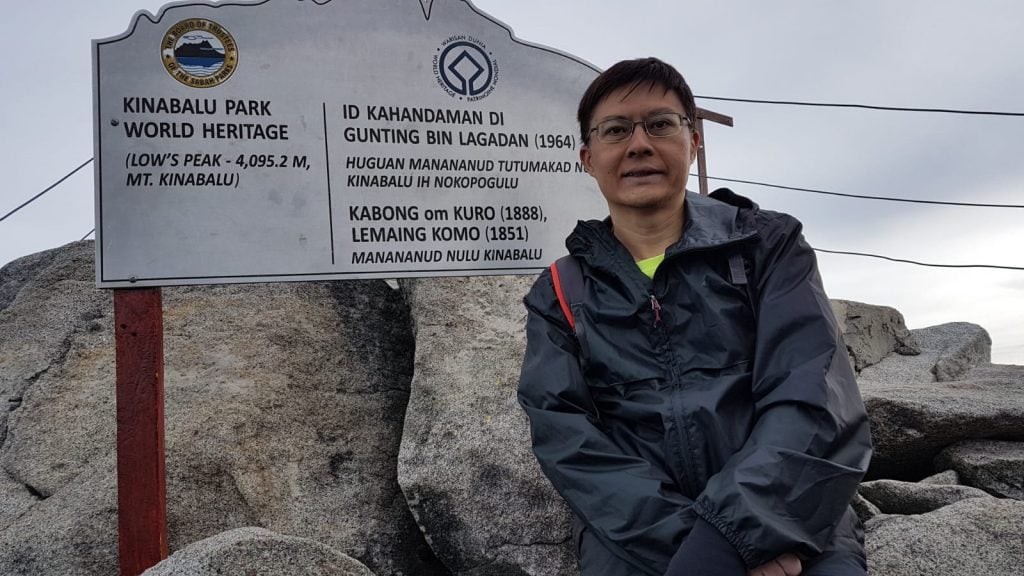 The weather was perfect and we had good views of the surrounding peaks. The clouds were sparse and hence instead of walking down into a sea of clouds, we were able to see the 'town area' below Mount Kinabalu.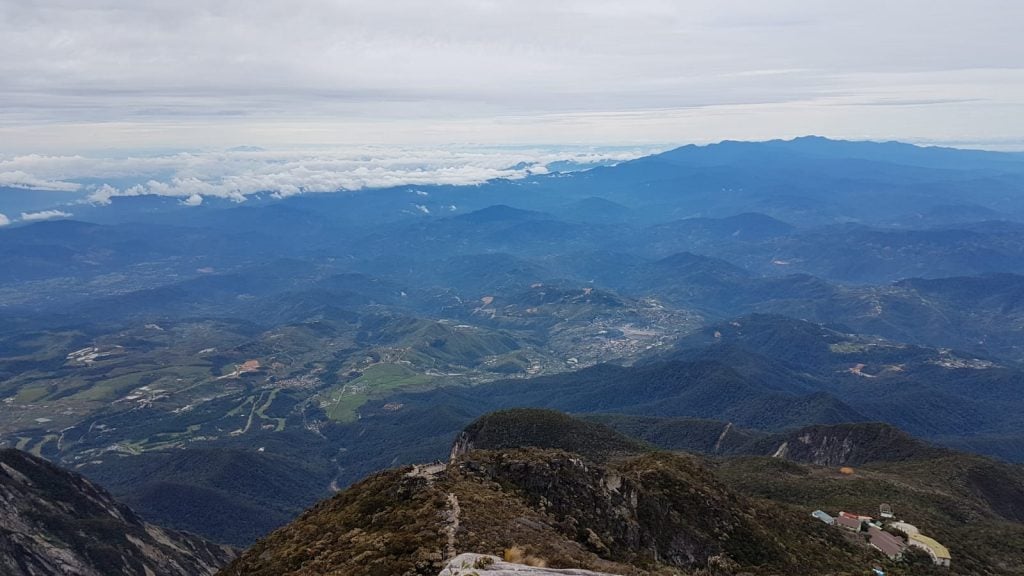 We registered our exit at Sayat Sayat and continued our way back to Laban Rata. We were required to check out from the dormitory by 10.30 am. After a late breakfast and catching some rest, we commenced our descent to Timpohon Gate. We have to reach Timpohon Gate by 4.00 pm, or else we would be liable to pay a 'penalty fee' (e.g. overtime charges) to the mountain guides. The descent was faster than ascent. However, it was taxing on the knees and we had to be cautious stepping on slippery rocks.
We reached KNP and after some rest, departed for our hotel, Cititel Express, at KK City.
Day Four – R&R and Departure
Next morning, we gathered at 9 am and took a 15 minutes walk from our hotel to Gaya Street Sunday Market. Every Sunday, Gaya Street is closed to traffic till 12 noon to allow hawkers to sell goods such as batik sarongs, arts and craft, souvenirs and even pets. It reminds me of Jonker Street in Malacca.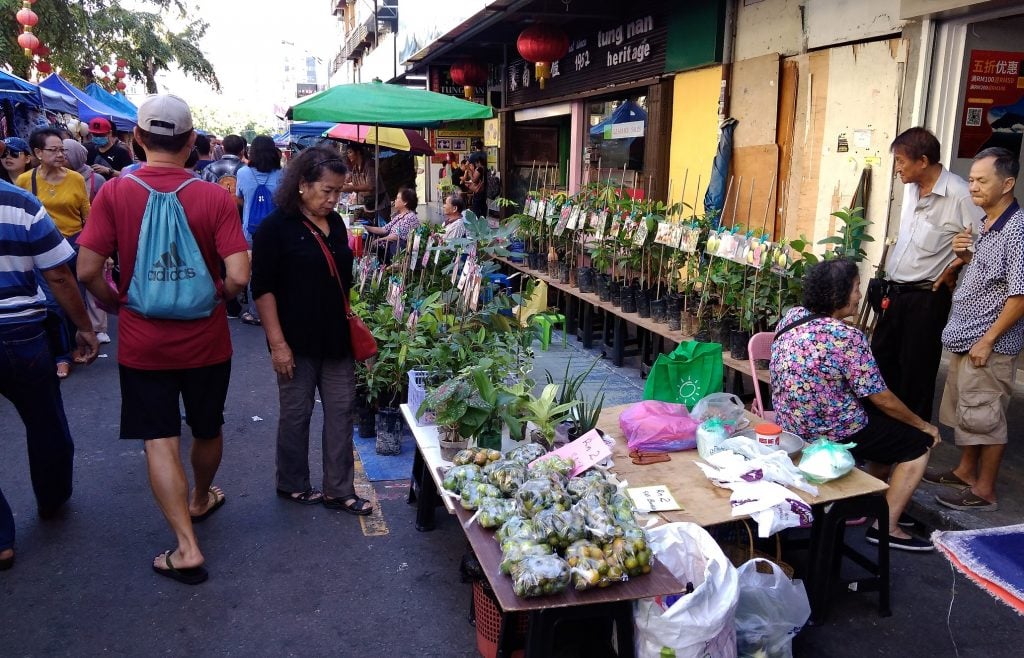 We had breakfast at a restaurant called Foo Yuen. While it served a decent variety of food such as dim sum, fried bee hoon and kaya toast, I feel one of their best is their kolo mee. Do try this dish if you happen to dine there.
After some shopping around, some teammates went for a good massage to relieve their sore muscles. I visited the famous KK Waterfront with others. It was a hot day and all the restaurants at the Waterfront had yet to open for business.
Time passed quickly. At 5 pm, we made our way to the airport for our return flight to Singapore. Some had chosen to extend their stay in KK to continue their adventures.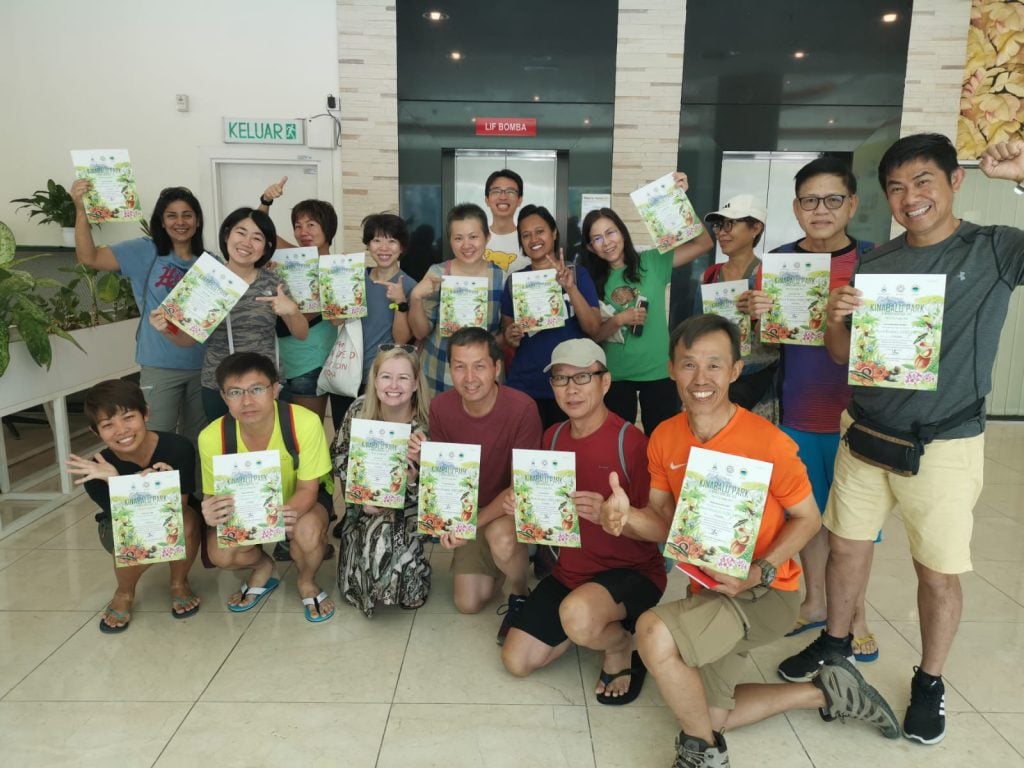 After-Thoughts
As with my teammates, we felt this had been a very good hike. Every one of us managed to reach the summit and we had tremendously enjoyed each other's company. We had left our footprints in Mount Kinabalu and these memories will stay with us forever.