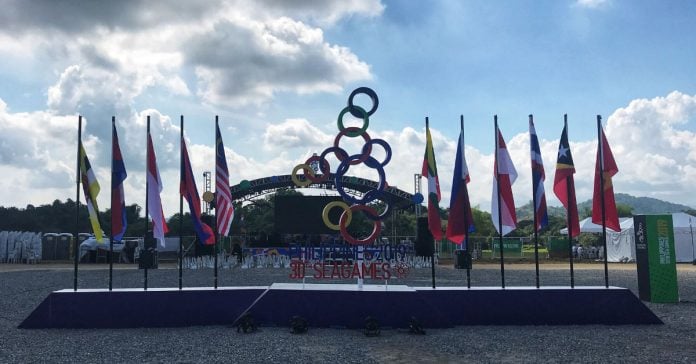 The 2019 Southeast Asian Games, officially known as the 30th Southeast Asian Games or 2019 SEA Games and commonly known as Philippines 2019, a biennial regional multi-sport event which was held in the Philippines from 30 November to 11 December 2019.
This edition was concluded at the New Clark City Athletic Stadium on 11 December 2019 and was most notable for being the first edition to include esports and obstacle course as well as having the highest number of sports in the history of the games, at a total of 56.
Host country Philippines emerged in the medal tally as the overall champion for the first time in 14 years, breaking its own medal count record in the 2005 Southeast Asian Games, followed by Vietnam and Thailand.
All 11 members of Southeast Asian Games Federation (SEAGF) took part in the 2019 SEA Games, including 🇧🇳 Brunei, 🇰🇭 Cambodia, 🇮🇩 Indonesia, 🇱🇦 Laos, 🇲🇾 Malaysia, 🇲🇲 Myanmar, 🇵🇭 Philippines, 🇸🇬 Singapore, 🇹🇭 Thailand, 🇹🇱 Timor-Leste and 🇻🇳Vietnam.
Below is a recap of the Marathon results over the past 3 editions.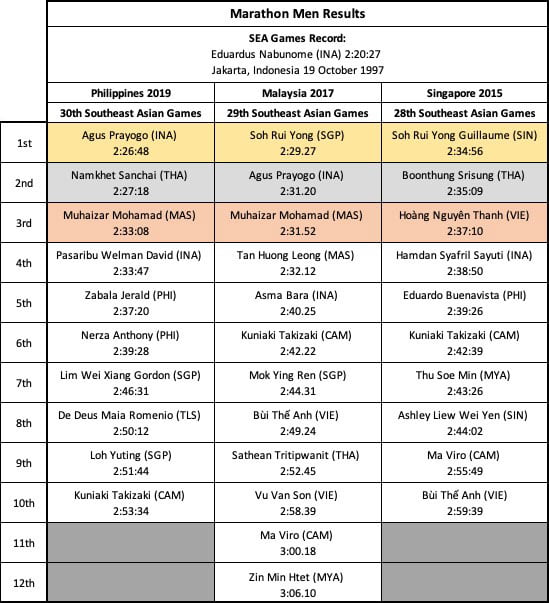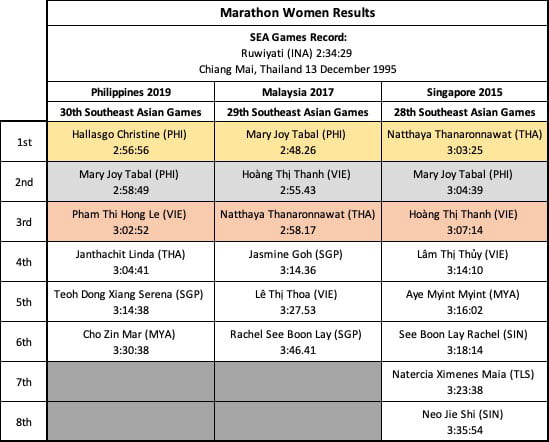 Highlights from the marathon race:
See below results in text:
Marathon Men Results
SEA Games Record:
Eduardus Nabunome (INA) 2:20:27
Jakarta, Indonesia 19 October 1997
Philippines 2019
Malaysia 2017
Singapore 2015
30th SEA Games
29th SEA Games
28th SEA Games
1st
Agus Prayogo (INA)
2:26:48
Soh Rui Yong (SGP)
2:29.27
 Soh Rui Yong Guillaume (SIN)
2:34:56
2nd
Namkhet Sanchai (THA)
2:27:18
Agus Prayogo (INA)
2:31.20
Boonthung Srisung (THA)
2:35:09
3rd
Muhaizar Mohamad (MAS)
2:33:08
Muhaizar Mohamad (MAS)
2:31.52
 Hoàng Nguyên Thanh (VIE)
2:37:10
4th
Pasaribu Welman David (INA)
2:33:47
Tan Huong Leong (MAS)
2:32.12
 Hamdan Syafril Sayuti (INA)
2:38:50
5th
 Zabala Jerald (PHI)
2:37:20
Asma Bara (INA)
2:40.25
 Eduardo Buenavista (PHI)
2:39:26
6th
 Nerza Anthony (PHI)
2:39:28
Kuniaki Takizaki (CAM)
2:42.22
 Kuniaki Takizaki (CAM)
2:42:39
7th
 Lim Wei Xiang Gordon (SGP)
2:46:31
 Mok Ying Ren (SGP)
2:44.31
Thu Soe Min (MYA)
2:43:26
8th
De Deus Maia Romenio (TLS)
2:50:12
Bùi Thế Anh (VIE)
2:49.24
Ashley Liew Wei Yen (SIN)
2:44:02
9th
 Loh Yuting (SGP)
2:51:44
Sathean Tritipwanit (THA)
2:52.45
Ma Viro (CAM)
2:55:49
10th
Kuniaki Takizaki (CAM)
2:53:34
Vu Van Son (VIE)
2:58.39
 Bùi Thế Anh (VIE)
2:59:39
11th
Ma Viro (CAM)
3:00.18
12th
Zin Min Htet (MYA)
3:06.10
Marathon Women Results
SEA Games Record:
Ruwiyati (INA) 2:34:29
Chiang Mai, Thailand 13 December 1995
Philippines 2019
Malaysia 2017
Singapore 2015
30th SEA Games
29th SEA Games
28th SEA Games
1st
Hallasgo Christine (PHI)
2:56:56
Mary Joy Tabal (PHI)
2:48.26
 Natthaya Thanaronnawat (THA)
3:03:25
2nd
Mary Joy Tabal (PHI)
2:58:49
Hoàng Thị Thanh (VIE)
2:55.43
Mary Joy Tabal (PHI)
3:04:39
3rd
Pham Thi Hong Le (VIE)
3:02:52
 Natthaya Thanaronnawat (THA)
2:58.17
Hoàng Thị Thanh (VIE)
3:07:14
4th
 Janthachit Linda (THA)
3:04:41
Jasmine Goh (SGP)
3:14.36
Lâm Thị Thủy (VIE)
3:14:10
5th
Teoh Dong Xiang Serena (SGP)
3:14:38
Lê Thị Thoa (VIE)
3:27.53
Aye Myint Myint (MYA)
3:16:02
6th
Cho Zin Mar (MYA)
3:30:38
Rachel See Boon Lay (SGP)
3:46.41
See Boon Lay Rachel (SIN)
3:18:14
7th
Natercia Ximenes Maia (TLS)
3:23:38
8th
Neo Jie Shi (SIN)
3:35:54