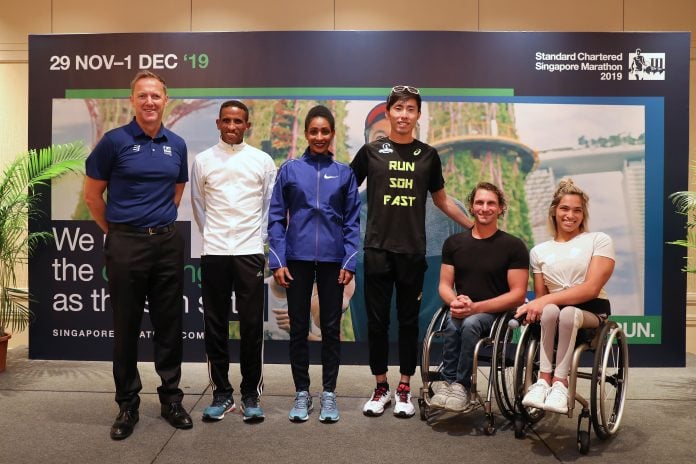 Professional field headlined by marathon winners from around the world, including both defending champions from last year – men's champion Joshua Kipkorir (KEN) and women's champion Priscah Cherono (KEN)
Two-time National Championship winners Rachel See and Soh Rui Yong return to defend titles
Last year's elite wheelchair men's champion Kota Hokonuie (JPN), and female runner-up Madison De Rozario (AUS), return to stake a claim for this year's title
SINGAPORE / TAMPA, Fla. (29 November 2019) – The stage is set for an epic showdown at the 2019 Standard Chartered Singapore Marathon (SCSM), which is now in its 18th edition and expecting over 50,000 registered runners from 133 countries, regions and territories during the three-day event. On the evening of 30 November, more than 50 athletes of championship caliber will represent the largest and strongest elite field in the event's history, racing against each other to compete for a share of an SGD 420,000 total prize purse. Hear from some of the top competitors at the Pre-Race Press Conference here.
The elite men's category will see multiple marathon winners, headlined by a diverse group of runners hailing from Kenya, Ethiopia, Morocco, Bahrain and more. This esteemed group includes last year's champion, Joshua Kipkorir; from Kenya, Bahraini Benson Surei; and Ethiopian Yemane Tsegay.
In the women's field, Priscah Cherono (KEN) returns to defend her title. Fellow countrywoman and last year's runner-up, Stella Barsosio, arrives in great form, having just won the Sydney Marathon in September with a time of 2:24:33, setting the third-fastest course time ever. She will be joined by Ethiopian Mamitu Daska and Bahrain's Merima Mohammed as they challenge for Cherono's title.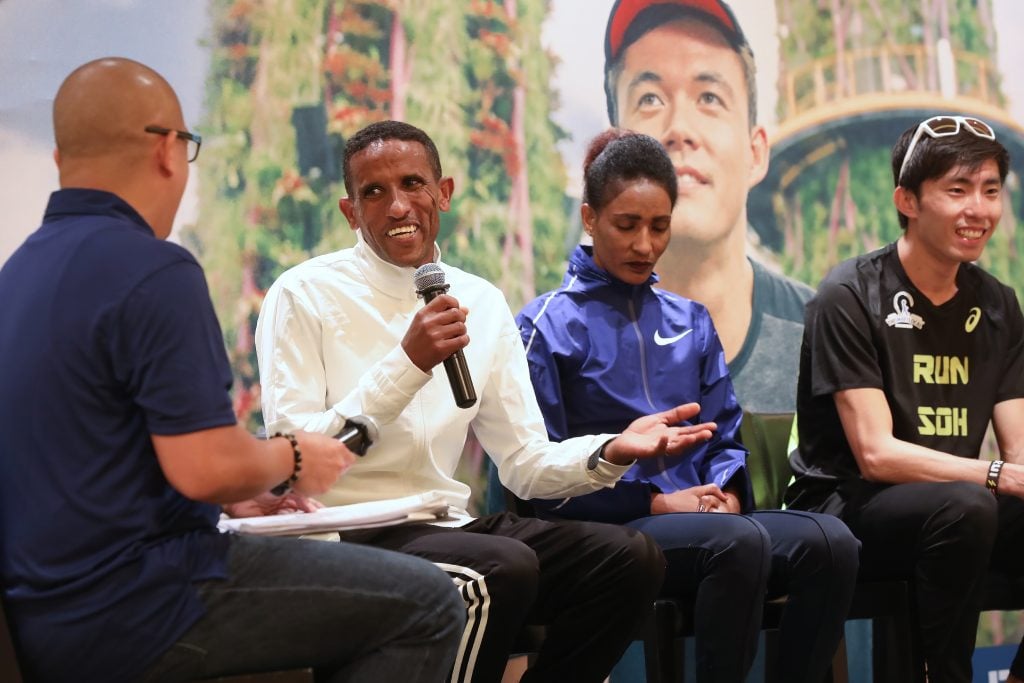 Talking about his preparations for the race, medal hopeful Yemane Tsegay said "For me the evening race is no problem, we have training in the morning and evenings. I hope all athletes will love the first evening race because of the shine and the cities evening lights. I am very happy to come to this evening race."
The 2019 SCSM will see an expanded elite field for the Wheelchair Marathon category, with the total athlete count at 16 strong. The field sees the return of last year's men's champion Kota Hokonuie (JPN), and female runner-up Madison de Rozario (AUS). They will face tough competition from American Joshua George and Australian Eliza Ault-Connell, who finished third last year.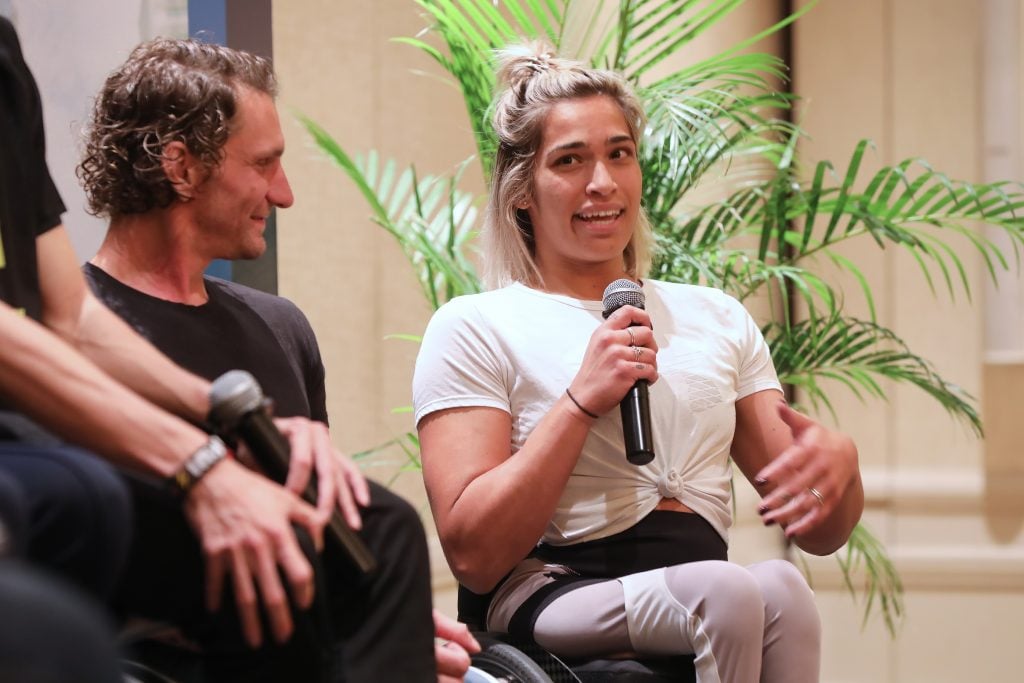 Sharing her thoughts on the evening race and route, 2018 elite wheelchair runner-up Madison de Rozario said "Singapore is so beautiful, to be honest I got distracted last year when going over the bridge. We know we're not meant to be distracted by the view, but we cannot help it. Singapore is so beautiful, so going through it at night is going to be stunning."
Duo looking to three-peat at the Singapore Open National Championships
The 2019 SCSM also hosts the National Championships – where top local runners compete for the Championship across four categories – the Men's and Women's Open and Masters.
Two-time National Champion, national marathon record holder and double Southeast Asian Games marathon gold medalist, Soh Rui Yong, will look to defend his title against his peers, which include Mohamed Iskandar and Giebert Foo – last year's second and third place runners respectively – and seasoned runners Evan Chee and Ashley Liew.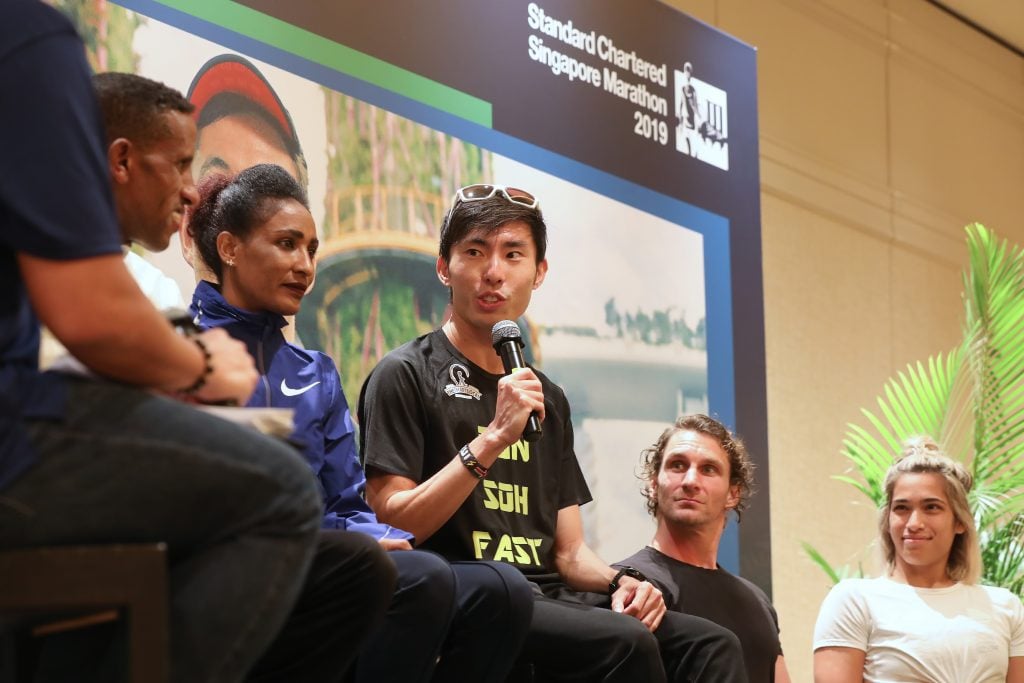 When asked about training for Singapore's first evening race, Soh Rui Yong said "I usually work from 9 am – 6 pm. So all my hard trainings are done in the evenings which helps as I don't have to acclimatise myself to an evening race so I am very happy about that. I think there will be a lot of energy on the ground because there will be more spectators out there cheering for their friends and loved ones or just out and about since it is a Saturday night. I am really looking forward to it as there will be a huge difference in the atmosphere!"
The women's national category is headlined by Rachel See, who, like Soh, has won the last two editions of the National Championships. Joining her are veterans Yvonne Chee, Sharon Tan, with lawyer Verna Goh making her debut in the local elite category.
A big celebration for the running community
The all-new three-day race format kicks off this evening with the Kids Dash at 7.00 p.m. Children will race across 700-metres amidst a carnival of fun and games, complete with monster trucks and inflatable installation. The amped-up weekend festival extends into the weekend on Saturday with the Marathon, Half Marathon and Ekiden Relay flagging off at 6.00 p.m., taking runners through the Singapore skyline and past its iconic landmarks such as Garden's by the Bay, Marina Bay Sands, the Esplanade, the Singapore Flyer and Marina Barrage. Finally, on Sunday, 1 December, participants in the 10km and 5km categories will begin their races at 6.30 a.m. and 8.30 a.m., respectively. Runners of all skill levels will enjoy an optimised route that includes additional hydration, and cooling zones.
Runners will also be warmly supported by thousands of spectators, who will fill up the spectator zones at Empress Lawn, The Promontory and The Float @ Marina, in addition to 27 entertainment points throughout the course. Spectators will be able to join in the activities such as Piloxing and Zumba sessions, or enjoy both old and new tunes from various musical acts. The event is open to spectators of all ages, with full views of athletes starting and finishing from the F1 Pit Building and the Float @ Marina Bay. Full spectator information can be found here.
"This year's Standard Chartered Singapore Marathon will be historic, for several reasons. With the evening marathon start time and our strongest elite field together with the dedicated spectator zones, this has been our most ambitious race. As the race continues to gain global recognition, I would like to thank everyone, from runners, partners and stakeholders, for being so supportive since SCMS' launch," said Geoff Meyer, Managing Director of Asia for The IRONMAN Group.
Follow the Race Live From Anywhere in the World
Friends and family who wish to support and track the runners this year can do so through the official Standard Chartered Singapore Marathon mobile application which has been developed by Tata Consultancy Services (TCS). The application will deliver a digital race experience which will empower users with information such as live runner tracking, race-day information, registration details, social media integration and more. The new improved live-app that can be downloaded free from the App Store and Google Play Store.
Viewers from around the world will also be able to see the race on Facebook Watch through the Standard Chartered Singapore Marathon Facebook page, with live coverage beginning at 5:30 pm on Saturday, 30 November.
Getting to the race
The race area is well-served by the MRT and commuters are encouraged to utilise the MRT as their primary mode of transport to and from the area. While some bus services will be diverted due to the road closures, affected bus stops will be relocated to the nearest possible location. Commuters are advised to cater more travel time to account for bus service diversions. Specific bus diversion plans will be publicized before the event to facilitate route planning.
2019 SCSM participants or members of the public with enquiries about the road closures may call the SCSM Road Closure hotline at 6701 1230. The hotline will be available from 9.00 a.m. to 6.00 p.m. from 1 to 29 November, and will be available 24 hours on 30 November and 1 December. Information on road closures for the 2019 SCSM can be found on all SCSM social media pages and www.singaporemarathon.com. Members of the public may also wish to download Google Maps or Waze for real-time traffic and road closure updates. They can also visit OneMotoring.sg for further advice on commuting during the marathon weekend.
For more information on this year's event, please visit www.SingaporeMarathon.com.