KUALA LUMPUR, Sunday, 29 September 2019: Dataran Merdeka was awash in blue when 40,000 runners took part in the Kuala Lumpur Standard Chartered Marathon (KLSCM) 2019 today. The 11 th edition of the premier distance running event in Malaysia also saw YB Syed Saddiq, Minister of Youth and Sports, make his debut in the event by participating in the Half Marathon category. Also present were YB Khalid Samad, Minister of Federal Territories and YB, Dr. Ong Kian Ming, Deputy Minister of Trade and Industries, who also took part in the Half Marathon.
Contributing to the record participation numbers was one of the largest Full Marathon fields seen in an event in Malaysia when more than 13,000 runners took part in the category. An equally impressive 12,500 runners ran in the Half Marathon, making two of the longer distance categories the most well-represented, which is a testimony to the growing popularity of distance running in the country.
Victor Kipchirchir, from Kenya, who was making his debut appearance at KLSCM won the Full Marathon Men's Open category in a time of 2:19:41 to take home USD17,500 while the Full Marathon Women's Open category was won by Gladys Jepkemoi Chemweno from Kenya in a time of 2:36:45 also earning USD17,500 in the process.
Kiprop Tonui from Kenya came in second in the Full Marathon Men's Open with a time of 2:20:05 while Tallam James Cherutich, also from Kenya finished third in a time of 2:21:04. In the Full Marathon Women's Open, defending champion Elizabeth Chepkanan Rumokol from Kenya had to settle for second place in a time of 2:41:48 while Ngigi Pauline from Kenya took third place with a time of 2:45:44.
The Full Marathon Malaysian Men's category was a keenly contested affair as Muhaizar bin Mohamad and his compatriot in the Armed Forces Nik Fakaruddin bin Ismail went toe-to-toe for most of the race. KL SEA Games bronze medallist Muhaizar though broke away towards the end, managing to defend his title and in doing so won this category for an astonishing fifth consecutive time, finishing in 2:35:23. Nik Fakaruddin finished second in 2:40:31 while Fabian @ Osmond bin Daimon came in third in a time of 2:45:06. The Full Marathon Malaysian Women's category saw Loh Chooi Fern defend her maiden win in KLSCM2018 in a time of 3:21:33 while Tho Siaw Khim clocked 3:29:42 to come in second and Yap Yee Ling got third place in a time of 3:30:50.
FM Open winner Kipchirchir was delighted with his maiden Kuala Lumpur Standard Chartered Marathon win. "It was a tough race as I have never run in this type of heat before but my preparation was good," Kipchirchir said. "I am happy to be able to win in my first race in Kuala Lumpur and I hope to come back next year," he continued.
Muhaizar was also thrilled to have retained his title, especially after the intense competition with training partner Nik Fakaruddin. "I think running and winning in KLSCM before gave me a slight advantage over the other competitors as I know what to expect and so made the right strategy," he said. "This win will help boost my confidence ahead of the SEA Games in Manila in November and I hope to be able to bring back a medal," he added.
Rainer Biemans, Project Director of KLSCM and Director of Dirigo Events, said "The 11th edition of KLSCM has proven to be an exciting two days that has seen some great competitions in our top categories, which has added to the lustre of our biggest event yet. It has also been and honour and a privilege having both YB Syed Saddiq and YB Dr. Ong Kian Ming participate in our Half Marathon, and my heartfelt thanks go out to them for supporting our event and I hope they enjoyed themselves out there today. We are also grateful for YB Khalid Samad's presence and for giving out prizes", he continued.
Syed Saddiq flagged off the Half Marathon category along with Abrar A. Anwar, Managing Director and Chief Executive Officer of title sponsor Standard Chartered Bank Malaysia before joining in the run.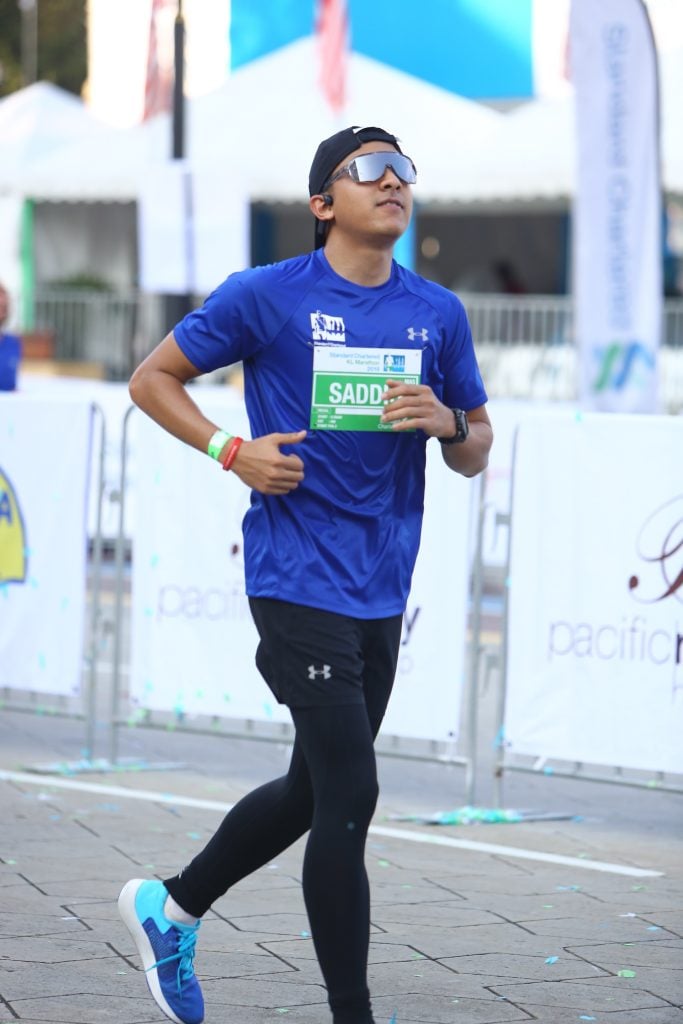 "For someone who's more a cyclist than a runner, that was pretty challenging! But crossing that finish line was extremely fulfilling and I'm really happy to have made it within the cut-off time. I can see now how participating in distance running events such as this can be tremendously rewarding so kudos to Dirigo Events, Standard Chartered Bank and to everyone else who had a hand in putting together this fantastic event," said Syed Saddiq. "My congratulations as well to all the winners and to all who participated and achieved their running goals," he continued.
Anwar. A. Abrar, MD and CEO of Standard Chartered Malaysia, who took part in yesterday's Friendship Run as well, was delighted with the massive turnout over the two days and hoped the event would continue to attract the running masses for many more years to come.
"Being title sponsor for the last 11 years, Standard Chartered Malaysia is delighted that we've once again managed to successfully pull off this event with our biggest numbers to date.
From pioneering the concept of being the first running event to run through iconic landmarks in Kuala Lumpur, KLSCM has never stood still and has set the benchmark and gold standard for running events in Malaysia," said Abrar.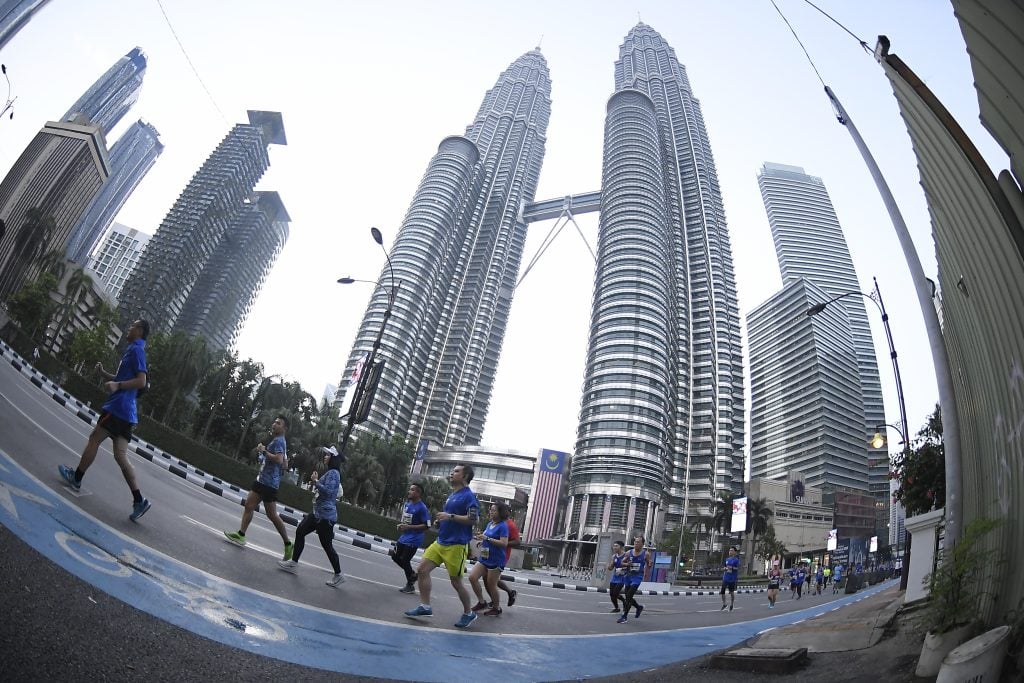 While KLSCM is a competitive event, it has been built with a community focus at its core and that community element was brought to the fore this year when KLSCM's Run For A Reason (RFAR) charity initiative raised its highest amount in terms of funds raised compared to previous years. RFAR is an integral component of KLSCM and this year, participating charities the National Cancer Society of Malaysia, Dignity for Children Foundation and Hospis Malaysia will benefit from over RM890,000 worth of funds raised by over 1,000 RFAR participants, together with the Corporate Challenge. "We are extremely happy to have raised a record amount under our RFAR charity banner and our sincere thanks go out to all involved who made this possible," said Biemans.
The record numbers did not end there as the event also saw its largest number of running tourists as well when more than 1,900 from 49 countries arrived in Kuala Lumpur to take part in the iconic event. Add another 10,020 Malaysians who came from outside of Kuala Lumpur and Selangor to make it a particularly busy weekend for the city.
One particularly inspiring tourist was Chris Koch, a farmer, athlete, adventurer and motivational speaker who flew in from Canada to participate. Born without limbs, Chris has been travelling the world and participating in marathons to spread his "If I Can" message to as many people as possible in the hopes of motivating them to get the most out of their lives. Using a longboard to traverse the Full Marathon route, Chris took part in his eighth marathon on a third continent when he completed his marathon here. "I was prepared for the heat and humidity because I knew it would be way more than I'm used to, however, starting so early was different. On the course, other marathoners are usually so encouraging and supportive but here, they were even more so. That definitely has me wanting to come back for another," Koch said.
KLSCM2019 began with the Kids Dash categories yesterday morning that saw another record when 1,000 children participated in the 1km and 3km categories. Both categories were expanded this year to encourage more children to participate and also saw speed categories introduced for both distances in a move to separate the competitive children from the fun runners.
For the first time, the 5km category was also held yesterday morning to allow for larger participation numbers today and incorporated the Friendship Run, meant to be a warm-up run for those taking part in the Full Marathon, as well as an opportunity for runners from around the world to meet and forge friendships.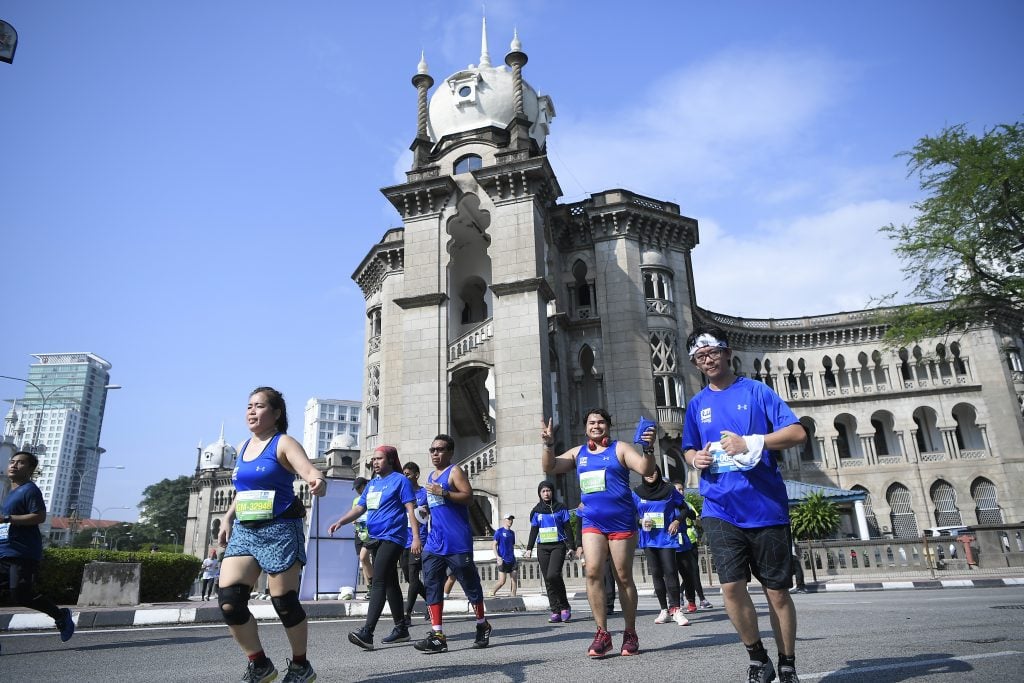 Towards the end of the event, the KLSCM running community gathered at the Finish Line to cheer and provide moral support to the last runners to finish within the check-out time of 7:15 hours. These runners had given their all to finish the race and were given a rousing end replete with confetti blasts to coax them home within the required time.
The Kuala Lumpur Standard Chartered Marathon has grown year-on-year to become the most anticipated distance running event in Malaysia, where for the first time this year public registrations had to be balloted. The premier running event once again saw Standard Chartered Bank Malaysia returning as title sponsor, along with a host of returning and new sponsors, including Seiko, Under Armour, 100 Plus, Jaybird, TudungPeople, Banana Boat and Pacific Regency. The event is owned and organised by Dirigo Events with venue host Dewan Bandaraya Kuala Lumpur.
KLSCM is sanctioned and supported by the Malaysia Athletics Federation (MAF), Federal Territory Kuala Lumpur Athletic Federation (FTKLAA), International Association of Athletics Federations (IAAF) and Association of International Marathons, Distance Races (AIMS).
For more information about the event,
click here.