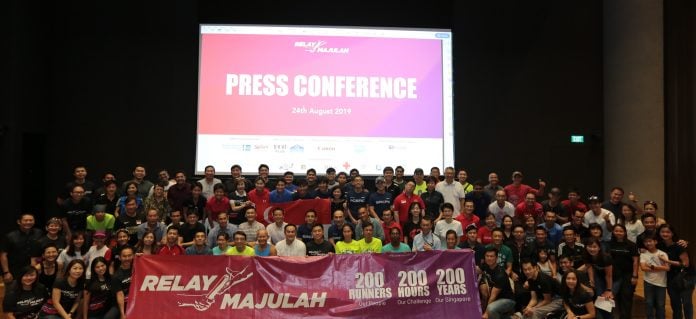 In commemoration of Singapore's Bicentennial Year, and in a nation-wide effort to raise a million dollars for this year's President's Challenge
Singapore, 24 August 2019 – Relay Majulah, Singapore's first-ever 2,000-kilometer relay run, today announced its initiative to collectively challenge 200 runners to complete a nation-wide relay under 200 hours – all in an effort to raise a million dollars for the President's Challenge. Centered around Singapore's Bicentennial Year, the relay run will be marked as the largest and longest relay run in Singapore history.
Looking to inspire Singapore and its people, Relay Majulah also aims to share the determination and grit of local individuals who have persevered in their adversaries. Coming from all walks of life, each of the 200 runners are being challenged to each complete a 10-kilometer or 20-kilometer stretch to collectively achieve the total targeted time and distance.
"This bicentennial year, we all come together to celebrate the becoming of Singapore with 200 Singaporeans and residents representing people from all walks of life aiming to complete this meaningful relay, and raise funds for the needy and unfortunate," said Bennett Neo, Co-Chairman, Relay Majulah. "Simplistic yet symbolic, the nation-wide relay is a first of its kind in Singapore that hopes to inspire the people and unite the community by coming together to support a singular cause."
"Relay Majulah is the perfect platform for the people to witness the resilience and rigor of Singaporeans," said Ong Tze Boon, Co-Chairman, Relay Majulah. "A community of 200 people running together to demonstrate Singapore's unity regardless of strong or weak, faster or slower, fortunate or less fortunate – all by completing 2,000-kilometers in 200 hours."
The wide spectrum of runners includes notable names such as Tan Chuan-Jin, Speaker of Parliament, as well as everyday heroes such as Takalah Tan, who overcame the loss of half his brain due to a tragic accident by becoming an athlete and motivational speaker. Another admirable runner is 87-year-old Kor Hong Fatt, the second oldest male finisher in the Boston Marathon who was inspired to lead a healthier lifestyle after the passing of his late wife, proving that age is simply mind over matter.
"It is remarkable to see runners from different backgrounds come together to dedicate their time and effort in completing Relay Majulah; and in rallying their community for the community," said Tan Chuan-Jin, Speaker of Parliament and final runner of the relay. "This is truly inspiring, and it is motivating me to give my best for the final leg and raise as much as I can to support the President's Challenge and its supported charities."
Running towards a magic number
Come 2 November, 200 runners from all walks of life will come together to participate in Relay Majulah with a collective goal of raising a million dollars for close to 70 charities under the President's Challenge.
Flagging off at noon from the Singapore Sports Hub, a baton will be passed from runner to runner as they journey past significant landmarks, such as Bedok Reservoir Park and Punggol Waterway Park. Hitting the turning point at Yishun SAFRA, they will then see the route follow back to the hub completing all but the last relay.
On 10 November, Tan Chuan-Jin, Speaker of Parliament, will run the final leg from the Singapore Sports Hub and finish off into the MES Theater at MediaCorp's Campus for the live televised President's Star Charity Show. Concluding the relay, he will then symbolically hand over the baton to President Halimah Yacob on air, along with a giant cheque that will represent the total amount raised.
Gathering the nation's support
In the lead up to the flag off date, each runner will be also challenged to raise $5,000, tallying to a grand total of a million dollars that will be towards providing assistance, care and support for beneficiaries of the 67 charities supported by President's Challenge.
Over the years, the Standard Chartered Singapore Marathon (SCSM) has become a platform for runners to support a variety of social causes through sport. In support of the President's Challenge this year, SCSM will be partnering Relay Majulah to champion the spirit of giving back.
Members of the public can also show their encouragement through making donations via Relay Majulah's Giving.sg page, or to specific runners via their dedicated pages on giving.sg.
For more information please visit the Relay Majulah's Website or Facebook page.