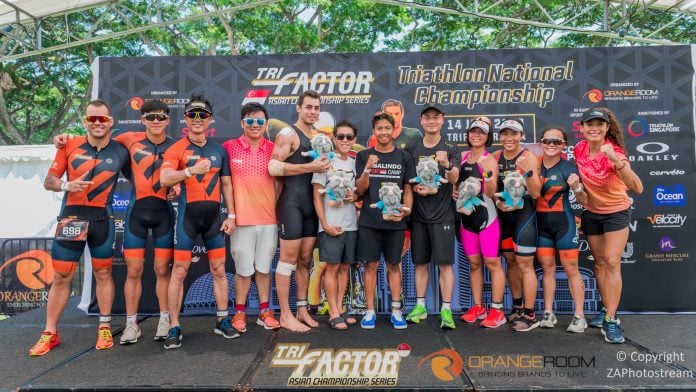 Asia leading multisport brand TRI-Factor had attracted more than 3500 triathletes across 2 triathlon weekends in TF Indonesia, Belitung (6-7 July 2019), TF Malaysia, Putrajaya (13-14 July 2019) and TF Singapore (14 July 2019). The mega triathlon festival attracted a diverse group of athletes from more than 37 different countries racing across various duathlon and triathlon categories.
The Inaugural edition of TRI-Factor Triathlon in Belitung, Indonesia was graced by 2019 Presidential candidate Mr Sandiaga Uno emerge 3rd position in the TF Standard Category among other athletes in his age category.
The 11th edition of TRI-Factor Triathlon in Singapore was flagged off by top government officials from the Republic of China, Quzhou along with Orange Room executives. Top 3 male and female were awarded direct qualification slots for the World Championship in China. Australian Mr. Michael Cassinides and Vietnamese Ms. Thuyvi Pham emerged overall champion for Singapore TF Standard Category with a time of 2hours 12minutes and 33 seconds and 2 hours 38 minutes and 07 seconds.
The 3rd Edition of TRI-Factor Triathlon in Putrajaya, Malaysia saw a surge in participation in the newly introduced TF Standard distance category in 2019. The all-inclusive event included categories for those with special needs for the Mighty Star category.
Overall TF Top Female ranking Indonesian athlete Ms. Nethavani Octaria took the top spot across 2 consecutive weekings in both the TF Enduro (1.5km Swim-80km Bike-20km Run) category in Indonesia, Belitung and TF60 (2.25km Swim-42km Bike-15km Run) category in Singapore with a time of 4 hours 31 minutes and 41 seconds and 3 hours 23 minutes and
1 second respectively. She qualifies to race in the elite wave with the professional athletes in the TF World Championship on 22nd September 2019. Ms. Octaria, says, "I am happy with the win today as there are many strong athletes racing and I want to thank TRI-Factor for putting up another well-organized event".
Mr. Elvin Ting, Managing Director of Orange Room Pte Ltd., says, "I am proud of the TRI-Factor team in Singapore, Malaysia and Indonesia who successfully executed 3 major triathlons across 2 weekends. The culmination of this movement will be held in the beautiful city of Quzhou, China for our World Championships – this will certainly be our greatest event yet as our global community comes together to reimagine limits."
For further information about the TRI-Factor Asian Championships and T.A.C.A. status, visit
www.trifactor.asia