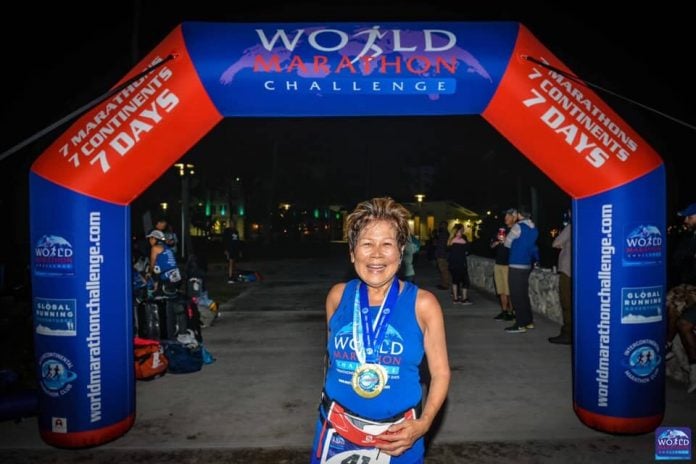 We are glad to share Gloria Lau's amazing story of how she completed the world marathon in 7 days. Also, she holds the record of the oldest female (67 years old) to complete in this event.
The World Marathon Challenge ® is a logistical and physical challenge to run seven marathons on seven continents in seven days. Runners are scheduled to run the standard 42.2 km marathon distance in Antarctica, Africa, Australia, Asia, Europe, South America and North America within 168 hours, or seven days. The clock starts when the first marathon begins in Antarctica.
Participants run 295 km (183 miles) over the seven-day period and spend about 68 hours in the air.
Her Story
I decided to pluck up courage and sign up on the 24th of January, 6 days before the event. I had been keen on taking this challenge was terrified of not being able to meet the cut off time. I called up the race director and he felt that for me, it would be better to be put in a sink or swim situation and deal with it. I am just so humbled to hold the world record as the oldest female (age 67 years) to complete the 7 Marathons in 7 continents in 7 days.
Her Race Experience
Competitors landed in Cape Town, South Africa on 29 January before traveling to Antarctica for the first marathon, where temperatures dropped as low as -35°C. We then returned to Cape Town after about a six-hour flight from Antarctica (which is about the amount of time to recover) to run another marathon, battling soaring temperatures of 35°C. This meant we had to run 2 marathons within 24 hours. I had just departed from Perth to come to Cape Town for the start of the race and I was now flying back to Perth!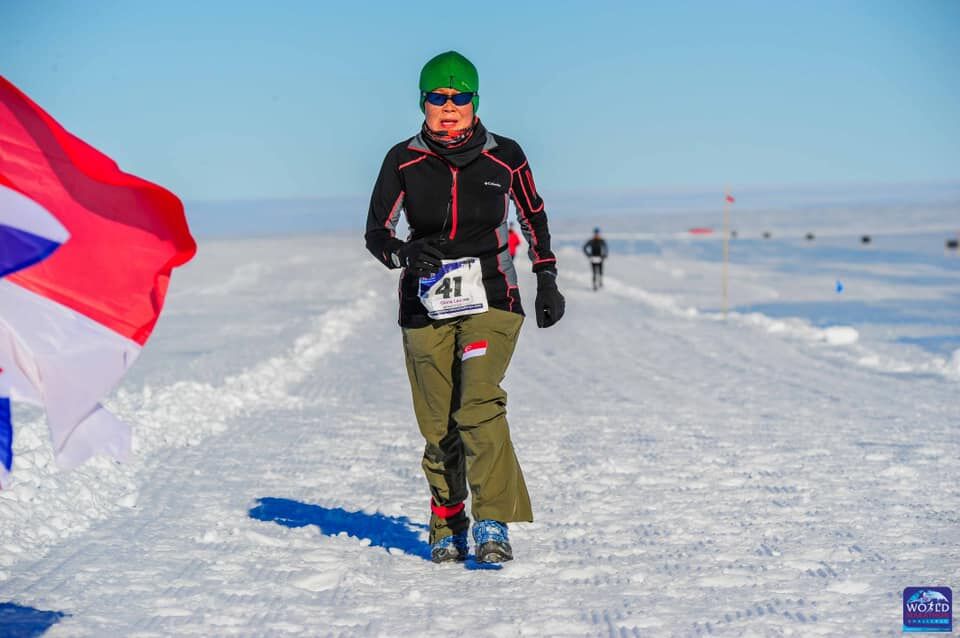 The 16-hour flight allowed us to have the rest we needed until we landed in Perth for a midnight marathon and then proceeded to Dubai for the 4th run. By the time we arrived in Madrid to battle the cold, lonely 11 laps of the Formula 1 circuit I began to feel the fatigue enveloping my entire body. It became colder towards the night and I was struggling to keep awake. The repeat turns and climbs were painful. The mental toughness to push past the barriers of exhaustion/injury is what got me through this challenge. I kept talking to myself that I had to finish this no matter what. There was no option.
The remaining two continents Santiago and Miami – a trail like a course, sandy, dusty humid with peak hills was brutally followed by more forgiving laps on South Beach. I had overcome the fear of not meeting the cut-off time. We had flown more than 63 hours over 88 500 km across the globe, with little time for rest and recovery between marathons. None of us had slept in a bed for a week and we probably had not more than 4 hours sleep on a plane seat – mostly fixing our wounds and blisters, stretching on foam roller.
The challenge was more than simply the scheduled marathons. It's the numerous other factors that our body, mind, and spirit were put into continual tests and pulling out our true characters to win over ourselves, to go beyond limits and get everything done inside 168 hours. We became one team, everyone supporting one another throughout each race.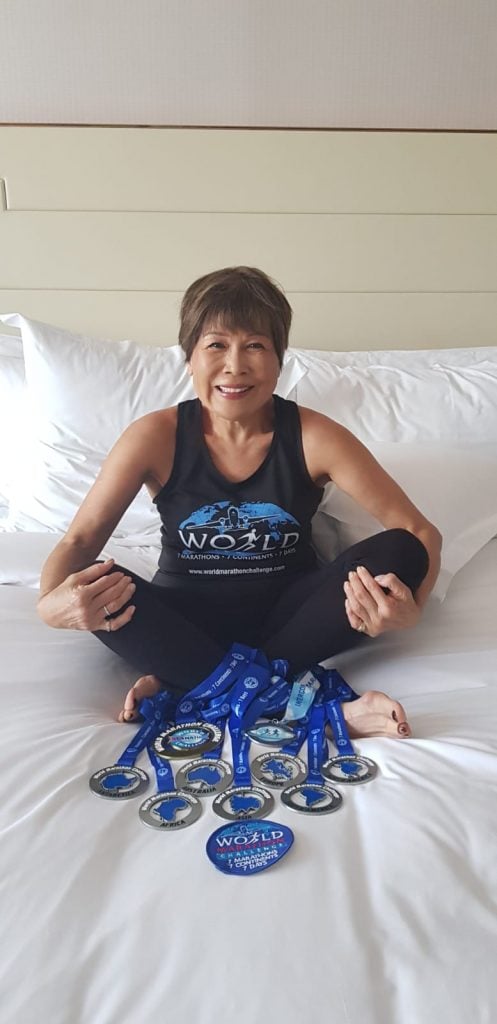 I have been asked a hundred times the same questions – isn't running bad for your knees. my knees were hurting pretty badly before I started running and now they are in terrific shape. No running has not hurt my knees and I am quite convinced that it is making them stronger.
Gloria Lau was also previously known to be first Singaporean to complete Seven Marathon in 7 continents in 2014 and then the North Pole in 2015. Click here to read more about her superwoman stories!