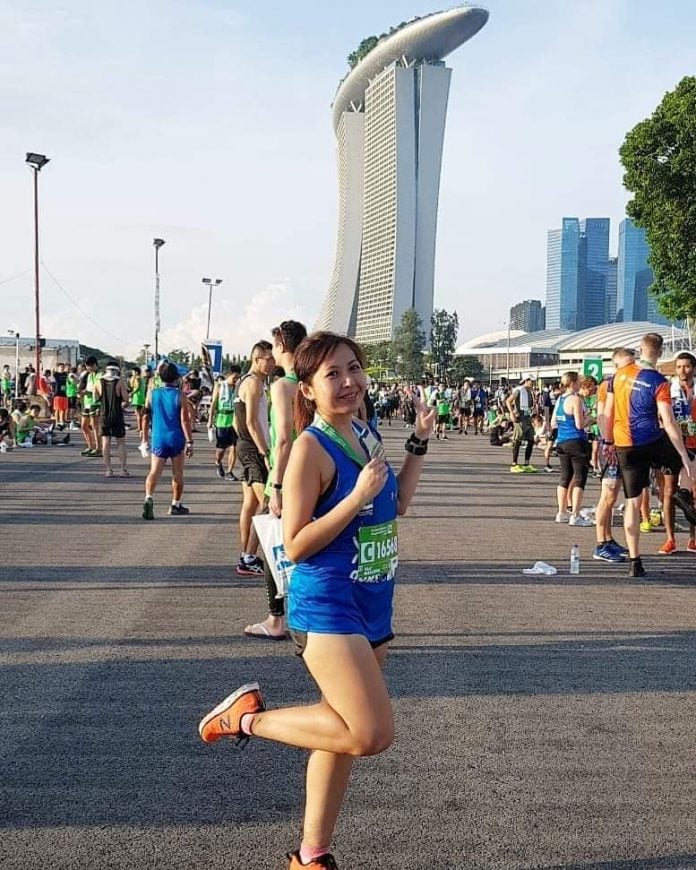 Just when my recent posts of Colourpop Run and Penang Bridge International Marathon were talking about being lucky, I won a 2 days one night staycation at Pan Pacific Hotel along with one race entry by participating in a contest held by Standard Chartered Singapore Marathon through a Facebook contest! 😍 Thank you Standard Chartered Marathon Singapore! 😘
Truly appreciate the staycation as it meant that I don't need to wake up much earlier and ping ping piang piang to race site 😆 It's my only staycation in Singapore this year because of more overseas races. I've already registered myself for the half marathon, the win meant more bling blings to be collected, I registered 5km with the win. I'm at the walking pen as there's no other selection left available for other pens. I think it's because of sold out due to limiting the numbers of runners in each start pen to ease congestion during event day.
Last year I suffered foot injury after Osaka Marathon till every single step hurt that I have to forgo running the half marathon category that was two weeks after. The medal was a beauty and I missed it. Even though Willis and I had a staycation at Carlton Hotel near by, it hurts so bad that I couldn't even go to race site to cheer and support but just to stay in the room and rest.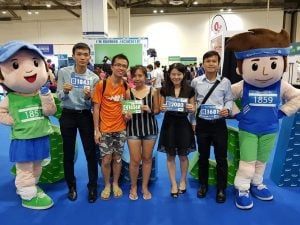 Race Expo was at Marina Bay Sands Expo and Convention Hall. Willis and I went to collect race pack on Thurday after work in the evening. Then we found out that our friends Justina, Chee Beng and Yi Heng were there as well. There's quite a long queue but the queue was fast moving within 15 minutes it's our turn. The queue was separated into the different distance categories, it seems like the queue with most people in the queue were the marathon and half marathon category and the rest of the categories such as 10km, 5km and ekiden was not so much of a queue. It's the first time I have the thought that the entire world are all runners. So many people were there to collect their race pack.
I asked if I could collect the 5km distance category race pack too and I'm glad I'm able to collect it as well. They offered this double up challenge this year to encourage runners to sign up two different distance category with discount held on different days so it would be a hassle if we were to queue twice. Because I signed up half marathon and then the 5km category separately, I didn't get the additional double up challenge medal.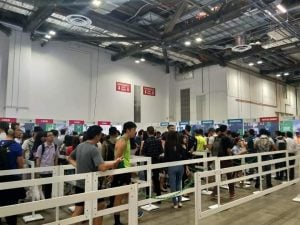 We received the race bib with timing chip together with a baggage sticker to paste on the huge transparent bag for depositing out items on race day, a running magazine, a drawstring bag, a pair of sunglass, event guide and some freebies such as eye drops and muscle rub. Was quite disappointed with the race bib this year as its not personalised with our name printed on the race bib. The bib was in running number so they just grab it, scanned it and tadaa that's your bib. Though it did speed up the process but I would really prefer a personalised bib 😢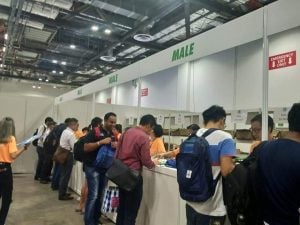 We were also issued a ticket which stated the size of the race singlet we had selected previously and proceed to the next counter to collect, which was separated into male and female runners and collection was fast and efficient. This year's race apparel sponsor was Under Armour same as the previous year, I like the material of the clothing and last year's Under Armour event tee was too huge but I didn't went to change. Many of my oversized running T-shirts are comfy and I wear as "pajamas" to sleep 😆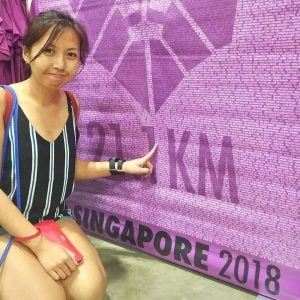 After all the collections done, we proceed to the Race Expo where we found our names listed out under the categories we registered to run in. So far it's the only run that I went to that even acknowledged the 5km runners. It just felt very appreciated, 5km is also not an easy feat to many. Maybe the kids dash's kids also have their name listed out somewhere just that I didn't see? Then it's all the SCSM merchandises and collectibles such as bags, caps, tee shirts, water bottles, plush lion toy and etc. Was telling myself don't see, don't buy, I can sign up for another race with that amount of money! 😆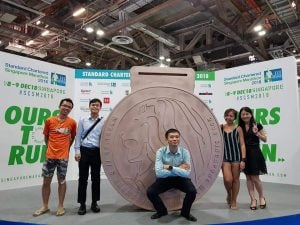 Then it's the section with many photo opportunities, which we enjoyed ourselves with taking lots of pictures. I really enjoyed the race expo, especially the last part of it where they introduced many overseas runcation packages and there's so many runs which I did not know about. Speaking of which, I'm already looking forward to my runcations next year already! 😍 First up, Amazing Thailand Marathon which will be held in February 2019 in Bangkok. Registration is still open 😏
I only remembered that the win from the Standard Chartered Singapore Marathon includes access to VIP tent after I ran both the 5km and half marathon as when I went to the Iron Man office, the staff only passed me the voucher for staycation but didn't pass me the identification tag for entry of the VIP tent and I totally forgotten about it 😭 It's also after that that I know that they sell VIP pass to runners as well at a high price! 😨
Eleanor ran the 5km with me on Saturday and next day she ran the full marathon 👍 I got no courage to run a full marathon in hot hot climate anymore 😂 We didn't buy shuttle bus ticket as its too early and seems like cater more for the 10km runners that flag off earlier. It's fine as well because the 5km flags off at 7.45am, all forms of public transportation is in full operation by then. And also it's pretty hot by then,
so that's what the sunglass with the race pack were for? 😂 Flag off for all categories were at F1 Pit Building except the Kids Dash which was held in Universal Studio in Sentosa 😍 Somehow I felt that 10km and 5km run should be held in Sentosa as well. Double Up Challenge runners run two days around the same area and parts of the same route eh 😕 As at the 5km run I saw many children and teenagers as well, if the route for 5km included Universal Studio, it would attract much more runners to sign up with their families or teenagers with their friends. I don't mind if they offer like packages such as paying additional money for entry or rides in USS since the race slots were already considered crazily expensive.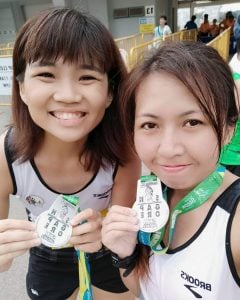 The 10km runners were flag off at 7am but the 5km runner/walkers were flag off only at 7.45am. We arrived at about 7am at Promenade MRT station and there were still plenty of 10km runners around. We identified 10km runners by their pink race bib and alphabets A to E on their bibs, and 5km participants were just F and G, with F the runners and G the walkers in yellow bib. It almost 7.30am when we were allowed into the Pen. Those super late 10km runners who missed their time to enter the start pen were to flag off together with the 5km participants. Eleanor and I took it easy as we have a long way the next day. I was quite disappointed as the roads barricade up were not wide enough, it was pretty congested and I had to slow down at many parts of the run and siam here siam there. Though I was in the walking pen, but I over took many 5km runners in the running pen which means the 5km runners who were in the running pen also can't run as well in the pace they want to run in.
There were two hydration points along the 5km route and when we were running back passing by F1 Pit Building, I saw pedestrians/tourists/runners who finished their run want to the cross the road but the road was barricade up for runners to pass by. ROAD IS BLOCKED FOR SCSM. I can only imagine it was so difficult for the Auxiliary Police on duty there to explain to them to walk further up to The Flyer and cross over by the overhead bridge. So we be considerate to other runners still running and crossed the bridge after our run 😊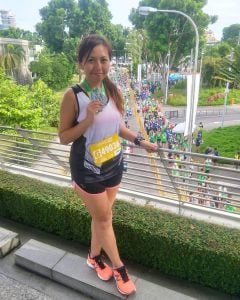 Maybe Padang would still be a better place like the past years. I have a love hate relationship with the medal, the Merlion looks pretty but I don't like the SIN-GAP-ORE in 3 syllables. The run ended at The Float and we need to walk a few hundred metres to go back to F1 Pit Building. Even the 5 and 10km runners were offered ice cold towels! 😍 We were offered super cold bottle of mineral water, 100 plus and banana 👍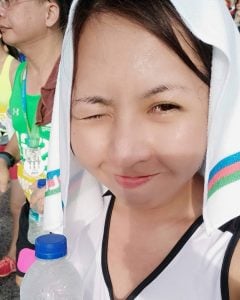 On Saturday afternoon Willis and I arrived at Pan Pacific to check in and the Deluxe Room was awesome. We slept at around 10pm and set our alarm clock at 3am in the morning. Still I was reluctant to wake up, flag off for both the half marathon and full marathon category were at the same location at F1 Pit Building but was separated into different pens. Pen A and B were only for full marathoners while Pen C onwards were a both the half marathoners and full marathoners. Pen A were Elites pen and then Pen B are super fast runners as well followed by Pen C, and so on.
It's the first time that I noticed that National Anthem was played before the race other than Majullah Walk and Run which is to celebrate National Day. Flag off was punctual and in waves just minutes apart. Willis had a very terrible fall and didn't run much for the past one month prior, he asked me to go ahead and don't wait for him else he would walk the entire distance. So I ran the whole run mostly alone.
This year, it's a new route which I have never run before at the West Coast Highway something new and different. But honestly, not much of a scenery and that I would recommend foreign runners to participate the full marathon instead of half marathon category for its only Central Business District area and then ore than 10km was running on the boring expressway for the half marathon route 😂 Full marathoners at least ran passed Gardens by the Bay as well as Marina Barrage which were much of a more scenic route.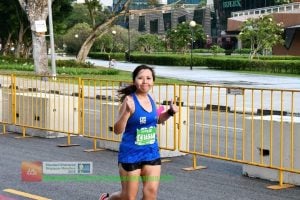 It's a humid morning and just 2km into the run, I'm already drenched with sweat. My Garmin went crazy as suddenly I realised its only 5km distance marker but on my Garmin, it's 6km ran already. And it showed that I ran 1km in 4 mins which was impossible 😂 Many other Garmin users experience the same problem as well.
Before going up the expressway, the elites were already after the u-turn at their 16 or 17km while many of us were only at about 6 or 7km. Heard many runners cheering and clapping for them. Saw many familiar runners along the route and we gave each other some encouragement and have some small chats along the way ❤
Noticed something new this time, at one of the hydration point, there's a huge container with water. Runners can use a scoop to scoop water to pour of themselves to stay cooling.
At the 19km mark, the run was separated into left and right, the left side are for half marathoners who's about to finish the and the right for the full marathoners. I was happy that I'd made the right choice to register for the half marathon instead of the full marathon if not I would still need to continue for another over 20 something km.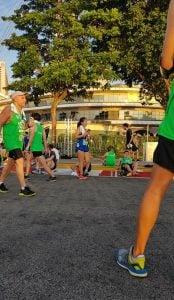 As soon as I reach back F1 Pit Building area, Willis sent me a stalker photo because from the SCSM app he received the alert that I've completed the run and knew I would be somewhere around. And I was feeling meh because this injured men who only had running mileage of 10km for the past month finished the half marathon even faster than me 😆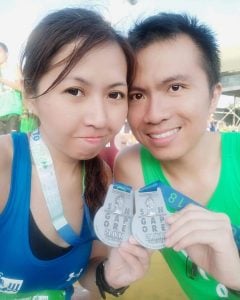 Luckily I managed to complete the run before Sun starts burning and weather gets hot. Went to get ice cream at the Toyota booth and went Seiko booth to take some photos before the crowd starts to come back 😊 (Previous day when I finished the 5km run everywhere long queues 😰) Didn't explore much around the race village and went back to Pan Pacific and take a shiok shiok soak in the swimming pool. After we checked out and had our lunch around the area, we still saw runners who looks like just finished their FM and its already more than an hour past the 7 hours cut off time. In the hot hot Singapore, I really felt the 7 hours isn't enough for the 42.195km but thank you SCSM for letting those runners who didn't finished in the COT still get their finisher entitlements. It's a tough run! 💪