Penang is a familiar place for me as its my parents and sisters birth place, we would visit Penang at least once a year to visit our relatives. I could remember those days when I was just about 5 years old, we would take hours of bus ride to Penang, and when my father got a car a few years later, he drives to Penang, at times stopping by Kuala Lumpur, Ipoh, Cameron highlands and sometimes even farther up to Hatyai and Phuket for holidays. I love those road trips ❤
I jio-ed Eleanor to go for this runcation with me, she've never been to Penang and I'm quite confident in showing her around Penang 😊 We could only go as a weekend trip as the both of us didn't want to take leave for this trip. Due to what I considered expensive flights for a just a weekend trip, we only purchased the flight tickets back to Singapore which cost less than $70 per person, as the flight tickets to Penang with even crappy timing costing about $100 and more. It's much more expensive than the bus tickets that cost about $45 to Penang. But if we decided to take the bus, it also meant that our whole Friday night would be burnt on bus, we might also have difficulty falling asleep or even get car sick. We planned to take the bus at first even after factoring in the siao 10 or 12 hours bus ride and the crazy immigration clearance at Woodlands checkpoint (or if lucky a bit will be at Tuas). Luckiky we hold on to buying the bus tickets and checked very frequently for cheaper flight tickets or promotions, just 3 weeks before race, we finally found a reasonable price by Jetstar which was about $60 😍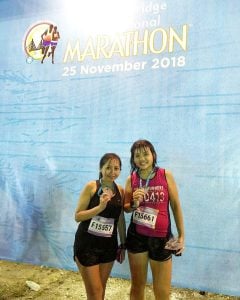 Eleanor and I registered for the half marathon category and opted for postage of our racepack directly to our home in Singapore at an additional cost of RM20 so we skipped the hassle and do no need to collect the racepack at the race Expo. We received it about 1 month prior to the race and the race singlet looks nice! 😍 When we touched down in Penang International Airport at 9 plus on Saturday, we literally have 24 hours in Penang as we will be flying back Singapore at 9 plus on Sunday 😆
Once we reached Penang, we took Grab to find some food near our hotel and when we finally got ready for a little bit of sleep, we only left with close to just 2 hours of sleep before we head to the race site. We also realised many of our friends in the running community from Singapore is going to run PBIM as well 😊 The hotel we stayed in was Hotel Jen, it's pretty far from the race village but it's in Georgetown next to the komtar, the bus terminal in Penang. I chose hotel in that area because it's more convenient to visit some attractions near by 😊
Grab was just damn cheap so we travelled around by Grab. Flag off was at 3am near Queensbay Mall which was far away from the hotel we stayed. According to Google Maps, it's about 25 minutes drive away. Eleanor and I decided on waking up at 1.45am as we were already in our running attire when we went to sleep, so once we woke up and slot in our shoes, we were ready to go. Grab arrived within minutes but the Grab driver told us to cancel the booking and go Komtar by taking the shuttle bus to race site instead as there was plenty of road blocks and it's difficult to maneuver around. The Grab driver didn't want to earn my RM15 😂 Sibeh heng part was Komtar is just right beside the hotel, we walk there and paid RM2 each for the shuttle bus. Cheap Cheap 😍 Singapore's shuttle bus to races cost about SGD6 at least.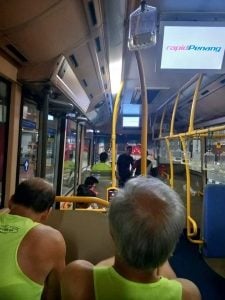 We board the almost empty shuttle bus because the previous sardine packed bus of runners had just left. To our horror, we waited till 2.30pm, almost 20 minutes of waiting for the bus to be filled before it left for the race site 😰
We will definitely not be in time for the flag off. The shuttle bus dropped us quite far away from the start line, it took us about 15 minutes of power walk to reached the start point 😓 We should have wake up earlier and left for race site since its not near but the Hotel Jen's pillow and bed seduced us 😂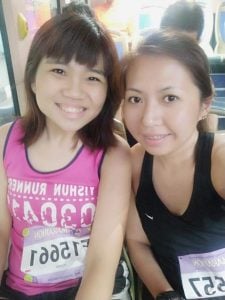 Flagged off was punctual at 3am as a little while after, the elite runners flew past us already in the opposite direction of us walking towards to. It's a single wave flag off. By the time I started my Garmin and ready to run, it's 3.10am. I really clap clap clap for some runners, it's just at the beginning of the run they were walking 😱 Hope they completed within the cut off time of 3 hours and 45 minutes and get their finisher entitlements. As I've read in the official PBIM Facebook posts comments that some runners did not get their finisher medals but I guess high chance it's because they didn't finish within the cut off time.
It's seriously a people mountain people sea of walkers, it's like 3 or 4 wide lanes of road but I still find it difficult to weave in and out of the runners as they were rather like have the entire time in the world. I was quite pek cek and disappointed as not much runners cared about keeping left if they decided to go slow or walk or even if Penang would have a culture of slower runners keeping to the right I wouldn't know as well because left right center 90 percent are walkers, it only gets a little better when I ran to about 7km. Note to self, never be late 😂
Can't remember since when, there's some slight drizzle. I thought the race was cancelled and cut short as its only about 11km or what on my Garmin when the distance marker showed 15km, now I guess it's because they were for full marathoners only. I think it's the only distance board I ever saw till I saw the last km board at the last km. It's a international run and distance boards should be more prominent and be place at every km. Even if the organizer cancelled the run, we wouldn't have any place to go as well because it's on the expressway. I guess it's almost 19km of expressway and bridge, not much of a scenery as its dark and then the thunderstorm 😆 If flag off would be much later we may get to catch some scenery.
Soon enough, it rained heavily. My eyes cant open and I blinked like 200 times per minute 😂 And when I got to a hydration point, I thought ponchos were given out to runners in the event of rain and was impressed a while but it's just that I think too much already, those were not ponchos but trash bags 😂 When I realised its trash bag, I tore 3 holes and slot my head and arms through. Come, I clap for myself 😆 Though I thought of throwing it away since I'm all wet already and the poncho was making pretty annoying noises but I was using it to keep me a little warmer and praying that my phone will not get spoiled because of the thunderstorm. Luckily at the end of the run my phone's still working. Some cute ones even took out their phones in this crazy weather and take videos and photos, maybe it's waterproof phones.
It was my first time running in such crazy weather conditions, it's quite scary but honestly I enjoyed the rain, it's like in a shower with a super strong shower head. But it's not just normal rain. It's thunderstorm. Wind was damn strong, there's so much of rain and it's my personal best of most lightnings and thunders as well as blinking 200 times per minute in a run 😂 My eyes were pretty irritated as I was wearing contact lense. I tried to close my eyes and run then thought it's a stupid idea as I might just trip and fall or simply just bam into another runner and thinking a lot of scary stuffs such as being the unlucky one to be strike by lightning. The pacer was indeed really lucky that the balloon saved his life. And then I came to know of another lucky person, my cousin's wife's sister won a car worth RM40000 in the lucky draw at PBIM 😍
I drank a lot of rain water and skipped a hydration point as I thought it's no difference to drink from hydration point since it would be rain water as well. Then I stopped drinking the rain water and wonder of pollution and falling sick. But it's OK runners, Google states that most rain waters are safe to drink and the pollutants it contains might even be lesser than the public drinking water supply 😆 When I got to the next hydration point, after u turn on the Penang bridge, I must really say the volunteers there were super excellent, they covered the water in the cups with their hands and pass us the water ❤ Thank you volunteers, deeply appreciate them to still be around in such weather conditions volunteering and cheering for runners.
I walked a lot since it started raining heavily. Many people walked as well and some even seek shelter under the bridge. But time still continues, cut off time for half marathon will still remain at 3hrs45mins and not magically increase. I can still run, but I'm just not motivated to because I feel the abrasions in both my thighs 😭 I'm actually pretty amazed I still end up in the top 15 percent of my category which showed at least maybe I did put in some effort to run 😆 When I was first start walking, I started a conversation with a men walking next to me, turns out he's also from Singapore and this was his 6th PBIM, he said this was by far the worst weather condition and such runs won't be cancelled as long as flagged off.
It's only at the last km I realised that the thunderstorm became a drizzle. When we finished the run, the only thing we got is the finisher medal and a lucky draw coupon. I queued for the Milo in the rain and shortly found Eleanor in the shelter out of the people mountain people sea without the help of communicating through the phone. I only realised how cold it was when I remove the trash bag to take photos 😂 The thrash bag really was a life saver! And I didn't fall sick after that like I thought I would.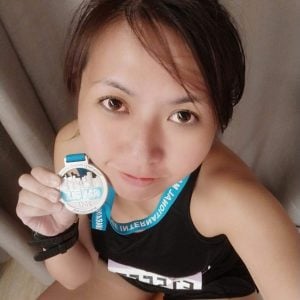 We left shortly after some photos walking back to shuttle bus drop off point. We saw the 10km runners coming back from their start point at the other side. Their run was cancelled. Felt bad for them, they made the effort to turn up in this thunderstorm morning with a perfect weather to stay in bed and yet the run was cancelled and to proceed to collect a meaninglrss medal that they didn't earn and sweat for. Though at that point of time and after the thunderstorm that the half marathon and full marathon runners been through, I felt that the weather was perfectly fine to go ahead with the 10km run.
When board the shuttle bus back to Komtar, no payment was collected from us at all. I've always think Malaysia's men are super sweet ❤ When I told Eleanor "Sibeh leng ah" while going up the bus, the bus driver turn off the air-con. And then I when I told Eleanor "You see my goose bumps", the guy sitting in front of us offered me his towel. ❤ Damn nice right? After shower and some rest, we checked out of the hotel and went food hunting and some sight see. It's a fruitful 24 hours in Penang ❤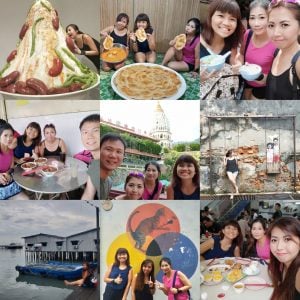 There's still many aspects of the run that the organisers could do to improve the running experience of the runners. For me, this event was fine but I've read many negative feedback from PBIM's official Facebook page. I wouldn't be back to PBIM any years soon as there's still many other place I would like to go and have my runcation and explore.