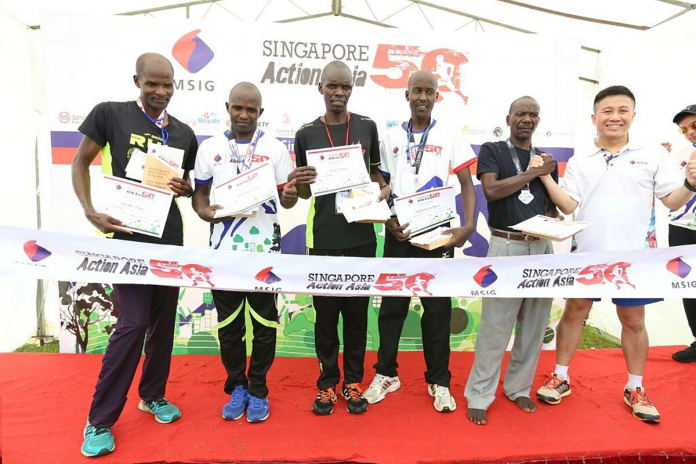 Ethiopia's Gebremeskel wins women's title and fifth overall in the 50km trail race
September 29, 2018, Singapore – For the fourth year in a row, Kenyans have dominated the MSIG Singapore Action Asia 50, claiming the top five spots among men in the 50-kilometre trail race. Their stronghold on the overall top five was broken by a remarkable performance from Ethiopia's Ehtiopia Aregay Gebremeskel, who was the first woman across the finish line at Bukit Timah's Hindhede Walk and fifth overall.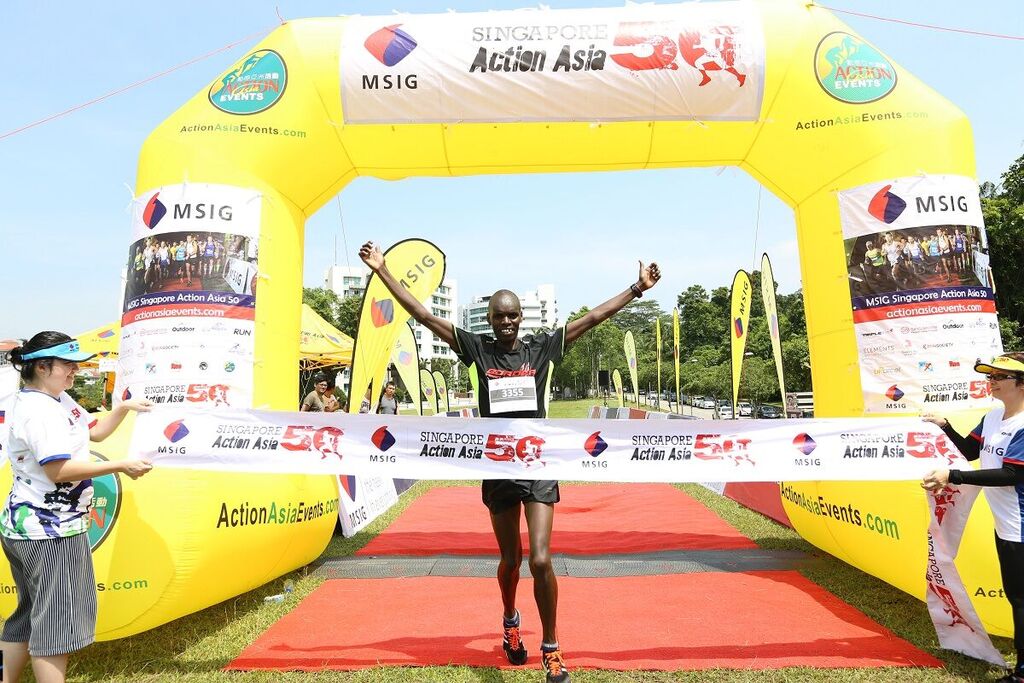 Overall champion Hillary Kipkering clocked 3 hours 25 minutes and 47 seconds, while Gebremeskel claimed the women's title in 4:12:52. Wei Feng (4:23:43) was the fastest Singapore runner and eighth among the men, while Jun-zhen Lim (5:46:03) was the fastest Singapore female, placing sixth among the women.
It was Kipkering's first time racing in Singapore and also his first 50km race. He said: "Luckily, today's weather was good. I really enjoyed the course. I came to the race with many friends from Kenya. It was a good experience for me."
Nearly 20 minutes behind in second was Noah Kutung Chepsergon (3:44:19). "It is nice to race in Singapore because the scenery is really beautiful. It was my first time joining a 50km race but I really enjoyed the whole race," said Chepsergon.
Third-placed Shadrack Kiprotich Mengich (3:49:34) was also racing his first 50km. "It was so challenging," said Mengich. "I am so glad to be third, but next time I will try my best to be number one."
Winning the women's category comfortably by over 20 minutes, Gebremeskel is no stranger to the distance, having done – and won – three 50km races in Thailand. But it was her first time racing in Singapore. "I'm glad to be the champion," she said.
Asked about the race course, she said she enjoyed the forested parts the best. "It made me feel like I was in my home country – the weather was very hot outside but it was cool in the forest," said Gebremeskel.
The conditions were more familiar to second-placed woman Naum Jepkosgei (4:34:27) of Kenya, who has raced in Singapore – though this was her first MSIG 50. Jepkosgei said: "I really enjoyed today's run and I liked the forested part the most. The race was challenging but I felt very energetic when I was in the forest." She also declared confidently that she would win the race next year.
Just a few minutes adrift in third was Japan's Rie Sugaya (4:39:06) in her first trail race. Sugaya, who has done a few road races in Singapore, said: "I didn't expect to be in the top three because trail running is really hard for me. It's really different from flat road races. I had to be very focused on the trail so I didn't have the chance to enjoy the scenery."
Apart from the 50km race, the MSIG Singapore Action Asia 50 also offered race distances of 21km, 10km and 5km, to cater to runners of all abilities.
Kenyans James Karanja (1:22:14) and Carolyn Jebiwott Mutai (1:41:32) claimed the men's and women's titles respectively in the 21km event. Karanja said the win was very meaningful for him, adding: "The course is tough and the most challenging part is the last 2km with all the uphills."
Mutai concurred on the toughness of the course. She said: "The hilly part was most challenging for me. I used to be a short-distance runner doing 5km races. This was my first time in a 21km race and the result is beyond my expectations."
In the 10km event, Nepalese runners swept the men's podium with Nimesh Gurung coming out tops in 39:17. Gurung said: "This is my first official champion award and I'm so excited about it. Even though the route was a bit complicated, the scenery was good. I think I will join this race next year again."
Normad Elodie of France, who is in Singapore on vacation, was the first woman in 46:12. She said she felt fantastic and the race made her holiday more fun: "Singapore is a great city and the views on the course were good, though it was technical for me."
Another tourist, Dean Comber of Australia, won the 5km event in 24:50. He said: "I was looking for a race on the Internet and this interesting one appeared so I participated. The race was very challenging and the ground was undulating – it was real trail running. I liked it very much."
Singapore's Catherine Quek, in her first 5km race, was the top woman in 35:45. She said: "I really enjoyed the course. It was challenging for me with the hills and rocks, and less flat road. It was worth to try this race."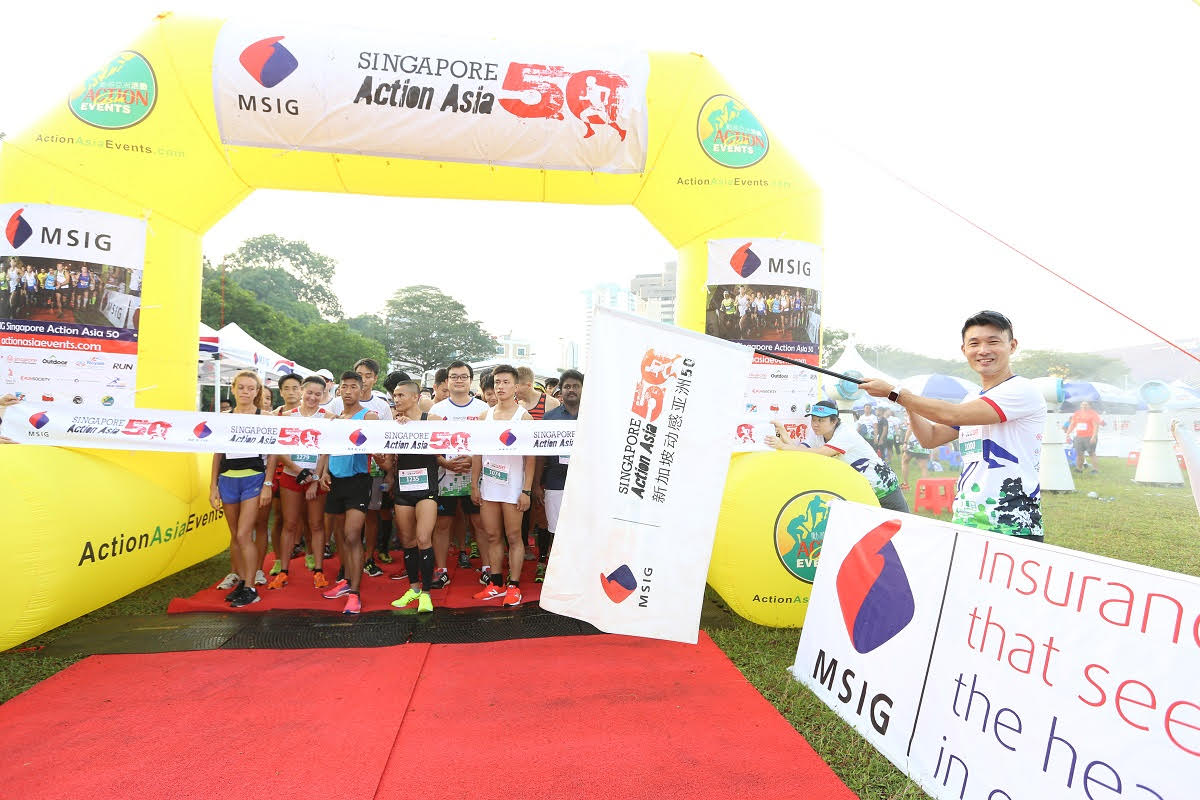 In support of a greener Singapore, guest-of-honour Mr Baey Yam Keng, Senior Parliamentary Secretary for Culture, Community and Youth & Transport, flagged off and participated in the Zero Waste 10km race. Mr Baey clocked 1:21:26.
Participants in the Zero Waste category, a first for this edition of the MSIG Singapore Action Asia 50, voluntarily gave up the race T-shirt and finisher's medal. In return, they were awarded a special race bib.
Other green initiatives undertaken by race organisers Action Asia include:
·         A strict no-cup policy at aid stations – participants had to refill their own hydration receptacle if they needed water
·         Recommending participants bring their own bag for race pack collection
·         Reducing food waste by encouraging runners to take only what they needed at aid stations and at the race village
·         A conscious effort to improve waste management and recycle waste by using dedicated bins at the race village
·         Going paperless and offering only finisher e-certificates
The MSIG Singapore Action Asia 50 was possible thanks to the generous support of title sponsor MSIG Insurance and supporting partners Singapore Tourism Board, Action X Store, Outdoor Channel, Triplefit, Run Magazine, The Food Bank Singapore, Runsociety, JustRunLah, Royale International, Chiropractic Studio Singapore, Santa Fe Relocation, Parc Sovereign Hotel – Albert St, uParcel, Elements Wellness Group, Porta Pumper, ITRA, UTMB Qualifier and the Action Asia Foundation.