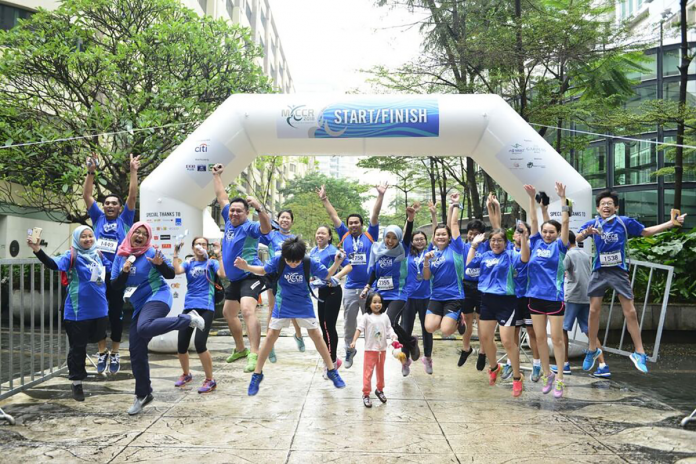 The 5 August run was organised by The Gardens Mall and Mid Valley Megamall to support the protection of the environment and sustainable use of natural resources
KUALA LUMPUR, 6 AUGUST 2018: Jointly organised by The Gardens Mall and Mid Valley Megamall, the Mid Valley City Charity Run (MVCCR) 2018 was held for its fifth consecutive year on 5 August. This year, the charity run saw its first collaboration with Global Environment Centre (GEC) to promote environmental education as well as toraise awareness on global environmental issues. MVCCR aims to support the protection of the environment and the sustainable use of natural resources.
In total, 2,000 runners gathered at Mid Valley City at 6 AM to gear up to run a 5km route on the Mid Valley Ring Road, including running through the two shopping malls. All participants' registration fees, amounting toRM100,000 was channeled to GEC's efforts. Before the flag-off time at 7 AM, a mock cheque for RM100,000 was presented by Elizabeth Tan, Executive Director of IGB REIT Management Sdn Bhd to Dr K Kalithasan, Coordinator of GEC's River Care Programme.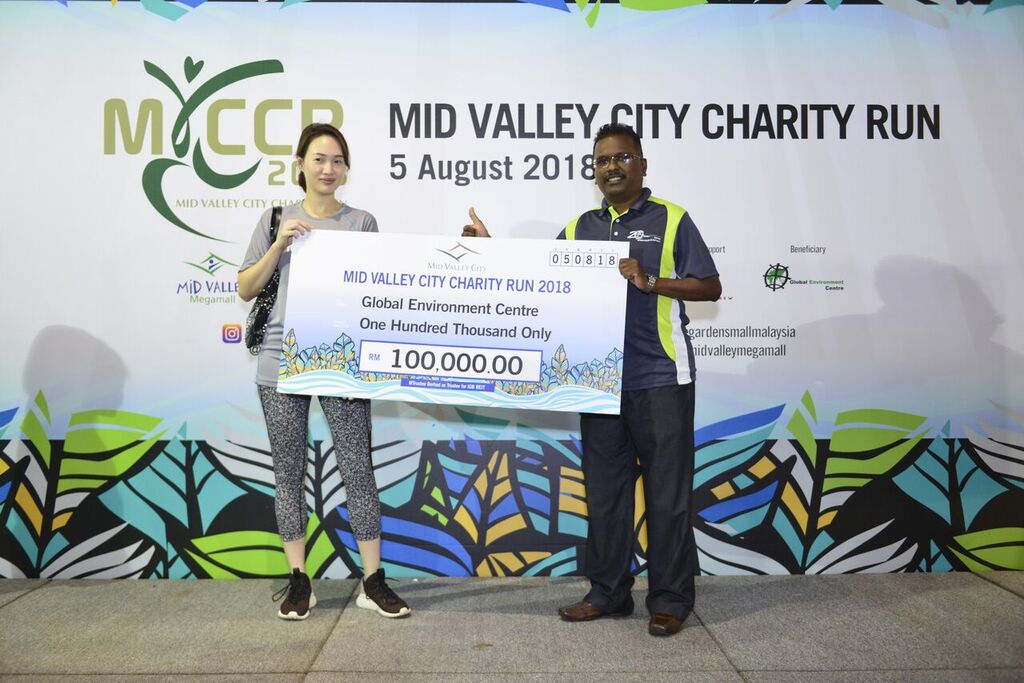 "We are encouraged to see that people are even more inspired to run to raise funds for a good cause," says Antony Patrick Barragry, CEO of IGB REIT. "As corporate citizens, we want to actively help alleviate the environmental issues that affect our local communities. This year, we hope to support, to the best of our abilities, our non-profit beneficiary GEC, and we admire their commitment to the cause," he added.
At 6.30AM, Celebrity Fitness Malaysia hosted a warm-up session for all participants. The flag-off time at 7 AM signified the start of the run for all runners. Runners who completed the run received a finisher medal to commemorate the experience and achievement. Each participant also received an exclusive New Balance high-quality running shirt, and various vouchers and gifts. This year, a little extra effort and some observant eyes during the run earned lucky runners the chance to win SUUNTO watches from Solar Time.
In addition, the run also featured other key partners including Citibank, 100 Plus, Ice Mountain Mineral Water, Milo and New Balance. Refreshments from tenants including Auntie Anne's, The Coffee Bean & Tea Leaf, Delectable by Su, Lavender, Moo Cow, and The Chicken Rice Shop were scheduled to be available for all runners after the run at the event area from 7.15AM till 9.00AM.
Shoppers who visited The Gardens Mall's South Palm on the Ground Floor from 27 July to 5 August were able to witness the photo exhibition held in collaboration with GEC to learn more about GEC's conservation efforts. GEC community merchandise were on sale at the booth, such as accessories made from waste materials by Island Ranger Seri Pangkor Community and handicrafts made by Friends of North Selangor Peat Swamp Forest Association. The booth also welcomed first-come, first-served registration from members of the public for GEC's monthly tree planting activity, an annual activity aimed at conserving the various species of the North Selangor Peat Swamp Forest and restoring the deteriorated area to its former glory.