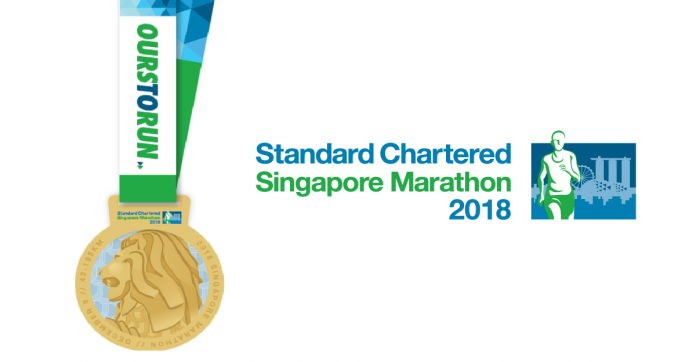 SINGAPORE – Organizers of the Standard Chartered Singapore Marathon (SCSM) 2018, IRONMAN, have unveiled a new medal design for the Marathon category for this year's 42.195km race. The new design is the first ever gold-plated medal to be unveiled and is 20 per cent bigger than the 2017 medal. It features Singapore's icon, the Merlion, commemorating the race's prominence in Singapore's sporting calendar – celebrating national pride and excellence. More than 14,000 runners in the Marathon category are expected to receive the iconic medal upon completion of the race on 9 December.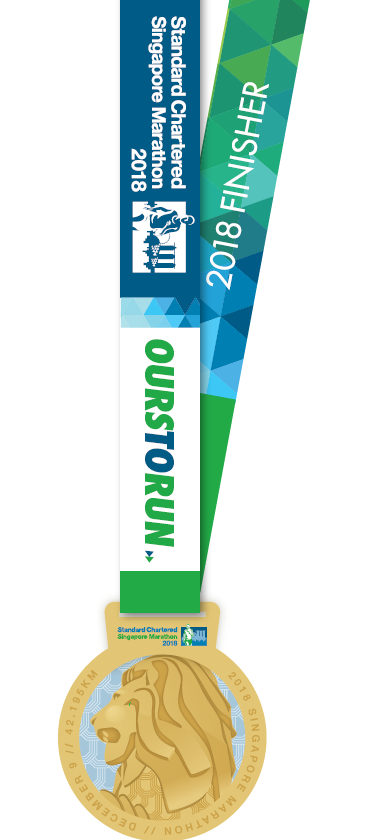 Ours to Run
Set to take place on the 8 and 9 of December, the 17th edition of Singapore's marquee running event, offers a new two-day format with a myriad of community-centric offerings and an improved race experience to over 50,000 runners across six different categories.
Saturday
Ensuring SCSM remains accessible to runners of all abilities, the 5km category has been reintroduced at this year's edition. Participants looking for an entry-level distance but full marathon experience are encouraged to join this category, which will be flagged off after the 10km category run. The race will begin at the F1 Pit Building and end by the scenic views at The Float at Marina Bay on Saturday morning.
A few kilometers away, parents will be cheering their kids on at the revamped Kids Dash. The fun run, for children up to the age of 12 will take see the participants run through an exciting adventure as they dash through the scenic zones at the Universal Studios Singapore. Standard Chartered Singapore Marathon 2018 Marathon category medal design features the iconic Merlion
Sunday
The main event is Sunday's Marathon and Half Marathon, which will take place on a brand new route, covering many of Singapore's iconic and historical landmarks. Both runs will kick off at the F1 Pit Building, and conclude at The Float at Marina Bay.
This year's Ekiden category will offer 500 groups of five runners the opportunity to run 42.195km as a team. The race will see each runner cover a distance of over 8km.
The most seasoned runners can take up the Double-Up Challenge, providing them access to either the 5km or 10km category on Saturday, before proceeding to participate in either the Marathon or Half Marathon on Sunday. They will get a special Double-Up Challenge medal on top of their individual categories medals.
Registration for all categories are available, starting with $60 for 5km, $80 for 10km, $90 for Half Marathon, and $110 for the Marathon.
To register and for more information, please visit www.singaporemarathon.com. Standard Chartered Cardholders will enjoy 15% off registration fee across all categories.