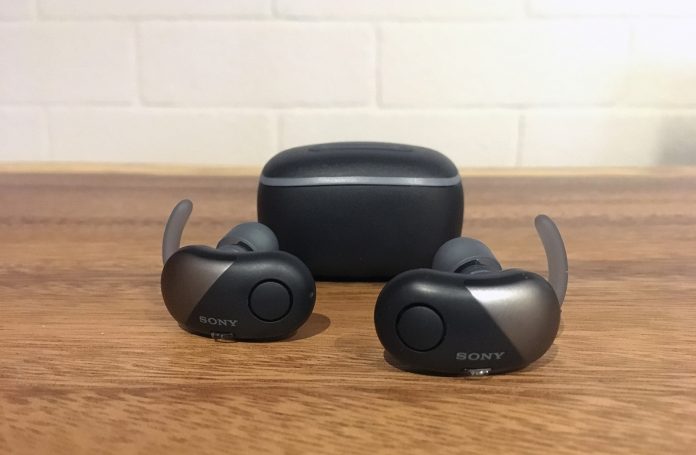 It's been over 2 years since I reviewed SONY's Smart B-Trainer™ an all-in-one device for running and fitness. This time, I get to try the WF-SP700Ns; the new noise-canceling, truly wireless earbuds from SONY, designed especially for fitness. I had never owned a pair of "truly wireless" earbuds before, so I jumped at the opportunity of taking up this review, even more so cause of their promise for "Extra Bass".
Out the box
I was given the black version of the WF-SP700Ns, while White, Pink and Yellow finishings are also available in the market. The earbuds are lightweight, and there is only one button on each of them. The button on the right-side earbud controls play / pause, skipping of tracks, picking up calls and activating Siri or Google Assistant, while the one on the left toggles between noise cancellation and ambient sound modes, as well as turns on/off the device. As usual, a number of differently-sized ear tips and rubber wings are included, to ensure a good fit for everybody.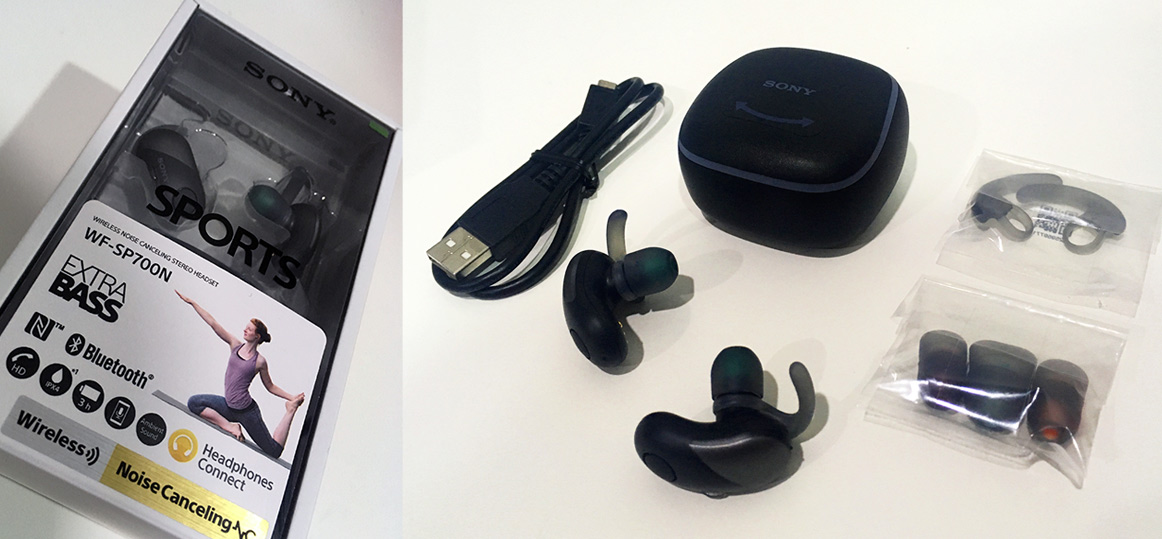 The earbuds come with a charging case, which looks sleek and stylish (I love the way it opens), but feels rather fragile; we'll have to see how it stands the test of time. The case itself charges over Micro USB.
Great fit once you find the right sizing
Never having used wireless buds before, my biggest concern was if they would stay on for my run! I always run outdoors, and the last thing I'd want is to have them fall out of ears. For my first run, I used the default-sized eartips and supporting arches. The fit wasn't spectacular; even though they stayed on, I could feel them budging a bit. Before my second run, I did a bit of testing with the different set of tips and arches until I found my perfect fit. The experience has been great ever since, so, don't give up on them if they don't feel right out of the box!
The WF-SP700Ns are IPX4 water resistant and they handled my excessive sweating with no problems during several 10km runs in crazy-humid Singapore. Even when wet, the fitting and sound quality was not compromised.
Crisp sound, superb bass, but occasional cutouts and delays
The frequency response is very satisfactory for earbuds in the fitness category. I really enjoy listening to all types of music on them, equally when commuting to work, or during exercising. The mobile app comes with an equalizer that lets you choose from a few presets like bright, excited, relaxed, or treble boost. There is no option to edit or create your own presets, however. In any case, I left that setting to the default, flat, response, which is more than good enough.
SONY promised "Extra Bass" and they really delivered! If rumbling bass is what you are looking for, you have to look no further – WF-SP700Ns are the earbuds for you. The lower-end frequencies are powerful and ideal for workout playlists; loud enough to give you a boost, yet not too much to tire your ears.
The digital noise cancellation is an interesting feature; while the difference is not very noticeable during my runs, it does improve the listening experience during exercise as well as in other everyday settings. Ambient Sound Mode is preferred for running outdoors, while Noise Cancelling mode is better to be used for exercising indoors or running on the treadmill. The noise cancellation mode can be easily adjusted through the Headphone Connect App, as well as by pressing the button on the left earbud.
The only hiccup in the listening experience is some brief cutouts and audio skips that occur every few minutes or so (they last for 1-2 seconds). Similarly, when watching videos the audio is lagging, leading to sync issues. Even though there is a toggle on the app that lets you prioritise either a stable connection with fewer interrupts or best sound, it didn't seem to help much. The issues are not really unbearable – the buds are meant for outdoors / fitness usage anyway – but I do hope that these problems will be addressed in future versions. One possible improvement would be using Bluetooth 5 instead of the 4.1 that is currently implemented, hopefully making the connection faster and supporting longer-range pairing.
Subpar battery life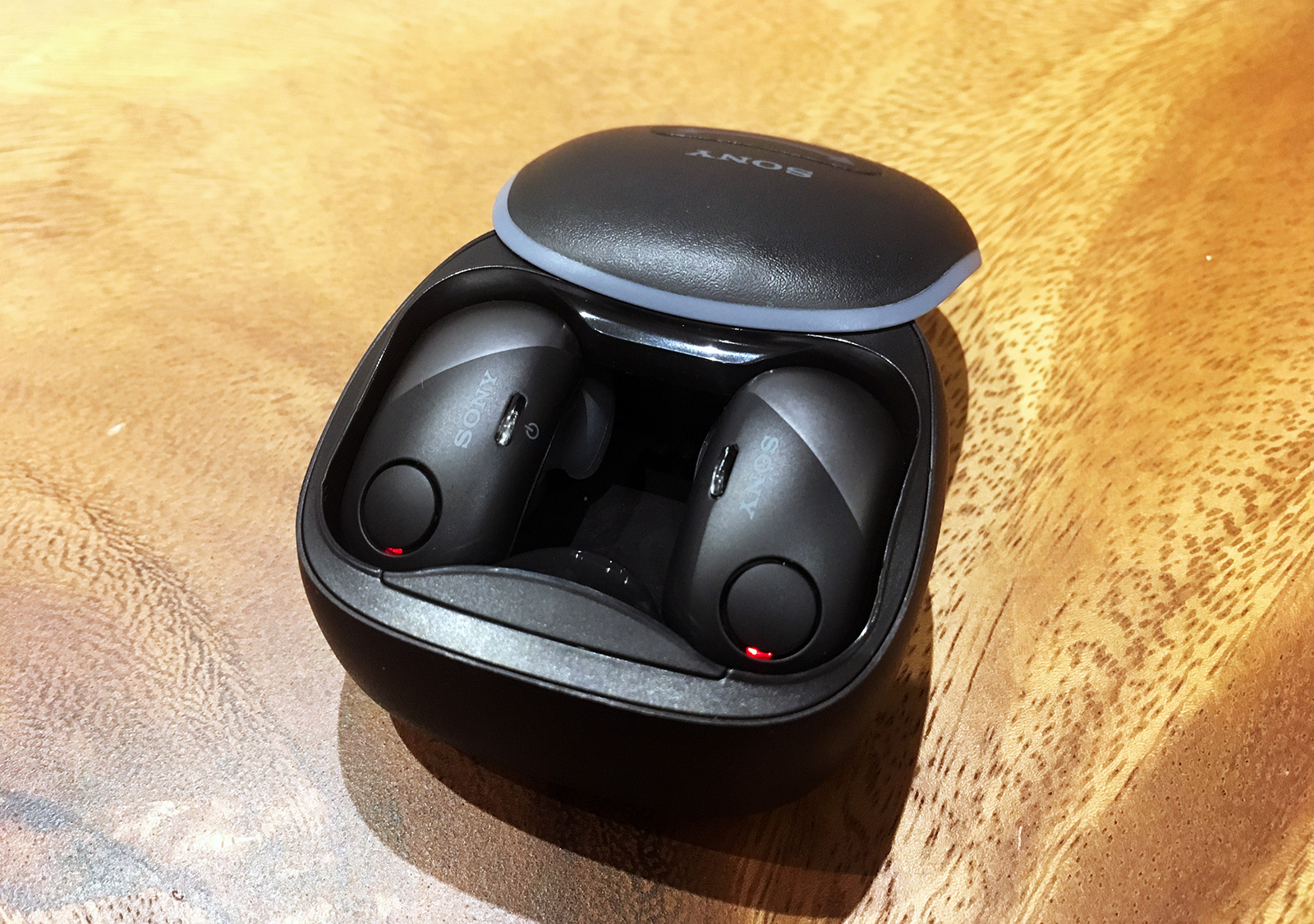 Fully charged, the WF-SP700Ns will give you up to three hours of music playback. The charging case holds two additional full charging cycles, giving you a total allowance of 9 hours playback while you are on the go – assuming you can bring the (rather bulky) case with you.
Granted, the 3-hour per charge lifetime will be sufficient for your daily workout – or even for your half-marathon, but, unless you are an elite runner, forget about finishing a marathon while listening to your favorite tunes on these headphones. Frankly speaking, the battery life is overall disappointing, especially when compared to other "truly wireless" earbuds, or even older SONY's products (for example, Smart B-Trainer™ has a batter life of 10 hours, XB80BS EXTRA BASS™ up to 7 hours, and so on).
The verdict
SONY's WF-SP700Ns are marketed as "Truly wireless, totally active" earbuds with "Extra bass", and this is exactly what you'll find them to be. Their fit is great, their design stylish and their sound performance and bass boosting makes ideal for working out or running. Improvements in the battery life and connectivity will be welcome in the next models, while the add-on features such as digital noise cancellation, Siri / Google Assistant, call pick-up etc are great to have. If you are looking for a solid pair of workout earbuds that fit well, sound good and feel comfortable, and you don't mind the nuisances from infrequent audio cutouts or video syncing, the WF-SP700Ns are a great option for your next gear purchase.
In Singapore, SONY's WF-SP700Ns are available for S$299 at Sony Stores, Sony Centres and selected Sony authorised dealers.
Click here for more information on SONY's WF-SP700N
*
Disclaimer:

This review represents the genuine, unbiased views of the author. The author was provided with a free unit. SONY's products have been and might currently be advertised on JustRunLah! via different channels, however, these relationships do not influence the editorial content of reviews.
REVIEW OVERVIEW

Design / Fit
Software / Ease of use
Sound quality
Battery life

SUMMARY