We first laid eyes on Sony's Smart B-Trainer™ at Sports & Fitness Asia 2015 where we were introduced to its neat features. Smart B-Trainer™ is an all-in-one training aid that will help you set a target and monitor your progress. It comes with built-in GPS, heart rate monitor and 16GB of storage for music, allowing you to leave your smartphone behind. What's more, it comes packed with sensors that track 11 stats. As a big fan of data and technology, I knew that I had to try it out for myself – hence, here is my in-depth, hands-on review for JustRunLah!
Out of the box
Unpacking Smart B-Trainer™, you will find that it comes with a carrying pouch (perfect for bringing it with you on your next vacation), a USB charger / dock and a number of earbuds of different sizes. The device itself looks a bit bulky, but it is very light in weight (just 43g). The rectangular blocks on either side feature the various controls and house the sensors.
Apart from the default in-ear style buds, there are replacements for swimming; yes, this is a fully waterproof device that is not only rainproof or sweatproof, but it is suitable for swimming and being underwater, up to 2.0m deep for 30 minutes. An extra rubber piece accommodates the heart sensor. All these pieces come in several sizes and you should be able to find a good fit for your ear. Do spend some time trying these out, since a good fit will not only greatly improve comfort but also the quality of music playback.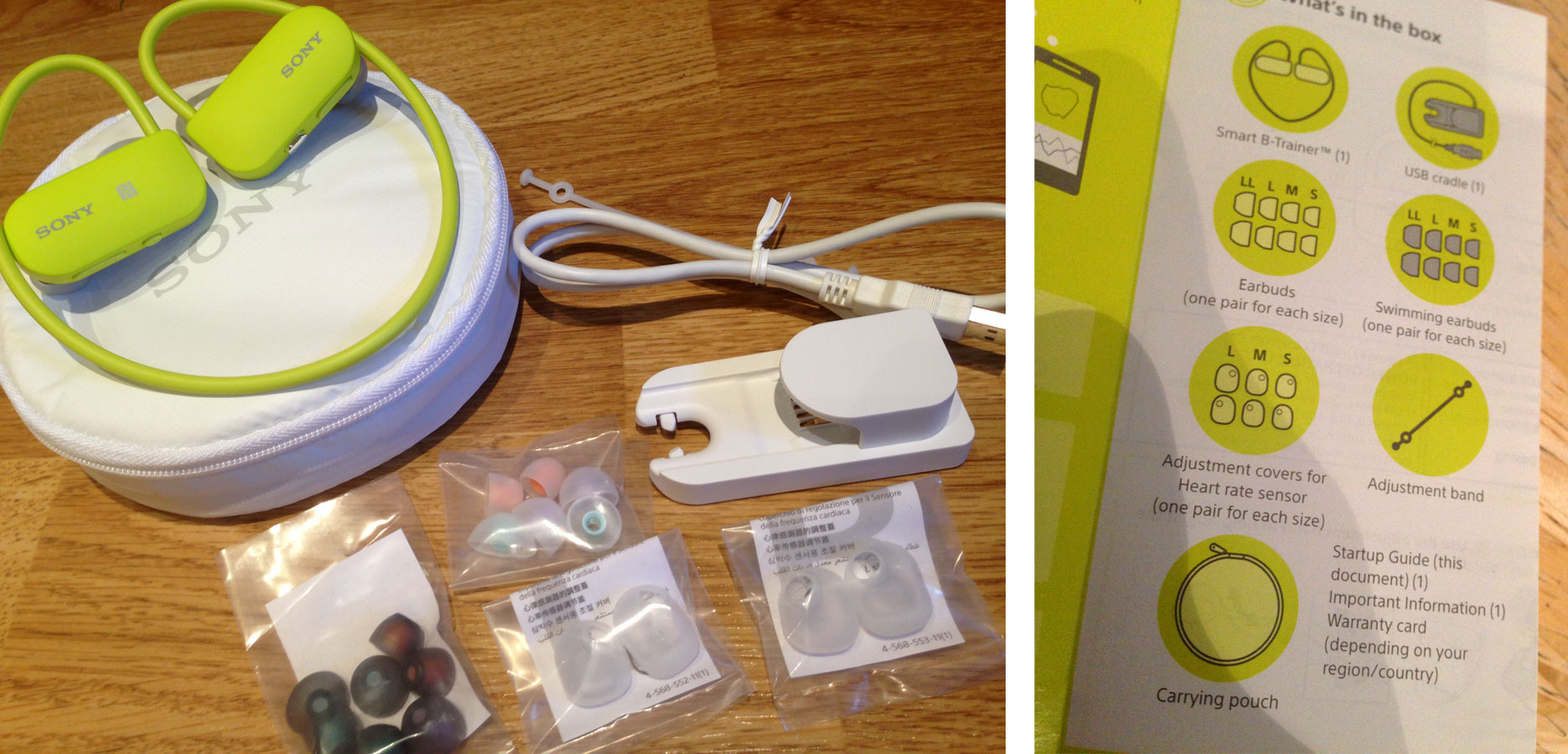 First run: testing the waters
I downloaded and installed the free app (available on iOS and Android) and paired up the device with it. It is a quick and well-guided process. The first thing I looked up online was how to load music to the device. It turned out that I needed to use Sony's special software. The reason is that the software analyses the tracks for beats per minute to detect your heart rate, and uses the data to select and play songs to guide your running pace, so you train efficiently in your optimum heart rate zone; however, I have to say that a drag-and-drop method would be much more convenient. If you prefer to bring your phone out with you, you can also use Smart B-Trainer™ in "streaming" mode, that is, operate it as a Bluetooth headphone set that will play anything that your phone transmits.
Moving on to the training menu, there are modes for free run, or, you can plan your training based on distance, calories, pace and other goals. A premium training plan, that is training under the guidance of a professional trainer is also available for "MY ASICS" users, in specific countries.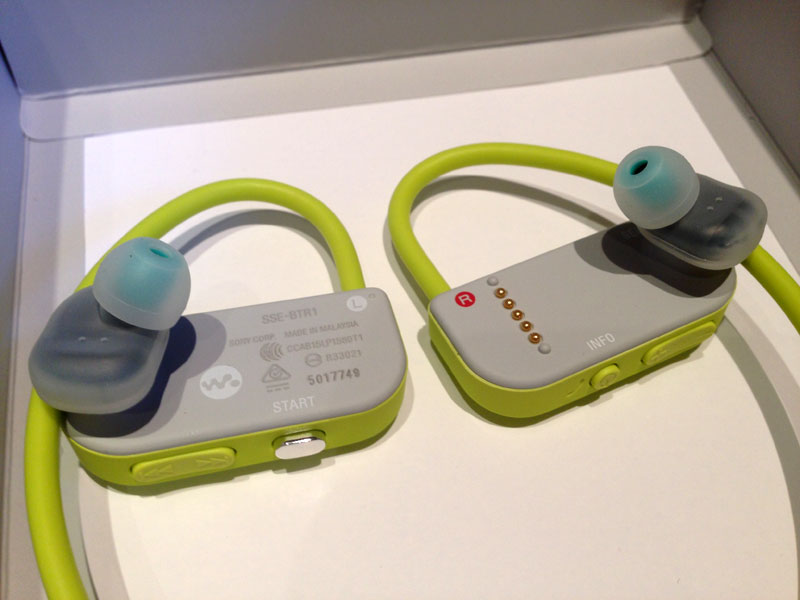 I wanted to start simple so I chose free running mode. The device will start recording at a press of a button. You can check how you are doing at any point of the run, and you can easily skip tracks, pause and adjust the volume. Using the built-in heart rate, accelerometer, GPS, compass, gyroscope and barometer, the device will log heart rate, calories burned, distance, time, stride, speed, pace, cadence, steps, route and elevation.
With all this information, the Smart B-Trainer™ can monitor your performance in real-time and advises you when to slow down or speed up, depending on the workout you have chosen. The tempo of music can also be adjusted according to your heart beat rate.
Post-run data analysis
After completing a run, the logs are transferred wirelessly to the app. All the information are very clearly presented and easily digested. For each run, you will be able to view all data in graph formats; however, only two out of the five data points (pace, heart rate, elevation, stride and cadence) can be simultaneously presented. Maps and photos are also available. You can track your progress by comparing any of the data between your runs and keep a proper running diary.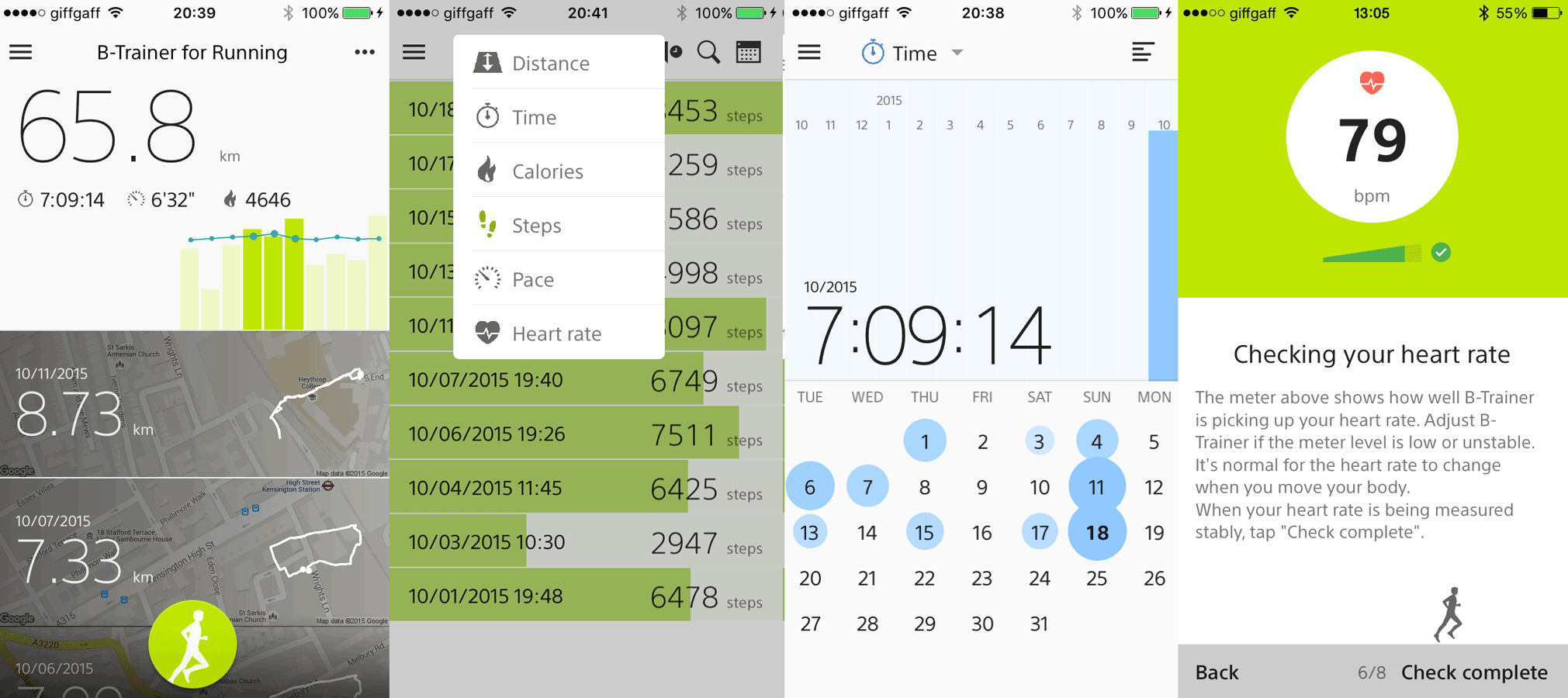 50 km in – The only device you need
For a device with so many features packed in so little space, it is expected to have a learning curve. In the first few runs, I found it a bit difficult to remember what each button does. Additionally, a couple of times, after pausing when stopping at a traffic light, I forgot to un-pause my training leading to loss of data (a voice reminder could have been implemented to avoid this user-error edit: Sony has just released a firmware update which allows for auto-pausing when you stop running. This is a great addition that should eliminate the aforementioned issue).
After a few runs, I started feeling comfortable enough to leave my smartphone behind. All you have to do is plan your training at home using the app and transfer it to the device. The built-in MP3 player, the accurate GPS and the other sensors will take care of all the rest. Your run data will be downloaded from the device and synced to the app the next time you pair the devices.
The specs say that a full charge will give you 10 hours of battery life, which should be more than enough to finish a marathon; could this be your new gadget for SCMS2015?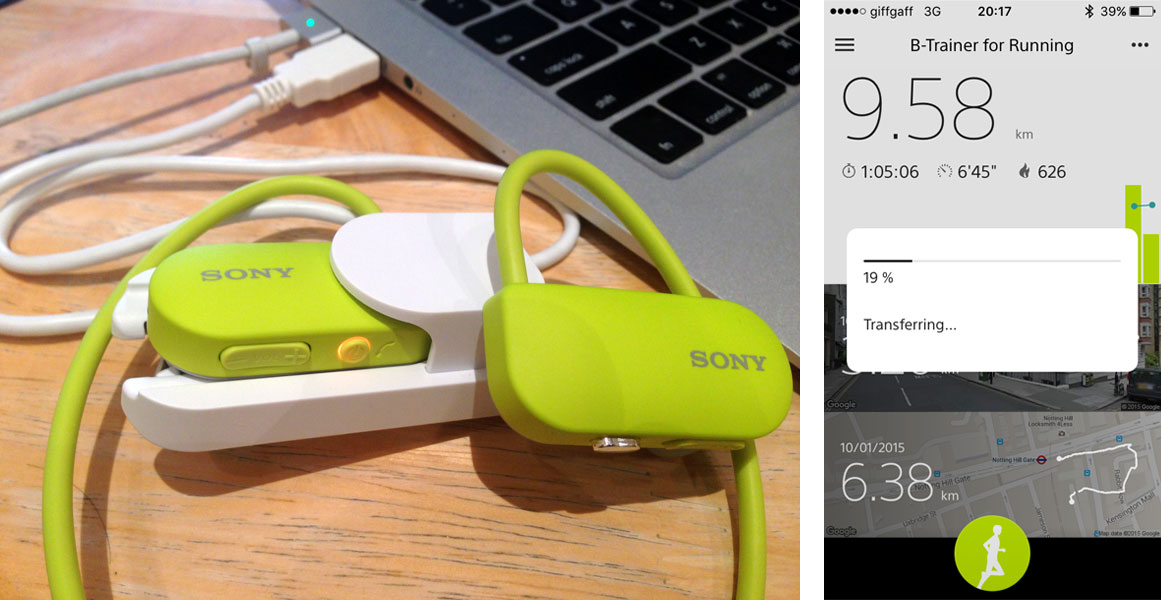 Pros
– The all-in-one approach allows for Sony's Smart B-Trainer™ to be the only device that you need to bring out with you.
– The sound quality is good, and it can be used to either stream whatever is played on your phone, or as a standalone MP3 player.
– After you find the size of earbuds that fits you best, you will almost forget that you are wearing a device while running.
– The device looks and feels durable and rugged. It is fully waterproof and suitable for swimming.
– The voice guidance and music tempo adjustment can give that extra push you might need at some point of your run.
– It tracks anything that you can think of, adding real value to your running diary.
Room for improvement
– Compatibility with other programs and services (eg. iTunes or Spotify) to simplify the music loading process. Likewise, it would be great if data could be synced with other tracking services (eg. Sports-Tracker.com, Strava, etc).
– At S$399 this is not the cheapest device. Considering all the unique features that you get, the price might be justified. However, you might end up not using or needing everything the device offers; with that in mind, I would like to see a "light" version which includes lesser features and is more affordable.
The verdict
I believe that smart devices and apps do help and motivate you to run more. For that reason alone, I think that you should consider adding them to your running routine.
Sony's Smart B-Trainer™ is such a device. It comes with a number of features you won't find anywhere else, and ought to cover all your running needs. Getting one should be seen as an investment, which I think will pay off with time.
In Singapore, Sony's Smart B-Trainer™ is retailing at a recommended price of S$399, in five colours (yellow, white, blue, pink, and black) and is available at all Sony Stores, Sony Centres and selected Sony authorised dealers.
Click here for more information on Sony's Smart B-Trainer™ SSE-BTR1.
* Disclaimer: This review represents the genuine, unbiased views of the author. The author was provided with a free unit. SONY's products have been and might currently be advertised on JustRunLah! via different channels.