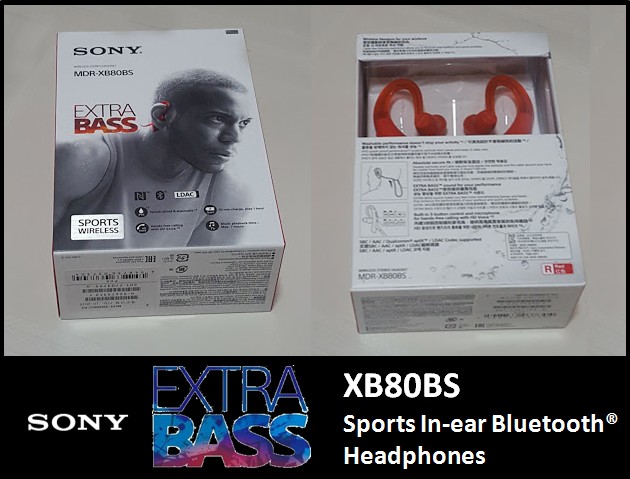 Listening to music while you exercising is something that most of us would do; be it brisk walking, running, gym workouts, interval training etc. Music tends to influence our workout in one way or another. I listen to music when I go for my runs or workouts. Music keeps me going and sometimes motivates me to work harder!
I recently got a chance to test out the Sony XB80BS EXTRA BASS™ Sports In-ear Bluetooth® Headphones. It is one of four impressive additions to the Sony EXTRA BASS™ audio line-up. These headphones are designed for the active sports person with extra bass sound to enhance performance. These headphones come in red, blue and black. I was super excited to receive the one in red as I love gears that make a statement! The headphones come together with a USB cable, a carrying pouch, Hybrid silicone rubber earbuds (SS, S, M, L x 2) and the starters guide.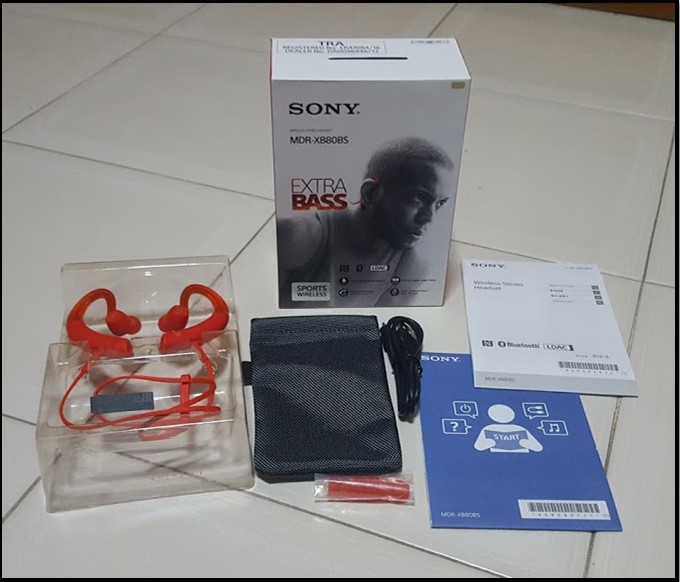 Setting Up/ Pairing
Before I can bring the headphones out for a run or workout, I first need to set it up by pairing it with my mobile device. I'm currently using the Samsung Galaxy S6 which is built on the Android platform and has both Bluetooth and NFC capabilities. As with most wireless headphones, the MDR-XB80BS connects via Bluetooth seamlessly. The MDR-XB80BS also has the option of pairing using the Near Field Communication (NFC) function. I tried both methods and I was able to pair my mobile phone with the headphones easily.
Please note: Currently Apple iPhone mobile device and other Apple iOS devices do not support the NFC feature. NFC function is not compatible with Smartphone with Android 3. x operating system.
Features of MDR-XB80BS

This is the first time I am using wireless headphones when I'm working out. I really enjoyed the workout experience and here are some of the reasons why:
1. Freedom to move
When I wore the MDR-XB80BS for my run, I was surprised by the freedom I had in movement. Previously, I used wired headphones and the cables would always get in my way. It was frustrating because I frequently had to adjust them when working out. With the wireless in-ear headphones, getting tangled with cables or adjusting the cables are a thing of a past for me!
I also love the behind-the-ear looping shape because of the snug and comfortable fit when wearing it. During my run, never once did it fall off or move out of place. The design allows the headphones to stay in place while I move letting me focus on giving my best during the workout.
Besides being wireless and comfortable, the MDR-XB80BS in-ear headphones are extremely lightweight, weighing only approximately 27g; it is a feature you will love for a sport-friendly headphone model.
The MDR-XB80BS comes with a built-in microphone and an inline remote so you can make and take hands-free phone calls while you are exercising. While on my run that day, a call came in. Answering the incoming call was a simple push of the power button and the quality of the call was clear; both parties could hear each other clearly. If the call volume was too soft, a simple adjustment of the volume via the inline remote comes in handy as you need not reach for your phone.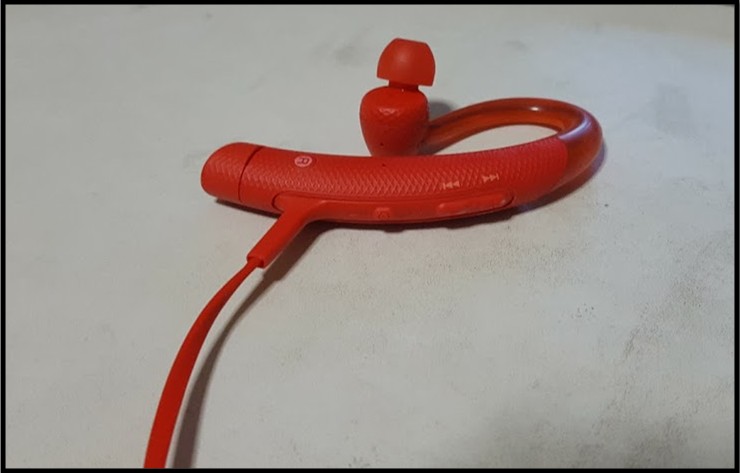 With the MDR-XB80BS, I can just concentrate on my workout and not bother about uncomfortable headphone problems. It is pure freedom in movement.
2. Fantastic Sound Quality
I love the sound quality of the MDR-XB80BS, it is not compromised because it is a wireless device and the headphones did not lose connectivity with the phone. The MDR-XB80BS's built-in LDAC enhanced codec support, which lets you stream the highest quality audio without wires.
After my run, I normally would do some body weight exercises such as squats, push-ups, sit-up etc., the powerful "Extra Bass" sounds were a welcome! With bigger beats, I was motivated to push and go further to complete the number of sets need for that workout. I could feel the burn of my legs as I did my squats and lunges but the beats gave me that extra energy and focus!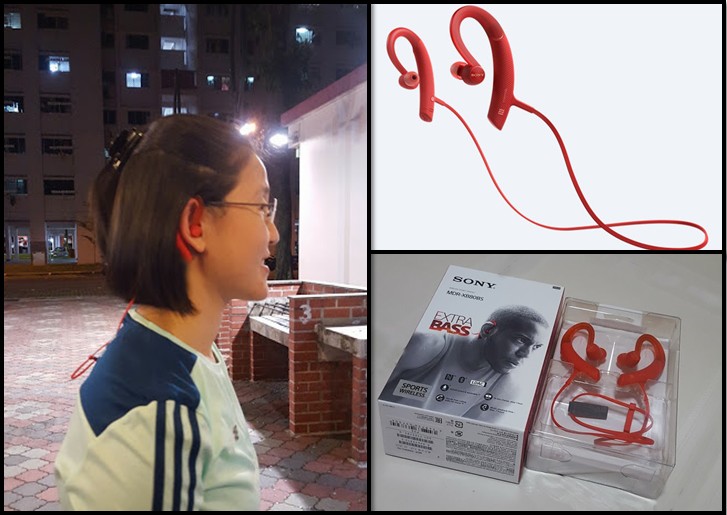 3. Battery Life
This is one of the important features when choosing wireless headphones. There are two things the Sony MDR-XB80BS boasts, the first is a battery life of up to 7hrs when fully charged. Marathon and half marathon runners would appreciate this because you won't want to be left without music halfway when you are working out or running. I'm looking forward to using the Sony MDR-XB80BS when I participate in my first half marathon event this year at the NTUC Eco Run 2017! I am sure it'll provide me with the beats to keep moving!
The Sony MDR-XB80BS has 'Quick Charge' function which is super handy for people like me. I can be really forgetful and not charge my devices when I need to use them. With a 10 min 'Quick Charge' for 60min playback, I can just quickly charge the headphones and I can go for my quick runs or workout sessions!
Charging the Sony MDR-XB80BS is fuss free and easy; all I needed to do was to connect the headphones to the computer using the USB cable and it will automatically start charging.

4. Splash-proof and washable
Have you ever been worried that your headphones will spoil if they come into contact with water? I know I have, the MDR-XB80BS has an IPX5 rating which means that it is splash-proof and washable, you can wash it after exercising without worrying that you will damage it. No more dirty headphones!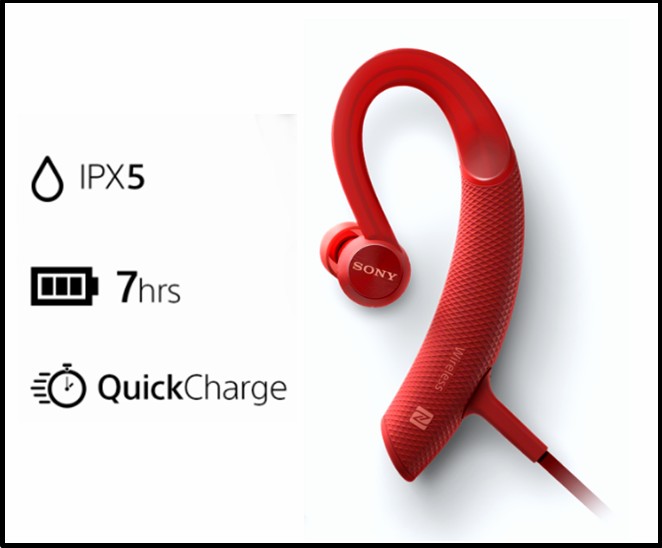 Conclusion
Overall, I enjoyed using the Sony MDR-XB80BS. Features like their customizable, activity-specific fit, their rain and sweat resistance, and their audio quality features that optimise hands-free use are essential for sports headphones. They are clearly tailored to the highly active person. I love how comfortable and snug they feel when wearing them while providing the highest quality of music.
I would like to thank Sony Singapore and JustRunLah! for the review unit. It has been a pleasure testing the headphones. This review is based on my own unbiased opinion after trying it out. The Sony MDR-XB50BS is available at all Sony authorised retail shops with a recommended retail price of $119.